(Cover Photo: James Fairchild as "Dave Bukatinsky," Jared Zirilli as "Jerry Lukowski" and the CAST of the musical, "THE FULL MONTY" by Terrence McNally and David Yazbek, now playing at Bill Hanney's North Shore Music Theatre in Beverly, MA. through October 8, 2023. Photo © David Costa Photography)



By Kevin T. Baldwin
METRMAG Reviewer
# 774-242-6724
"Anti-wrinkle cream there may be, but anti-fat-bastard cream there is not."
- ("Dave") / Terrence McNally and David Yazbek

Presents the Musical
Book by Terrence McNally
Music and Lyrics by David Yazbek
Direction & Choreography by Gerry McIntyre
Assistant Choreographer Sara Andreas
Music Direction and Conducted by Milton Granger
Orchestrations by Harold Wheeler
Cast Includes: Emily Koch* as "Georgie Bukatinsky"; Jordan Vasquez* as "Buddy "Keno" Walsh"; Rachel Gubow as "Susan Hershey"; Merrill Peiffer* as "Estelle Genovese"; Nicholas Carroll as "Reg Willoughby"; Dean Marino as "Gary Bonasorte"; Arnold Harper II* as "Marty"; Jared Zirilli* as "Jerry Lukowski"; James Fairchild* as Dave Bukatinsky"; Brendan Jacob Smith* as "Malcolm MacGregor"; Christopher DeProphetis* as "Ethan Girard"; Quinn Murphy as "Nathan Lukowski" (on Sept 27 (2pm), 28, 30 (2pm), Oct 1, 3, 4 (2pm), 6, 7 (8pm)); Patrick Naughton as "Nathan Lukowski" (on Sept 26, 27 (7:30pm), 29, 30 (8pm), Oct 4 (7:30pm), Oct 5, 7 (2pm), & Oct 8); Namisa Owethu Mdlalose as "Joanie Lish"; Sara Andreas* as "Pam Lukowski"; Aidan Ziegler-Hansen as "Teddy Slaughter"; Rachel Gubow as "Molly MacGregor"; Tim Connell* as "Harold Nichols"; Sara Gettelfinger* as "Vicki Nichols"; Kathy St. George* as "Jeanette Burmeister"; Bernard Dotson* as "Noah "Horse" T. Simmons"; Kyle Braun* as "Police Sergeant"; Arnold Harper Ii* as "Minister"; Dean Marino as "Tony Giordano"
Ensemble: Christian Bradford, Kyle Braun*, Nicholas Carroll, Rachel Gubow, Arnold Harper II*, Alyssa Ishihara, Sara Elizabeth King, Dean Marino, Namisa Owethu Mdlalose, Merrill Peiffer*, Jordan Vasquez*, Luke Weber, Aidan Ziegler-Hansen
Understudies, Study Covers and Swings:
There will never be a substitute for players unless a specific announcement for the appearance is made at the time of the performance.
Understudy for: Jerry - Christopher DeProphetis*; Malcolm – Kyle Braun*; Jeanette & Vicki - Merrill Peiffer*; 'Horse' - Arnold Harper II* Study Cover for: Georgie - Namisa Owethu Mdlalose; Keno & Ethan - Aidan Ziegler-Hansen; Dave - Dean Marino; Pam - Rachel Gubow; Harold - Nicholas Carroll Swings Christian Bradford, Alyssa Ishihara, Sara Elizabeth King, Luke Weber
Additional Creative Team:
Stephen MacDonald* - Production Stage Manager; Dakotah Wiley Horan* - Assistant Stage Manager; Kyle Dixon - Scenic Design; Kelly Baker - Costume Design; Travis McHale - Lighting Design; Alex Berg - Sound Design; Rachel Padula-Shufelt - Wig & Hair Design; Robert L. Rucinski - Assistant Music Director/Rehearsal Pianist; Sara Andreas* - Dance Captain; Bill Hanney - Owner/Producer; Kevin P. Hill - Producing Artistic Director; Matthew Chappell - Associate Producer/Casting Director.
* Member of Actors' Equity Association, the Union of Professional Actors and Stage Managers in the United States
** Represented by United Scenic Artists, Local USA 829 of the IATSE
Based on the Motion Picture released by Fox Searchlight Pictures and written by Simon Beaufoy, produced by Uberto Pasolini and directed by Peter Cattaneo
Performances:
September 26, 2023 to October 8, 2023
(Contact Box Office for Exact Times)
Tickets: $68 - $93 For tickets and information visit www.nsmt.org, call (978) 232-7200, or visit the North Shore Music Theatre box office in person at 54 Dunham Rd., Beverly, MA.
COVID 19 PROTOCOLS
Contact Venue for Most Updated COVID-19 Safety Protocols and Information.
"THE FULL MONTY" is presented through special arrangement with Music Theatre International (MTI). All authorized performance materials are also supplied by MTI. www.MTIShows.com
(CAUTION: The following review requires an apology in advance for any puns...intentional or not...that may occur.)

North Shore Music Theatre (NSMT) exposes us to an absolutely delightful in-the-round staging of the hilarious and quite revealing musical, "THE FULL MONTY" now playing for a limited time only, so you won't want to miss any part of this.
Tony Award-Winning composer David Yazbek has cultivated a reputation for himself collaborating on musical adaptations of hit movies, and it all started here.
He took the warmth and essence of the heartwarming 1997 motion picture, "FULL MONTY" and, working with book writing master and five time Tony Award-winner Terrence McNally, successfully adapted the film as a stage musical with amazing results.
"Scrap," "Big Black Man," "It's a Woman's World," "Let It Go," "Breeze Off the River," "You Rule My World" and more. There's a ton of great music in this underappreciated show that is chock-full (repeat: chock-full) of gentle good humor.
"THE FULL MONTY" musical debuted in San Diego before moving to Broadway in 2000, running for 770 performances (35 previews) and closing in 2002.
The original production featured Emmy, Grammy and Tony Award-winning actor André De Shields before his landmark role in "Hadestown" and legendary character actress Kathleen Freeman in what would be her final performance after a long and bountiful career (Freeman would posthumously receive both a Tony Award nomination and Theatre World Award for her performance of delightfully irascible pianist-accompanist "Jeannette Burmeister").
"THE FULL MONTY" does not get staged often these days because it contains "brief" (extremely brief) moments of full frontal male nudity.
This is unfortunate because…(and, again, apologies in advance for the unfortunate use of a double-barreled pun)… the nudity involved is such a small "part" of the entire "package" it is barely worth mentioning.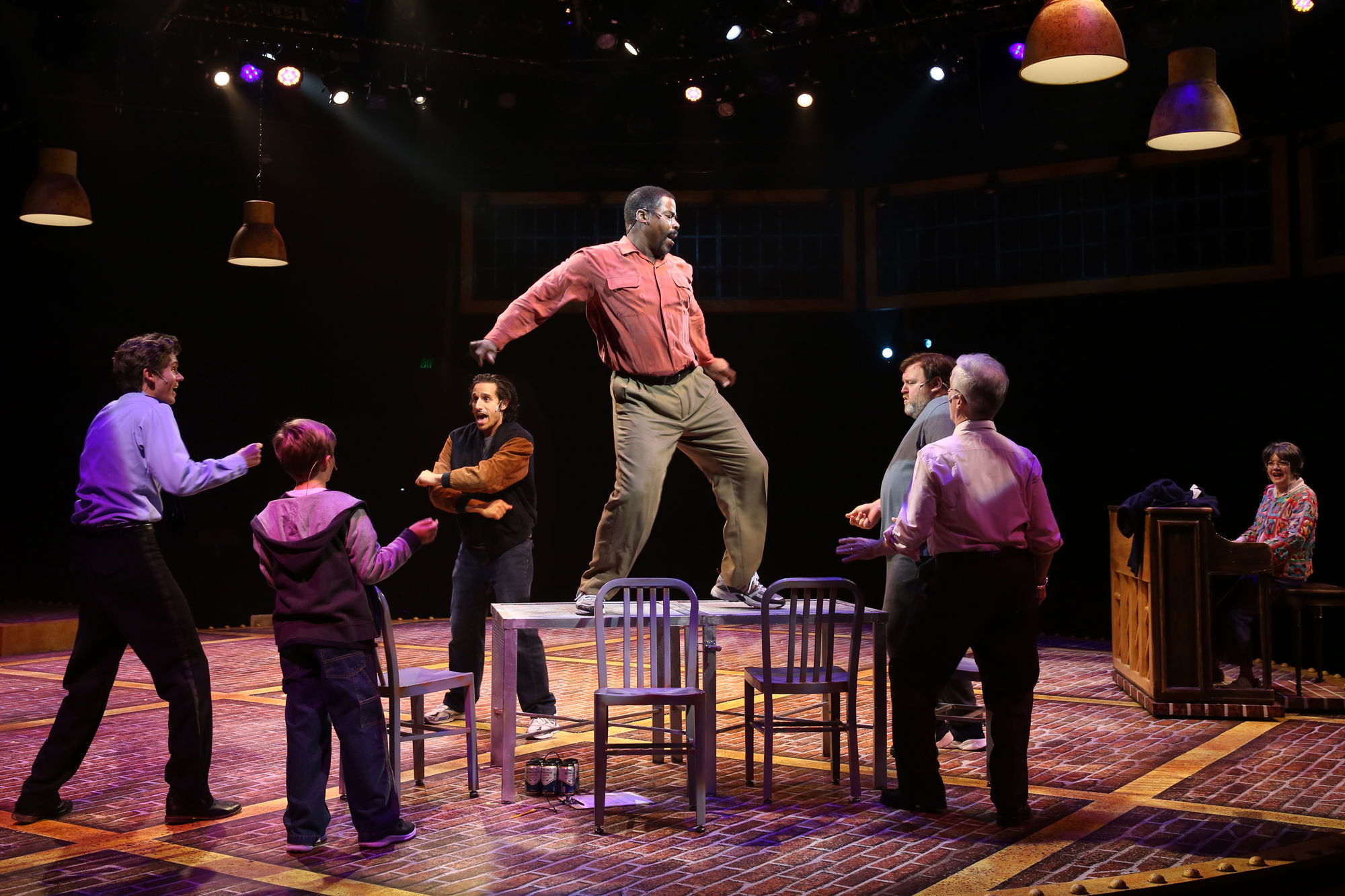 (Photo: Bernard Dotson as "Noah 'Horse' T. Simmons" and the CAST of the musical, "THE FULL MONTY" by Terrence McNally and David Yazbek, now playing at Bill Hanney's North Shore Music Theatre in Beverly, MA. through October 8, 2023. Photo © Paul Lyden)
Yazbek's expertise is creating an insightful balanced blend of content and intent in his librettos for musical adaptations of non-musical movies. He not only respects the original story (whatever that story might be), he eloquently elevates it.
He has successfully worked this method for other subsequent musical adaptations including "Dirty Rotten Scoundels" and "Tootsie."
It also gave him his Tony Award win for "A BAND'S VISIT" (Coming to Boston this November at SpeakEasy Stage).
For NSMT, the Yazbek score is executed by a flawless live orchestra conducted by Music Director Milton Granger.
There is an exuberance - a 'lilt' (if you will) - to "THE FULL MONTY" score which would also not be possible without Yazbek's contributing librettist extraordinaire McNally who, like Yazbek's musical approach, produced a faithful book out of Simon Beaufoy's original screenplay.
As to the original story by Beaufoy, some of the rather dated and archaic views professed by some of these characters must be taken as their being a product of a different time - not to excuse but, rather, to help understand and perhaps view with some compassion their respective circumstances.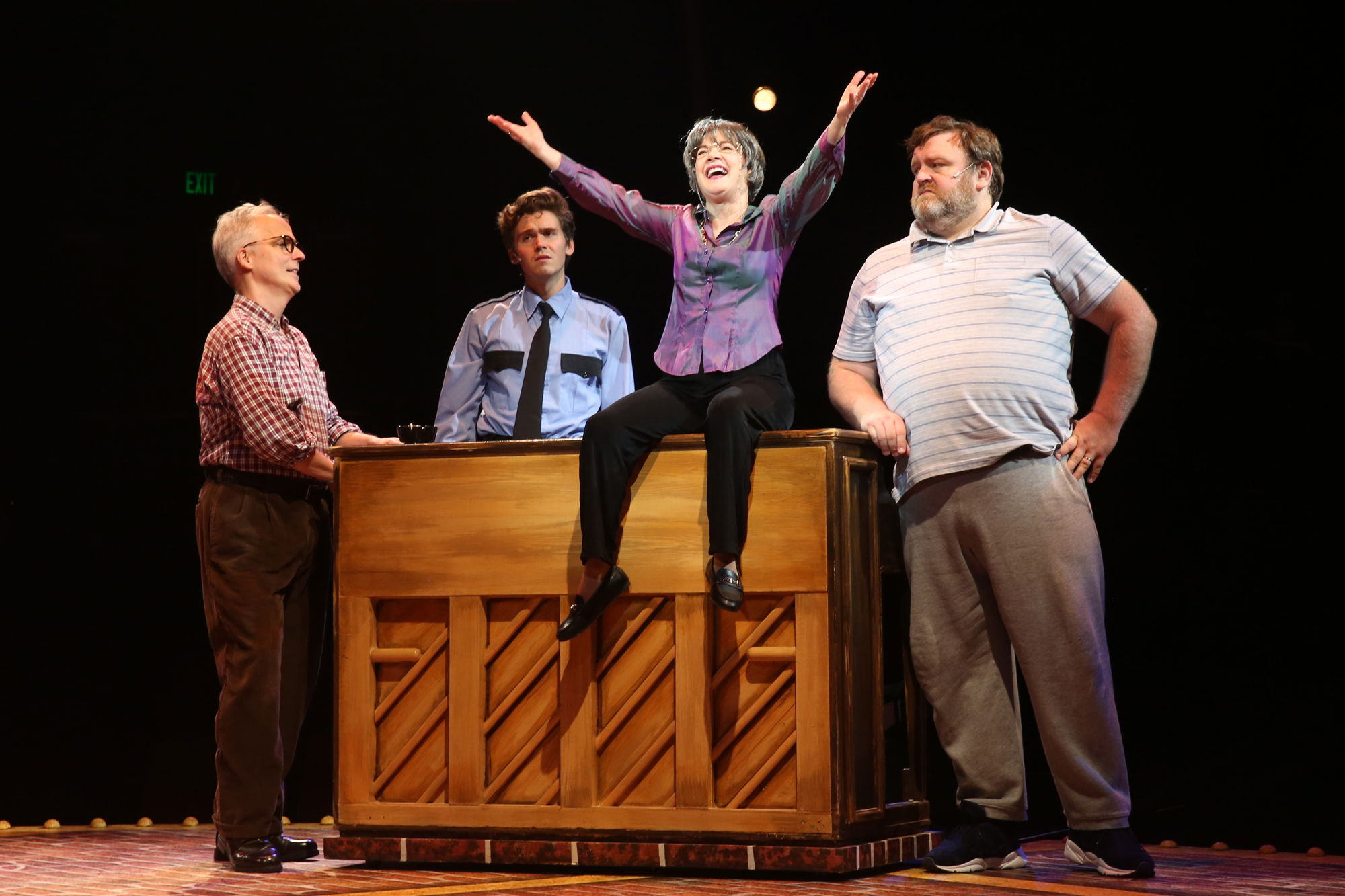 (Photo: Kathy St. George as "Jeanette" with Tim Connell as "Harold," Brendan Jacob Smith as "Malcolm" and James Fairchild as "Dave" from the musical, "THE FULL MONTY" by Terrence McNally and David Yazbek, now playing at Bill Hanney's North Shore Music Theatre in Beverly, MA. through October 8, 2023. Photo © Paul Lyden)
Thanks to the insightful guidance and staging by director/choreographer Gerry McIntyre, the articulate combination of script and score allows for this compassionate view into the lives of inarticulate, simple blue-collar guys just trying to keep their lives together and make a buck or two.
How they accomplish this comes from a completely crazy idea, brainstormed by unemployed mill workers and best friends Jerry (Jared Zirilli) and Dave (James Fairchild) who have spent most of the past year-and a-half miserable, out of shape, collecting unemployment and wallowing in self-pity.
Zirilli and Fairchild have great chemistry as the struggling buddies, and each has their chance to shine vocally on stage, Zirilli with the wistful ballad, "Breeze Off the River" and Fairchild with the humorous but melancholy, "You Rule My World."
Jerry is separated and desperately trying to maintain child support payments and be involved in his son's life. He sees his precious limited time spent with his son slipping through his fingers and does not know what to do.
Sara Andreas provides a solid performance as Jerry's strong, hardworking, ex-wife, "Pam" as does Emily Koch as Dave's devoted, loving wife, "Georgie," who, while sympathetic to Dave's unemployment, cannot understand her husband's ongoing reluctance to be intimate with her.
After speaking with a Chippendales stripper, Jerry and Dave concoct an insane idea of producing and starring in their own striptease act to make a financial killing that may not solve all their employment woes but will, for the short term, get them some much needed funds and, as insane as it sounds (because it is) a little self-respect.
As they begin to implement their plan, by chance, they first enlist suicidal Malcolm (Brendan Jacob Smith), a security guard from the steel mill where Dave and Jerry once worked.
The use of the modified front-end of a car during this encounter is pure technical genius and adds a great visual element to the scene. The use of specialized lighting and sound effects throughout the production is expertly executed.
Smith surprises in a standout performance as the neurotic Malcolm. Smith is funny, awkwardly charming with great comedic timing and a gorgeous tenor voice, especially during the song, "You Walk With Me."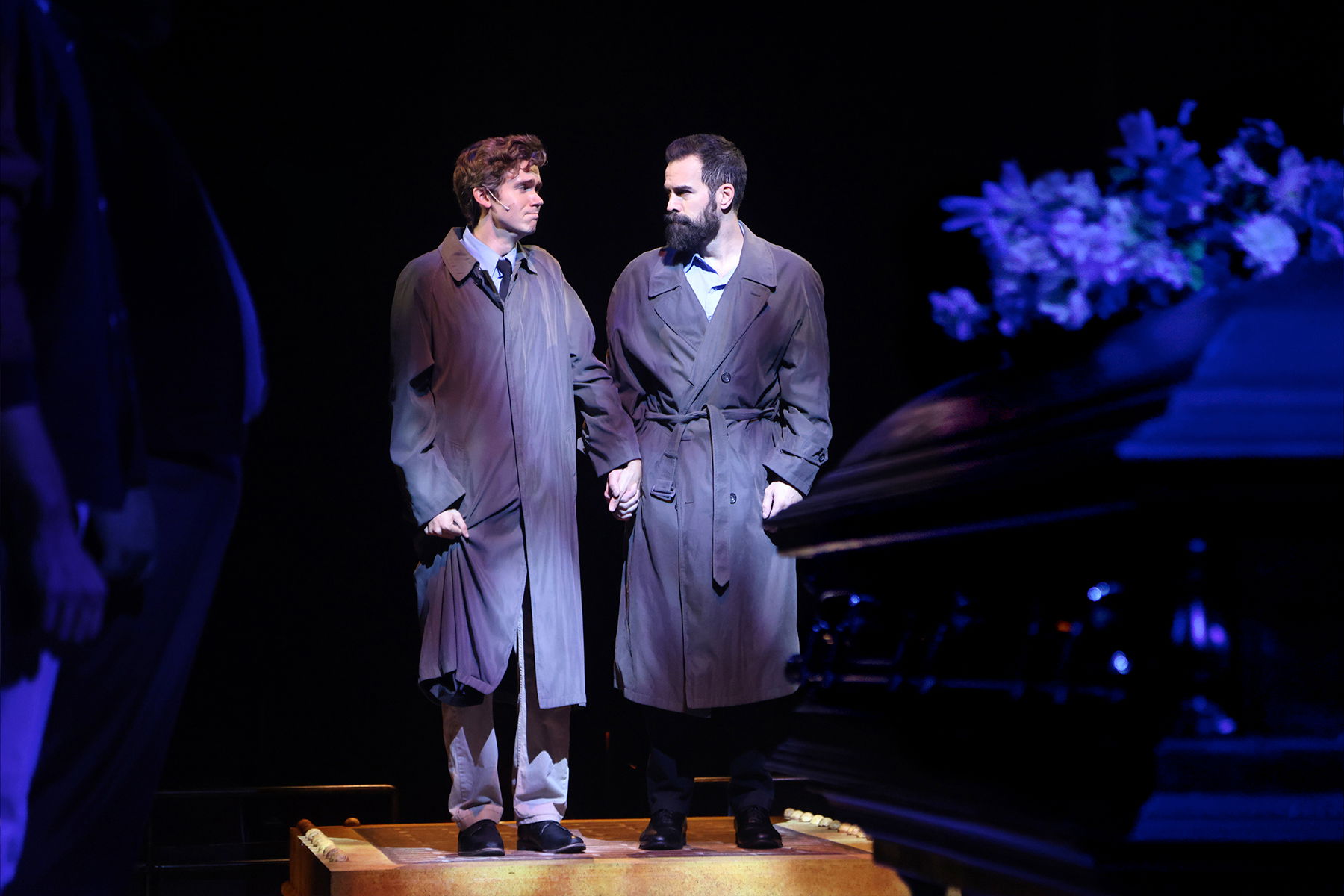 (Photo: Brendan Jacob Smith as "Malcolm MacGregor" and Christopher deProphetis as "Ethan Girard" in a more subdued moment from the musical, "THE FULL MONTY" by Terrence McNally and David Yazbek, now playing at Bill Hanney's North Shore Music Theatre in Beverly, MA. through October 8, 2023. Photo © David Costa Photography)
Next to sign onto this mad plan is former mill foreman, Harold (Tim Connell), who has not disclosed his own unemployment to his loving spendthrift wife, Vicki, played hilariously by Sara Gettelfinger.
Connell is extremely effective in the role of the stressed out Harold, who finds himself facing repossession at nearly every turn as he maintains his long-held secret from Vicki as he does not (ever) want to disappoint her.
When the team hold auditions, they are blessed with pure gold in the form of Noah 'Horse' Simmons (Bernard Dotson), an older Black man with moves like Jagger.
Dotson has impeccable comedic flair and is a bundle of energy (and body aches) during his number, "Big Black Man."
The final member to join the struggling, sagging, poor-man's all-male "Chorus Line" is Ethan (Christopher deProphetis).
Similar to Smith, deProphetis, as Ethan, is hilarious given his own drawbacks...and uh, "benefits"...adding a delightfully more tender aspect as he joins in with Smith on the song, "You Walk With Me."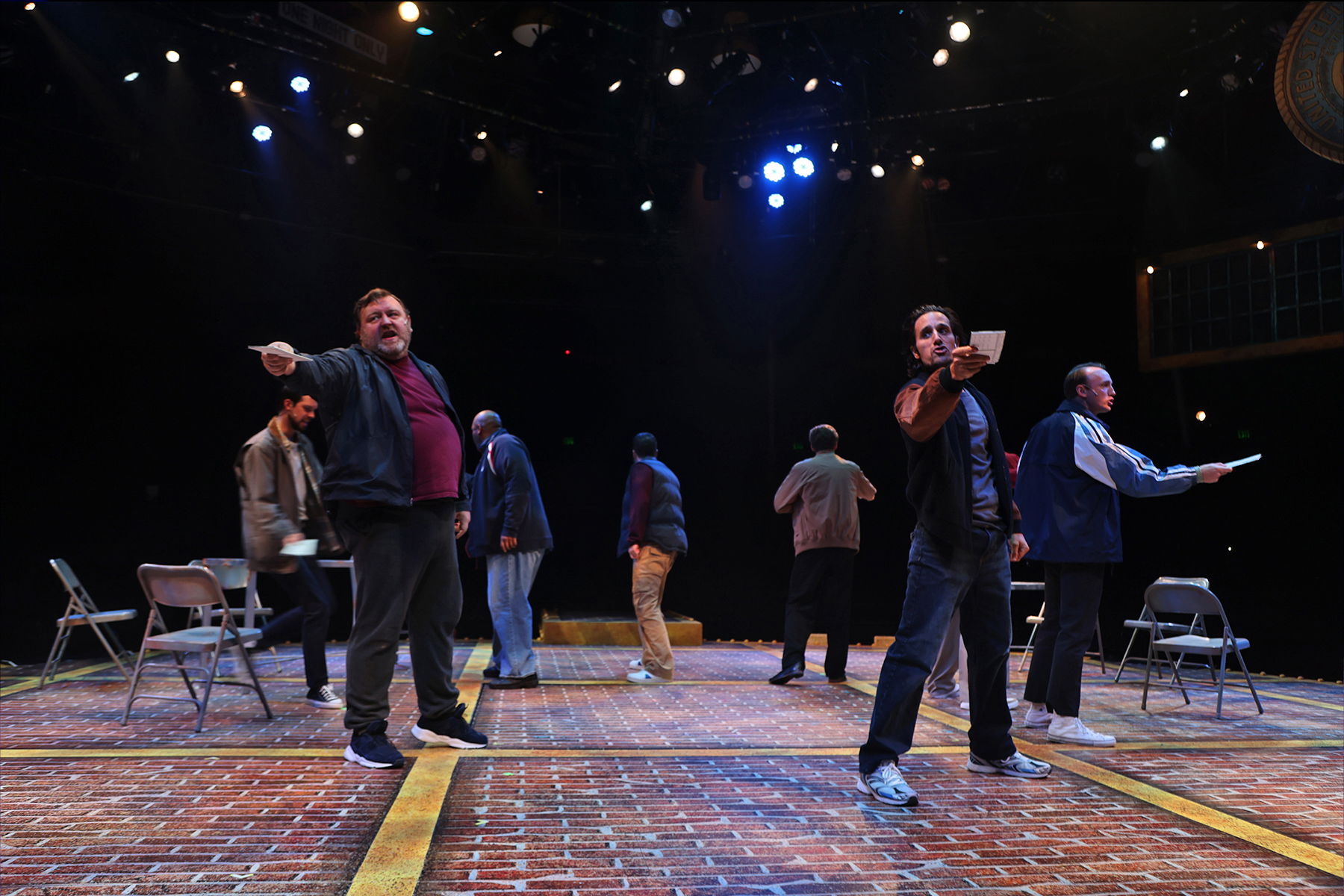 (Photo: James Fairchild as "Dave Bukatinsky," Jared Zirilli as "Jerry Lukowski" and the CAST perform "Scrap" from the Terrence McNally and David Yazbek musical, "THE FULL MONTY" now playing at Bill Hanney's North Shore Music Theatre in Beverly, MA. through October 8, 2023. Photo © David Costa Photography)
Helping the undertalented yet unrelenting team is another local, the irascible veteran showbiz performer and accompanist Jeanette (Kathy St. George). Nobody knows how she has shown up but it is definitely a comedic blessing she has, because Jeannette delivers some of the show's biggest laughs.
St. George gives a performance as "Jeanette" that is so good that, if done as an homage, the late, great Kathleen Freeman would certainly be smiling down upon the actress.
The intricate but minimalist scenic design is gorgeous with suspended "mill building glass" surrounding the stage, a few beautiful suspended pieces and only the essential set pieces required.
The main component driving the success of this production comes from the collective performances, which are all outstanding.
For an evening filled with great humor, a terrific score and a dynamite collective ensemble, don't miss your chance to catch "THE FULL MONTY" at NSMT now playing through October 8th.
Coming up next at Bill Hanney's North Shore Music Theatre: "THE DOO-WOPP HALL OF FAME OF AMERICA" ANNUAL CONCERT & INDUCTION CEREMONY on October 15th, and "ELVIS: A MUSICAL REVOLUTION" beginning October 31, 2023.
For tickets and information visit www.nsmt.org, call (978) 232-7200, or visit the North Shore Music Theatre box office in person at 54 Dunham Rd., Beverly, MA.
Approximately two hours, 30 minutes with one intermission.
Kevin T. Baldwin is a member of the American Theatre Critics Association (ATCA)
@MetrmagReviews
@Theatre_Critics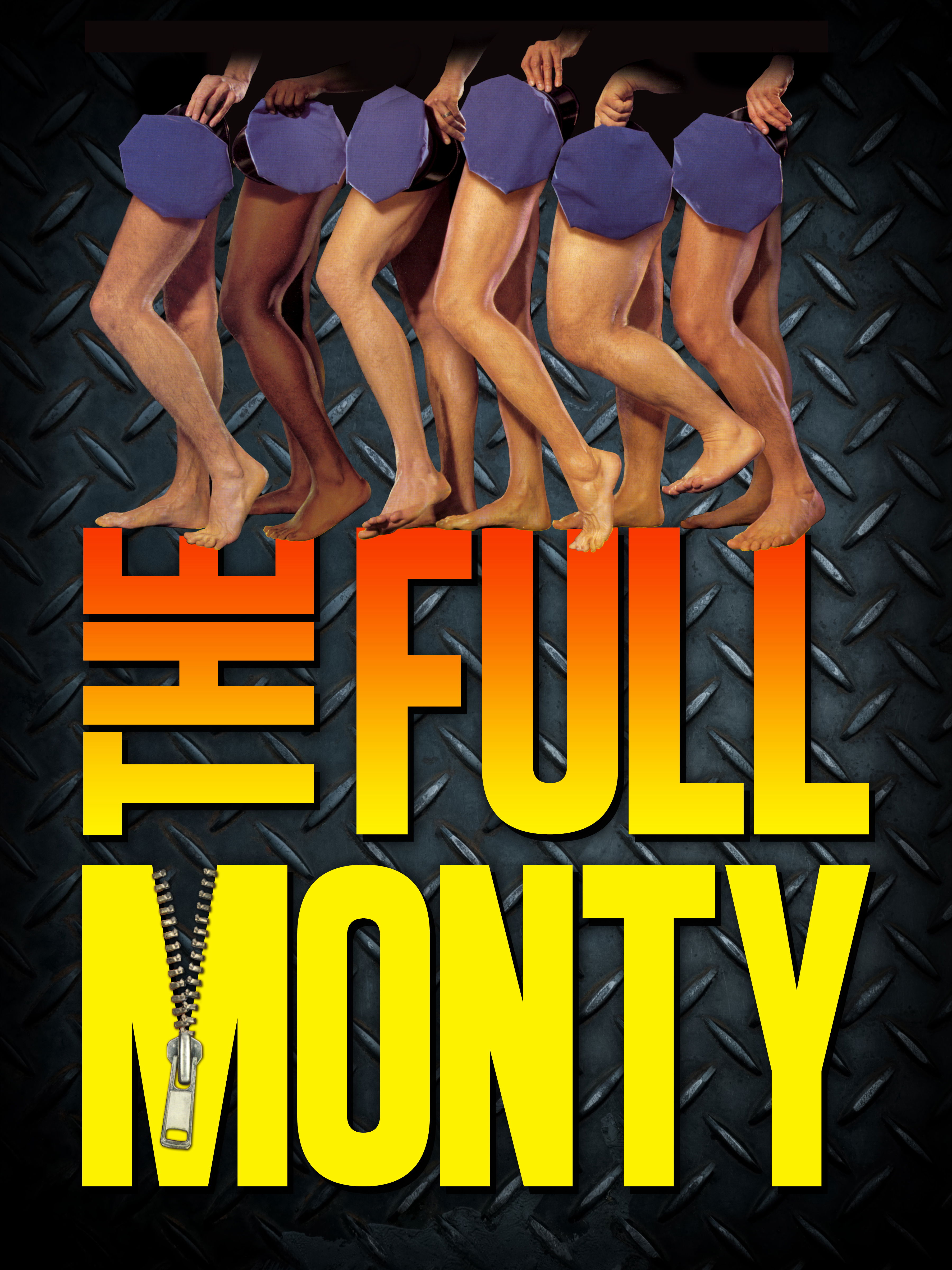 ABOUT THE SHOW
Based on the hit film "THE FULL MONTY" will make you laugh and grab your heart.
While spying on their wives at a "girls' night out" a group of unemployed steelworkers from Buffalo hatch a bold and unclothed plan to make some quick cash.
As they conquer their fears, self-consciousness and prejudices, the lovable misfits come to discover that they're stronger as a group, and the friendship they find in each other gives them the courage to "let it go."
This heartwarming musical comedy is filled with great music, hilarious characters, and the most highly anticipated closing number of any musical ever!
CONTENT ADVISORY:
Contains adult subject matter, nudity, and language. We do encourage you to use your judgment based on your own research of the show, your own sensibilities, and a child's age and maturity level.
No children under the age of 4 will be permitted in the theatre including babes in arms.
RUNNING TIME: Approx. 2 hrs 30 min (includes intermission)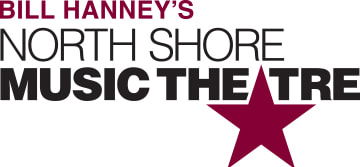 ABOUT BILL HANNEY'S NORTH SHORE MUSIC THEATRE
Since opening in 1955, NORTH SHORE MUSIC THEATRE (NSMT) has become one of the most attended theatres in New England, with approximately 250,000 patrons annually. With a national and regional reputation for artistic achievement, NSMT has received numerous industry awards including Elliot Norton Awards, IRNE Awards, the Rosetta Le Noire Award from Actors' Equity, and the Moss Hart Award. NSMT produced the World Premiere of "Memphis" in 2003, the show went on to win four 2010 Tony Awards including Best Musical. Under the new ownership of Bill Hanney since 2010, NSMT continues to annually produce a musical subscription series and an annual production of "A Christmas Carol" along with celebrity concerts, children's programming and year-round education classes for children and adults.
54 Dunham Road
Beverly, MA 01915
PHONE # 978-232-7200
FAX # 978-232-9999
northshoremusictheatre@nsmt.org