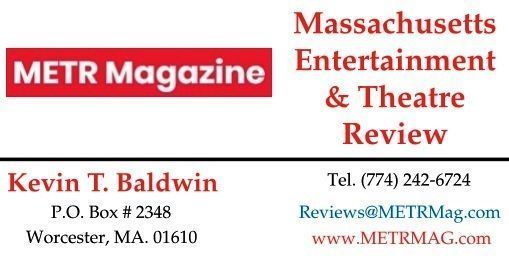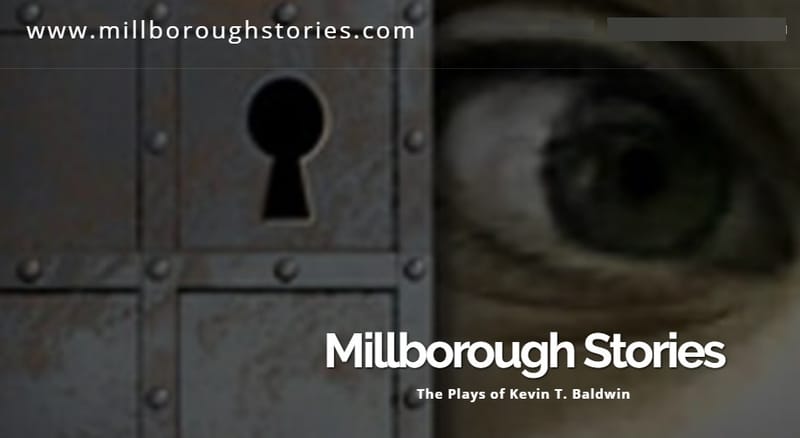 Welcome to the
Massachusetts Entertainment & Theatre Review (aka "METR") Magazine®Are YOU a "METR Reader"?METR®
is a professional web-based magazine for Massachusetts theatrical and entertainment reviews.
OUR MISSION:
To provide fair and balanced online reviews of performances taking place in the Central Massachusetts area. These reviews may be shared online via social media or printed as needed.
There are NO fees involved for any basic review services.

Features and Reviews will remain on the
METRMAG
site until such time as they may be required to be archived. Standard
feature articles
, awards event coverage, and
theatrical reviews
will
ALWAYS be free.
If you have a production coming up within the
next 90 days
, you may send us your information and we will be happy to list your show for
FREE in "UPCOMING SHOWS"
. All posted
UPCOMING SHOWS
will be deleted after production dates have passed.
If you have a production coming up
beyond
that 90 day window, perhaps going up well into next season but still needing to receive the added exposure, we do offer the PAID option to place a "ready to post" or "camera ready" advertisement on this page. Right now, we are only accepting payments via Paypal.
https://www.metrmag.com/place-your-advertisement-with-metr-magazine
Our primary goal is to have reviews posted in a timely fashion, usually within 24 to 48 hours, depending on the level of activity during the course of a weekend (when most shows take place).
Graded reviews are provided. These are subjective but, generally, we will use a "four-star scale" with four stars (
****
) being best.
IMPORTANT:
If you wish to submit photos, please make sure proper attribution is provided.
If any errors are spotted, please make sure to contact us immediately for a correction.
Our affectionately called
"METR Readers"
will be able to "Like", "Comment" and "Share" either by Facebook, Twitter, Linkedin, Instagram, E-mail or other social media options.
Links to LOCAL active theatre company web pages, upcoming auditions and our contributed reviews (mostly via Worcester Telegram) will also be provided.
WHY METR®?

A major difference between
METR®
and other standard print publications is that we try to cover one weekend performances which tend to be overlooked due to time/print restrictions. But if you have an event that is only one weekend and do still want a review, we will make ourselves available. Stipends may be requested for any specialized event coverage. Contact us directly for details and to schedule.
We are not restricted by service area, as with most print publications. So, if you are seeking a review for an event that is within an accessible distance for us to travel, we will certainly make the attempt to get there. Contact us directly to schedule.
We also provide links to some primary theatre companies in Massachusetts, mostly central but also including other companies, as well. Links to Facebook posts/pages and other social media where our
METR Readers
in the theatre community are most active. Most content here is also available on our
FACEBOOK
page.
METR®
Staff:
METR's
publisher and primary reviewer is Kevin T. Baldwin, member of the American Theatre Critics Association (ATCA) and the International Association of Theatre Critics (IATC-AICT). Since 2007 Kevin has been correspondent for the Worcester Telegram & Gazette, the Record, Auburn Times Magazine and Community Newspapers. Since 2011 he has been a major contributor of theatre reviews for the Worcester Telegram & Gazette.
Kevin has over 35 years of theatre experience as writer, actor, producer and director.
From 2005 to 2008 he served as adjunct theatre professor at Anna Maria College in Paxton, MA. and has directed shows at Clark University, Bentley College and WPI. For 20 years he ran the theatre company "K & K Productions, Inc." in Worcester, MA. For 12 years he directed the middle school musicals at West Boylston Middle High School. He has directed shows all over Massachusetts.
Also a published playwright, Kevin's extensive catalog of plays is available at either
www.millboroughstories.com
or at
Amazon.com
Contact Kevin at
Reviews@METRMag.com