(Cover Photo: The Company of "Winter Wonderettes," playing at Theatre at the Mount in Gardner. Photo Credit Gail Steele)
"Sprucing things up for the holidays"
Kevin T. Baldwin
METRMag Reviewer
# 774-242-6724

Theatre at the Mount
Presents
"Winter Wonderettes"
Created By Roger Bean
Directed By Gail Steele
Music Director: Michelle Heffner
Choreographer: Nicole Couture Skorb
Cast Includes: Kristen Licht, Lynne Dumais, Dawn Ross & Jackie Wyatt.
Performances:
November 26, 27, December 3, 4, 2021 at 7:30pm
November 28, December 5, 2021 at 2:00pm

Theatre at the Mount, MWCC, 444 Green Street, Gardner, MA 01440Box Office # 978-630-9388For tickets and show information: box-office@mwcc.mass.eduFor other information: g_steele@mwcc.mass.edu

This holiday season, Theatre at the Mount serves up a holiday musical treat with Roger Bean's "Winter Wonderettes," a musical cabaret review series.
This entry of the series is set in a hardware store and performed by a quartet reminiscent of the Andrew Sisters performing many Christmas standards in four-part harmony and thoroughly entertaining the "staff" played by…the audience.
Set in the small town of Springfield (state unknown), the interactive and lighthearted experience includes many holiday favorites such as "Rockin' Around the Christmas Tree," "Run, Rudolph, Run" and medleys of other classics.
The four women making up the "Wonderettes" quartet are Missy (Lynne Dumais), Cindy Lou (Dawn Ross), Suzy (Kristen Licht) and Betty Jean (Jackie Wyatt) who are entertaining at the annual Harper's Hardware Holiday Party, when "Santa", the owner Mr. Harper, turns up missing.
There are four entries in the "Wonderettes" series by Bean: The original "Marvelous Wonderettes," the first sequel, "Winter Wonderettes," "Wonderettes: Caps and Gowns" and "Dream On". What differentiates this series from other musical reviews is the simple charm Bean has given the four female characters involved.
The audience becomes involved in the lives of the characters singing their hearts out on some truly iconic and familiar songs.
The actresses here in the latest TATM holiday offering, "Winter Wonderettes," use their impressive voices and comedic skills to keep employee spirits high and save the holiday party when the employees suddenly and unexpectedly find out they have been fired and the hardware store closing.
Each of the charming foursome are given their chance to shine. In particular, Dawn Ross as Cindy Lou sings the melancholy "All Those Christmas Cliches" in Act Two which feels somewhat "removed" from the remainder of Bean's selections for this otherwise upbeat review.
Yet, for all its charm, there were some vocal harmonies that tended to go awry at this performance for the quartet.
For the opening number "Mister Santa" and subsequent "Rockin' Christmas Medley" it seemed as though the foursome was not only having issues singing along with the recorded musical tracks, they also appeared unusually "winded" from fairly simple choreography.
Fortunately, there was enough comedy in the show to compensate for these issues and the casual, interactive moments with the audience is, ultimately, the show's greatest strength.
Jackie Wyatt was extremely funny as the acerbic Betty Jean, especially when her character is fired before the second act even begins. Wyatt is a howl as she serenades "Bob in Plumbing" (a member of the audience) with the amusing "What Are You Doing New Year's Eve?."
As a quartet, the strongest number of the evening was easily the first act's holiday classic "Snowfall" (written by Claude and Ruth Thornhill) where the harmonies really began to gel.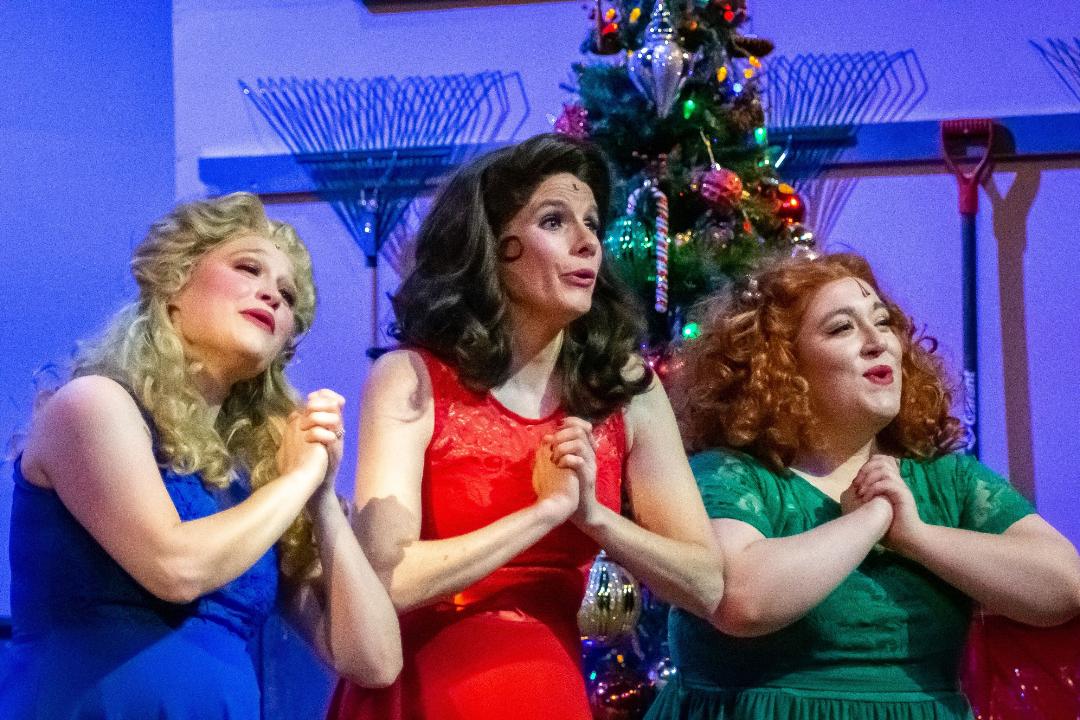 (Three members of the "Wonderettes" quartet: Suzy (Kristen Licht), Cindy Lou (Dawn Ross) and Betty Jean (Jackie Wyatt). Photo courtesy of Gail Steele)
Another standout of Bean's review included a review of holiday classics from around the world, including "O Tannenbaum," "Mele Kalikimaka" and "We Wanna See Santa Do the Mambo."
Choreography by Nicole Couture Skorb was crafted to be perfectly in sync with the upbeat holiday melodies. Direction by Gail Steele kept the show's pace from becoming lethargic. The set design of the holiday decorated hardware store by Tom Simahk (and constructed by students enrolled in MWCC Tech Theatre Classes) was exemplary.
There was also fine usage of intelligent lighting throughout the show which never overtook the material but rather enhanced it.
(Video of Missy (Lynne Dumais) reading her letter to Santa. Video courtesy of Theatre at the Mount)
Many times members of the audience could be heard singing along and, occasionally, it was even encouraged by the quartet.
So, for a fun evening of holiday music and laughs, this is one treat that should not be passed up.
The show runs approximately 90 minutes with one intermission.
Kevin T. Baldwin is a member of the American Theatre Critics Association (ATCA)
@MetrmagReviews
@Theatre_Critics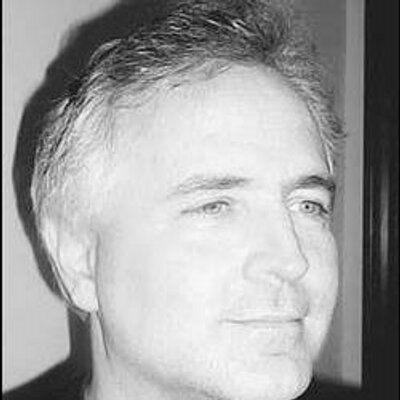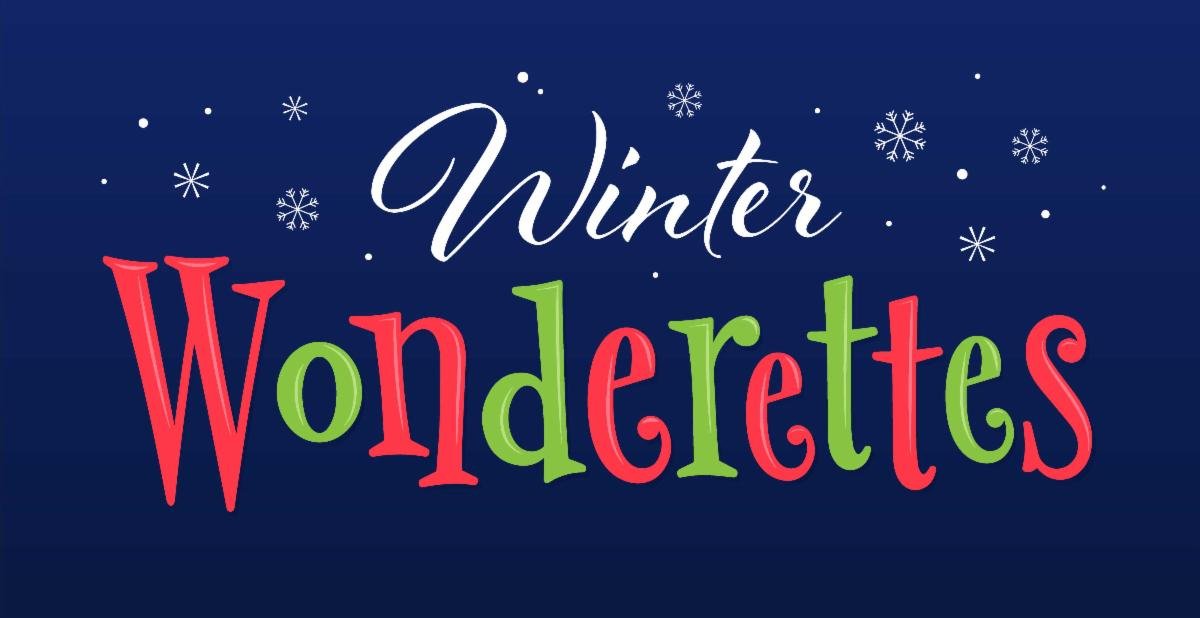 COVID-19 PROTOCOL
As we re-open for live, in-person performances the safety of our audience, staff and performers is paramount. While statewide COVID restrictions have been lifted, Theatre at the Mount is taking a more conservative and measured approach. Being careful now will ensure that we can continue on the path to full operations going forward.
*Theatre at the Mount has decreased seating capacity to allow for social distancing so tickets are limited.
To purchase tickets, call the TAM Box Office at 978-630-9388 or purchase online at www.mwcc.edu/tam

ABOUT THEATRE AT THE MOUNT
In 40 years, TAM has presented over 300 plays and had more than 2,500 different people involved in productions either onstage or backstage. An estimated 20,000 costumes have been designed and 1,000 different sets constructed with more than a half million people enjoying community theatre at its best.
444 Green Street
Gardner, MA 01440
Box Office # 978-630-9388
For tickets and show information: box-office@mwcc.mass.edu
For other information: g_steele@mwcc.mass.edu