(Cover Photo: Katie Ryan and Jules Talbot in a scene from "WILD SWIMMING" from Apollinaire Theatre Company in Chelsea, MA. through December 18, 2022. Photo Credit Danielle Fauteux Jacques)

By Kevin T. Baldwin
METRMAG Reviewer
# 774-242-6724

"Diving in and not realizing just how deep it is."

Apollinaire Theatre Company
Presents Marek Horn's
"WILD SWIMMING"
Written by Marek Horn
Directed by Emily Larson & Brooks Reeves
Cast Includes: Katie Ryan - Nell; Jules Talbot - Oscar
Additional Creative Team:
Costume Design - Elizabeth Rocha; Lighting & Scenic Design - Danielle Fauteux Jacques; Sound Design - David Reiffel; Stage Manager - Maria-Sophia Martin; ASM - Alan Jussome; Design Assistant & Gallery Design - Audrey Johnson
Chelsea Theatre Works, 189 Winnisimmet Street, Chelsea, MA. 02150
Performances:
November 18, 2022 through December 18, 2022
Fridays & Saturdays at 8:00pm ; Sundays at 3:00pm
No Shows November 20, 25, 27, 2022
(Contact Box Office for Exact Times)
TICKETS:
Reserve your tickets today!
Tickets are $30, $25 for seniors, $15 for students.
Tickets can be purchased online or by calling # 617-887-2336 or via email at tickets@apollinairetheatre.com
With Apollinaire Theatre Company's production of "WILD SWIMMING" there are watery reflections of compassion, love, intimacy and friendship riding along the waves of time.
Watching "WILD SWIMMING" is like watching a long fuse that has just been lit but, by the end, it leads to an exquisitely timed implosion instead of an explosion.
There is also an explosion of sorts. However, this explosion involves the multitude of costume pieces and props hurled about the stage space as the show unfolds.
There is both a rambunctiousness and volatility to the piece, written by Marek Horn.
It is not a play that will have an immediate nor widespread appeal - yet "WILD SWIMMING" is definitely a tale that will result in enduring conversations long after leaving the theatre.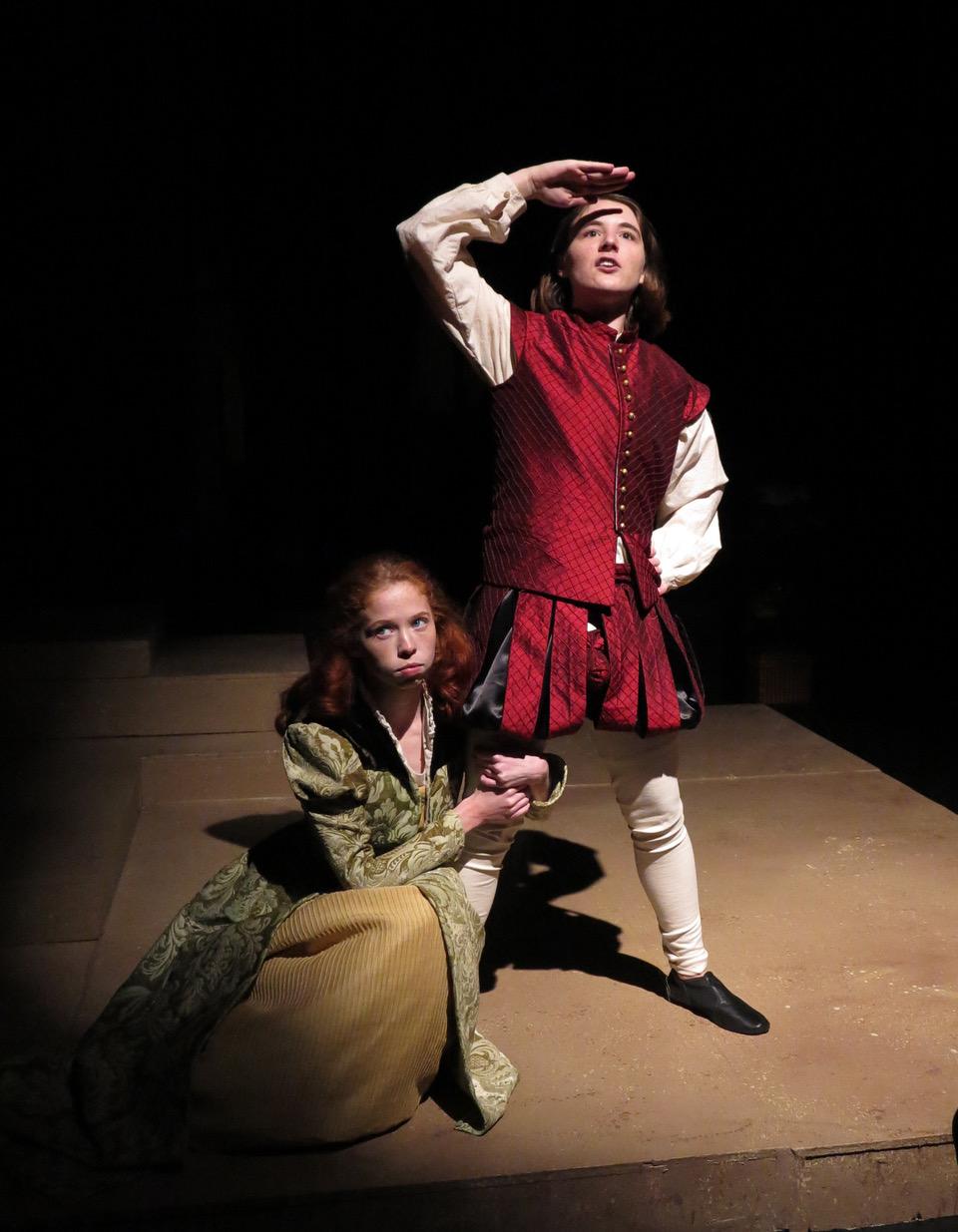 (Photo: Katie Ryan and Jules Talbot in a scene from "WILD SWIMMING" from Apollinaire Theatre Company in Chelsea, MA. through December 18, 2022. Photo Credit Danielle Fauteux Jacques)
The first of four scenes is set centuries ago as friends Nell (Katie Ryan) and Oscar (Jules Talbot) reunite on a beach on the English Channel coast in Dorset, a county in South West England.
The remaining three scenes carry us on waves, taking us through to present day.
Neither performer speaks in an English accent. An odd choice of direction as some of the dialogue is clearly "U.K.-specific" at times.
Yet, given the unmistakable cohesive chemistry between Ryan and Talbot, this foible is fast forgiven.
Ryan is compelling and unabating as Nell, who strives for simple and deserved recognition of individual accomplishment in times when such things for women were never acknowledged.
Talbot has a commanding stage presence, evident in a phenomenal and sensitive portrayal of Oscar, with Talbot sometimes saying more in a single look than from multiple lines of dialogue spoken of Horn's script.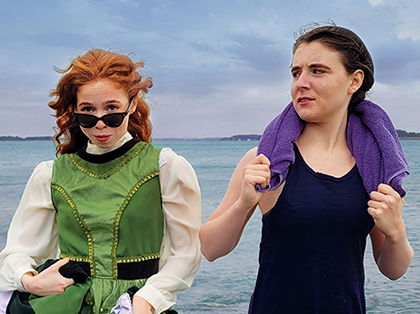 (Photo: Katie Ryan and Jules Talbot in a scene from "WILD SWIMMING" from Apollinaire Theatre Company in Chelsea, MA. through December 18, 2022. Photo Credit Danielle Fauteux Jacques)
Yet, in all of its 75 minutes, Horn's play is rooted in total honesty...complete, relentless, unabandoned, uninhibited truth.
In each of the play's four segments, the performers contend with the truth of societal-imposed gender roles and the evolution of the constraints that came (comes) with those roles.
Before the show even begins, the lobby is cleverly adorned with images and quotes from pivotal poets and historical figures throughout the ages.
At the start of Horn's script and, under the co-direction of Emily Larson and Brooks Reeves, there is a keen sense of the level of immaturity existing between Nell and Oscar that is both contentious and infectious.
Silliness abounds before the show even begins. The functional single-set allows for much more freedom on stage for the actors to interact with the audience.
Set in an immersive staging, there is full-on audience participation initiated throughout the show and the performers make it easy for even the most reluctant to play along.
There is also a bit of competition aligning one side of the house to Nell, the other to Oscar, with the audience in the middle section referred to as "Switzerland" (either a wink or nod to neutrality).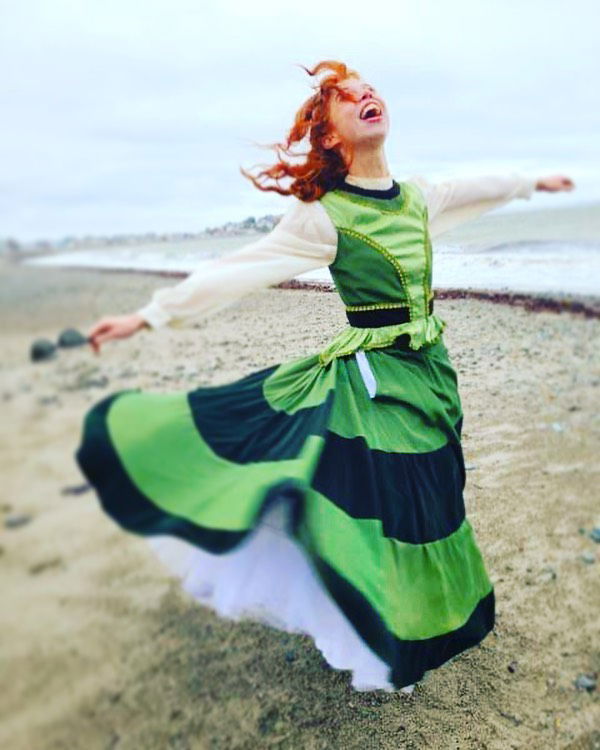 (Photo: Katie Ryan and Jules Talbot from "WILD SWIMMING" from Apollinaire Theatre Company in Chelsea, MA. through December 18, 2022. Photo Credit Danielle Fauteux Jacques)
Gender hierarchical stereotypes are explored from the Renaissance era through today - all told in a contemporary, verbose and delightfully guttural sense.
As each scene unfolds, the story quickly progresses (or, perhaps, regresses) from playful to combative, from giddy and silly to bleak and punishing - as both Nell and Oscar move from their collective immaturity to their respective lamentation of the roads either taken or not taken.
Nell, especially, has a tremendous amount of venom built up from centuries of gender suppression. As she introduces that venom, Oscar comes off more as collateral damage than the intended recipient.
Yet, the bonding between Nell and Oscar is one that is more than friends, more than lovers, more than eternal companions and competitors. Horn's script seeks to explore, through the ages, that heightened relationship that exists between the duo.
In his song, "Why Do Little Girls?", the late, great Harry Chapin posed the musical question, "Why did the little girls grow crooked, While the little boys grew tall?"
In his own way, Marek Horn reaches Chapin's same conclusion by the end of "WILD SWIMMING."
"It's maybe because the little boys didn't ever have to grow up at all."
The show makes clear that, while we have advanced in trying to obliterate the ongoing narrative of gender suppression, privilege and stereotype...we still have a long way to go.
In a nautical sense, the characters seem to be simultaneously focused on recalling waves past while circumnavigating the tide that lies before them, never truly focusing on the current in which they exist.
The Apollinaire Theatre Company production of "WILD SWIMMING" continues through December 18, 2022.
Note: Adult themes presented throughout the show. Production is not recommended for young audiences or for those who might be easily offended.
Approximately one hour, 15 minutes with no intermission
Kevin T. Baldwin is a member of the American Theatre Critics Association (ATCA)
@MetrmagReviews
@Theatre_Critics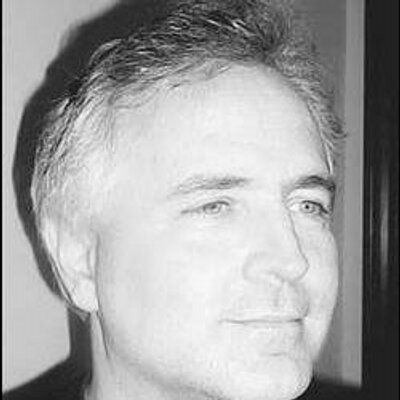 ABOUT THE SHOW
"WILD SWIMMING" "is an interrogation of gender and privilege and a willfully ignorant history of English Literature."
On one beach, across five centuries, best friends Oscar and Nell change costumes and try to change their lives, circumscribed by the gender restraints of the day.
If all else fails, they will attempt to change the play.

ABOUT APOLLINAIRE THEATRE COMPANY
Apollinaire Theatre Company is known for cutting-edge contemporary work, regional premieres, and for breathing new life into classics. We are proud recipients of multiple Elliot Norton and IRNE Awards, including The Kenneth A. MacDonald Award for Theatre Excellence awarded to Artistic Director Danielle Fauteux Jacques. We are also honored to have received the New England Theatre Conference Regional Award for Outstanding Achievement in the American Theatre.
APOLLINAIRE THEATRE COMPANY
Chelsea Theatre Works
189 Winnisimmet Street
Chelsea, MA 02150
# 617-329-5350