(Cover Photo by Huntington Theatre Company and NIle Hawver)
Huntington Theatre invites everybody to the Stein Family's first Seder
By Kevin T. Baldwin
METRMag Reviewer
Contact: 774-242-6724

BOSTON, MA. - "We All Fall Down" by Lila Rose Kaplan. Huntington Theatre Company, Calderwood Pavilion at the BCA, 527 Tremont Street, Boston. Performances: Jan. 23 through Feb. 9. Select Evenings: Tues. through Thurs. at 7:30pm; Fri. and Sat. at 8:00pm; Select Sun. at 7:00pm. Matinees: Select Wed., Sat., and Sun. at 2:00pm. Single tickets starting at $25 and FlexPasses are on sale: online at huntingtontheatre.org; by phone at 617 266 0800; or in person at the Huntington Avenue Theatre Box Office, 264 Huntington Ave. and the Calderwood Pavilion at the BCA Box Office, 527 Tremont St. in Boston's South End. Select discounts apply: $10 off: subscribers; $30 "35 Below" tickets for patrons 35 years old and younger (valid ID required); $20 student and military tickets (valid ID required)
Written by Lila Rose Kaplan. Directed by Melia Bensussen.
Cast Includes: Eleanor Reissa, Stephen Schnetzer, Phyllis Kay, Liba Vaynberg, Dana Stern, Elle Borders, Sarah Newhouse.
Huntington Theatre Company presents the new enjoyable comedy, "We All Fall Down," by Lila Rose Kaplan about a Jewish family taking an inaugural look at a long-celebrated traditional Jewish meal.
While the overall disposition of the play attempts to be lighthearted, there are some darker elements which, as scripted, feel a bit forced at times. We have seen a lot of these plot elements before, many times, in other plays, situation comedies on television and in a number of films about family relationships.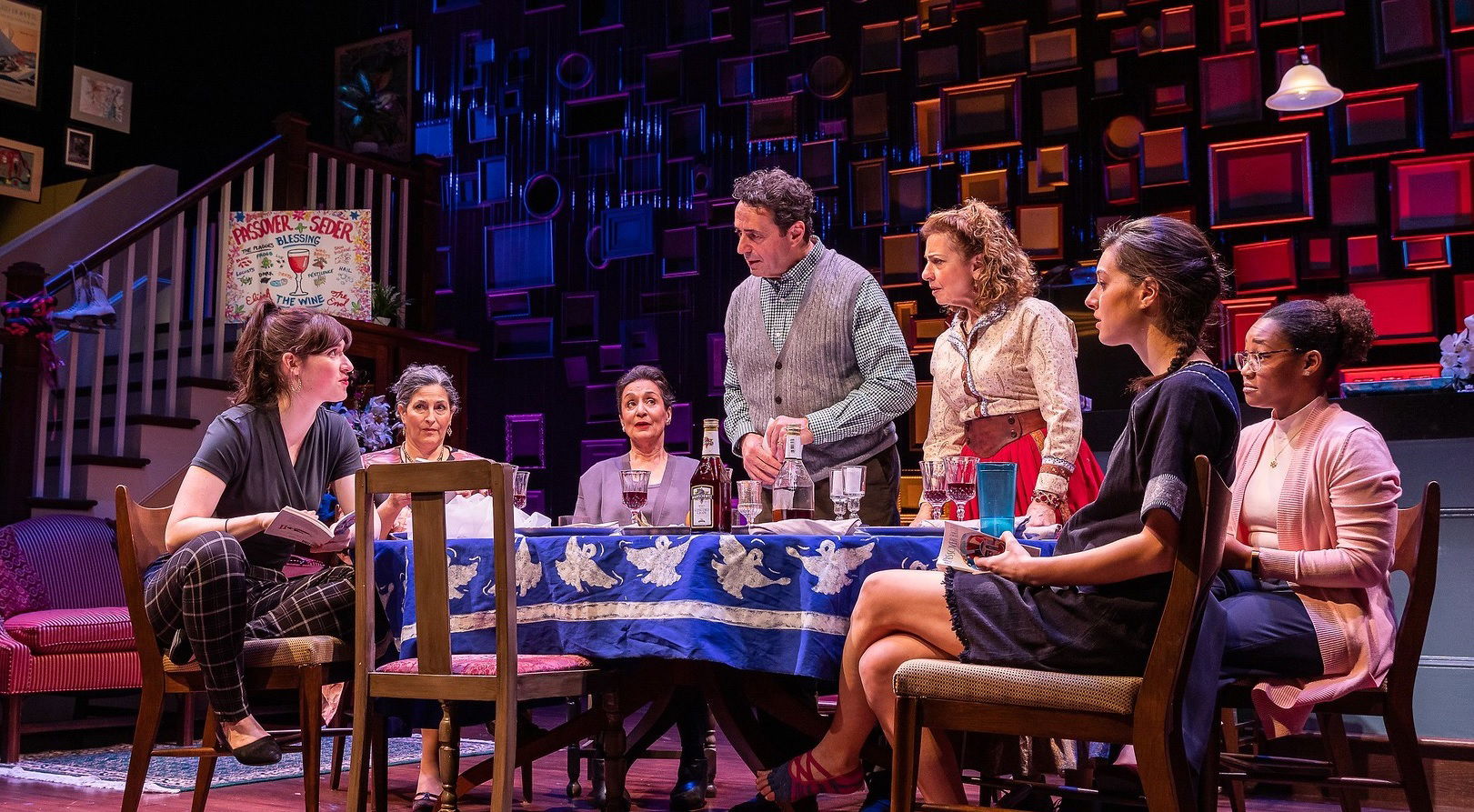 The Cast of "We All Fall Down" at the Huntington Theatre Company. Photo Credit: Nile Hawver.

So, the show's several "big reveals" at the end are hardly surprising. However, under the direction of Obie Award winner Melia Bensussen, the Kaplan's individual character backstories of the Stein family members come across genuine and overwhelmingly congenial. And, as executed by the cast, it is hard not to become emotionally invested in the Stein family's story.
Linda (Eleanor Reissa) and Saul Stein (Stephen Schnetzer) live in a home just outside the NYC limits. Linda, a therapist, has written a book, aided by her personal assistant, Ester (Elie Borders) and is on the cusp of it becoming a best seller. Saul is a history professor who recently and abruptly retired.
They have one daughter visiting from California, Sammi (LIba Vaynberg), who they do not know has become engaged. Their other daughter, Ariel (Dana Stern), is studying to be a yoga instructor and lives at home with them. However, they don't know that she is moving to Bali to continue her studies.
Linda has summoned the women and Saul's sister, Nan (Phyllis Kay), to celebrate a Passover Seder for the first time in decades. The daughters have no idea why there is such urgency as neither parent has ever showed the remote interest in any Jewish traditions. But, Linda is adamant and the girls try to appease her as best as possible.
Also in attendance is former neighbor, Beverly (Sara Newhouse), who is visiting from NYC. The contrast between Beverly's extreme cheery optimism vs. Nan's dour sarcastic moments yields the play's biggest laughs. Both Kay and Newhouse are perfectly cast in these parts, with Kay coming across very much like Olympia Dukakis's character from "Steel Magnolia" at times.
The scenic design of the Stein home by Judy Gailen is quite impressive, with literally hundreds of assorted sized picture frames adorning the back wall and paintings along the stairwell stage right.
Reissa as Linda is steadfast as her character leans to desperately theatrical at times without her daughters understanding why the event is so important to her. Schnetzer as Saul is a fine counterpoint to her as the couple fall in and out of a multitude of exasperating arguments which, as in the case of some families, seem to come out of nowhere.
There are numerous relate-able moments which are played out quite well by the actors. However, Vaynberg and Stern, as the daughters, are not given nearly enough to work with from the material and seem to function only as human springboards for whatever is going on with Linda and Saul.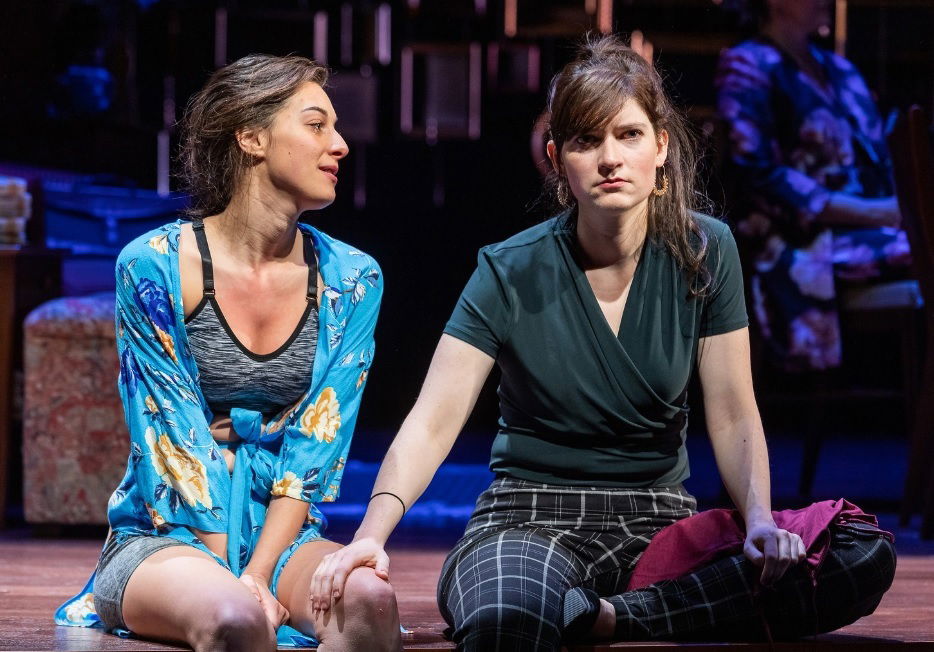 Dana Stern and Liba Vaynberg from "We All Fall Down". Photo Credit: Nile Hawver


The sisters do have a scene together near the end of the how which, while intended to cement their bond, instead, comes across as truly forced. Their closing scene together, dressed in what looks like are supposed to be adult pajamas and tutus, makes little sense to the show's finale and which is hardly addressed by the other characters at all.
Otherwise, and over all, the pathos of Kaplan's script and sincerity of the collective cast is what elevates the 90 minute performance to a show well worth seeing...if not a Seder well worth attending.
Show runs approximately 90 Minutes with no intermission.
Kevin T. Baldwin is a member of the American Theatre Critics Association (ATCA)