Barre Players explores fear without light in "Wait Until Dark"
By Kevin T. Baldwin
METRMAG Reviewer
# 774-242-6724

BARRE: Barre Players Presents "Wait Until Dark" a dramatic thriller in two acts by Jeffrey Hatcher. Barre Players Theater, 64 Common Street, Barre, MA. Performances: Oct. 19, 25 & 26 at 7:30pm Sunday Matinee, Oct. 27 at 2:00pm. Tickets are $20 for general admission and $15 for senior citizens (age 65+) and children (age 12 and younger). For reservations, visit barreplayerstheater.com or call 978-355-2096. Not Recommended for persons under age 14 due to mild adult themes.
A thriller by Frederick Knott. Adaptation by Jeffrey Hatcher. Directed by Anthony Masciangioli
Cast Includes: Elizabeth Jacoby, Jeremy Woloski, Greg Glanville, Dave Piperno, Clare Krug, Nicholas Marques.
As the Barre Players production of "Wait Until Dark" begins, lights come up half way on a very ugly basement apartment. One for a recently married couple trying to make ends meet on a budget. It is here that a young blind woman is about to get caught up in a very dangerous game.
In this run down 1940s style apartment, center stage along the back wall, there is an ugly white refrigerator that, with its door wide open, you can see from the bright white light inside it there is hardly any food or drink.
There are matching ugly white cabinets. A safe is located to one side down stage left. A large brown sofa center stage, and a kitchen table with some assorted chairs - All positioned to make things more accessible to a person without sight.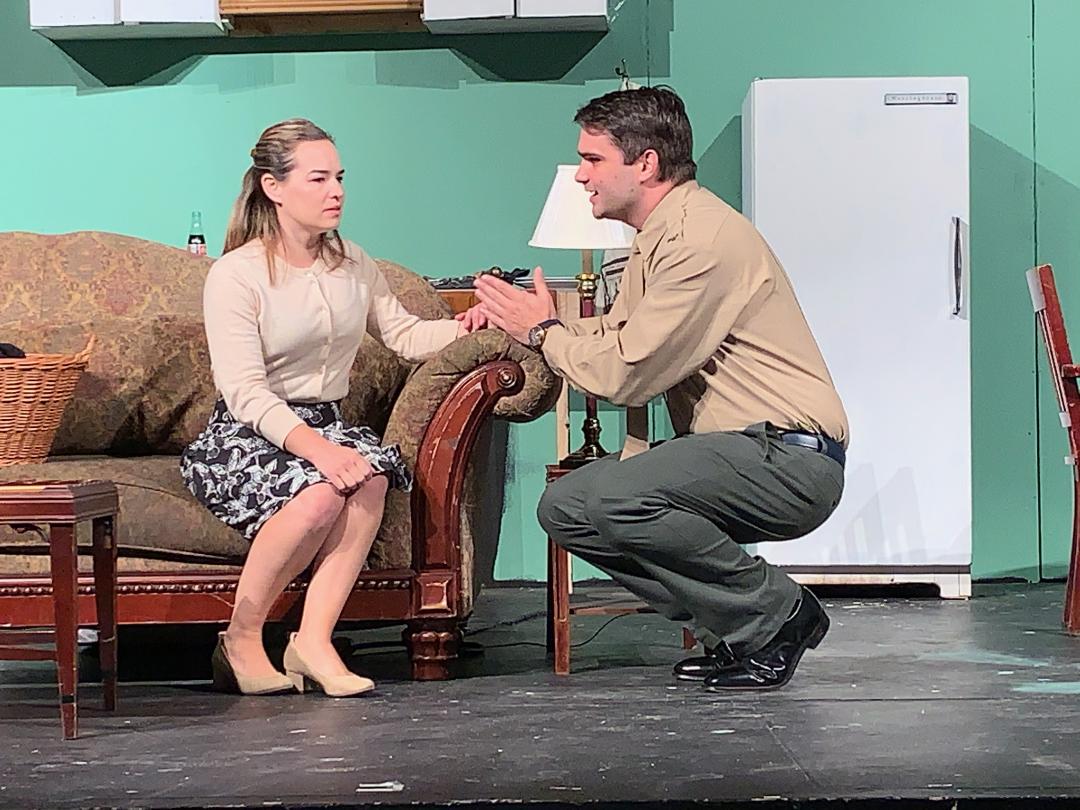 Elizabeth Jacoby and Greg Glanville in "Wait Until Dark".
All photos courtesy of Meg Norton.

Originally a thriller written by Frederick Knott, "Wait Until Dark" was made into a 1967 major motion picture featuring iconic actress Audrey Hepburn who played "Susan." The last moments in the movie are still considered among the most suspenseful scenes ever captured on film.
For the 2013 stage adaptation by playwright Jeffrey Hatcher, which moves from the 1960s to the 1940s, it still presents a female lead character that is not only resilient in how she faces criminal adversaries in "Wait Until Dark," she also faces her own physical adversity.
In some ways, the new concept by Hatcher is effective but, In other ways, it doesn't really serve the material well.
Susan (Elizabeth Jacoby), not born blind but rather only recently became blind, is at home…alone. Her husband, Sam (Nicholas Marques), a photographer, has been called away on an assignment.
We learn Sam was asked to hold onto a doll for a strange woman (never "truly" seen in the show) as they both exited an airplane but, suddenly, the woman left in a hurry, leaving Sam with the doll. So, Sam brought the doll home.
Under the direction of Anthony Masciangioli, and as the play unfolds, Susan's life is put into jeopardy by crooks playing a massive "cat and mouse" game for which her only ally is young neighbor Gloria (Clare Krug) a troubled, unruly, rambunctious young woman.
Early in the show, we learn that the missing woman was a drug smuggler. The doll is now being sought by her accomplice, Mr. Roat (Jeremy Woloski), who has murdered her and has roped in two co-conspirators, Mike (Greg Glanville) and Carlino (Dave Piperno), into his scheme to recover the doll, which holds a fortune in smuggled heroin.
Performances by the five member cast were a bit uneven but Jacoby and Woloski proved most impressive throughout the evening - Jacoby, because of her attention to the authenticity in her portrayal of Susan; and Woloski for his adeptness as Roat and the several identities Roat assumes during his elaborate scheme. He is undeniably ruthless on stage in the show's finale.
As Mike, Glanville was quite amiable on stage and undergoes the most changes in Hatcher's restructured adaptation, which may come as quite a surprise to those familiar with the story.
However, lost as part of that same restructure is the relationship between Mike and Carlino, leaving Piperno less to work with in his portrayal of Carlino as a result.
Marques, as Sam, was cnly on briefly but, while on stage, gave a competent performance but even his role was reduced by Hatcher's script. Gone are many wonderful originally scripted moments which showcased a newly blind Susan as she learns skills needed as a modern day blind person. However, with the 1940s setting, a lot of those skills may not yet have existed as much as they did post-1950s.
Unfortunately, the back stage areas echoed quite a bit and there were a number of loud noises which detracted from the action taking place on stage (mostly at times when Susan, given her supposed other heightened senses, should have reacted but didn't). Any crew or "dead bodies" walking back stage were heard quite clearly.
As mentioned the set was perfectly functional and conducive to the material, but the stage left stairwell appeared to be in a bit more ragged shape than the rest of the apartment. The use of the blinds and the illuminated effect used during the show was very well executed.
A delightful surprise was Clare Krug as Gloria, who not only served as Susan's only ally, she was also quite funny at times.
The aforementioned word "See" is used at two critical moments in the show and also serves as lighting cues for a blackout. However, each time, during this performance, the blackouts were rushed, happening far too abruptly and thus diminishing the impact of the statement(s).
Audiences should anticipate riveting moments of intense adversity that takes place in virtual darkness. But it is Jacoby's impressive performance as Susan that dominates the piece and which makes it all worthwhile.
The show runs approximately two hours with one intermission.
Kevin T. Baldwin is a member of the American Theatre Critics Association (ATCA)
@MetrmagReviews
@Theatre_Critics