Presents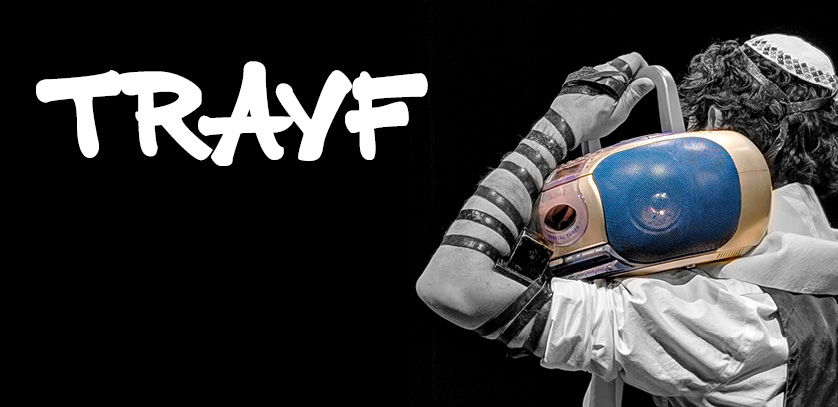 New Repertory Theatre presents a funny and awakening "Trayf"
By Kevin T. Baldwin
METRMag Reviewer
Contact: 774-242-6724

BOYLSTON: "Trayf" by Lindsay Joelle presented by New Repertory Theatre, at the MainStage Theater at the Mosesian Center for the Arts, 321 Arsenal Street, Watertown, MA. Performances Oct. 17, 30 & 31 at 7:30pm, Oct. 18, 19, 25, 26, Nov. 1 & 2 at 8:00pm, Oct. 19, 26 & Nov. 2 at 3:00pm, Oct. 20, 27 & Nov. 3 at 2:00pm, Oct. 24 at 1:00pm and 7:00pm. Tickets $25-$67 and may be purchased by calling the New Rep Box Office at 617-923-8487 or visiting newrep.org. Student, senior, and group discounts are available, as well as free tickets for WIC/EBT cardholders.
Written by Lindsay Joelle. Directed by Celine Rosenthal.
Cast Includes: Ben Swimmer, David Picariello, Nile Scott Hawver, Kimberly Gaughan.
With the latest production by New Repertory Theatre of "Trayf," billed as a "contemporary coming-of-age comedy by Lindsay Joelle," the onslaught of laughs average virtually once a minute for all 75 minutes.
In the story, concerning two young Jewish men, it is not essential to understand all the intricacies of Hasidic Judaism (although it couldn't hurt). It is only essential to understand what it means to two brothers of different mothers.
Two 19 year-old lifelong friends, Zalmy (Ben Swimmer) and Shmuel (David Picariello), who couldn't be closer, reach a pivotal moment in their friendship as they drive a "mitzvah tank" through Brooklyn in 1990s New York City.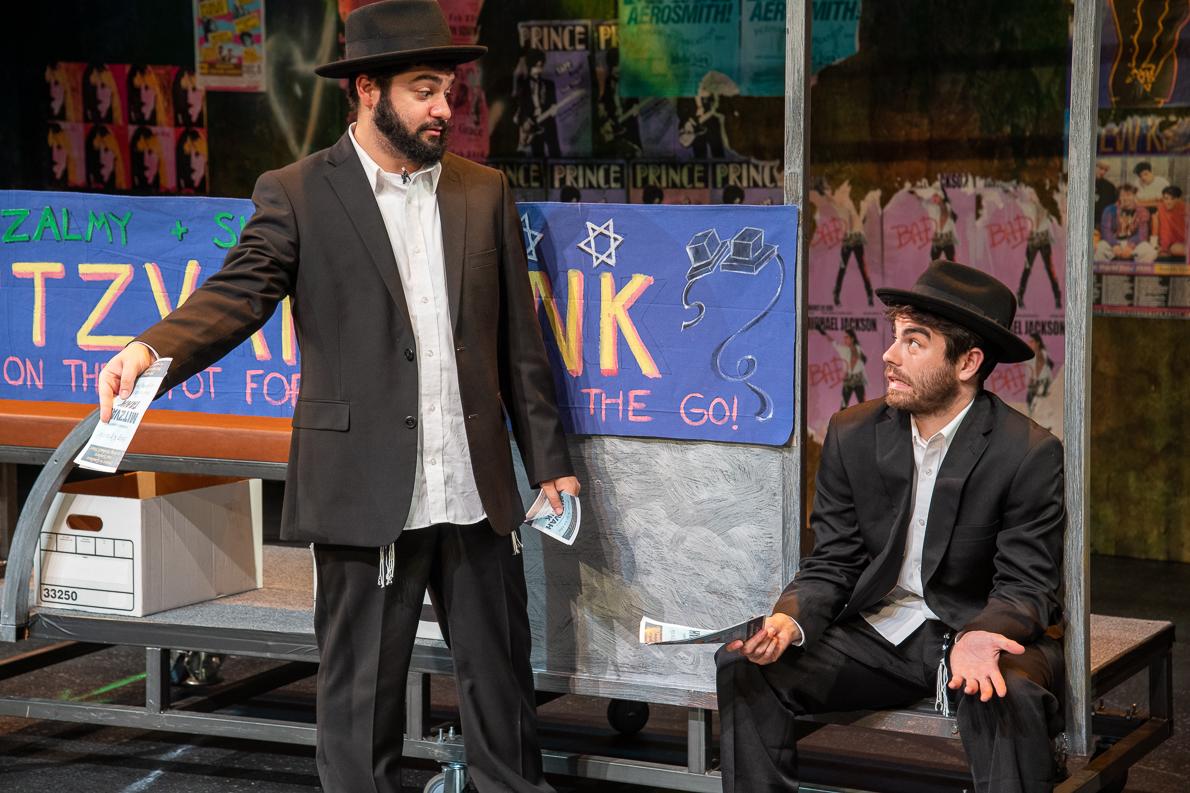 David Picariello and Ben Swimmer in "Trayf".
Photos courtesy of Andrew Brilliant/Brilliant Pictures
The men may have licenses to drive but come across rather naïve, innocent and shielded from anything outside their religion, including exposure to popular culture such as music and the arts, all due to their religious upbringing. They are dressed in drab black suits and wear hats conforming to their religious beliefs.
The word 'Trayf," used a few times in Joelle's one-act play, comes from the Yiddish referring to food that non-conforming to Jewish dietary law.
However, Zalmy and Shmuel use it numerous times to refer to things as like "garbage" or a "mess."
Swimmer and Picariello as Zalmy and Shmuel (respectively) have an instantly infectious chemistry on stage. They bring the audience along for the ride in their "mitzvah tank," used in their charge to conscript latent Jews to perform religious good deeds, which they see as holy acts or "mitzvahs."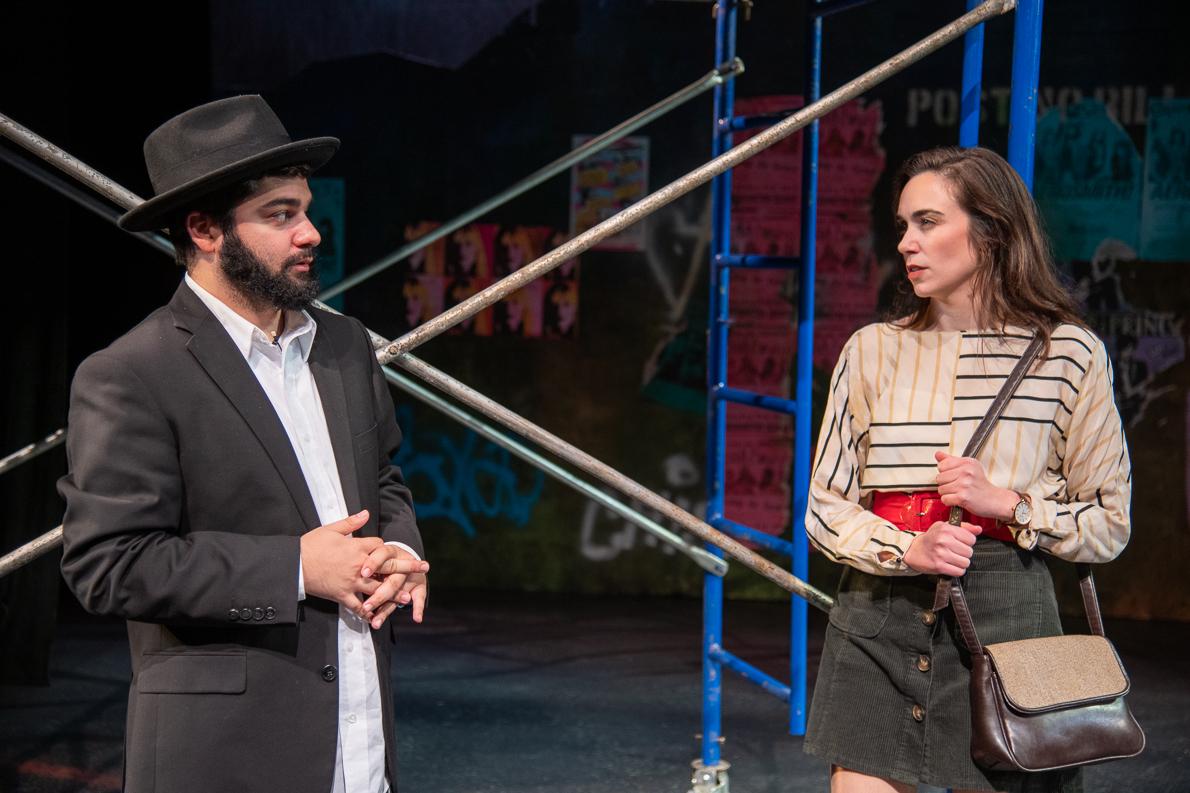 David Picariello and Kimberly Gaughan in "Trayf". Photos courtesy of Andrew Brilliant/Brilliant Pictures
All goes well for the two who are virtually ignored as they try to engage others on the street, until they meet Jonathan (Nile Scott Hawver). Jonathan isn't "totally" Jewish. His mother was a Catholic, his father, Jewish.
With his father's recent death, Jonathan has an intense interest in Judaism and wants to convert.
While Zalmy is accepting of Jonathan's desire, Shmuel holds fast to a religious doctrine which sees Jonathan as not truly Jewish since his mother wasn't Jewish.
Leah (Kimberly Gaughan) is Jonathan's girlfriend who is Jewish and does not want Jonathan to go through the conversion and explains it in an intense confrontation with Shmuel.
As a budding friendship evolves between Zalmy and Jonathan, the relationship between the two sets of duos is altered. It is less "coming-of-age" and more personal "awakenings" that occur, but in the end, they all wind up forever changed.
Under the expert direction of Celine Rosenthal, Joelle's script, as executed, is smart, compassionate and, above all else, funny. The performances are exceptional. It is presented with charm, humor and respect.
There was some dialogue lost at times as actors turned upstage, but none that took away from the overall message from Joelle's story.
The simplified set design by Grace Laubacher consisted of a scaffold set that allowed for ease of transition between scenes and the brick walls adorned with posters and graffiti was intentionally minimal yet sufficient and effective.
For tickets contact the box office: http://www.newrep.org/box-office/
The show runs approximately 80 minutes with no intermission.
Kevin T. Baldwin is a member of the American Theatre Critics Association (ATCA)