(Cover Photo of "Black Comedy" cast courtesy of Christine Taylor and Stageloft Repertory Theater)
Dubious double bill with Stageloft's "White Liars" and "Black Comedy"
By Kevin T. Baldwin
METRMAG Reviewer
# 774-242-6724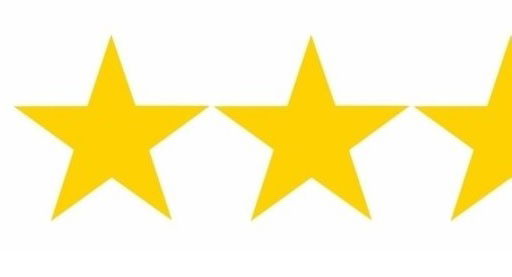 FISKDALE: Stageloft Repertory Theater in collaboration with B.E.A.T. Theatre Company presents "The White Liars" and "Black Comedy" by Peter Shaffer. 450 Main St # A, Fiskdale, MA 01518. Performances: Jan. 11, 17 & 18 at 8:00pm, Jan. 12 & 19 at 2:00pm. Ticket prices $20 per adult. $18.00 seniors (60+) students and military, $10 per child (under 12). For tickets and reservations contact the box office at 508-347-9005 or email stageloftrep@gmail.com.
Written by Peter Shaffer. Directed by David Anderson.
Cast includes: Robyn Spain, Zachary Hauge, Joshua Raymond, Mary Tisdell, Stephanie Sawyer, Greg Glanville, joseph Sawyer, Brittany Grenier, Stephen Jean.
With Stageloft Repertory Theater's latest production, featuring two one-act plays written by author Peter Shaffer, the question becomes: "Why?"
Produced in collaboration with B.E.A.T. Theatre Company, and while delivering many laughs in the show's second offering, "Black Comedy," at two and a half hours, the double bill is overkill just to have the words "White" and "Black" appear together on the marquee.
The two plays are polar opposites on the entertainment scale, almost as different as white and black. So, from that perspective, the billing makes sense. In all other areas, though, the two plays just do not work in conjunction with each other at all.
Before "Black Comedy," first up on the bill was Shaffer's "The White Liars," written in 1967.
The play is a meandering, depressing tale of a hack German fortune teller named Sophia (Robyn Spain), rock musician Frank (Zachary Hauge), and Frank's agent, Tom (Joshua Raymond).
Tom bribes Sophia to con Frank to dissuade him from pursuing Tom's girlfriend. However, Tom's whole plan completely backfires on Tom when Frank reveals some startling information about himself to Sophia.
There is barely a set to speak of - a simply placed table, bench, book shelf and two chairs – yet the three-person cast kept bumping into these throughout the show.
The reason for this was because of limited spacing on stage due to the "Liars" set being so far forward and the set for "Black Comedy" was obscured behind it.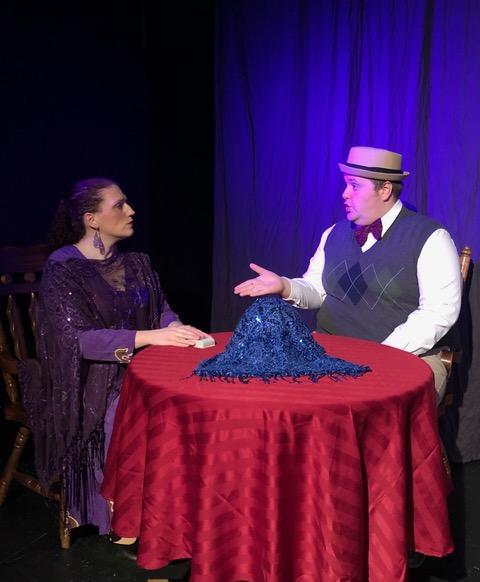 Robyn Spain and Joshua Raymond in B.E.A.T. Theatre Company's
"The White Liars".
Photo courtesy of Christine Taylor and Stageloft Repertory Theater)
The one-act seemed overly introspective and under rehearsed. There were some continuous line hiccups, but it was mostly Shaffer's dated material that let the actors down as it was just a painfully dull script.
The show is categorized as a "farce" but there was nothing either farcical or funny in the entire piece.
The second play on the evening's double bill, "Black Comedy" was far more appealing but twice as long as "White Liars." So, really, presenting just the one, superior story would have sufficed for this production.
The play, written in 1965, starts off in an apartment submerged in total darkness for a good three or four minutes. This unusual lighting choice was announced prior to the performance but was still a bit confusing as executed.
However, once the lights came up and the characters appeared to be in a "black out" then the reversed lighting concept made sense.
Brindsley (Zachary Hauge) is a young sculptor living in a London flat who has invited a millionaire art collector and potential buyer to come see his work.
Hauge was well cast in the role but hardly looked like a struggling artist from 1965. However, he compensated for this with wonderfully manic energy throughout the show.
Brindsley is engaged to debutante Carol (Mary Tisdell) who has helped Brindsley steal…uh, "borrow"…several high end furniture pieces from Brindsley's flamboyant and colorful neighbor, Harold (Greg Glanville).
Tisdell is quite good as the quirky young Carol as is Glanville as Harold. Both help Hauge maintain the pacing required to successfully execute Shaffer's story.
Carol's father, Colonel Melkett (Joshua Raymond), enters onto the scene and immediately Brindsley starts to panic as the power outage and his unexpected guests (which includes a prudish neighbor Miss Furnival, played wonderfully by Stephanie Sawyer) has thrown off his whole scheme to impress the art critic (Stephen Jean) who has yet to arrive.
Raymond does his best to elevate both "The White Liars" and "Black Comedy" but his proficient characterization skills and comedic timing work far better in the latter play.
When Brindsley's former girlfriend Clea (Brittany Grenier) also shows up, not aware she has been 'replaced' by Carol, then Brindsley does everything he can to keep everybody in the dark, figuratively and literally.
Although the second show again suffers from fairly dated material resulting from Shaffer's script, the cast, under the direction of David Anderson, helped elevate it above "The White Liars" making it far more palatable. English accents varied from actor to actor but most were passable for the overall presentation.
Any theatre troupe thinking of producing both shows in conjunction with one another should avoid the temptation and simply work with Shaffer's far superior comedy, "Black Comedy," leaving "White Liars," perhaps, to be staged as part of high school competitive plays.
Show runs approximately two and a half hours with one intermission.
Kevin T. Baldwin is a member of the American Theatre Critics Association (ATCA)
@MetrmagReviews
@Theatre_Critics