(Cover Photo: The CAST of "THE TREASURER" from Pilgrim Soul Productions in Whitinsville, MA. through November 12, 2022. Photo Courtesy of Matthew Carr)

By Kevin T. Baldwin
METRMAG Reviewer
# 774-242-6724

"The hell of a guilty conscience."

Pilgrim Soul Productions
Presents
"THE TREASURER"
Written by Max Posner
Directed by Bob Vanasse
Cast Includes: Fred D'Angelo, Aly Whelan, Lida McGirr, Mark Perry
Performances:
November 4, 5, 11, and 12, 2022 at 7:30pm
November 13, 2022 at 2:00 pm
Singh Performance Center, at the historic Whitin Mill, 60 Douglas Road, Whitinsville, Massachusetts
Tickets: $25.00; Under 18 and Seniors (65+) $22.00; Groups of 10 or more $20.00
Reservations: To reserve tickets call 508-296-0797, or send email to pilgrimsoulproductions@gmail.com.
Tickets are also available at the door. Cash or check only. No Credit Cards, please.
"THE TREASURER" is presented by special arrangement with Broadway Licensing, LLC, servicing the Dramatists Play Service collection. (www.dramatists.com)
Pilgrim Soul Productions presents "THE TREASURER" a touching, funny and occasionally gut-wrenching play which shows the impact of when child and parent must eventually switch roles.
The one-act dark comedy from Max Posner examines the plight of "The Son" (Fred D'Angelo) whose mother, Ida (Lida McGirr), has just lost her second husband and is living in Albany in her waning years and becomes prone to uncontrollable spending.
D'Angelo provides a subdued but resolute performance as the Son, frustrated and seemingly at odds with his lack of empathy for his mother and his overwhelming sense of obligation to her.
A father himself, The Son tries to coordinate with his two siblings (Mark Perry and Aly Whelan, portraying multiple roles throughout the play) to seek the best options to care for their mother.
The issue for all three is that none live near enough to Ida to help her as she must now navigate her life alone and seems to be oblivious to her serial spending habit.
The Son is forced to take on the responsibility for managing Ida's finances when she finds herself deep in debt and no longer able to properly provide or care for herself.
He loathes the idea of taking on the "Treasurer" role but, financially, he is the only one capable and adept enough to be able to fulfill it. I do not know just how much a geologist makes but, apparently, it has proven to be quite a lucrative proposition for the Son.
Aggravating the Son further is the lavish lifestyle Ida feels she deserves to live (as lavish as one can get in Albany) which is not financially feasible, as the Son continues to explain (to no avail).
The Son is brought no end of emotional turmoil as Ida continually spends beyond her "allowance."
She runs through the Son's money like sand running through a sifter.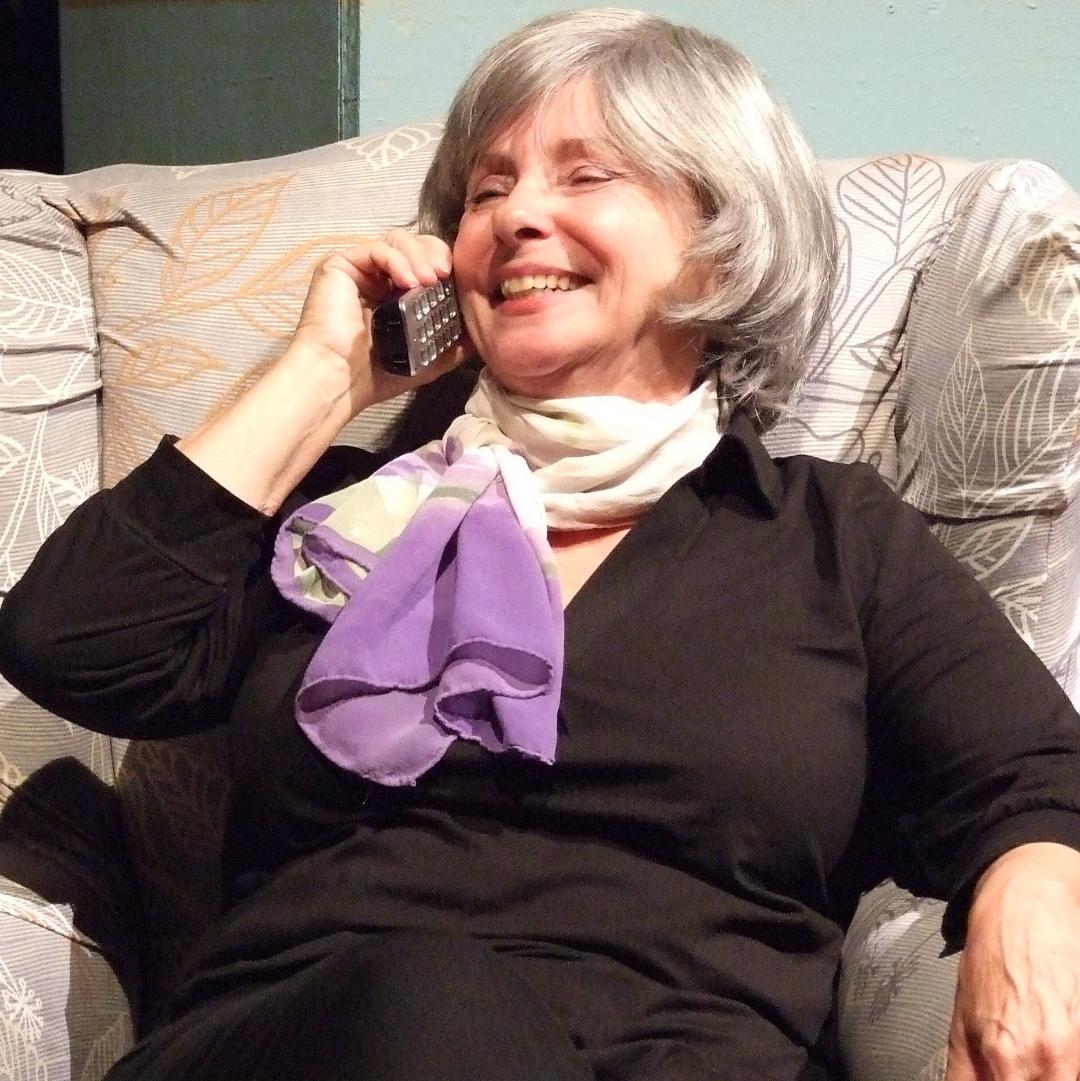 (Photo: Lida McGirr in a scene from "THE TREASURER" presented by Pilgrim Soul Productions in Whitinsville, MA. through November 12, 2022. Photo Courtesy of Matthew Carr)
A pervasive device used in the script by Posner shows the Son narrating his story while he is "cycling".
The Son points out various "navigational moments" as he comes to stops and turns, much like pointing out the stops and turns that happen throughout life.
Under the direction of R.A. Vanasse, D'Angelo does not try to act out the actual cycling but merely narrates the Son's journey on the bicycle.
These moments seemed to lack the visceral "punch" they should have but, thanks to Posner's writing, still illustrated the cruel "cycle" that, on a grander scale, is life's journey for many – that unkind switch when child becomes parent as parent is relegated, by life circumstance and/or age, into the role of child.
In Ida's case, this new dynamic continues to deteriorate, as does her memory, forcing her Son to reexamine his relationship with her, not only financially but emotionally.
He tries to do what is best for her yet he is not sure why he should shoulder this much burden.
This cycles into to some of the immersive shows funniest moments, yet also leads to moments of embarrassment and, as the mood ultimately turns from comical to poignant, it journeys to a much darker and far more subdued tone.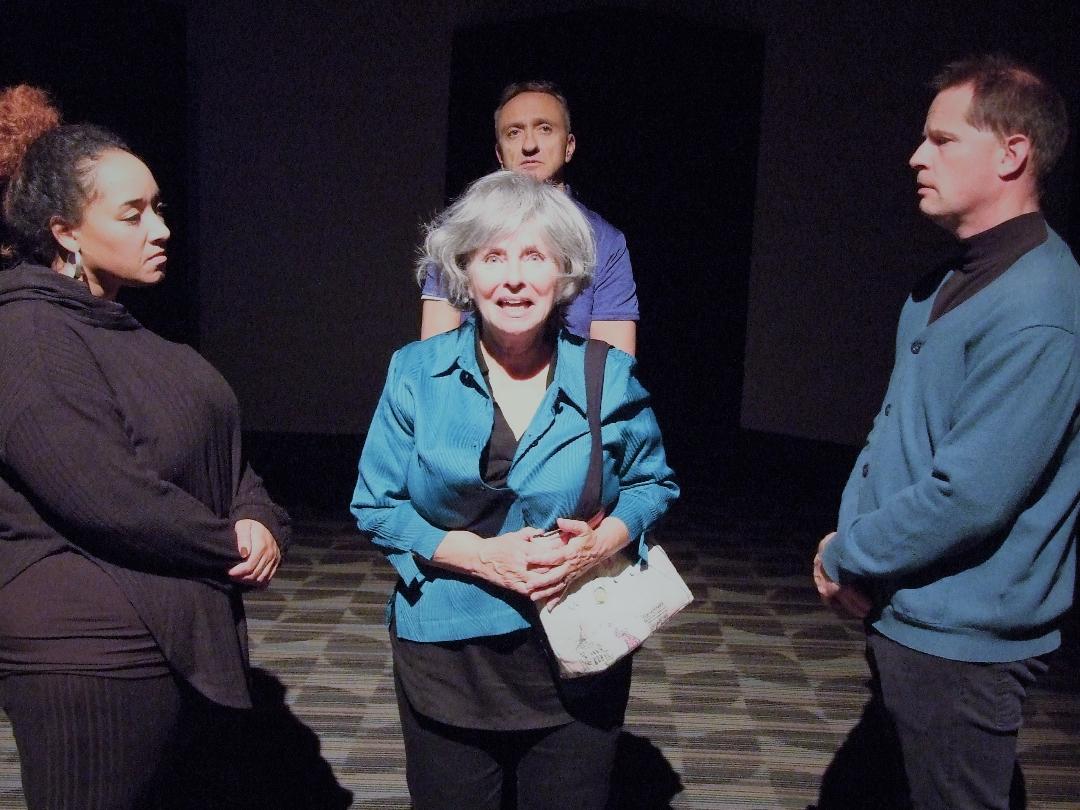 (Photo: The CAST of "THE TREASURER" presented by Pilgrim Soul Productions in Whitinsville, MA. through November 12, 2022. Photo Courtesy of Matthew Carr)
D'Angelo has the lion's share of the dialogue and comes over as mild mannered from beginning to end yet he must take the reign over his mother's affairs once it becomes clear she is unable to control her spending habits.
McGirr, as the frenzied Ida, gives a thoroughly compassionate portrayal of a woman who begins the show with seemingly mild eccentricities. Yet, isolated and slowly descending into a mental deterioration. she feels herself suddenly placed within a whirlpool of confusion over which she has very little control.
While the Son has legal control of Ida's finances, the Son has actually not even seen his mother in years.
Most of D'Angelo and McGirr's interactions are by phone with no face-to-face interaction until near the end of the show. However, by this time, the silence says more than the conversation.
As Posner's script illustrates, this emotional chasm between the mother and son is both physical and emotional.
In fact, with Posner's script, it is in those pauses and moments of no conversation that the unsaid speak volumes.
There are wonderful sentimental moments from D'Angelo which come to come from a place so sincere, it elicits great compassion for the Son's dilemma.
The set by Vanasse is fairly minimal and utilizes the space well. There was a slight issue with transitions which could have been smoother if the set redresses took place during some of the Son's monologues.
Instead we have the monologue, followed by the amount of time required to redress the set which merely adds to the show's run time.
The show is not maudlin - it is a "dark comedy" but the bleakness comes with recognizable moments of levity, as well.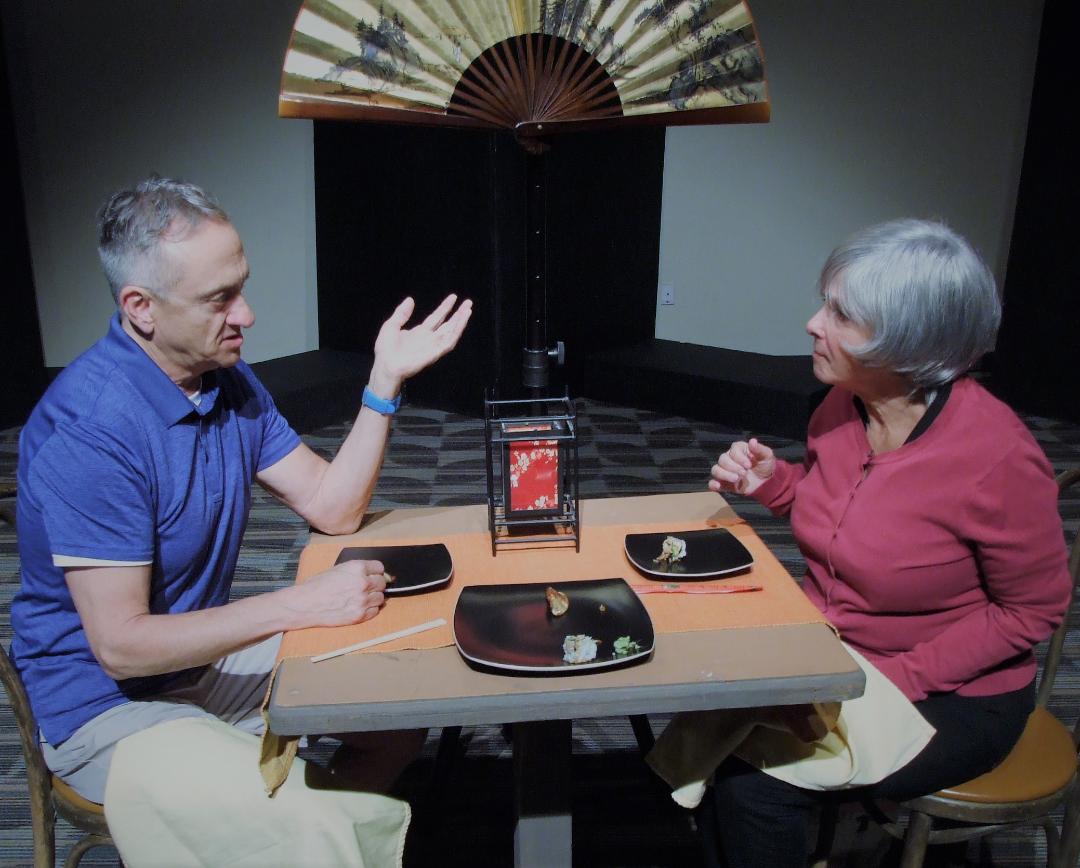 (Photo: Fred D'Angelo and Lida McGirr in a scene from "THE TREASURER" presented by Pilgrim Soul Productions in Whitinsville, MA. through November 12, 2022. Photo Courtesy of Matthew Carr)
The first time I saw a production of "TREASURER" was roughly one year before my own mother passed through a similar long but steady decline as Ida.
Now, I view the show exactly one year since she has passed. Yet, I find myself approaching the material and, perhaps like D'Angelo's portrayal of the Son, from a different emotional place.
Posner's story should hit close to home for those in similar circumstance. Some may even find it difficult to leave "THE TREASURER" behind once exiting the theatre.
Approximately 100 minutes with no intermission.
Kevin T. Baldwin is a member of the American Theatre Critics Association (ATCA)
@MetrmagReviews
@Theatre_Critics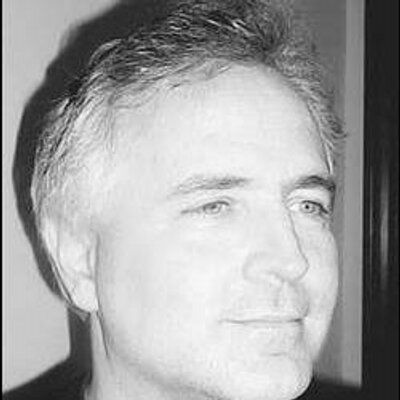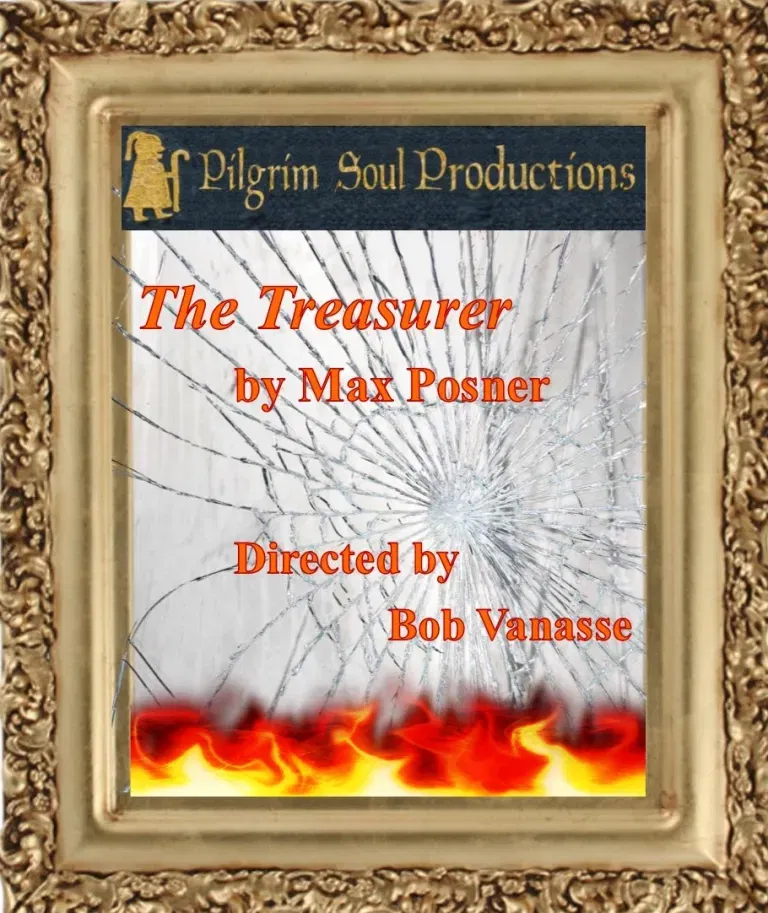 ABOUT THE SHOW
Ida Armstrong is broke, lonely, and fading fast.
As she cheerfully spends all of her children's money, her son is forced to assume the unwanted role of "THE TREASURER": an arrangement that becomes untenable the more he questions his devotion to her.
This darkly funny, sharply intimate work chronicles the strained ties between a son and his aging mother, and the weight of a guilty conscience.
"Posner's writing is often effectively double-edged…the play adroitly balances the everyday and the extreme—while suggesting how crisis pushes reality into the realm of nightmares…." —NY Times.
"Posner's play is a ravishing slow burn, with layers that quietly unpeel as the piece goes on…quite simply, a marvel." —New York Magazine.
"Posner displays a brightly contemporary point of view with a keen comic sense." —The Huffington Post.
COVID-19 PROTOCOLS:
As we get closer to your performance date, please check for our then current Covid Policy on our website www.pilgrimsoulproductions.com . Thank You.
Tickets are also available at the door. Cash or check only.

Pilgrim Soul Productions
508-296-0797