By Kevin T. Baldwin
METRMAG Reviewer
# 774-242-6724
"Cause they've got to ride forever on that range up in the sky
On horses snorting fire as they ride on, hear their cry"
- Johnny Cash

Indian Ranch
Presents
"THE OUTLAWS"
The Outlaws came to Indian Ranch in Webster and robbed everybody of any doubt that these guys can still play and rock out hard.
For 50 years...and for about as many members (if you read their Wiki bio)...the band has become synonymous with "Southern Rock" - but forget regionalism...this is a band that plays for anybody and everybody that still "digs" good, solid rock vocals and equally polished high-caliber guitar solos.
The latest six member "Outlaws" line-up is probably one of the finest incarnations of the band since its inception 50 years ago this year.
Opening with their iconic tune, "There Goes Another Love Song," the group, founded in 1972, powered into a set that included other tunes which combines hard-edged vocals with even harder-edged guitar playing and the crowd simply loved it all from the outset.
According to the band's official web site: "It's about a band of brothers bound together by history, harmony, and the road. It's about a group that respects its own legacy while refusing to be defined by it's past. But most of all, it's about pride."
It is doubtful anybody present for the concert would dispute the above statement nor did anyone leave the concert disappointed.
As they cranked through their phenomenal set list, the band was led by the band's sole-surviving founding singer-songwriter-guitarist, Henry Paul.
Just from the band's first three albums ("The Outlaws," "Lady In Waiting" and "Hurry Sundown") fan favorite songs yielded included the tunes, "Green Grass & High Tides," "Knoxville Girl" and "Freeborn Man."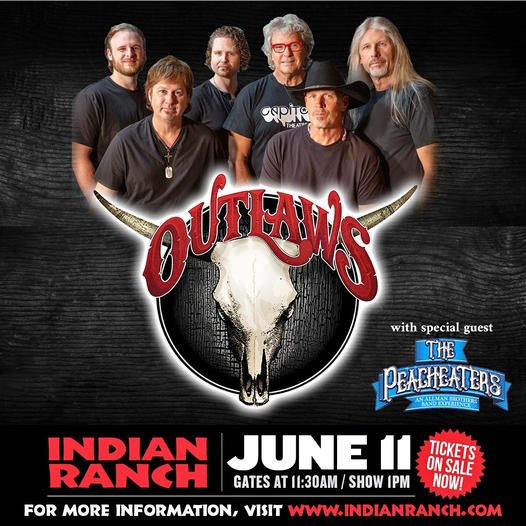 The band also simply killed it on fan favorite "Grey Ghost" which brought the crowd to its feet.
According to the band's official web site, joining Paul onstage was keyboardist-vocalist Dave Robbins, co-founding member of country group "BlackHawk" (with Paul); longtime bassist-vocalist Randy Threet (also of BlackHawk), the incredible lead guitarist Jimmy Dormire with vocalist co-guitarist Jeff Aulich; and drummer Michael Grando.
The band's warm-up act, The Peacheaters, an Allman Brothers tribute band, was just about the perfect way to begin the show because with their incredible guitarists, as well, the band really got the crowd fully engaged and ready to rock.
The Outlaws continue their tour with other New England dates coming up in Guilford, NH, Bridgeport, CT and Bangor Maine over the next few weeks.
For a full tour schedule, visit the link below.
https://www.outlawsmusic.com/tour
Kevin T. Baldwin is a member of the American Theatre Critics Association (ATCA)
@MetrmagReviews
@Theatre_Critics