(Cover Photo: The CAST of Neil Simon's "THE ODD COUPLE" now playing at Theatre at the Mount in Gardner, MA. through October 15, 2023. Photo Credit Paige Fowler)


By Kevin T. Baldwin
METRMAG Reviewer
# 774-242-6724

"Why do you have to control every single thought in your head? Why don't you let loose once in your life? Do something that you feel like doing—and not what you think you're supposed to do."
- ("Oscar") / Neil Simon

Presents Neil Simon's
Written by Neil Simon
Director Craig Cormier
Producing Director Gail Steele
Cast Includes: David Allen Prescott as "Felix Unger"; Francis Freel as "Oscar Madison"; Domenic Masingo as "Speed"; Matt Muller as "Murray"; Amanda Lawton as "Gwendolyn"; Kristen Licht as "Cecily"; Gary Kendall as "Roy"; Michael Babineau as "Vinnie."
Additional Creative Team:
Technical Director - Jeff Boisseau; Lighting Designer - Aloura Smith; Sound Engineer - Sean Kyle; Costumer - Mary Ann Allen; Stage Manager - Sara Fischer; Props Team: Emily Smith, Craig Cormier, Gail Steele; Box Office Manager - Paul Caouette; Graphic Designer - Haley Caisse; Lobby Displays - Lori Adams; Construction Crew: Grant Arbour, Aiden Burns, Raine Butler, Nick Cocco, Alcapone Pujols, Hannah Southwick; Running Crew: Blake Ross, Kylan Tremblay, Caddigan Prescott, Ryan Rollo.
Performances:
October 6, 7, 13 & 14, 2023 at 7:30pm
October 15, 2023 at 2:00pm
Mount Wachusett Community College, 44 Green Street, Room 182, Gardner, MA.
Tickets are available online at mwcc.universitytickets.com or by phone at 978-630-9388.
For additional information contact Professor Gail Steele at 978 630-9162 or g_steele@mwcc.mass.edu
COVID 19 PROTOCOLS
Contact Venue for Most Updated COVID-19 Safety Protocols and Information.
Neil Simon's "THE ODD COUPLE" plays at Theatre at the Mount (TATM) in Gardner and for an old chestnut…it still feels quite fresh.
While so many revivals of shows are approached as if they need to be "re-invented," "re-imagined" or "re-vitalized," occasionally, it is just as important to present a faithful adaptation of a show and Theatre at the Mount has certainly done that with a production well staged and well executed by its cast.
When one hears the show's iconic theme song that plays during scene changes, the crowd can literally be heard humming along.
Then, as soon as the lights come up on one of the most familiar poker games to begin a play, this immediately reminds audiences familiar with the fun "ODD COUPLE" that they are about to revisit some old friends.
The original Broadway production was directed by the legendary Mike Nichols and debuted in 1965, running until 1967 and closing after a respectable 964 performances (and two previews).
Many notable actors appeared in that original run including stars such as Walter Matthau and Jack Klugman as "Oscar" and Art Carney as "Felix."
In addition to a Tony Award nomination for Best Play, Matthau would win for Best Actor in a Play, as would Simon for Best Author of a Play, Nichols for Best Direction of a Play - in an extremely rare "tie win" for his other production that same season of the play "LUV" - which would be repeated that same year (for the same two shows) with a Best Scenic Design win by Oliver Smith. An astounding and rare achievement.*
(*How, after receiving so many awards, "ODD COUPLE" would ultimate lose Best Play to "The Subject Was Roses" is anybody's guess.)
The plot is familiar (and Neil Simon didn't invent it – he only perfected it): Two characters with completely opposite personalities (and in this case, hygiene) try to live together under the same roof.
Simon made consummate use of this concept.
This is why the original production of "ODD COUPLE" won multiple awards and why it has been repeated countless times on stage, film, and television.
In Mel Brooks' biography, "It's Good to Be the King," by James Robert Parish, Parish claims that the play came about after Simon noticed recently separated Brooks (from his first wife) living with writer Speed Vogel for several months - during which time Vogel later recalled Brooks as having "insomnia, paranoia and other ailments" which were driving Vogel crazy.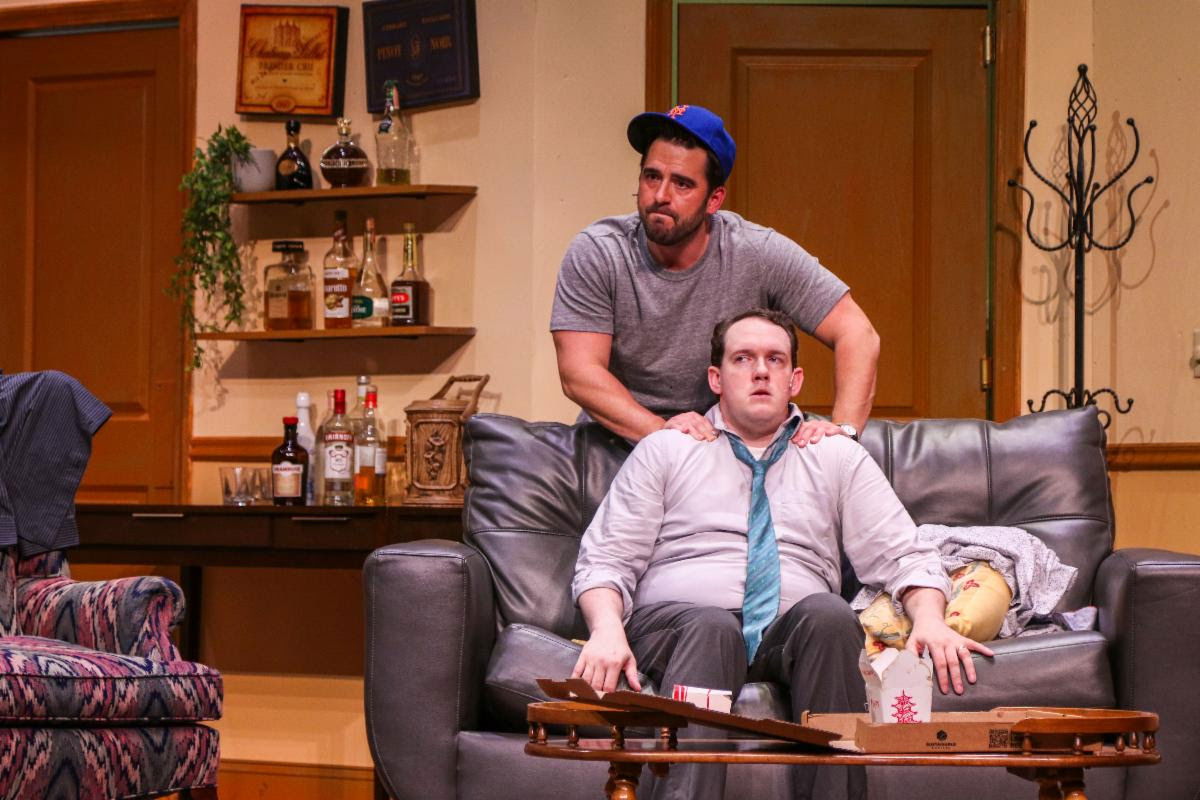 (Photo: Francis Freel as "Oscar" and David Allen Prescott as "Felix" in a scene from Neil Simon's "THE ODD COUPLE" now playing at Theatre at the Mount in Gardner, MA. through October 15, 2023. Photo Credit Paige Fowler)
At the start of the three-act play (staged here and more these days as two acts), we see the main room of divorced sportswriter Oscar (Francis Freel) living in a eight-room apartment which is an abysmal mess.
Oscar asks buddy and CBS news writer Felix (David Allen Prescott) to move in as Felix has just been kicked out of his home and marriage.
Oscar does this, in part, out of kindness, but also mostly because he is lonely and could use someone in the large space to keep him company and help him meet expenses.
Many fans of the iconic 1970s television show will notice a few changes: While Oscar is still a sports writer, his ex-wife and he have kids. Felix is also a writer and not a professional photographer ("portraits a specialty") and, in the play, Felix's wife is referred to as "Francis," not "Gloria."
Later, we find out what each roommate pays monthly for the New York City 12th floor apartment on New York's Riverside Drive and, by today's standards, it wouldn't buy a soap dish used in the bathroom.
There are a few of these moments but thankfully, no one tried to update this production as if it were happening today nor tried to reflect the mores of today.
The show sits well in the past and is still as funny now as it was almost 60 years ago.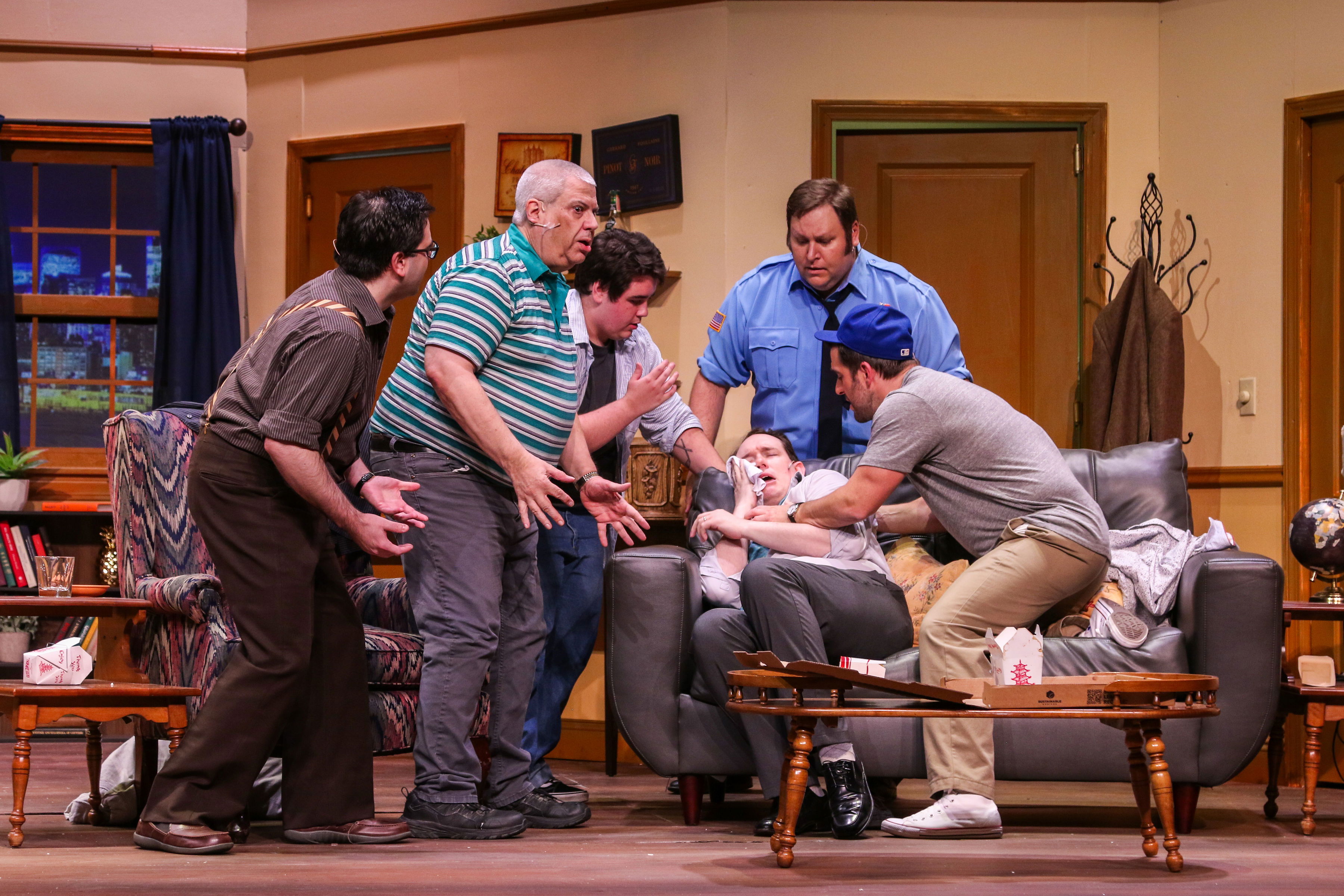 (Photo: The CAST of Neil Simon's "THE ODD COUPLE" now playing at Theatre at the Mount in Gardner, MA. through October 15, 2023. Photo Credit Paige Fowler)
As "THE ODD COUPLE" saga continues, what becomes obvious is the tremendous casting choices of Prescott and Freel, respectively, as Felix and Oscar. They are absolutely perfect in these roles and their polarizing personalities prove magnificently magnetizing to us.
Prescott's Felix is an emotional and physical train wreck – but he is not a caricature as could easily be the case in the approach by other actors.
Prescott plays Felix as overly sensitive and a hypochondriac, but also as an accomplished, intelligent adult...and a raging fastidious clean freak…which gets on Oscar's nerves.
Freel as Oscar plays the expected slovenly side of the character but also shows us a man who is equally smart.
Freel plays Oscar as the eight-month divorcee who is stressed over being months behind on alimony and equally bad at meeting his responsibilities…and health department standards...which gets on Felix's nerves.
Through their interactions on stage we can see what it was that their "now-exes" saw in them at the beginning of their respective relationships and what ultimately led the wives to divorce both Oscar and Felix.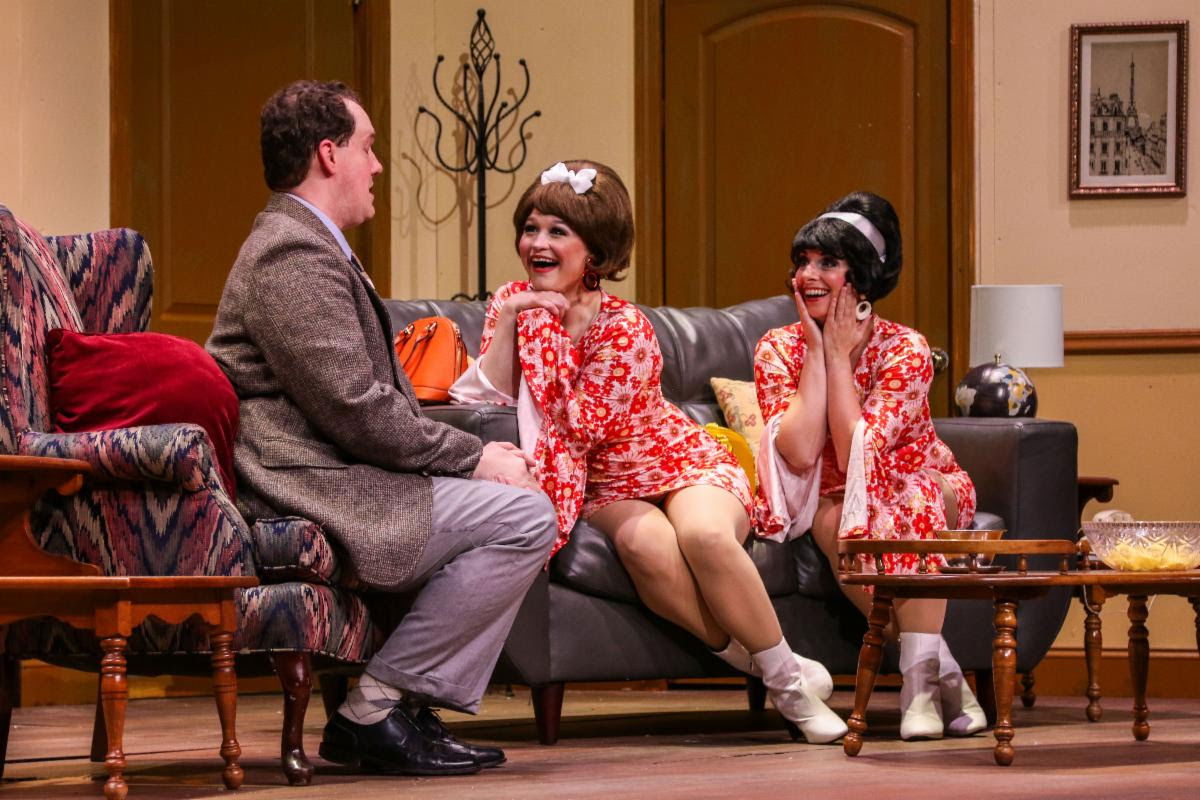 (Photo: David Allen Prescott as "Felix" with Kristen Licht as "Cecily" and Amanda Lawton as "Gwendolyn" - aka the "Pigeon Sisters" - in a scene from Neil Simon's "THE ODD COUPLE" now playing at Theatre at the Mount in Gardner, MA. through October 15, 2023. Photo Credit Paige Fowler)
The additional chemistry of the card players of Oscar's Friday night poker game are also critical to the success of the production.
Director Craig Cormier has commendably staged the TATM production by bringing the relationship of all the supporting players in the Simon story to the forefront, standing toe-to-toe with the show's two leads.
Matt Muller plays "Murray" (aka "Murray the Cop") who protects and serves up a lot of laughs, especially with other members of the poker club Roy (Gary Kendall), Oscar's stressed out accountant, irascible car salesman Speed (Domenic Masingo) and henpecked travel agent, Vinnie (Michael Babineau).
The show's scenes wouldn't be half as funny as it is without this fine supporting cast.
Oscar soon regrets his "benevolent" decision to bring Felix in as his roommate, but in one last effort to make it work he sets Felix and himself up on a double date.
Felix resists the affections of the two beautiful sexpot siblings, Gwendolyn (Amanda Lawton) and Cecily (Kristen Licht), aka "the Pigeon Sisters."
However, he is soon charmed by the girls as they beam brightly in nearly every scene in which they appear. Lawton and Licht are simply marvelous as the giddy duo.
The show runs seamlessly but a few of the scene changes were a bit lethargic (any time the underscoring iconic theme song repeats itself, that is a long scene change). However, the single set scenic design is simply gorgeous.
As things go from bad to worse for the roomies we, in the audience, find ourselves hoping that Oscar and Felix can resolve their issues. We find ourselves "rooting" for them.
If they cannot resolve their issues, perhaps they can at least walk away from their experience having learned something of value from the other…Similar to what we might root for with any other "ODD COUPLE."
Neil Simon's "THE ODD COUPLE" continues at Theatre at the Mount in Gardner until October 15th and any time spent with some old friends like these is time well spent, indeed.
Approximately two hours with one intermission.
Kevin T. Baldwin is a member of the American Theatre Critics Association (ATCA)
@MetrmagReviews
@Theatre_Critics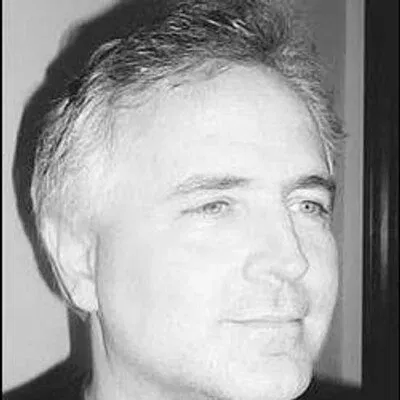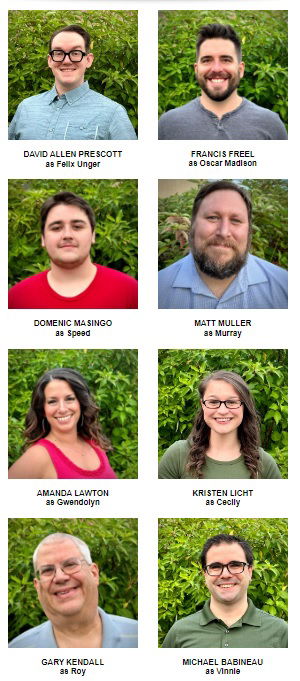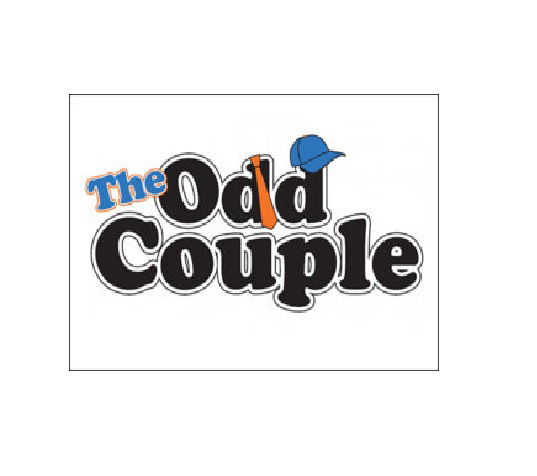 ABOUT THE SHOW
Neil Simon's classic comedy "THE ODD COUPLE" opens as a group of the guys are in the midst of their weekly poker game in the apartment of divorced sportswriter, Oscar Madison.
And if the mess is any indication, it's no wonder that his wife left him.
The apartment is smoke-filled, and the only thing Oscar can offer his guests is warm Coke and moldy sandwiches.
The last to arrive is Felix Ungar, who has just been thrown out by his wife.
Felix is depressed and seems suicidal, leading Oscar to invite Felix to be his roommate.
However, as Felix takes on the domestic mantle in the apartment and proves just how difficult he is to live with, Oscar is driven to the edge of madness.
Poker nights are no longer evenings of smoke, grubbiness, and blokey behavior; instead, the guys are waited on hand and foot by Felix.
The final straw occurs when Felix refuses to follow through with a double-date Oscar has set up with the beautiful Pigeon sisters, who live in the same apartment block.
The clean freak and the slob come to blows, and the ultimate "ODD COUPLE" go their separate ways.

Mount Wachusett Community College
444 Green Street
Gardner, MA 01440