(Cover Photo: Dylan C. Wack as "Ned" and Chingwe Padraig Sullivan as "Felix" from Larry Kramer's "THE NORMAL HEART" from New Repertory Theatre in Watertown, MA. now playing through July 9, 2023. Photo Courtesy Ken Yotsukura Photography)


By Kevin T. Baldwin
METRMAG Reviewer
# 774-242-6724

"For the error bred in the bone of each woman and each man craves what it cannot have, not universal love but to be loved alone."
-W.H. AUDEN ("September 1, 1939")


New Repertory Theatre
Presents
"THE NORMAL HEART"
Written by Larry Kramer
Directed by Shira Helena Gitlin
Cast Includes: Dylan C. Wack as Ned Weeks; Chingwe Padraig Sullivan as Felix Turner; Brian Demar Jones* as Bruce Niles; Luis Negrón* as Ben Weeks ; Cailin Doran* as Dr. Emma Brookner; Will McGarrahan* as Mickey Marcus; Zach Kelley as Tommy & David; Ken Yotsukura as Hiram & Craig.
Additional Creative Team: Production Stage Manager - Renee E. Yancey*; Assistant Stage Manager - Athéna-Gwendolyn Baptiste; Scenic Designer - Melody Hsu; Lighting Designer - Michael Clark Wonson; Associate Lighting Designer - Erik Fox; Sound Designer - Mackenzie Adamick; Costume Designer - Zhihan (Sandra) Jia; Intimacy Choreographer - Olivia (Liv) Dumaine; Technical Director - Diego Farrell*.
* MEMBER OF ACTORS' EQUITY ASSOCIATION, THE UNION OF PROFESSIONAL ACTORS AND STAGE MANAGERS IN THE UNITED STATES
THE BLACK BOX THEATER AT THE MOSESIAN CENTER FOR THE ARTS
321 Arsenal St, Watertown, MA 02472

Performances:
June 21, 2023 to July 9, 2023
(Contact Box Office for Exact Times)
TICKETS:
https://ci.ovationtix.com/34712/production/1148729
COVID 19 PROTOCOLS
Contact Venue for Most Updated COVID-19 Safety Protocols and Information.
The New Repertory Theatre (New Rep) presents a fine adaptation of "THE NORMAL HEART" - a largely autobiographical play by Larry Kramer which, as a play, has quite a storied past.
To truly appreciate the evolution and longevity of the play, one has to first examine its journey to the Broadway stage.
While debuting as a successful 1985 Off-Broadway production, "THE NORMAL HEART" was later staged in both Los Angeles and London.
It would be revived Off-Broadway almost 18 years later (in 2004) but wouldn't make its Broadway debut until almost 25 years later (in 2011).
When it finally did hit Broadway, though, the production was a smash. Nominated for five Tony Awards, it won three including the award for Best Revival of a Play. It also won three Drama Desk Awards including a special "Outstanding Ensemble Performance" acknowledgment and "Outstanding Revival of a Play."
In 1993, Barbra Streisand (who, for years, had been trying to get a movie made with her as director) held a benefit reading of "THE NORMAL HEART" for "Broadway Cares" at the Roundabout Theatre Company.
Now, 38 years since its debut, New Rep's stage director for "THE NORMAL HEART," Shira Helena Gitlin, has staged a fine adaptation of Kramer's story with a minimal cast, minimal sets and optimal performances.
The set design is basic with only a few pieces of movable furniture. There are hanging lights set inside cages lingering above the set. Adorning the back walls and floor are assorted newspaper articles, all focused on the HIV/AIDS Epidemic.
Before the show begins and all throughout the scene changes, there is an interesting selection of music, much of it with an apparent attempt at a "techno vibe" indicative of (and keeping us rooted within) the show's 80s' time period.
There have been numerous insightful plays produced that have all focused on the advent of the HIV/AIDS epidemic – many of them containing a sort of "rising tide" formula as in government lacking in areas of resources and concern for that which it knows (and cares) either little about or nothing at all.
In "THE NORMAL HEART," Kramer telescopes his story down to more the viral impact on the gay population within New York City between the early "Reagan years" of 1981 to 1984.
Hot-headed Jewish-American writer and activist Ned Weeks (Dylan C. Wack) accompanies some friends to a clinic where a new "gay plague" seems to be on the rise.
After speaking with Dr. Emma Brookner (Cailin Doran), a physician treating AIDS patients (who, herself, is wheelchair bound as a result of contracting Polio at an early age), Ned learns more about this new insidious, virulent killer disease that was spreading like wildfire in the gay community.
As Brooker, Doran gives a stern, methodical performance as the steadfast physician, trying to remain objective as a physician but soon realizing she cannot.
As she grows closer to Ned, she also becomes increasingly frustrated by the lack of medical knowledge available and a presumed apathy to want to help combat the disease.
Realizing that, anyone who came down with it was, in most cases, terminal, Ned becomes the founder of a prominent HIV advocacy group.
Kramer, like Ned, helped to found several AIDS-activism groups, including Gay Men's Health Crisis (GMHC) and AIDS Coalition to Unleash Power (ACT UP). Kramer's play title, "THE NORMAL HEART," is taken from a line in the poem "September 1, 1939," written by W.H. Auden.
Dylan C. Wack is riveting as Ned, who is a completely exhausting individual - not always pleasant yet always combative (even when he has already won the argument), Ned is relentless in his efforts to create and manage this organization determined to raise awareness.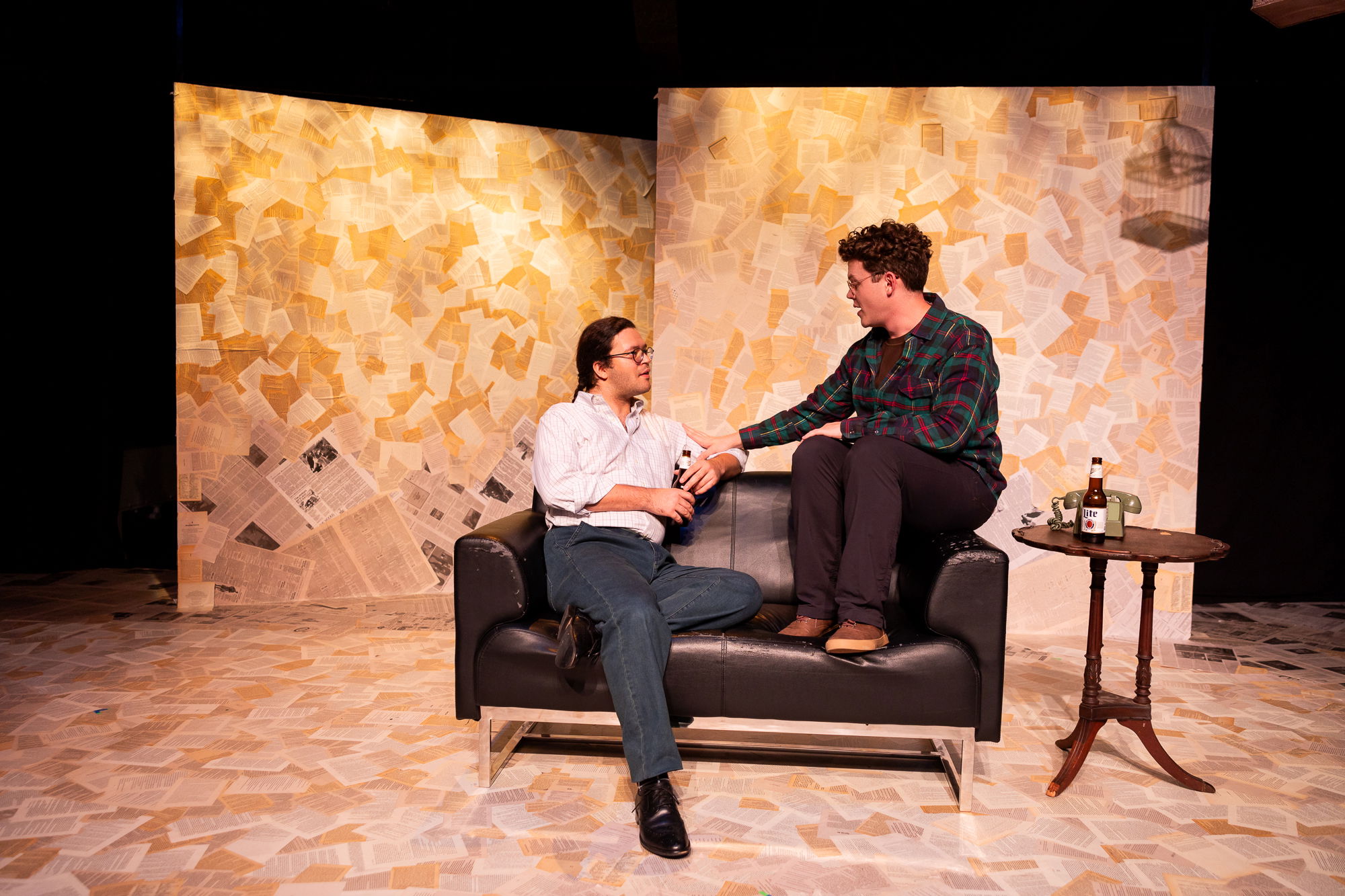 (Photo: Chingwe Padraig Sullivan as '"Felix" and Dylan C. Wack as "Ned" in a scene from Larry Kramer's "THE NORMAL HEART" from New Repertory Theatre in Watertown, MA. now playing through July 9, 2023. Photo Courtesy Niles Scott Studios)
Ned attempts to reach out to the administration of New York City Mayor Ed Koch for help promoting awareness and issuing alerts.
Most importantly, help is needed to substantively assist in financing research about this virulent new disease that is killing hundreds of gay men, not just in New York but, later as the disease spreads, globally.
While there will be some seeing the show that may not have even been born yet during those early days of the 1980s, to assume the subject matter of "THE NORMAL HEART" is no longer relevant today would be a grave mistake.
According to information obtained via HIV.gov:
AIDS is the late stage of HIV infection that occurs when the body's immune system is badly damaged because of the virus. In the U.S., most people with HIV do not develop AIDS because taking HIV medicine as prescribed stops the progression of the disease. A person with HIV is considered to have progressed to AIDS when:
The number of their CD4 cells falls below 200 cells per cubic millimeter of blood (200 cells/mm3). (In someone with a healthy immune system, CD4 counts are between 500 and 1,600 cells/mm3.) OR
They develop one or more opportunistic infections regardless of their CD4 count.
Without HIV medicine, people with AIDS typically survive about 3 years.
Once someone has a dangerous opportunistic illness, life expectancy without treatment falls to about 1 year.
HIV medicine can still help people at this stage of HIV infection, and it can even be lifesaving.
But people who start HIV medicine soon after they get HIV experience more benefits—that's why HIV testing is so important.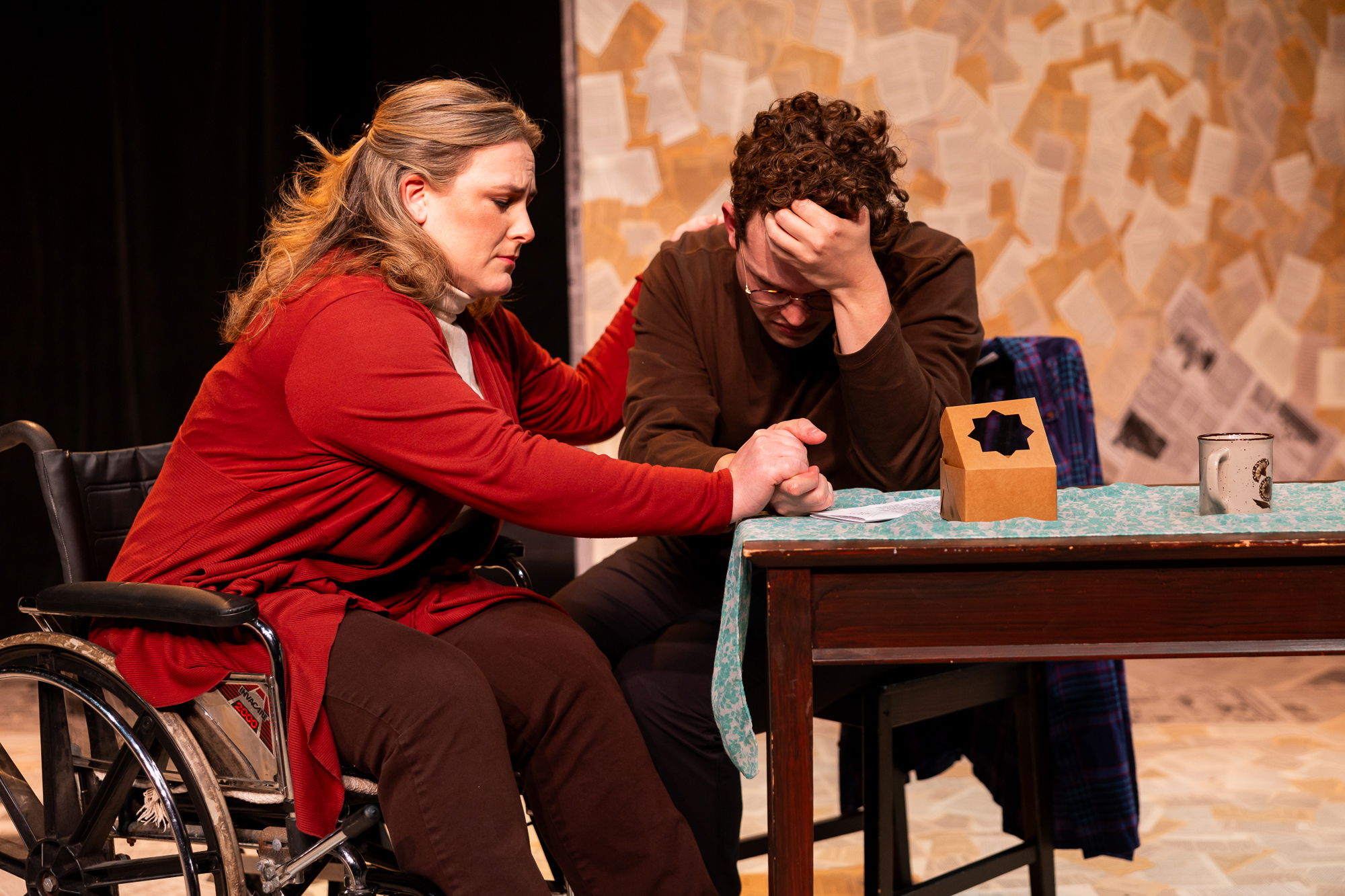 (Photo: Cailin Doran as "Dr. Emma Brookner" consoles Dylan C. Wack as "Ned" in a tender moment from Larry Kramer's "THE NORMAL HEART" from New Repertory Theatre in Watertown, MA. now playing through July 9, 2023. Photo Courtesy Niles Scott Studios)
One of the other problems Ned runs into is not just with governmental apathy but strong resistance within his own gay community.
When Brookner recommends Ned promote "abstinence" as a method of curtailing the spread of the sexually transmitted disease, this is a "non-starter" with Ned's friends.
While later it would be discovered how the disease can be transmitted in non-sexual ways, during this earlier time, it was assumed to be specifically targeting the gay lifestyle.
The only known way to keep the disease at bay, or so it was assumed, was for gay men not to have sex.
This also becomes an issue personally for Ned, who falls in love with a New York Times writer, Felix (Chingwe Padraig Sullivan).
How can Ned promote abstinence when he, himself, cannot practice it?
Ned reaches out to his lawyer brother, Ben (Luis Negrón), to ask of Ben's law firm assistance to fund the crisis organization.
Yet, while Ben does not reject Ned, his lack of acceptance of his brother's "lifestyle" becomes all too painfully clear.
As Ben, Luis Negrón gives a fine detached performance, who seems not quite sure how to fully love his brother when he cannot fully accept his brother's life choices.
Meanwhile, as the increasing death toll continues to rise, it is conveyed during scene changes as we hear various news report broadcasts.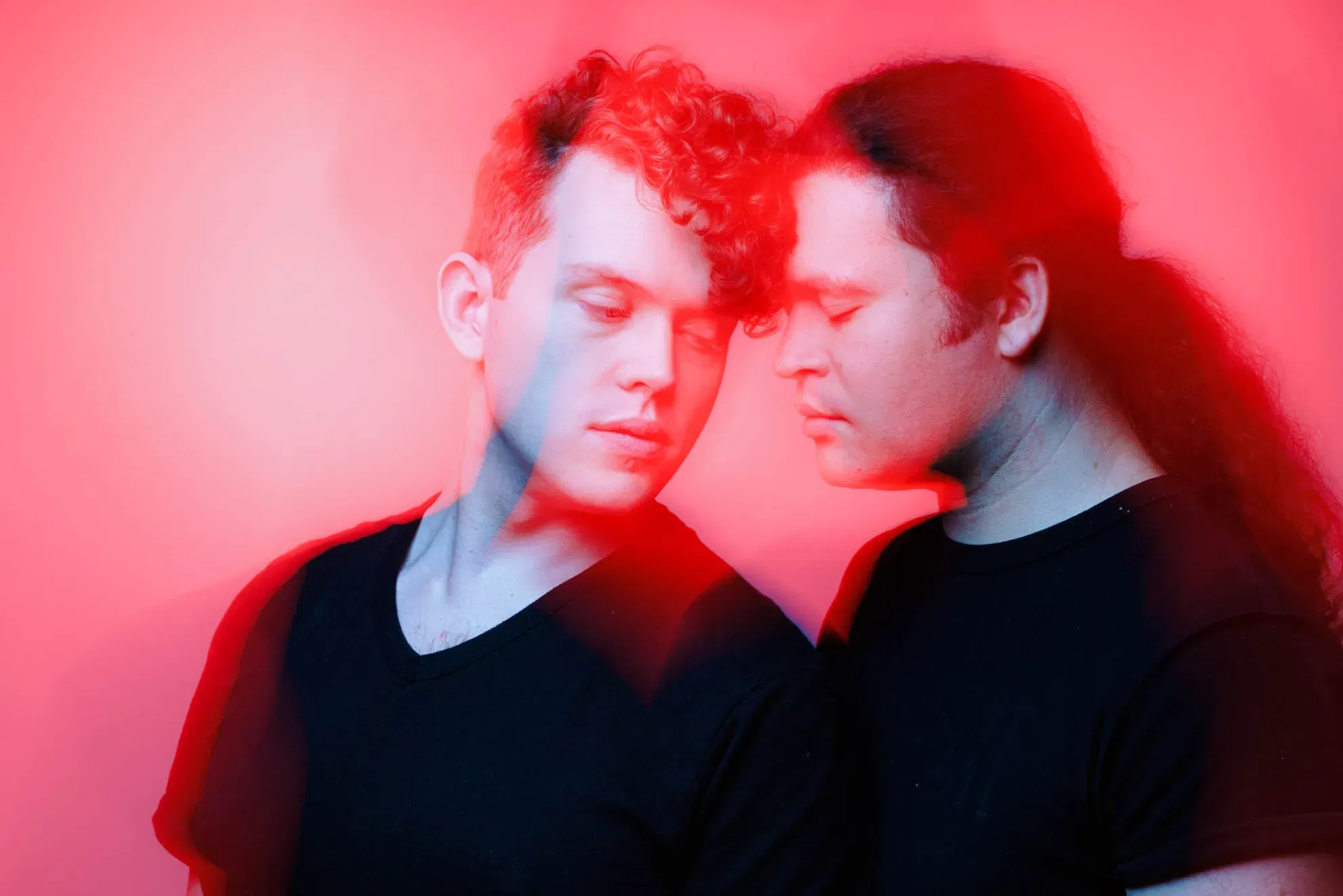 (Photo: Dylan C. Wack as "Ned" and Chingwe Padraig Sullivan as "Felix" from Larry Kramer's "THE NORMAL HEART" from New Repertory Theatre in Watertown, MA. now playing through July 9, 2023. Photo Courtesy Ken Yotsukura Photography)
Ned's organization elects as its president the more affable, appealing and absolutely "closeted" Bruce (Brian Demar Jones).
When it comes to the "catching flies" goals in achieving the groups' objectives, to many involved Bruce comes across as more the "honey" to Ned's "vinegar" (or, in some cases, "arsenic") and Jones is simply excellent as the more polite and respectful Bruce.
As the rate of mortality from HIV/AIDS climbs, the personal impact on all involved in the play is apparent.
Some characters within "THE NORMAL HEART" are based on those Kramer knew personally whose lives (or deaths) most influenced his story.
One of the play's most powerful moments comes in the second act from actor Will McGarrahan as Mickey who elicits one of Kramer's most touching, defiant speeches about a human being simply wanting...no - not "wanting" - demanding...to be treated humanely.
Each performing admirably as multiple characters is actor Zach Kelley as "Tommy" and "David" and actor Ken Yotsukura as "Hiram" and "Craig."
My mother used to love to use the word "maudlin" to describe theatrical moments that she felt were loathsome, too depressing or "overly sentimental."
At times, "THE NORMAL HEART" is absolutely maudlin. Yet, during those moments she most likely would have found loathsome, I found myself transfixed.
The Larry Kramer drama continues in Watertown until July 9th.
As there is some outside road construction taking place, please allow some additional time to arrive but, if you have not seen "THE NORMAL HEART" yet, see it now.
Do NOT let another 38 years pass before you see "THE NORMAL HEART."
Approximately two hours, 30 minutes with one intermission.
Kevin T. Baldwin is a member of the American Theatre Critics Association (ATCA)
@MetrmagReviews
@Theatre_Critics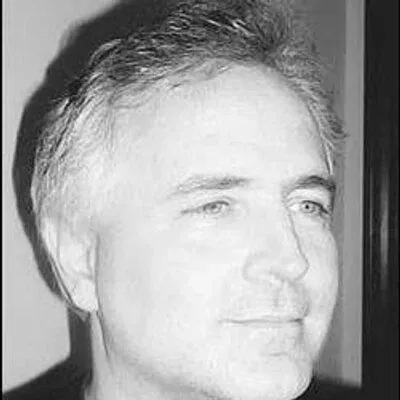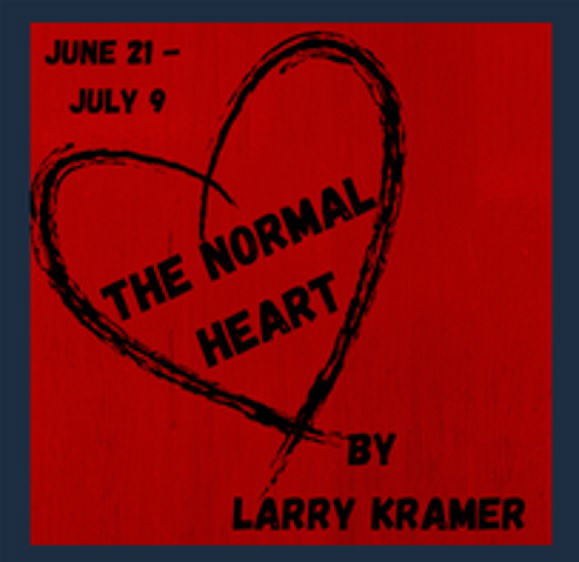 ABOUT THE SHOW
A powerful, stirring drama based on the harrowing true story of the beginning of the AIDS crisis in New York City, and the gay men who fought with an entire political system to take their plight seriously.
Based on playwright Larry Kramer's own experiences founding the Gay Men's Health Crisis in New York in the 1980s, "THE NORMAL HEART" follows Ned Weeks, a reluctant leader but furious activist, as he campaigns for awareness, and tends to his own friends and lovers who are dying all around him.
A strong indictment against ignorance, and a heartfelt story of love and compassion, "THE NORMAL HEART" is a passionate and searing portrayal of a population at war, and a plague that nips at its heels every step of the way.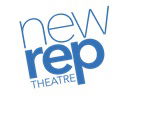 ABOUT NEW REPERTORY THEATRE
New Repertory Theatre (NRT) aims to be regionally focused, driven by diverse interests and stories drawn from the communities surrounding us. We will prioritize a collaborative process centered on new work, new voices, and creative programming in order to produce memorable, evocative performing arts experiences. NRT looks to broaden the theatre scene in greater Boston by giving voice and interpretation to stories and artists whose perspectives are often underrepresented, but whose experiences are relevant for everyone. We want to reimagine how this theatre company can best serve the community that includes both artists and the audience. New Rep remains committed to staging productions and events that speak to the vital ideas of our time. Inclusion, diversity, equity, accessibility, and accountability (IDEAA) will infuse every aspect of our work as we build community collaborations and give voice to the diverse interests of those communities. .
NEW REPERTORY THEATRE
80 Elm Street
Watertown, MA 02472
# 617-923-7060