By Kevin T. Baldwin
METRMAG Reviewer
# 774-242-6724

"But life all alone, is a life unfulfilled - You may not miss the hurt, but you sure do miss the thrill" Alan Miller and Raul Malo

Indian Ranch
Presents
"THE MAVERICKS"
If you are already a fan of The Mavericks, then you know this group defies all expectations. If you aren't yet a fan, by God, you ought to be.
This is a band that could take the coldest, clammiest of days and make it seem bright and sunny and, at Indian Ranch this past Sunday, that is exactly what they did.
With 15 albums to their credit, this is one of the finest touring acts that has been steadily touring for three decades and they simply heated things up on an otherwise frosty afternoon at Webster's Indian Ranch on June 19th.
They have awards from the Academy of Country Music, Country Music Association and have both won and been nominated for multiple Grammy Awards - and recently they were recipients of a "Trailblazer Award" honor in 2021 by the Americana Music Honors & Awards.
According to the group's web site, the current line-up includes: Raul Malo and Eddie Perez on Vocals and Guitar; Paul Deakin on Drums and Jerry Dale Mcfadden on Keyboards and Vocals. Their supporting musicians, according to Wikipedia, include a top-notch accordionist and, not one, but two incredible horn players that absolutely blew everybody away.
Additional touring musicians include: Max Abrams on saxophone; Ed Friedland on bass guitar and upright bass; Michael Guerra on accordion; Lorenzo Molina & Julio Diaz on trumpet.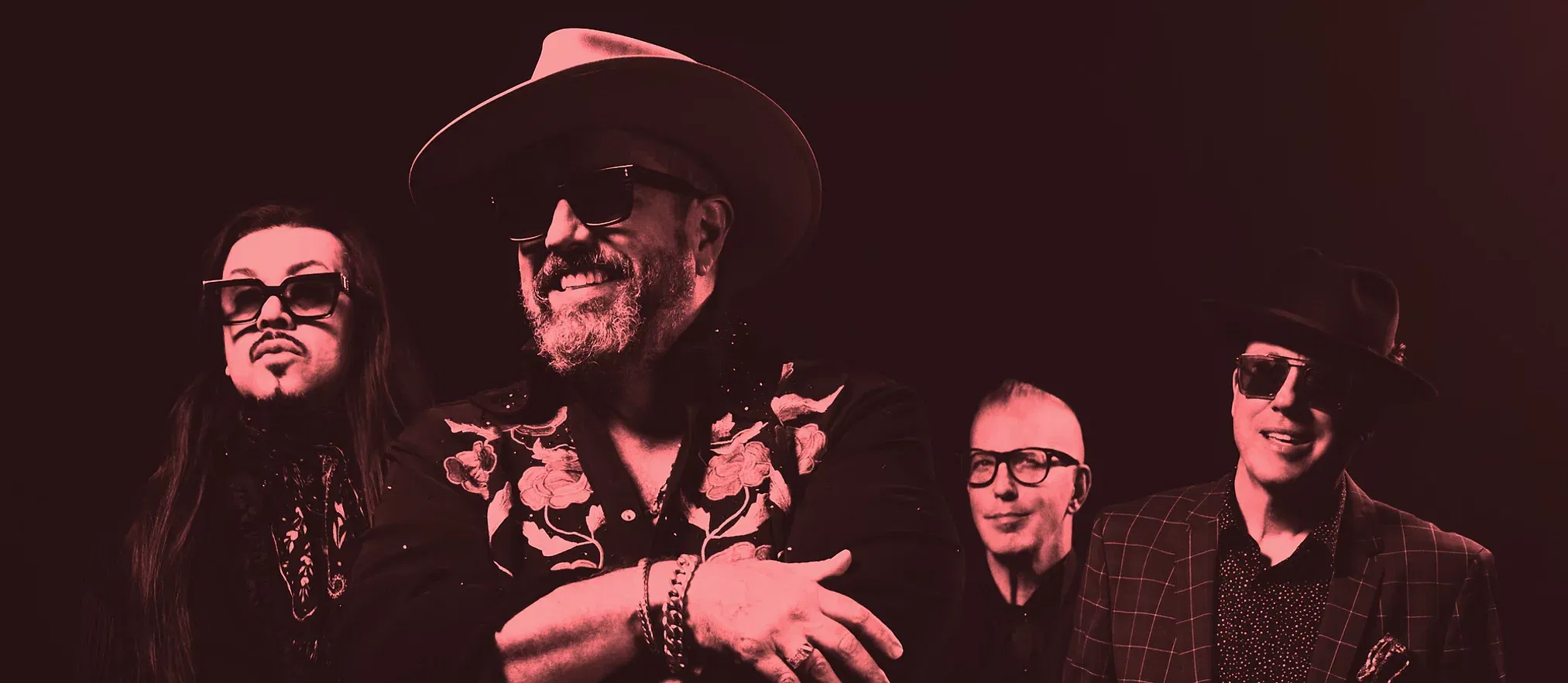 (PHOTO: The Mavericks. Photo courtesy of themavericksband.com)
Frontman Malo has a tenor voice seemingly bequeathed to him by the gods. There is a rare lilt to the quality of his voice that not only subdues but lifts at the same time.
Partnering with Perez on guitar, both compliment and challenge one other, prompting to each to get in their licks while they can.
The band has been labeled a "country" act but by putting them in that checkbox it equates them to a singular "flavor" of music which has done a great disservice to this band that truly crosses almost every conceivable genre of music.
There is a country flavor present but it is blended magnificently with other flavors such as rock, big band, Latin, Ska, Tex-Mex, Zydeco, polka, and even a little grunge.
Thirty years ago, none of these multiple varying styles could have been conceived of being woven together to form such a beautiful musical tapestry - but The Mavericks accomplished just that. They MAKE the tapestry work and do so (pardon the pun) "seamlessly."
The hits played in concert all reflect this: "There Goes My Heart," "What a Cryin' Shame," "Damned (If You Do)," "Come Unto Me" "All You Ever Do Is Bring Me Down" and many more.
One glaring omission was their fabulous Jesse Winchester cover "O What a Thrill" but the more subdued tone of the song might just not fit in with the overall upbeat tone of the current set list.
The band continues their 2022 tour with upcoming stops in more Northeast locales such as Morristown and Red Banks, New Jersey; Ridgefield, CT, and Lenox, MA.
Full tour details can be found at:
https://www.themavericksband.com/tour
Do not miss your chance to see a high octane concert you won't soon forget.
Kevin T. Baldwin is a member of the American Theatre Critics Association (ATCA)
@MetrmagReviews
@Theatre_Critics