(Cover Photo: Kira Troilo and Jared Troilo appearing in "The Last Five Years," playing at the Lyric Stage of Boston throughout November and into December, 2021. Photo Credit Mark S. Howard)
"Centering on a relationship"
Kevin T. Baldwin
METRMag Reviewer
# 774-242-6724

The Lyric Stage Company of Boston
Presents the Musical
"The Last Five Years"
Written By Jason Robert Brown
Directed by Leigh Barrett
Music Director Dan Rodriguez
Cast: Jared Troilo* as Jamie and Kira Troilo* as Cathy.
Production Team: Scenic Design - Jenna McFarland Lord; Costume Design - David Lucey; Sound Design - Andrew Duncan Will; Lighting Design - Karen Perlow**; Production Stage Manager - Nerys Powell*; Assistant Stage Manager/Covid Safely Manager - Rose Mancuso; Props Artisan - Lauren Corcuera.
Performances:
November 12, 13, 19, 20, 26 & 27, December 3, 4, 10 & 11, 2021 at 8:00pm
November 13, 14, 29, 21, 27 & 28, December 4, 5, 11 & 12, 2021 at 3:00pm
November 17, 24, 2021 at 2:00pm
November 17, 18, 23, December 1, 2, 8 & 9, 2021 at 7:30pm
* Member of Actors' Equity Association, the Union of Professional Actors and Stage Managers in the United States
** Represented by United Scenic Artists, Local USA 829 of the IATSE
°Stage Directors and Choreographers Society


PRODUCTION SPONSORED BY NINA AND DON BERK
DIRECTOR LEIGH BARRETT, SPONSORED BY PAUL KASTNER
140 Clarendon Street, Boston, MA 02116
BOX OFFICE # 617-585-5678
The Lyric Stage presents Jason Robert Brown's two-actor musical "The Last Five Years" and it flows as if we are witnessing an exquisite ballet pas de deux where we see two dancers, two partners, two lovers, who are never actually together. At least, not emotionally.
This is a rare production where the entire book and score are by a singular source, in this case, Jason Robert Brown, who also gave us "Songs for a New World" and "Parade," (for which he won the 1999 Tony® Award for Best Score). He also is currently in production for the film version of the musical "13."
It is an absorbing, erudite musical about the emotional decay of a relationship - one by which the audience is immersed for 90 full minutes of a fascinating experiment which yields some intriguing results.
That said, the overall score for "The Last Five Years" by Brown does have its limitations - there are many tunes that feel redundant but there are also some wonderful atonal accents used in songs throughout the score which accentuate various moments of emotional "discord" between the two lead characters.
Directed by Leigh Barrett with Music Direction by Dan Rodriguez, the show features real-life married couple Jared Troilo* as "Jamie" and Kira Troilo* as "Cathy." The musical is about a marriage coming to an end as conveyed by the countering perspectives of the couple involved.
The comprehensive music supervision by Dan Rodriguez is flawlessly executed and the music provided by the show's unseen musicians (Gregory Holt on Bass, Emily Dahl-Irons on Violin, Tom Young on Guitar, Rodriguez on Piano, Kevin Crudder and Javier Caballero on Violoncello) is also exemplary.
Set in front of a large display of intersecting rings, presumably symbolizing wedding rings, the simple yet deceptively "layered" set design by Jenna McFarland Lord could have multiple meanings. It could easily represent a "Venn diagram" whereby Cathy's story exists on one side, Jamie's story is on the other and the overlapping, intersecting point is where the "truth" for the failure on both sides resides.
Still another possibility is that the intersecting point could represent us, the audience, sitting in the center space of those two circles, watching the stories unfold on either side of us. These interpretive aspects of the set design make it quite thought-provoking, for sure.
However, one aspect of the set which may have seemed great in concept and did work well visually was the turntable floor which did not work quite as well in execution and was occasionally louder than either the music or the actors.
According to author Elisabeth Kübler-Ross, there are purportedly "Five Stages of Dying": Denial, Anger, Bargaining, Depression, and Acceptance. As the musical unfolds, many of those stages could be applied to the relationship seen in "Last Five Years."
From the opening, Cathy appears to be facing many of the above levels simultaneously in "Still Hurting." She is negative, self-confident, pessimistic about aspects of her life. As an actress, things are not going well for her. She is too self-absorbed to see that Jamie, a rising author, is not in that same space personally to the point where they are not able to evolve as a couple. By the end of the relationship (which is actually the beginning of the show - stay with me now), she appears to be in Acceptance.
Simultaneously, during the opening, Jamie appears to be more positive, more assured, more optimistic about aspects of his life as he conveys in the song, "Shiksa Goddess." As a writer, things are going well for him. He, also, is too self-absorbed to see that Cathy, the actress, is not in that same space personally to the point where they are not able to evolve as a couple. By the end of the show (which, again, is actually the end of the relationship - hang in there, you're doing fine), he, too, appears to be in Acceptance.
As Jamie becomes more aware, we watch Cathy move from the acceptance of the death of a relationship move back toward that same optimism, yet never quite fully reaching the same level as Jamie. This is where Brown's overall story arc excels.
As an observer, whether watching events unfold, either forward or in reverse, it is relatively easy to see why the relationship seemed doomed from the beginning. Neither of the persons involved seemed complete individually. So, the expectation they might "complete" one another was not probably feasible.
Brown is very adept at allowing us, the audiences, "glimpses" of something from the center without too much backstory convoluting what he is trying to convey with his material.
"The Last Five Years" is probably his most intimate and we learn enough about Cathy and Jamie to know they are never "together" at the same time nor emotionally present for one another. They never seem to share, celebrate nor mourn at the same time. They seem more bent on "fixing what they have" rather than actually being in the relationship.
Occasionally, Brown's songs become redundant. Not every tune needed to be a "belter" yet the majority of them are. Many of the tunes rise above the occasional monotony such as the show's opener, "Still Hurting," sung by Cathy (and executed proficiently by Kira Troilo) to the coffin-nail, gut punch "Nobody Needs to Know" sung by Jamie (and equally performed well by Jared Troilo, who brings a unique take to each and every one of Jamie's songs).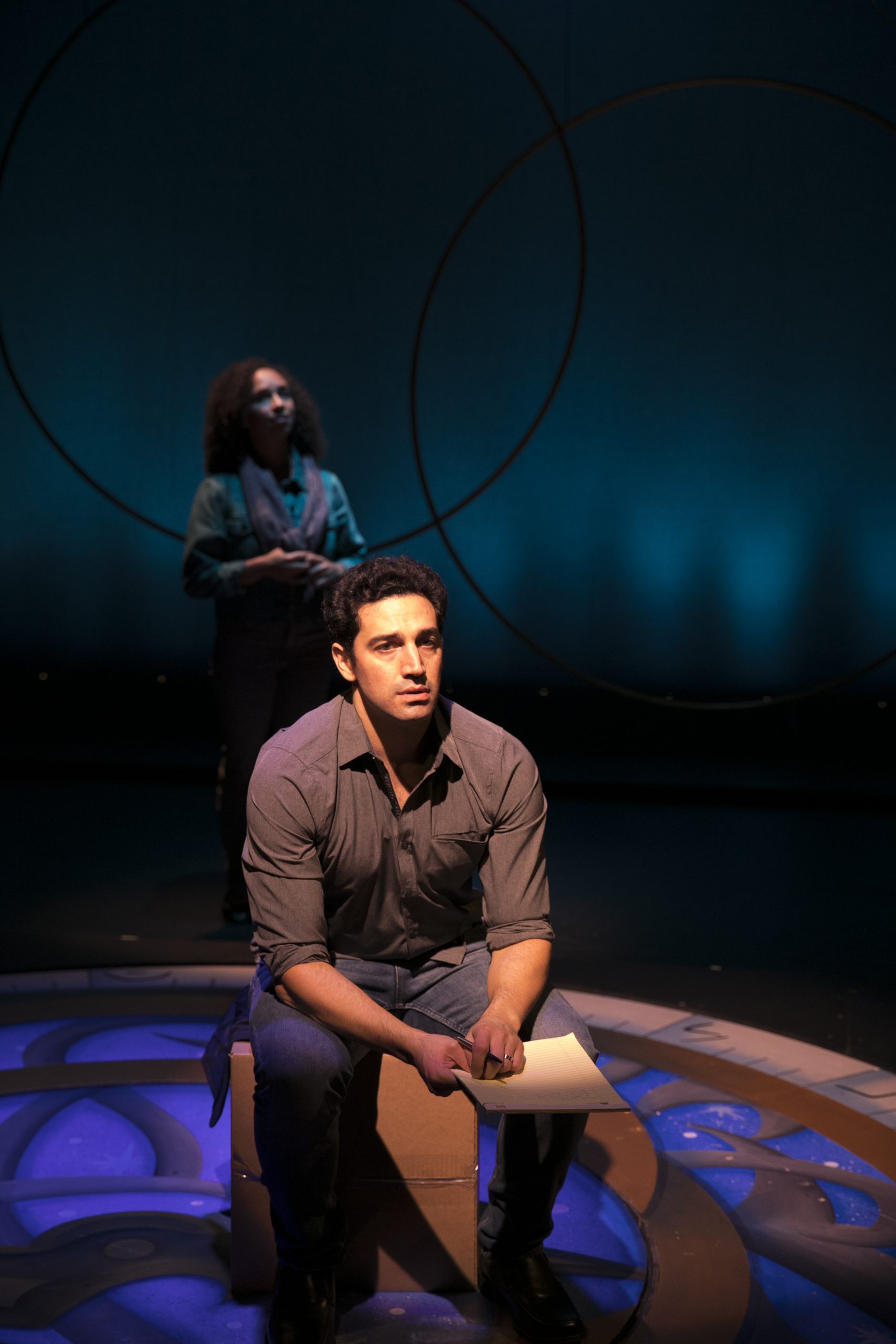 (Kira Troilo and Jared Troilo appearing in "The Last Five Years," playing at the Lyric Stage of Boston throughout November and into December. Photo Credit Mark S. Howard )
The story of "Last Five Years" is based on Brown's own failed marriage. Yet, anyone with enough experience in a failed relationship can relate to what is being presented. We root for the couple, especially during their one, beautifully intersecting moment where they marry and sing together during "The Next Ten Minutes."
However, under Leigh Barrett's insightful guidance and direction, we, as observers, can also see that Cathy and Jamie's road traveled together is one headed for an ultimately bifurcated path.
Yet, also as observers, we can hope that, as Cathy and Jamie continue along separate paths, they are able to look back, occasionally, to see where they had been during those "Five Years," to learn from the shared experience, and can find it in themselves to be grateful of their time together.
The show's approximate run time is 90 minutes with no intermission.
Kevin T. Baldwin is a member of the American Theatre Critics Association (ATCA)
@MetrmagReviews
@Theatre_Critics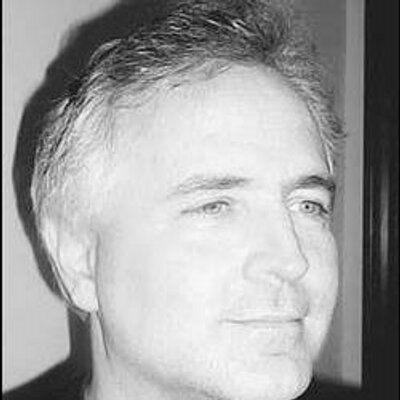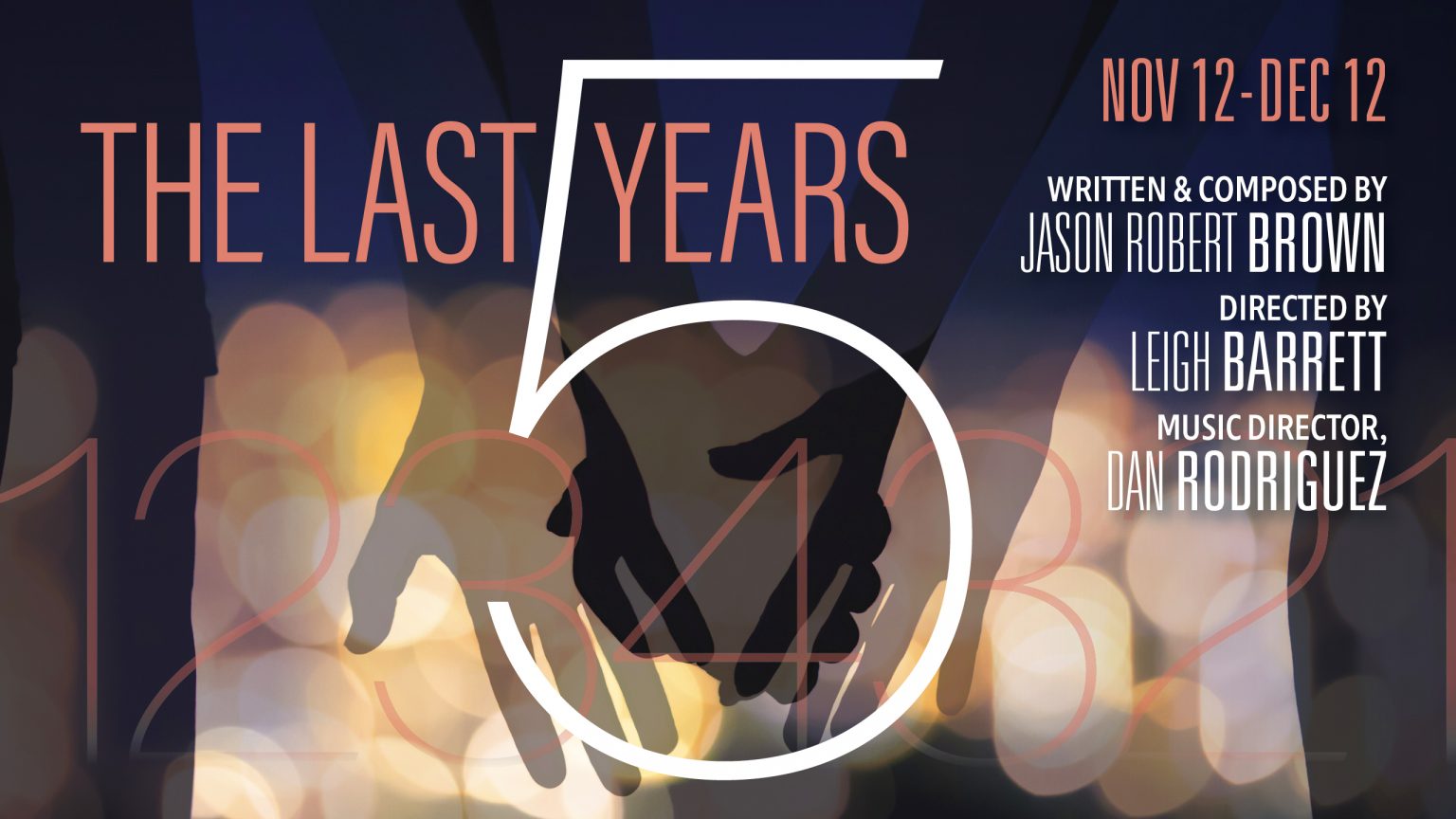 ABOUT THE SHOW
The Last Five Years is an emotionally powerful and intimate musical about two New Yorkers in their twenties who fall in and out of love over the course of five years. The show's unconventional structure consists of Cathy telling her story backwards while Jamie tells his story chronologically.
Lyric Stage launches "Lyric for All" Affordable Price Options
In an effort to integrate live theater into the lives of all residents of Greater Boston, Lyric Stage offers multiple options including $30 Under 35, advanced Student Tickets, Senior Tickets, and partnerships with MassWIC and EBT Cardholders that allow audiences to visit as often as they like. More information at: https://www.lyricstage.com/tickets/lyric-for-all/
COVID-19 PROTOCOL
The City of Boston requires that our guests wear masks in the theater for the duration of the performance. Lyric Stage is requiring all its guests to show proof of vaccination: either a physical vaccination card or a legible photo of the vaccination card. When the City of Boston no longer meets the CDC's definition of a community at high risk of transmission, the requirement to show proof of vaccination will be lifted. All ticket holders will be notified of any policy changes within 48 hours of their ticketed performance.
ABOUT THE LYRIC STAGE COMPANY OF BOSTON
Founded in 1974 and in residence at 140 Clarendon Street since 1991, the Lyric Stage Company is Boston's oldest resident theatre company. Its mission is to produce and present live theatre in Greater Boston with an intimate approach that promotes inclusivity and connection. The Lyric Stage leads an effort to integrate live theater and theater education into the lives of all residents of greater Boston.
140 Clarendon Street
Boston, MA. 02116
BOX OFFICE: 617-585-5678