(Cover Photo: Ryan Sullivan and Heidi White appearing in "THE LAST FIVE YEARS," playing at Calliope Productions through September 11, 2022. Photo Credit Karen Josbacher)
"An homage to disconnectedness"
Kevin T. Baldwin
METRMag Reviewer
# 774-242-6724

Calliope Productions
Presents the Musical
"The Last Five Years"
Written By Jason Robert Brown
Directed by John Leslie and Lisa Tierney
Music Director Kris Layton
Cast: Ryan Sullivan as Jamie and Heidi White as Cathy.
Additional Creative Team: Stage Manager - Kim Lipuma; Producer, Sets, Lights, Sound - Dave Ludt; Photographs and Marquee - Karen Josbacher
Performances:
September 8, 9, 10, 2022 at 7:30pm
September 11, 2022 at 2:00pm
Calliope Productions, 150 Main Street, Boylston, MA 01505
Tickets for this musical are $20 for regular admission, and $17 for students and seniors.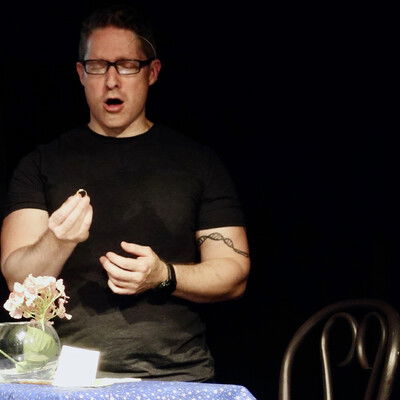 (Photo: Ryan Sullivan in "THE LAST FIVE YEARS," playing in Boylston at Calliope Productions through September 11, 2022. Photo Credit Karen Josbacher)
Calliope Productions continues its 40th Anniversary Celebration with Jason Robert Brown's two-actor musical "THE LAST FIVE YEARS."
If one were to take a large, thick storybook, open it up to the center page and then lay the book out in front of them on a table, from that center page is where the journey of "THE LAST FIVE YEARS" begins.
From there, if one were to close that book in such a way that all the pages merged the beginning and end of the story, and all events in between, it would seem as if the conversations taking place in the musical would be happening at the same time.
That is NOT the case here as the central couple involved in those conversations couldn't be further apart: literally, figuratively and emotionally.
In "THE LAST FIVE YEARS," we actually witness (spoiler alert!) a doomed relationship where one actor (Heidi White as "Cathy") presents their story from present to past and the other actor (Ryan Sulivan as "Jamie") presents the same story from the past to the present.
This is a rare production where the entire book and score are by a singular source, in this case, Jason Robert Brown, who also gave us "Songs for a New World" and "Parade," (for which he won the 1999 Tony® Award for Best Score).
Brown also scored the film version of the musical "13" and, most recently, provided the music for Billy Crystal's Broadway adaptation of "Mr. Saturday Night."
"THE LAST FIVE YEARS" is an absorbing, erudite musical about the emotional decay of a relationship - one by which the audience is immersed for 90 full minutes of a fascinating experiment which yields some intriguing results.
The staging is quite inventive with Sullivan situated on one side of the stage telling his story and White executing most of her moments on the opposite side.
One must suspend disbelief as both actors' ages skew a tad bit older than the characters they portray (as written). Still, the overall essence of the piece is absolutely preserved and the acting partnership between Sullivan and White on stage is thoroughly engaging.
Sullivan is a vocal powerhouse, capturing Jamie's enthusiasm as both his marriage and career seem to be taking off simultaneous (again, moving forward in time). By the time he reaches one of the shows' final numbers, "Nobody Needs to Know" the building intensity of that moment permeates the entire theatre.
White is a consummate actress who vividly conveys (again, moving backward in time) Cathy's desperation and angst that permeated and destroyed the couple's marriage beginning with the show's opener, "Still Hurting."
As an observer, whether watching events unfold, either forward or in reverse, it is relatively easy to see why the relationship seemed doomed from the beginning.
Neither of the persons involved seemed complete individually. So, the expectation they might "complete" one another was not probably feasible.
Jason Robert Brown is very adept at allowing us, the audiences, "glimpses" of something from the center without too much backstory convoluting what he is trying to convey with his material.
One of the most poignant moments occurs half-way through the musical with "The Next Ten Minutes" when the couple, who sing their perspectives separately, converge at the "nucleus" of their mutual story, intersecting only momentarily, then continuing on their respective separate journeys.
That said, the overall score for "THE LAST FIVE YEARS" by Brown does have its limitations - there are many tunes that feel redundant but there are also some wonderful atonal accents used in songs throughout the score which accentuate various moments of emotional "discord" between the two lead characters.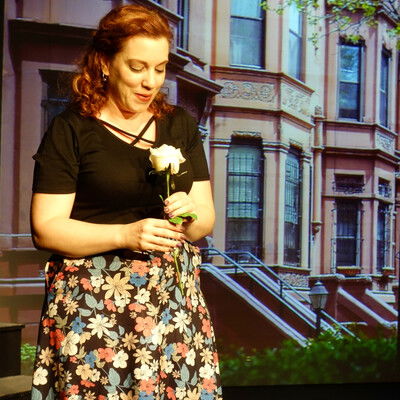 (Photo: Heidi White in "THE LAST FIVE YEARS," playing in Boylston at Calliope Productions through September 11, 2022. Photo Credit Karen Josbacher)
Calliope's staging of "THE LAST FIVE YEARS" is adeptly co-directed by John Leslie and Lisa Tierney with Music Direction by Kris Layton.
The actors and musicians should all be praised for successfully pulling off an incredibly difficult score that has minimal pauses throughout.
Cathy and Jamie are never "together" at the same time nor emotionally present for one another. Therefore, they never seem to share, experience, celebrate nor mourn at the same time. They seem more bent on "fixing what they have" rather than actually being in the relationship.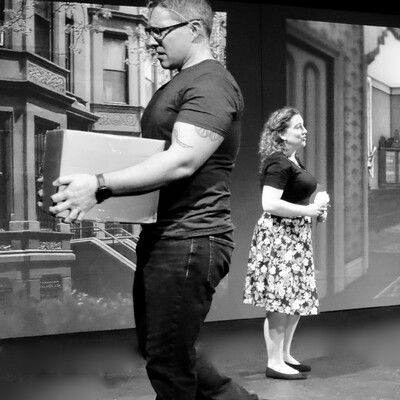 (Photo: Ryan Sullivan and Heidi White appearing in "The Last Five Years," playing at Calliope Productions through September 11, 2022. Photo Credit Karen Josbacher)
The story of "THE LAST FIVE YEARS" is based on Brown's own failed marriage. Yet, anyone with enough experience in a failed relationship can relate to what is being presented.
While, instinctively, we would like to root for the couple to succeed, there is very little offered by way of the show's content to allow for such optimism.
Yet, we cannot help but, at least, care for Jamie and Cathy, especially those of us who have been where they find themselves, either at the beginning of the relationship...or at the end.
There were some minor technical difficulties with noticeable static coming from the body mics and some of the stage transitions were executed less than stealthy. However, the minimal use of set pieces accentuated the perfectly selected background images projected along the back wall - ultimately providing the perfect ambiance for the production.
When all is said and done, though, it was the commendable performances by Sullivan and White which makes "THE LAST FIVE YEARS" a show well worth seeing.
The show's approximate run time is 90 minutes with no intermission.
Kevin T. Baldwin is a member of the American Theatre Critics Association (ATCA)
@MetrmagReviews
@Theatre_Critics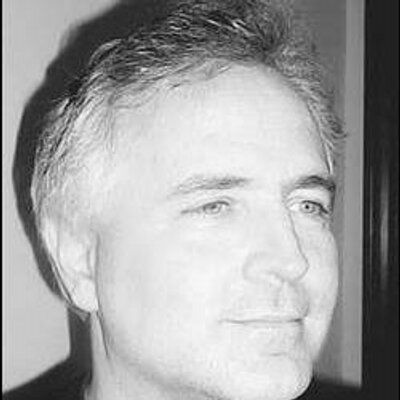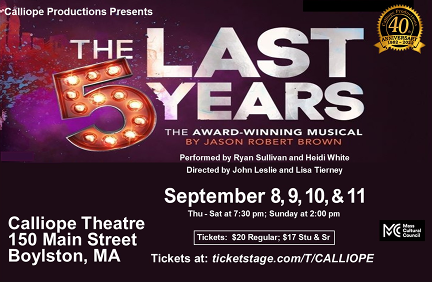 ABOUT THE SHOW
This celebrated 2002 award-winning Off-Broadway musical by Jason Robert Brown,

THE LAST FIVE YEARS

chronicles the five-year life of a marriage, with one of the brightest and most lyrical musical scores of the 21st century.
THE LAST FIVE YEARS

is an intensely personal and emotionally moving look at a relationship told from two individual points of view, using uniquely different perspectives simultaneously: in "forward time" as we follow the story from the man's perspective and in "reverse time" as we view it from the woman's perspective.
Calliope invites you to immerse yourself in this powerful musical tour de force.
COVID-19 PROTOCOL
IMPORTANT: In keeping with Calliope's current Covid-19 protocol, all performers and staff are fully vaccinated, and all audience members will be required to wear masks and present proof of vaccination or negative PCR test results.
For more information or to reserve or purchase tickets, please contact the Calliope box office at 508-869-6887.We look forward to seeing you at the theatre!

ABOUT CALLIOPE PRODUCTIONS
Calliope Productions is a year-round non-profit theatre company founded in 1982 that serves the needs and interests of audiences and performers in the Central Massachusetts region. Calliope Productions presents six main-stage productions each year, and operates performance training workshops for students (ages 9 - 18) and adults. Calliope Productions is a member of the American Association of Community Theatre, the Eastern Massachusetts Association of Community Theatres, and the Worcester Cultural Coalition.
Calliope Productions
150 Main Street
Boylston, MA 01505
508-869-6887