(Cover Photo: Elizabeth Jacoby, Karen Josbacher and Victoria Powell in "The Lady Vanishes'" premiering at Calliope Productions. Photo Credit: Scott Lyerly)
Danger lurks as Hitchcock's "Lady Vanishes" premieres at Calliope Productions
By Kevin T. Baldwin
METRMag Reviewer
# 774-242-6724

BOYLSTON: "The Lady Vanishes" - A Comedy/Thriller by Derek Webb, based on the Alfred Hitchcock film of the same title. A North American Premiere Production at Calliope Productions, 150 Main Street, Boylston, MA. 01505. Performances: REMAINING PERFORMANCES CANCELLED. Tickets $20 per adult, $17 students or seniors.
Adapted for the stage by Derek Webb. Directed by Dave Ludt. Originally written by Sidney Gilliat and Frank Launder based on the 1936 novel "The Wheel Spins" by Ethel Lina White.
Cast Includes: Elizabeth Jacoby, Victoria Powell, Chris Uminski, Ed Moynihan, Kerry Harrington, Laurie-Ann Millard, Sabrina Hildreth, Doug Beller, Karen Josbacher, Janice Spada, Gary Swanson, Al Dano, Cindy Graber, Cindy Graber, Matt Cory.
Calliope has some fun with an Alfred Hitchcock classic with a new adaptation of "The Lady Vanishes" based on the 1938 British mystery thriller film. The original movie starred Margaret Lockwood and Michael Redgrave.
Wealthy young socialite Iris Carr (Elizabeth Jacoby) boards a train in Eastern Europe, sharing a compartment with oddly uncomfortable "honeymoon couple" Mr. and Mrs. Todhunter (Ed Moynihan and Kerry Harrington), a gloomy Baroness (Janice Spada) and her equally gloomy Doctor (Gary Swanson)and a kindly older British woman named Miss Froy (Victoria Powell)
Iris and Miss Froy enjoy tea together in the restaurant car of the train then return to their unfriendly travel companions. After complaining about a headache, Iris takes a nap. When she awakens, Miss Froy is not there and, more surprisingly, everyone in the car now claims to have no knowledge of any "Miss Froy."
Iris begins looking for Miss Froy enlisting the aid of a skeptical Professor (Al Dano) and a young man named Max (Chris Uminski), the only one who, with reservations, believes her story.
All roads lead to dead ends because everyone they question on the train has no recollection of the "vanished" Miss Froy. Under the capable direction of Dave Ludt, and as with the best Hitchcock material, the suspense builds until the truth behind the mystery of the lady's disappearance is revealed.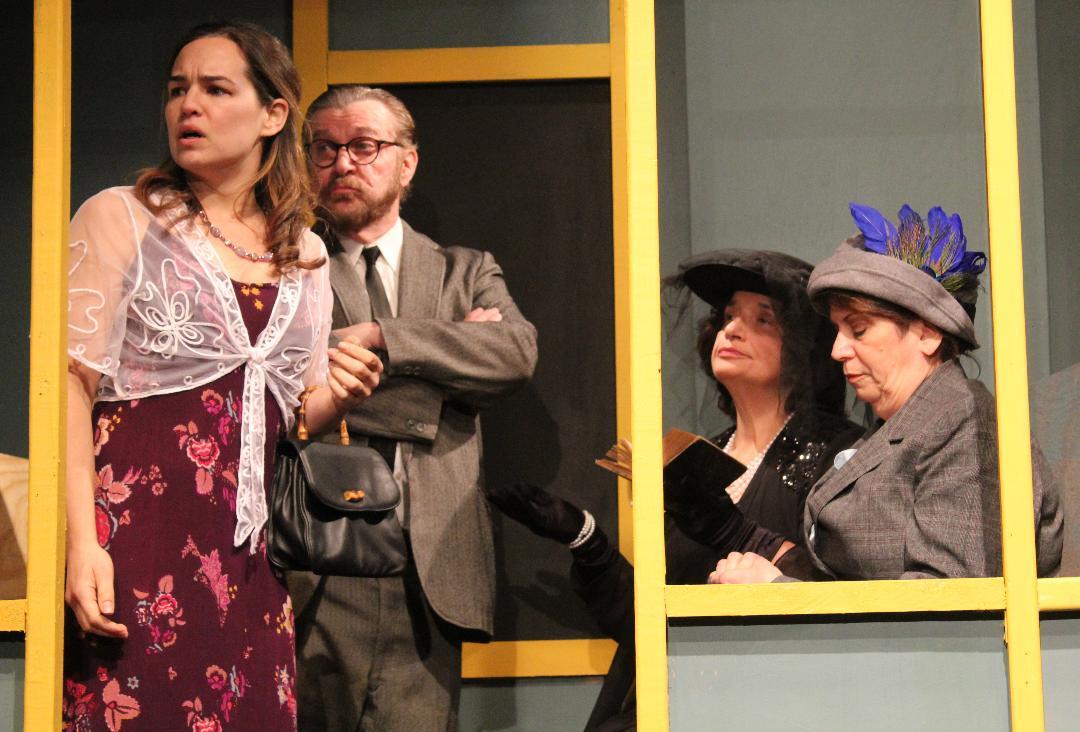 Elizabeth Jacoby, Gary Swanson, Janice Spada and Cindy Graber
in "The Lady Vanishes" at Calliope Productions.
Photo Credit: Scott Lyerly.While this new adaptation play has been written by Derek Webb so that there is a "continuous sense of action, moving seamlessly from one scene to the next as far as possible," the set still appeared to be quite claustrophobic, even for trying to depict an old train. The entire set could have been moved forward a few feet as well to feel less cumbersome.
Also, set changes involved numerous blackouts so that curtains could be moved left and right, thus depicting different sections of the train. This worked fine during the first act but, during the second, became increasingly superfluous and sounding more and more like shower curtains continuously being moved back and forth.
Performances by the principal characters were, for the most part, uneven with the best coming from Jacoby, Swanson, Dano and Powell. Uminski executed the dialogue well, and is somewhat charismatic on stage, but needs some additional experience in stage movement as he also had moments of physical awkwardness.
There are many lighter moments in the show coming from amusing supporting players Matt Cory, who plays a Waiter/Porter and Border Guard, Doug Beller and Karen Josbacher as the "Rev. and Mrs. Kenneth Barnes," and by Laurie-Ann Millard and Sabrina Hildreth as fellow travelers the "Flood-Porters."
Costumes by Donna Reidy were well coordinated to the ambiance created by the set.
There is enough of an ebullient sense of nostalgia and plenty here for fans of master of suspense Hitchcock to enjoy.
The show runs approximately two hours with one intermission.
Kevin T. Baldwin is a member of the American Theatre Critics Association (ATCA)