(Cover Photo: Tyler Simahk in a scene from "THE GREAT LEAP" by Lauren Yee, now playing at Lyric Stage Company in Boston, MA. through March 19, 2023. Photo Credit Mark S. Howard)
By Kevin T. Baldwin
METRMAG Reviewer
# 774-242-6724
"They will all be sent back into darkness. Giving way to a generation for whom June 4th will mean nothing." - Lauren Yee

Lyric Stage Company
Presents
"THE GREAT LEAP"
Written by Lauren Yee
Directed by Michael Hisamoto
Cast Includes: Barlow Adamson*, Jihan Haddad*, Gary Thomas Ng*, and Tyler Simahk*.
Additional Creative Team:
Scenic Design - Baron E. Pugh**; Production Stage Manager - Nerys Powell*; Costume Design - Seth Bodie; Lighting Design - Michael Clark Wonson; Sound Design - Elizabeth Cahill; Assistant Sound Design - Sarah Miller; Props Artisan - Karissa Roberts; Assistant Stage Manager - Hazel J. Peters.
Performances:
February 24, 2023 through March 19, 2023
(Contact Box Office for Exact Times)
* Member of Actors' Equity Association, the Union of Professional Actors and Stage Managers in the United States
** Represented by United Scenic Artists, Local USA 829 of the IATSE
° Stage Directors and Choreographers Society
140 Clarendon Street, Boston, MA 02116
BOX OFFICE # 617-585-5678
Five Dollar Fridays
February 24, 2023 Lyric Stage offers

Five Dollar Friday

which makes tickets affordable for all for $5 each.
There will be a limited number of $5 tickets available for sale with code LEAP5.
In the Lyric Stage Company production of "THE GREAT LEAP," now playing in Boston, the subject begins as basketball - something that would normally play well as a Disney + movie or limited series.
However, not so much would one expect the concept to translate well as a two-act play but, thanks to the combined performances and the backdrop the game is set against, "THE GREAT LEAP" does.
In basketball lingo, a "splash" is a dramatic three-point shot from far away.
In many ways, Lauren Yee's "THE GREAT LEAP" is a "splash" and nails the shot from about as far away as you can get – politically, anyway - China.
Aptly staged by Michael Hisamoto, don't look for any great basketball staging here. That may happen if this eventually becomes a film.
As it is, the focus of the story is more on the human element and not the sport.
Mention Tiananmen Square in Beijing to anyone under the age of 40 and you might get a blank stare from some who have no idea to what you refer...a look of despair from others who absolutely recall the tragic events that took place in 1989.
In the spring of that year, multiple protests and demonstrations culminated with a brutal government crackdown on demonstrators (seeking political and economic reform) in Tiananmen Square on the nights of June 3rd and 4th .
In Chinese history, the "Great Leap Forward" was a campaign undertaken by Chinese communists between 1958 and 1960 to organize its vast population, especially in rural communes, to meet China's industrial and agricultural problems. A catastrophic failure, the "Great Leap Forward" caused mass starvation and famine. It is estimated that between 30 and 45 million Chinese citizens died due to famine, execution, and forced labor, along with massive economic and environmental destruction.
There are famous news images of "Tank Man" (also known as the "Unknown Protester" or the "Unknown Rebel") a then-unidentified Chinese man who stood in front of a column of tanks leaving Tiananmen Square on June 5th, 1989 - the day after the protests.
So, what does any of the above have to do with basketball?
As it turns out, at least according to Yee's story, quite a lot.
However, while important to the story, you won't require a full history lesson in order to appreciate the events of "THE GREAT LEAP."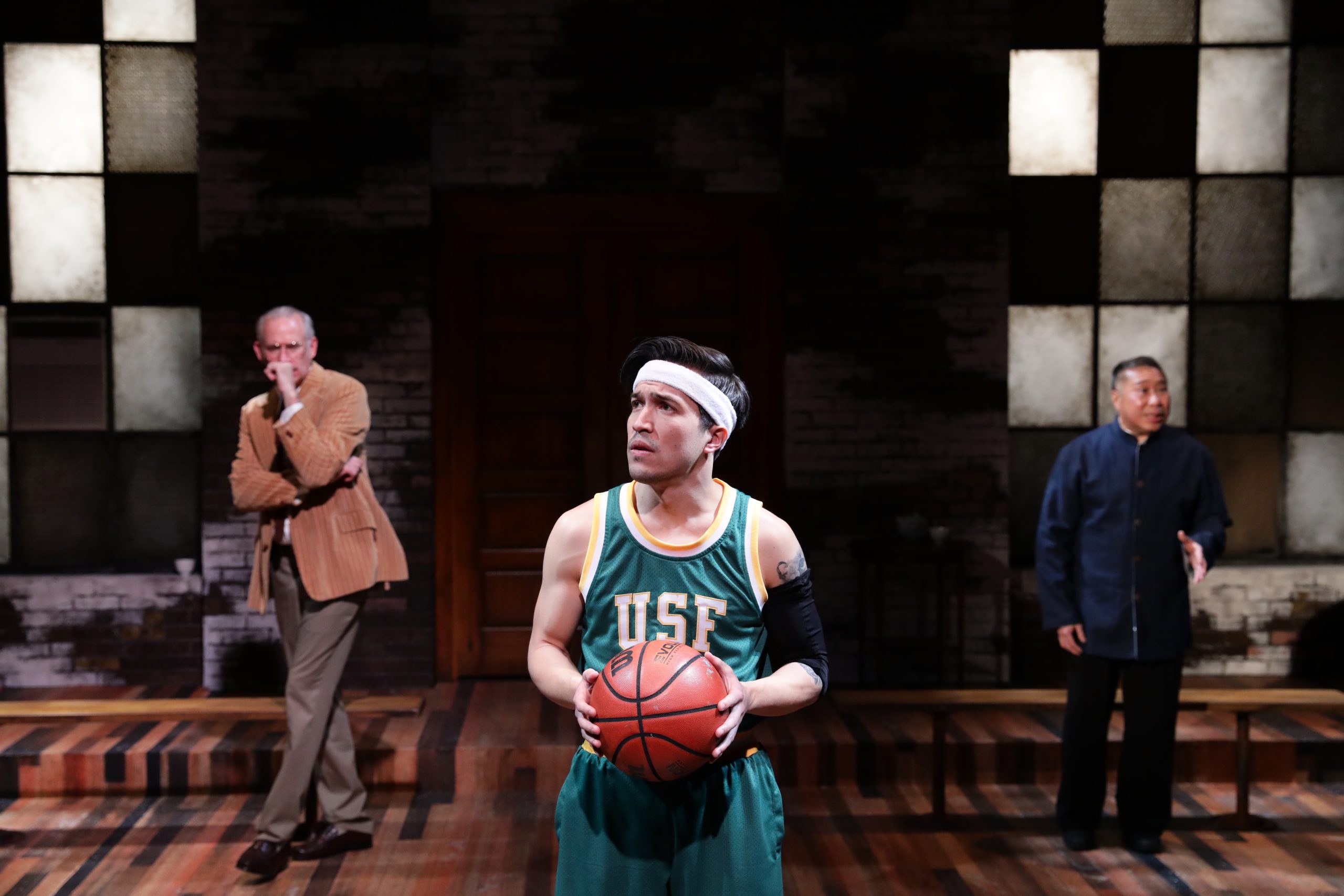 (Photo: Barlow Adamson, Tyler Simahk and Gary Thomas Ng in a scene from "THE GREAT LEAP" by Lauren Yee, now playing at Lyric Stage Company in Boston, MA. through March 19, 2023. Photo Credit Mark S. Howard)
The play moves back and forth between the years 1971 and 1989.
What begins as a play about cultural and language barriers soon becomes more about barriers more emotional, political and familial in nature.
In San Francisco, in 1971, Saul (Barlow Adamson) is a basketball coach at a state college who travels to Beijing to advise a relative newcomer to the American style of coaching, Wen Chang (Gary Thomas Ng), on the fundamentals of basketball.
Adamson brings a great deal of humor and stability to Saul, who seems to have an otherwise unstable nature. One is never quite sure just what vulgar or coarse colloquialism Saul will come out with next...but it will happen, most assuredly.
18 years later (which is actually where the play begins), Saul is,...not approached...he is instead badgered and beleaguered by a young upstart basketball player, Manford (Tyler Simahk), a Chinese-American and graduating high school senior.
Simahk is outstanding as the intense young Manford, who has a very personal reason for wanting to go to Beijing - a reason that has become an intimate obsession for him and one that does not involve playing basketball.
Manford lost his mother who fled Beijing years before and later died. He now lives with the family of his very supportive "cousin," Connie (Jihan Haddad) - a cousin who, as explained in the story, is not related by blood.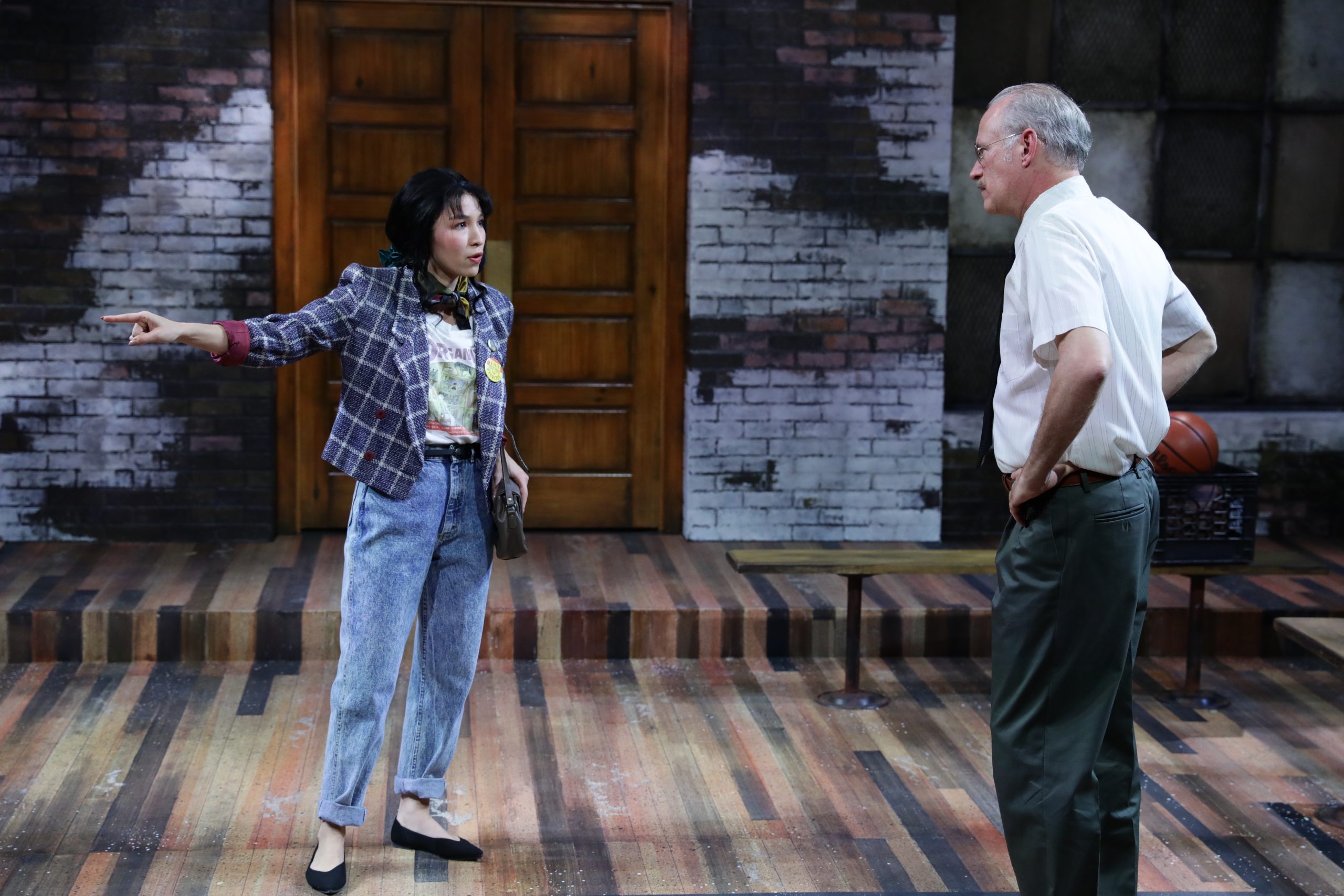 (Photo: Jihan Haddad and Barlow Adamson in a scene from "THE GREAT LEAP" by Lauren Yee, now playing at the Lyric Stage in Boston, MA. through March 19, 2023. Photo Credit Mark S. Howard)
Haddad injects much humor and positivity into Connie, who serves as the perfect "moral compass" for the young and obsessed Manford.
Manford insists Saul NEEDS him to join the college team for an upcoming exhibition game Saul has been invited to in Beijing. Truth is Manford needs to be on Saul's team more than Saul's team needs Manford.
There are humorous exchanges between Saul and Manford. In fact, virtually every exchange between all four characters (in varying combinations) are highly enjoyable. There are multiple secrets revealed as the play progresses, as well.
Gary Thomas Ng impresses most as Wen Chang, a man dedicated to his disciplined, regulated and virtually cloistered life under Communist party rule.
It is in his encounters with both Saul and Manford that Wen Chang becomes more aware of the changes coming to the political landscape of China. He also sees just how fearful some can be of change, including himself.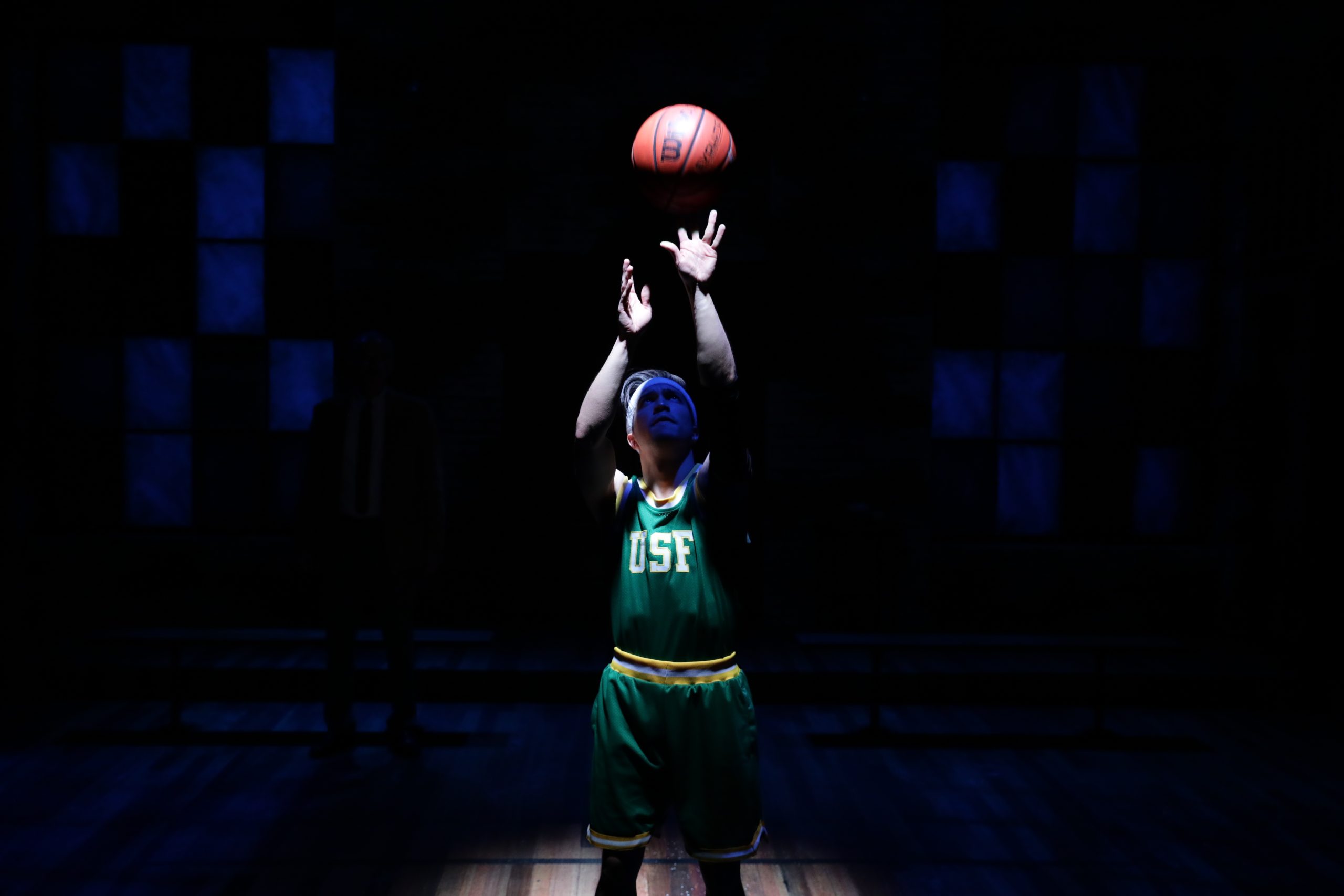 (Photo: Tyler Simahk in a scene from "THE GREAT LEAP" by Lauren Yee, now playing at Lyric Stage Company in Boston, MA. through March 19, 2023. Photo Credit Mark S. Howard)
The two-level singular set design of a basketball half-court (in representation) by Baron E. Pugh proves fully functional for the needs of the play and allows great ease for transitioning scenes.
Costumes by Seth Bodie are period specific (between the years of 1971 and 1989) with an added touch of whimsey - from Saul looking like he stole a paisley Nehru jacket out of Peter Tork's closet to Connie dressed, at times, like Susanna Hoffs.
There is a warmth and prevailing optimism to Yee's dialogue which contrasts nicely to the cold cynicism of the events taking place during this time in Beijing.
"THE GREAT LEAP" scores thanks to its winning players. Even Saul...at his most vulgar and coarse...has a well-intentioned (if not entirely) moral center, making him irascible yet still quite likeable.
The unfolding of violence in Beijing disrupts the plans for Manford on his quest. Yet, as the Chinese government practices its own type of oppressive "zone defense," Manford, ultimately, takes his shot.
The Lyric Stage Company production of "THE GREAT LEAP" runs through March 19th.
Approximately 2 hours with one intermission.
Kevin T. Baldwin is a member of the American Theatre Critics Association (ATCA)
@MetrmagReviews
@Theatre_Critics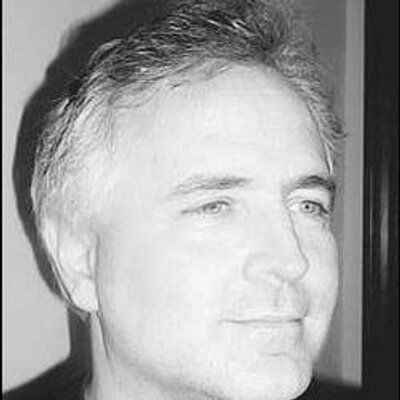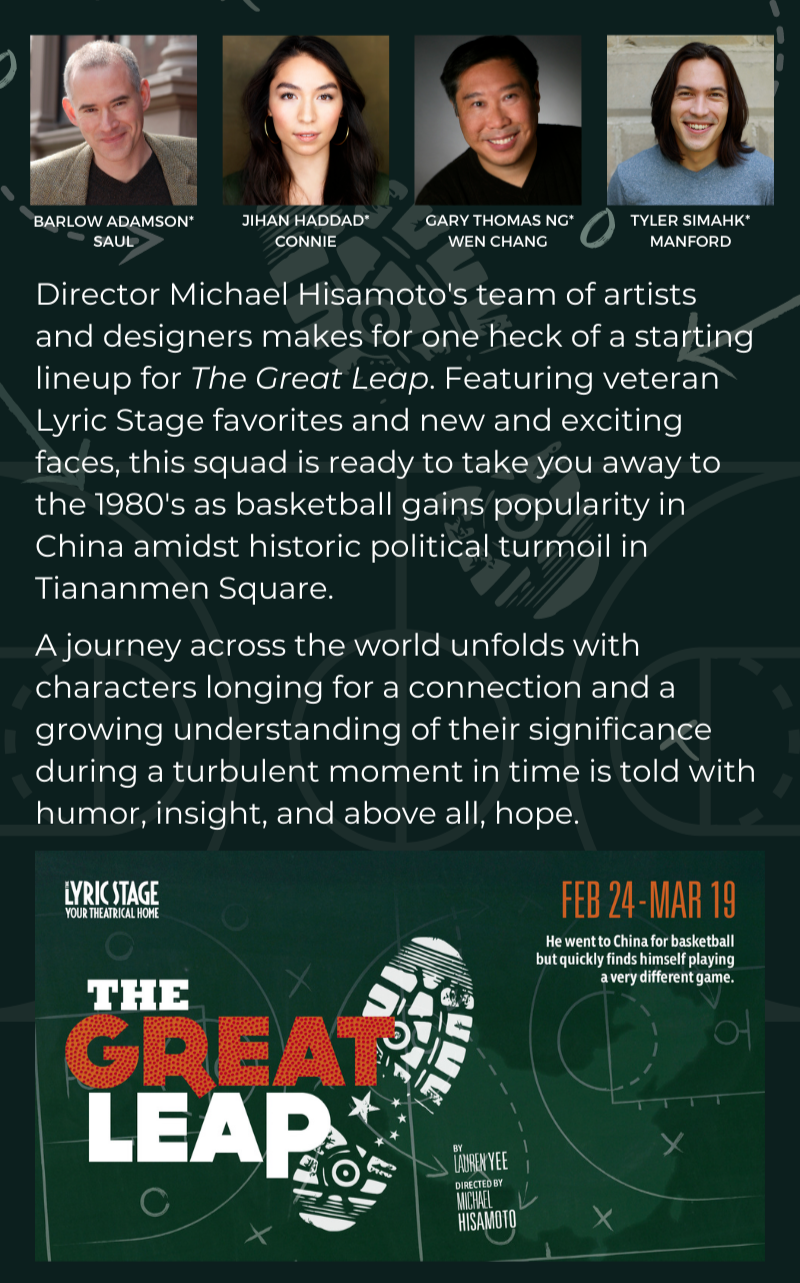 READ MORE ABOUT THE HISTORY BEHIND THE GREAT LEAP
LEARN MORE ABOUT THE SIGNIFICANCE OF BASKETBALL IN ASIAN AMERICAN CULTURES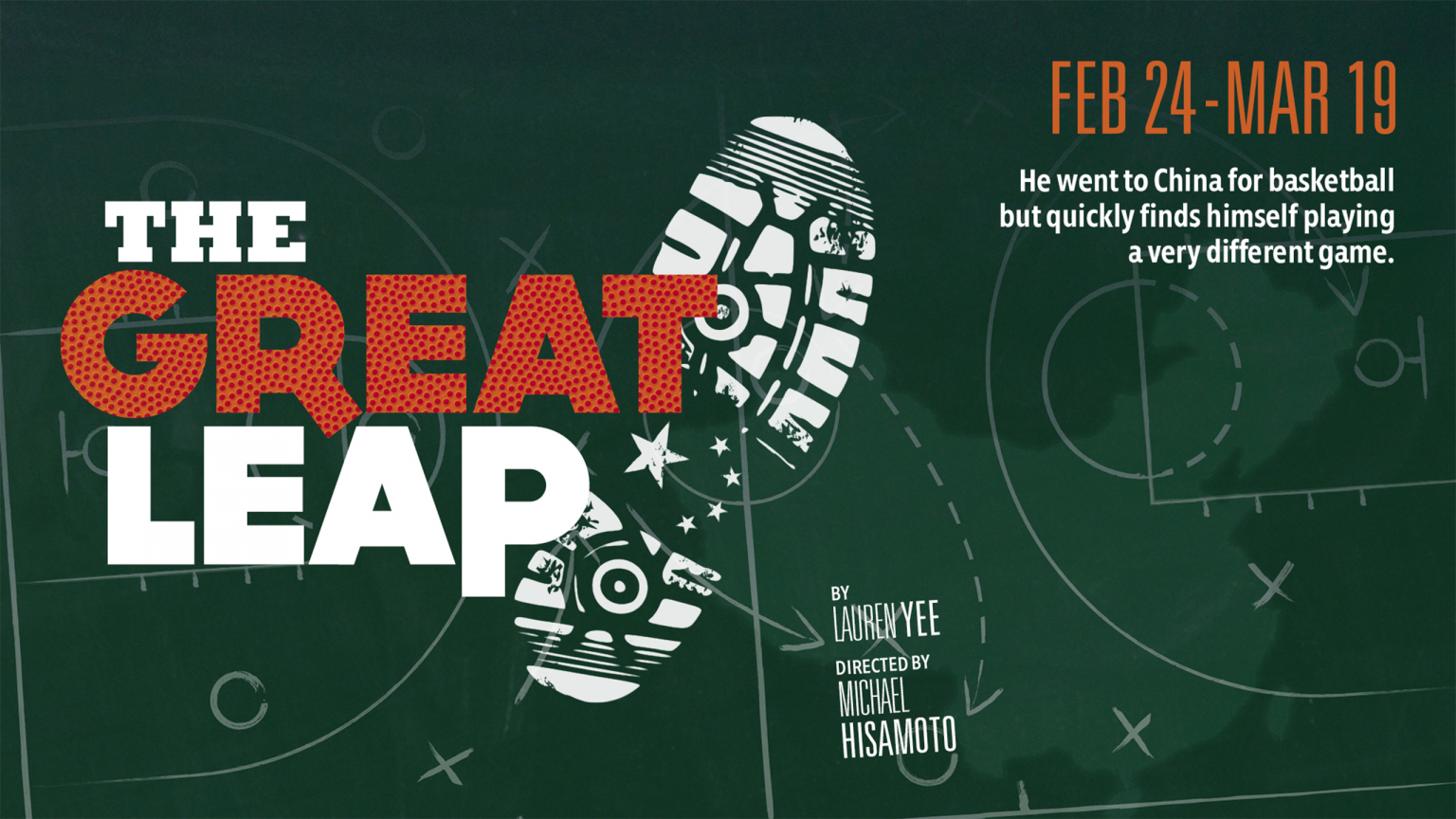 ABOUT THE SHOW
"Every game is a second chance."
He went to China for basketball but quickly finds himself playing a very different game.
It's 1989 San Francisco and Manford Lum, a gifted, fast-talking teenager, dominates the high school basketball courts.
Facing an uncertain future, he convinces Saul, a cynical and crusty coach, to let him travel to Beijing for a "friendship" game in China.
Waiting there is a Chinese national coach with unfinished business, both with Saul and with Manford.
On the eve of historic demonstrations, all three men are challenged to define their pasts and their futures.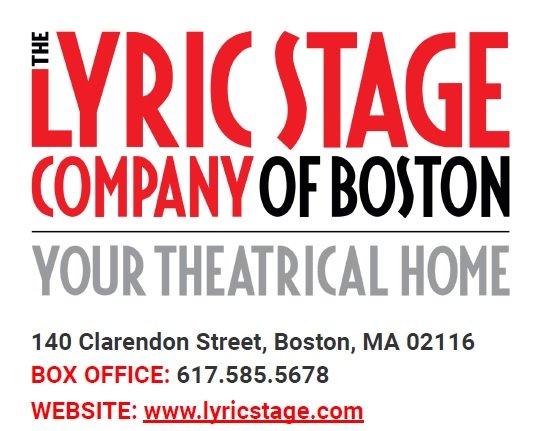 ABOUT THE LYRIC STAGE OF BOSTON
Founded in 1974 and in residence at 140 Clarendon Street since 1991, the Lyric Stage Company is Boston's oldest resident theatre company. Our mission is to produce and present live theatre in Greater Boston with an intimate approach that promotes inclusivity and connection. The Lyric Stage leads an effort to integrate live theater and theater education into the lives of all residents of greater Boston.
140 Clarendon Street
Boston, MA. 02116
BOX OFFICE: 617-585-5678