(Cover Photo: The Cast of "The Best of Abbey Road Live! as performed by RAIN - A Tribute to the Beatles." Photo Courtesy of Matt Christine Photography)

"All you need is RAIN"



By Kevin T. Baldwin
METRMAG Reviewer
# 774-242-6724
---

RAIN – A TRIBUTE TO THE BEATLES PRESENTS
THE BEST OF ABBEY ROAD LIVE!
FOR THREE SHOWS
OCTOBER 9 + 10 AT THE BOCH CENTER WANG THEATRE
Featuring:
Steve Landes (Vocals, Rhythm Guitar, Piano, Harmonica) aka "John Lennon"
Paul Curatolo (Vocals, Bass, Piano, Guitar) aka "Paul McCartney"
Alastar McNeil (Vocals, Lead Guitar) aka "George Harrison"
Aaron Chiazza (Drums, Percussion, Vocals) aka "Ringo Starr"
Mark Beyer (Keyboards, Percussion) Keyboardist
The Wang Theatre is located at 270 Tremont Street in Boston, MA
Performances:
October 9th, 2021 at 8:00pm
October 10th, 2021 1:00pm and 6:00pm
Tickets are available at the Boch Center Box Office, www.bochcenter.org, by calling (800) 982-ARTS (2787) and via Ticketmaster.
In an amazing two hour, 15 minute concert, "RAIN - A TRIBUTE TO THE BEATLES presents The Best of Abbey Road Live!" brought some of the best Beatles hits to life with an outstanding cast of musicians, singers and stellar special effects.
The Beatles multimedia tribute plays for three shows at the Boch Center Wang Theatre in Boston October 9th at 8:00 PM and October 10th at 1:00 PM and 6:00 PM.
Tickets are on sale now at the Boch Center Box Office or www.bochcenter.org.
While you may not hear every single Beatles hit in this tribute ("Let It Be," "Yellow Submarine," "Strawberry Fields Forever" and "Get Back" among others are totally omitted from this show, most likely to allow for the complete review of "Abbey Road") you will feel yourself transported back to when the Beatles performed live on the "Ed Sullivan Show" or when they played Shea Stadium and more.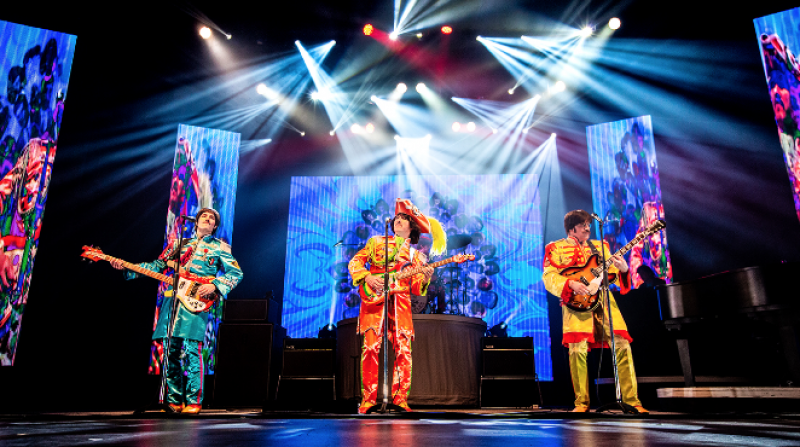 (The Cast of "The Best of Abbey Road Live! as performed by RAIN - A Tribute to the Beatles." Photo Courtesy of Matt Christine Photography)
Between the musicians and multimedia light show, you feel as though you are relentlessly, but pleasantly, assaulted on all your senses. There is never a moment of downtime for extraneous guitar tuning or prolonged scene changes.
The Beatles never played some of these iconic songs live so, to have the RAIN experience available and playing those songs here now live in 2021 is certainly a welcome treat.
Moments when the band members are changing for the next segment of Beatles repertoire, some hilarious old commercials and additional music from the 60s plays, all fitting in well with the overall premise of the show.
A minor quibble was during the actual "Abbey Road" segment - Steve Landes (aka John Lennon) looked less like Lennon and more like Ozzy Osbourne wearing a horrendous long wig. But all is forgiven once one recalls Landes' exquisite rendering of "A Day in the Life."
Similarly, Alastar McNeil looked less like George Harrison and more like a young Tom Johnston from the Doobies. Yet, once again, all is forgiven as soon as one recalls McNeil's intense spot on guitar solo during Harrison's "While My Guitar Gently Weeps" from an earlier set.
From the beginning to end, no song disappoints. By the end of the night, the crowd was on its feet for a rousing encore of "Hey Jude" which, after a year and a half without live concerts, reminded people that (paraphrasing) when you let music into your heart, then you can start to make it better.
The show is approximately 2 hours, 15 minutes with one intermission.
Kevin T. Baldwin is a member of the American Theatre Critics Association (ATCA)
@MetrmagReviews
@Theatre_Critics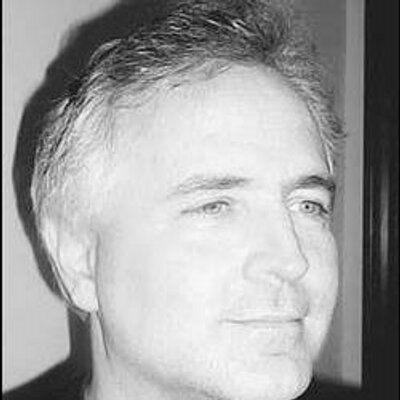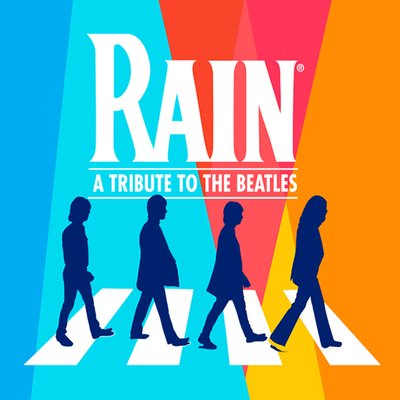 CELEBRATE THE ABBEY ROAD ALBUM WITH RAIN: A TRIBUTE TO THE BEATLES AS THEY BRING THE GREATEST HITS TO LIFE ALONG WITH ALL OF YOUR OTHER BEATLES FAVORITES!
COVID-19 PROTOCOLS
The Boch Center is committed to helping stop the spread of COVID-19 and announced it will require all patrons to be fully vaccinated or provide a negative COVID test taken within 72 hours of the show. Guests will be asked to show their vaccination card or test results and a government issued ID prior to entering an event at the Wang or Shubert Theatres. The new policy goes into effect on September 14. The Boch Center recently introduced a similar measure, requiring all administrative staff members, ushers, security personnel, stagehands and vendors be fully vaccinated. At this time masks are required for all guests as per the City of Boston mandate. The Boch Center will continue to monitor state and local health guidelines and will adjust the mask policy if the current guidelines change.

ABOUT THE WANG THEATRE
The Boch Center is one of the nation's leading nonprofit performing arts institutions and a guardian of the historic Wang and Shubert Theatres. As New England's largest cultural venue, the Boch Center is home to theater, classical and popular music, dance, comedy, opera, Broadway musicals, family entertainment, and more. Located in Boston's historic Theater District, the Boch Center also offers a diverse mix of educational, cultural and community outreach initiatives, including the City Spotlights Leadership Program and the Folk Americana Roots Hall of Fame; collaborates with artists and local nonprofit arts organizations; preserves historic venues; and acts as a champion for Greater Boston's arts and cultural community. Learn more at bochcenter.org.