(Cover Photo: The CAST of the musical "THE BAND'S VISIT" presented in a SpeakEasy Stage Company/Huntington Theatre Company co-production, now playing in Boston, MA. through December 17, 2023. Photo Credit T. Charles Erickson)


By Kevin T. Baldwin
METRMAG Reviewer
# 774-242-6724

"Who can live without hope?"
- ("Tewfiq") / Itamar Moses & David Yazbek

Present
A Joint Collaboration!
THE HUNTINGTON AND SPEAKEASY STAGE CO-PRODUCE THE SMASH HIT TONY & GRAMMY AWARD-WINNING MUSICAL IN FALL 2023
Music & Lyrics By David Yazbek
Book By Itamar Moses
Based on "The Band's Visit" story by Eran Kolirin
Orchestrations by Jamsheid Sharifi
Additional Arrangements by Andrea Grody
Directed by Paul Daigneault
Music Direction by José Delgado
Choreography by Daniel Pelzig
Cast Includes: Brian Thomas Abraham* as "Tewfiq"; Jennifer Apple* as "Dina"; Marianna Bassham* as "Iris" Fady Demian* as "Zelger (also U/S Simon and Camal)"; Kareem Elsamadicy* as "Haled"; Josephine Moshiri Elwood as "Julia"; Jesse Garlick as "Papi"; Noah Kieserman* as "Telephone Guy"; Andrew Mayer* as "Camal"; Zaven Ovian* as "Sammy"; Emily Qualmann as "Anna (also U/S Iris and Dance Captain)"; James Rana* as "Simon"; Robert Saoud* as "Avrum also U/S Tewfiq)"; Jared Troilo* as "Itzi"; Understudies: Sarah Corey*, Steven Goldstein*, Jordana Kagan, Elliot Lazar, Ryan Mardesich*, Alex Poletti; Dance Captain - Emily Qualmann
Additional Creative Team:
Scenic Design - Wilson Chin & Jimmy Stubbs; Costume Design - Miranda Kau Giurleo; Lighting Design - Aja M. Jackson; Sound Design - Joshua Millican; Hair, Wig & Makeup Design - Rachel Padula-Shufelt; Dramaturg - Vahdat Yeganeh; Casting - Janet Foster; Local Casting - Rosalind Bevan; Production Stage Manager - Emily F. McMullen*; Stage Manager - Lucas Bryce Dixon* & Dierdre Benson*; Producing Director - Lyndsay Allyn Cox; General Manager - Sondra R. Katz
* Member of Actors' Equity Association, the Union of Professional Actors and Stage Managers in the United States
Performances:
November 10, 2023 through December 17, 2023
(Contact Box Office for Exact Times)
The Huntington Theatre, 264 Huntington Avenue, Boston, MA.
Tickets:
Available online at huntingtontheatre.org, by phone at 617-266-0800 or in person at The Huntington Theatre, 264 Huntington Avenue, Boston.
COVID 19 PROTOCOLS
Contact Venue for Most Updated COVID-19 Safety Protocols and Information.
In a collaborative effort, Huntington Theatre Company and SpeakEasy Stage unveils an astounding co-production of the musical, "THE BAND'S VISIT" and there really is only one way to best describe this production: Glorious.
"THE BAND'S VISIT" is absolute perfection existing in a world that is far from it.
As we near the end of 2023, this is quite possibly the best musical production I have seen in a year that has just been chock full of outstanding productions.
Like the movie it was based on, "BAND'S VISIT" has its own unique charisma.
Right from the start, the intent of the show is clear, as illustrated from the opening statement projected in multiple languages on a screen above the stage:
"Once, not long ago, a group of musicians came to Israel from Egypt. You probably didn't hear about it. It wasn't very important."
What follows is a considerate, ponderous, far more eloquent story that unfolds slowly, gradually yet pulls us in and we become totally hooked. In other words, it becomes absolutely important.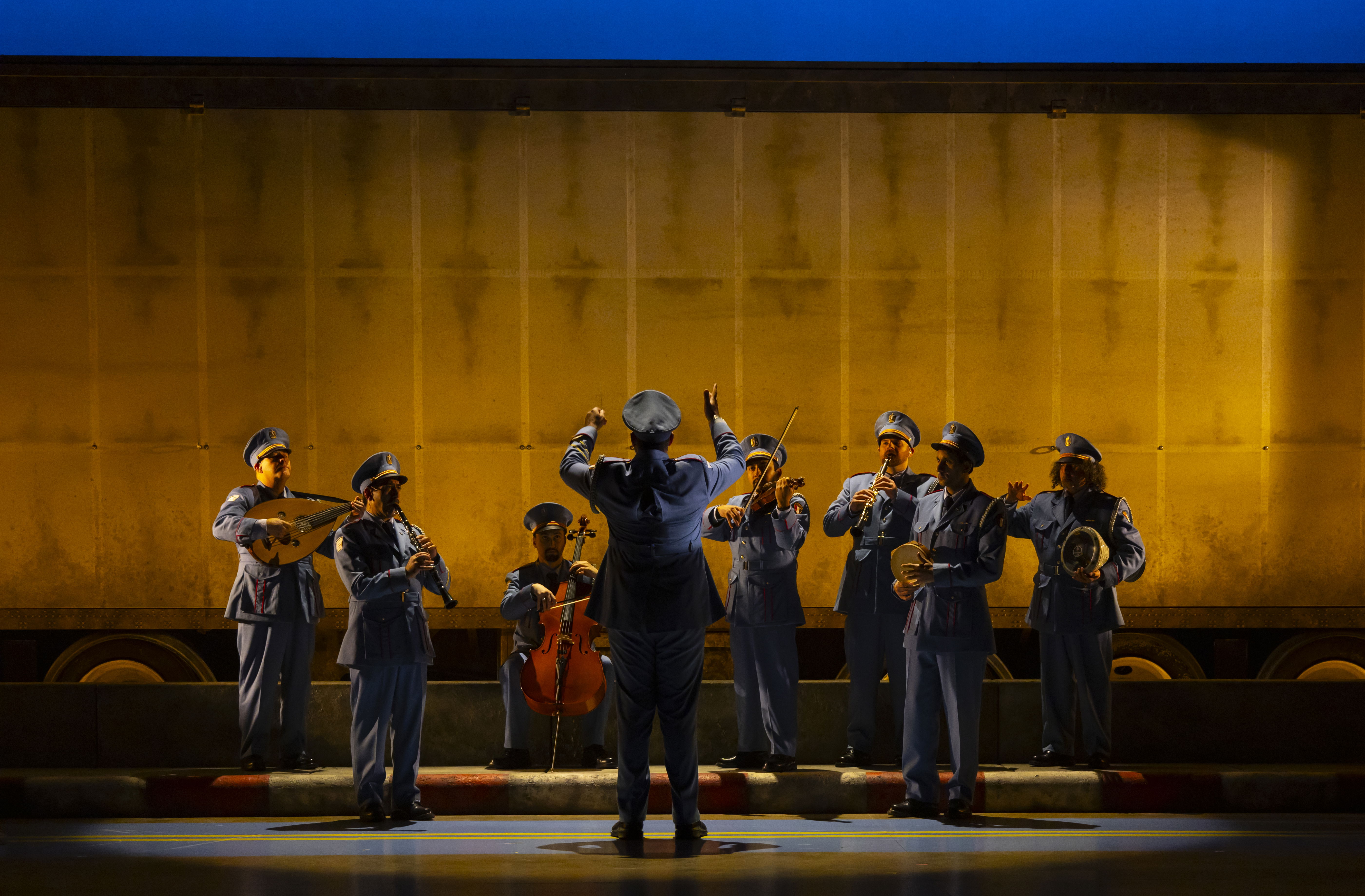 (Photo: The CAST of the musical "THE BAND'S VISIT" presented in a SpeakEasy Stage Company/Huntington Theatre Company co-production, now playing in Boston, MA. through December 17, 2023. Photo Credit T. Charles Erickson)
After its off-Broadway premiere in 2016, the musical adaptation of "THE BAND'S VISIT" opened on Broadway in 2017.
Tony® Award-winning David Yazbek scored "THE BAND'S VISIT" (with Tony® Award-winning orchestration by Jamshied Sharifi) but the music is quite removed from the scores Yazbek is known for.
When compared to his prior efforts "Dirty Rotten Scoundrels" and "Full Monty" or even his later effort "Tootsie" (which will hit Bill Hanney's North Shore Music Theatre in the summer of 2024), while his music always flows beautifully, those scores tend to have a lighthearted feel - whereas "BAND'S VISIT" is more intricate, eloquent, occasionally melancholy or subdued.
From the show's opening number, "Waiting," as performed by the residents of Bet Hatikvah, to the closer, "Answer Me," sung by someone simply known as the Telephone Guy (Noah Kieserman) along with the Ensemble, the music happens in an plodding fashion, infused with a Middle Eastern influence that is both haunting and mesmerizing.
"THE BAND'S VISIT" is musically poignant yet quirky, set in a town that's way off the beaten path.
In the Negev Desert, somewhere between the borders of Egypt and Israel, a band en route to an important gig find themselves stuck in a small locale with a very similar sounding name to their actual ultimate destination.
Restaurant owner Dina (Jennifer Apple) and some of her patrons (including Jared Troilo as "Itzik" and Jesse Garlick as "Papi") point out the source of the error in the witty number, "Welcome to Nowhere":
"Where you are, this is not 'Petah Tikva,' with a 'P' - This is 'Bet Hatikvah,' with a 'B'"
As such, the tour is momentarily ceased until they can arrange for transportation to their correct destination.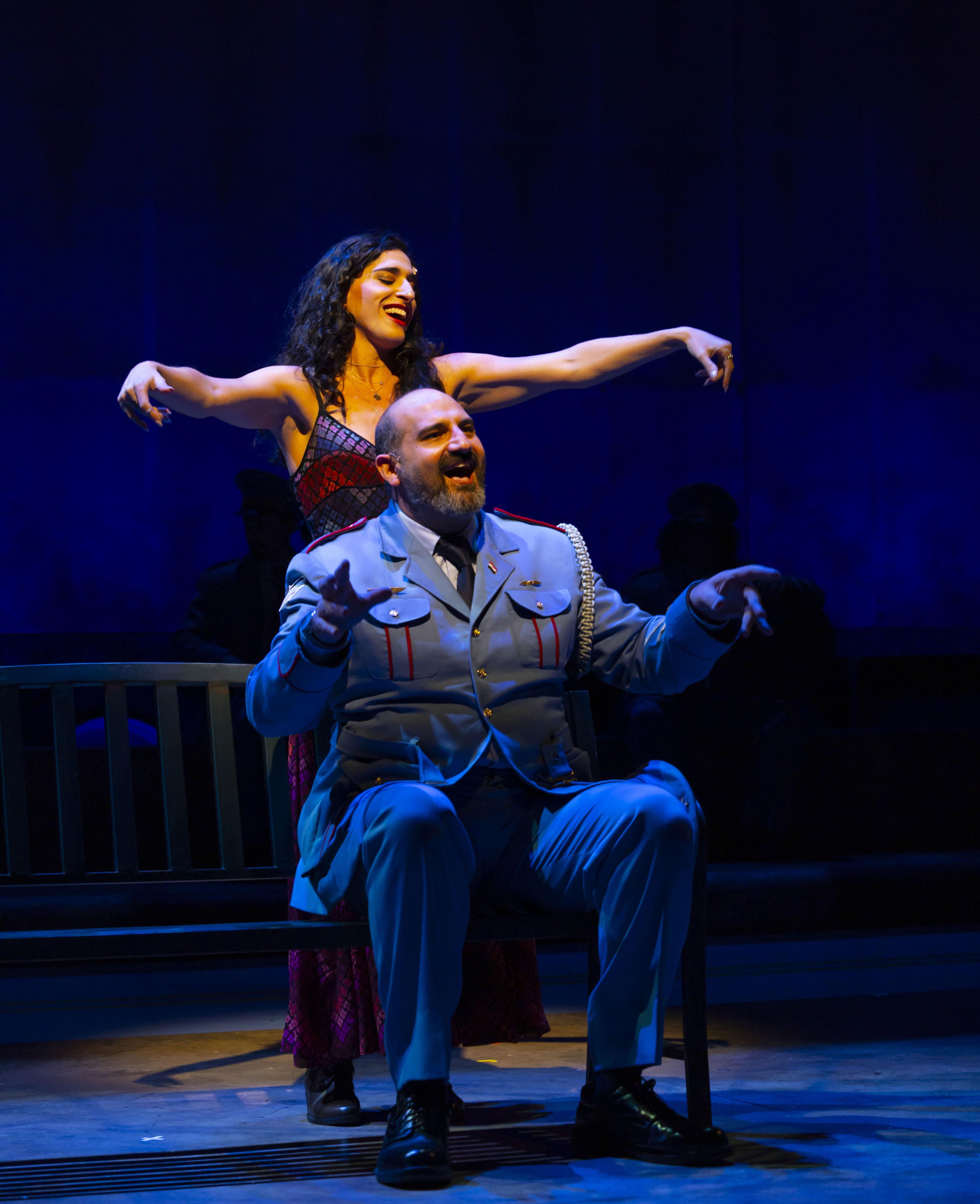 (Photo: Jennifer Apple as "Dina" and Brian Thomas Abraham as "Tewfiq" in a scene from the musical "THE BAND'S VISIT" presented in a SpeakEasy Stage Company/Huntington Theatre Company co-production, now playing in Boston, MA. through December 17, 2023. Photo Credit T. Charles Erickson)
As the sun fades in the Bet Hatikvah desert sky, the band is offered hospitality and places to stay the night by Dina and other residents, including "Itzik" and "Papi" while they await for the next bus to arrive the next day.
Dina offers her own home to the band's conductor and leader, Tawfiq (Brian Thomas Abraham) and his trumpeter, Haled (Kareem Elsamadicy).
However, Haled soon feels like a "third wheel" as there are definitely some sparks happening between Dina and Tawfiq.
So, Haled instead decides to "hang out" with Papi at a roller disco spot in Bet Hatikvah.
At the roller disco, Papi confesses to Haled his drawbacks when it comes to women in the song, "Papi Hears the Ocean" and Haled subsequently tries to help Papi during the appropriately titled song, "Haled's Song About Love."
Itzik extends hospitality to clarinetist Simon (James Rana) who stays with Itzik and his family, consisting of his wife, Iris (Marianna Bassham), their baby, and Iris' father, Avrum (Robert Saoud), who is also visiting to celebrate his daughter's birthday.
Simon soon finds himself in a home with a lot of tension, mostly between the unemployed Itzik and his wife, causing Iris to have to leave her own "party" for some solitude "away time" from her husband and her baby. Itzik attempt to sing a lovely lullaby to the child in the (again aptly titled) song, "Itzik's Lullaby."
Elsamadicy, Garlick and Troilo all excel at their respective musical numbers, each one conveying a separate sense of isolation and misery - yet each also conveying a sense of compassion...and hope.
Meanwhile, Dina and Tawfiq find a place to sit together and talk, finding they have much in common, including movies, as described in the marvelous Dina song, "Omar Sharif."
The onstage chemistry between Abraham and Apple is undaunted and immediately captivating from the moment they meet.
The two actors bring such nuance to each of their performance. We feel as if we can understand their complete histories albeit with relatively little information revealed about either.
We witness how these two lost souls may only be together for one special night - but it will be a moment that will forever change them once the sun rises once again.
Apple astonishes in every single one of her songs which include the aforementioned "Omar Sharif," "It Is What It Is" and "Something Different."
As beautiful music perfumes the air, some of the band moves to the background and divinely play their instruments on stage for the duration of the show, bringing all of what unfolds over the course of 90 minutes to life.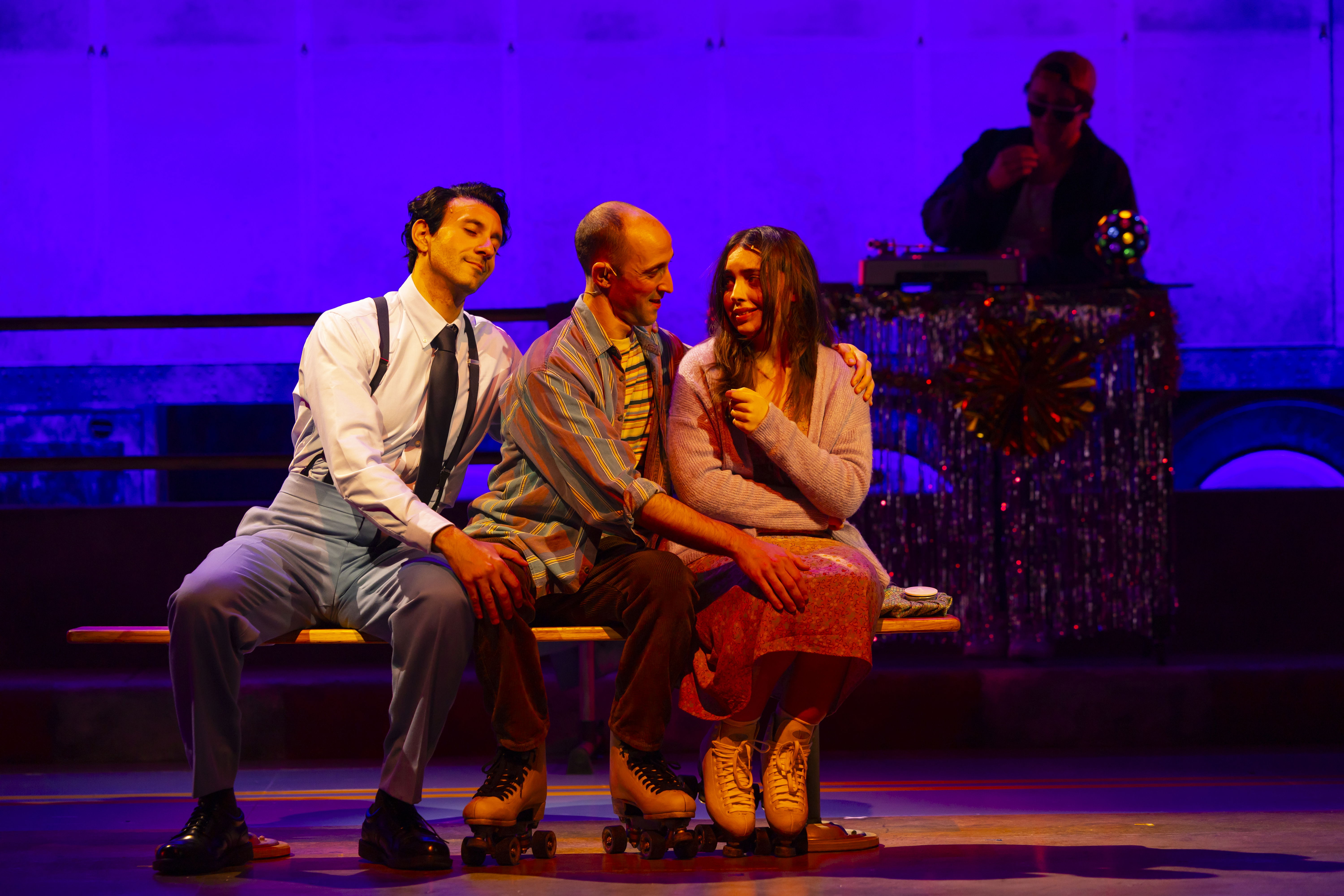 (Photo: Kareem Elsamadicy as "Haled," Jesse Garlick as "Papi" and Josephine Moshiri Elwood as "Julia" in a scene from the musical "THE BAND'S VISIT" presented in a SpeakEasy Stage Company/Huntington Theatre Company co-production, now playing in Boston, MA. through December 17, 2023. Photo Credit T. Charles Erickson)
When the Broadway tour of "THE BAND'S VISIT" came to Massachusetts back in 2022, the touring production was phenomenal.
Yet, for some reason, during this latest Huntington/SpeakEasy co-staging, I found myself openly weeping at times.
At first, I couldn't understand why. Then, it dawned on me.
This musical, which is set in Israel, was hitting me differently because the world is far different now in 2023 than it was last year - and some of the themes expressed in "BAND'S VISIT" just seem to hit more fervently now, or, at least, moreso than before.
There is not one, single overt mention of politics or religion anywhere in this script but the awkwardness - the estrangement - of cultures is apparent from the moment the band from Egypt arrives in Bet Hatikvah.
The entire execution by the talented ensemble is flawless.
"THE BAND'S VISIT" is not a "high octane" musical. It is not fast paced with elaborate dance numbers. Then again – it doesn't need to be.
You simply cannot leave until learning what ultimately will happen to these characters you come to care about.
Thrown together for a single evening, each of these characters finds their own unexpected "need" for some basic human companionship that they either did not seek or perhaps they did not want - but this meeting ultimately changes them all, fervently, forever.
The co-production of "THE BAND'S VISIT" is exquisitely staged by director Paul Daigneault with diligent choreography by Daniel Pelzig and expert music direction by José Delgado.
Together with the collective technical elements and efforts by the Huntington Theatre Company & SpeakEasy Stage combined creative team, every moment unfolds fluidly and keeps the audience transfixed. From costumes to sets, lighting and sound, the entire production is simply stunning.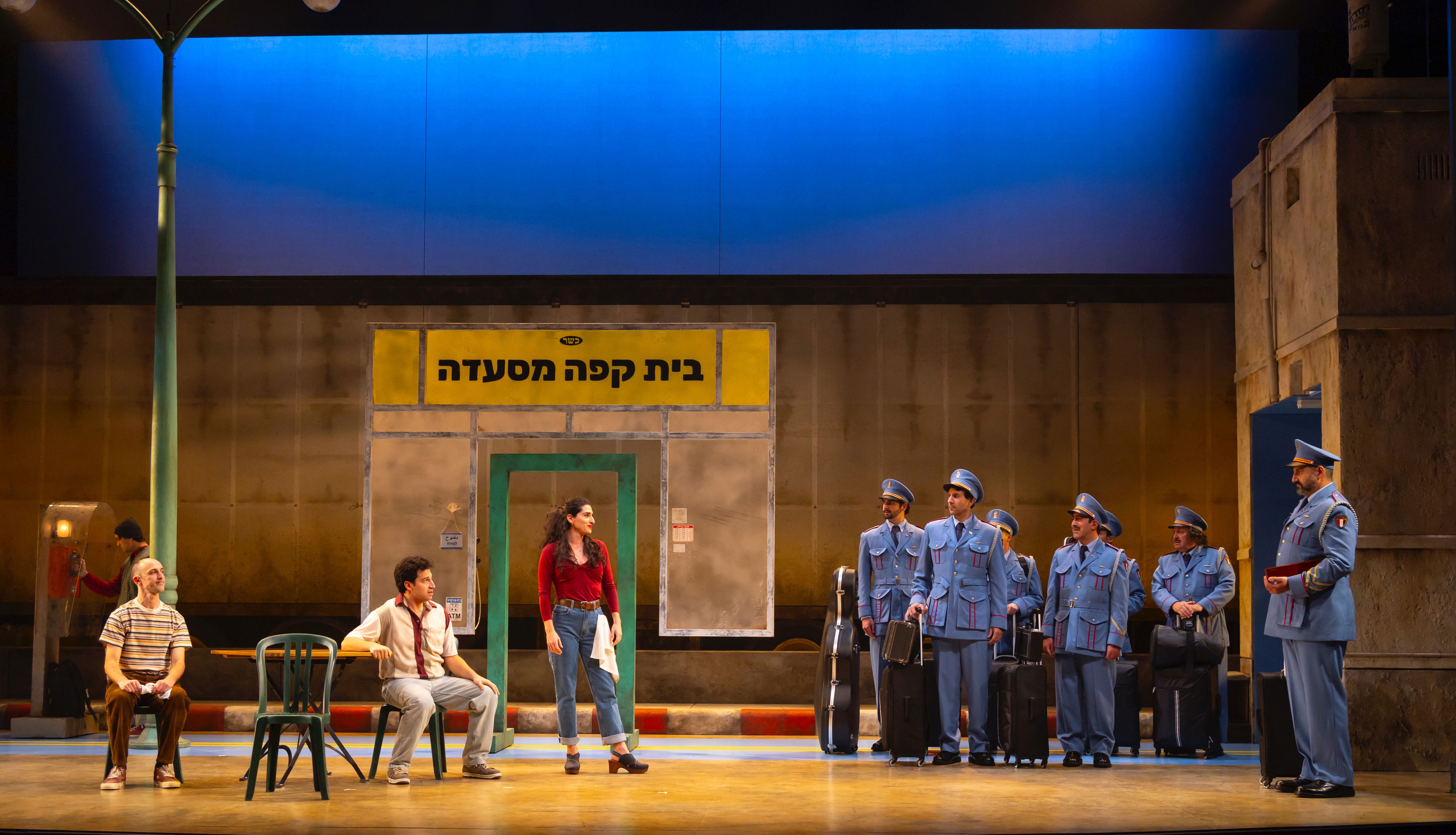 (Photo: The CAST of the musical "THE BAND'S VISIT" presented in a SpeakEasy Stage Company/Huntington Theatre Company co-production, now playing in Boston, MA. through December 17, 2023. Photo Credit T. Charles Erickson)
By the way, as for the entire compliment of musicians used in the show, here's a tip: STAY FOR THE ENTIRE CURTAIN CALL.
This is a show you will want to applaud after each musical number. However, as structured, it will not allow you to do so, in some cases.
Yet, still, you become completely mesmerized by the story as it unfolds to the point where you simply cannot look away. It is very much like reading that book you cannot put down.
The people we meet in this musical are from two very fervent, very torn and tangled worlds with equally intricate histories.
The world right now is extremely volatile - polarized by a multitude of complex positions and cultures.
Yet, as illustrated in "THE BAND'S VISIT," an attempt at understanding is made by individual members of these two particular groups of people.
Even if only for a single night, they each begin to share, to exchange, to explain, but most of all they enjoy each others company and listen...REALLY LISTEN...to what the other has to say.
As a result, each person walks away from the experience forever changed by those interactions over the course of a few short hours.
Perhaps, though, they also walk away with at least a peace...excuse me, a "piece"...of the better part of the other.
"THE BAND'S VISIT" will be performed at the recently renovated Huntington Theatre at 264 Huntington Avenue until December 17, 2023. Make sure you have your destination correct.
Approximately 90 minutes with no intermission
Kevin T. Baldwin is a member of the American Theatre Critics Association (ATCA)
@MetrmagReviews
@Theatre_Critics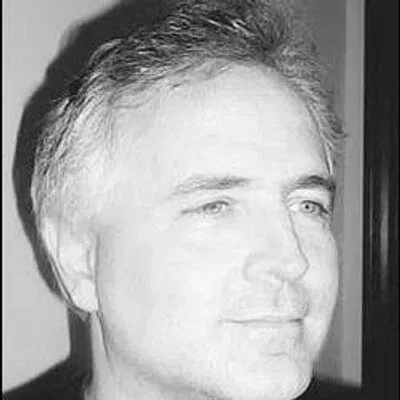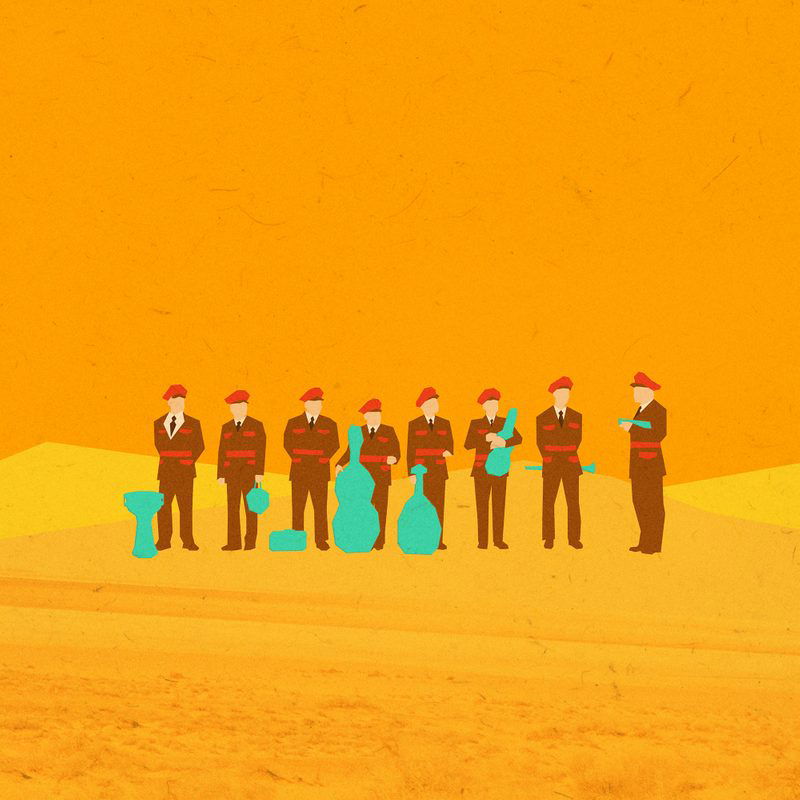 ABOUT THE SHOW
"The critically acclaimed smash-hit Broadway musical "THE BAND'S VISIT" is the winner of 10 Tony® Awards, including Best Musical, making it one of the most Tony-winning musicals in history.
It is also a Grammy Award® winner for Best Musical Theater Album.
Longtime partners HUNTINGTON and SPEAKEASY STAGE join forces on a co-production for the first time to expand the audience for this exquisite new musical.
In this joyously offbeat story, set in a town that's way off the beaten path, a band of musicians arrive lost, out of the blue.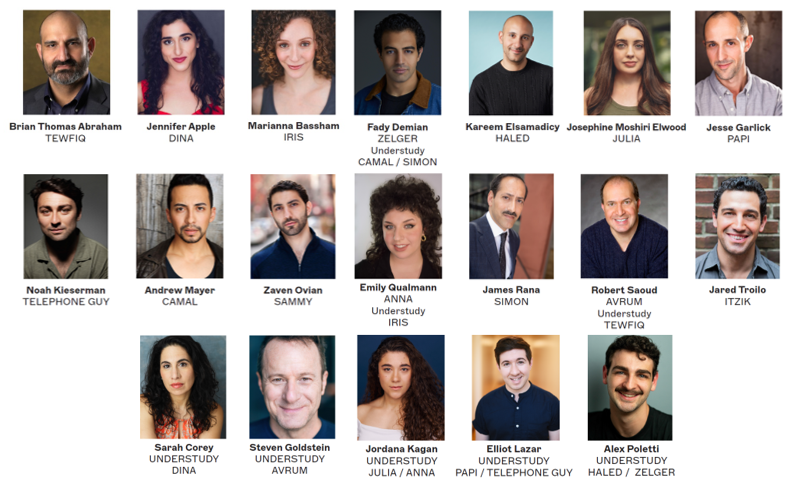 Under the spell of the desert sky, and with beautiful music perfuming the air, the band brings the town to life in unexpected and tantalizing ways.
Even the briefest visit can stay with you forever.
With a Tony®- and Grammy®-winning score that seduces your soul and sweeps you off your feet, and featuring thrillingly talented onstage musicians, "THE BAND'S VISIT" rejoices in the way music makes us laugh, makes us cry, and, ultimately, brings us together.
"One of the most ravishing musicals you will ever be seduced by David Yazbek's simmering score, which inflects Broadway balladry and character songs with a haunting Middle Eastern accent, feels as essential as oxygen." - The New York Times
"It doesn't feel live any musical ever. It doesn't sound like anything else you've heard. Perfect is the wrong word for such an unusual musical, but it will just have to do." - New York Magazine!

ABOUT THE HUNTINGTON THEATRE COMPANY
THE HUNTINGTON THEATRE COMPANY is Boston's leading professional theatre and one of the region's premier cultural assets since its founding in 1982. Recipient of the 2013 Regional Theatre Tony Award, THE HUNTINGTON brings together superb local and national talent and produces a mix of groundbreaking new works and classics made current to create award-winning productions. THE HUNTINGTON runs nationally renowned programs in education and new play development and serves the local theatre community through its operation of the Calderwood Pavilion at the BCA. THE HUNTINGTON has long been an anchor cultural institution of Huntington Avenue, the Avenue of the Arts, and will remain so on a permanent basis with plans to convert the Huntington Avenue Theatre into a first-rate, modern venue with expanded services to audiences, artists, and the community. THE HUNTINGTON cultivates, celebrates, and champions theatre as an art form.

ABOUT SPEAKEASY STAGE COMPANY
SPEAKEASY STAGE COMPANY is a non-profit theatre company located in the South End of Boston and is led by award-winning Producing Artistic Director Paul Daigneault. SPEAKEASY was named the Pavilion Resident Theater for the Boston Center for the Arts in 2007 and produces 28 weeks of new plays and musicals each season at the Nancy and Ed Roberts Studio Theater in the Calderwood Pavilion at the Boston Center for the Arts.