(Cover Photo: The CAST of "THE ART OF BURNING" by Kate Snodgrass presented by the Huntington Theatre in Boston, MA. through February 12, 2023. Photo Credit T. Charles Erickson)




By Kevin T. Baldwin
METRMAG Reviewer
# 774-242-6724

"Lies are not the culprit...If you're looking for someone to blame, it's the HABIT of marriage that's deadening, not the lies." - Kate Snodgrass

Huntington Theatre Company
Presents Kate Snodgrass'
"THE ART OF BURNING"
Written By Kate Snodgrass
Directed By Melia Bensussen
In association with Hartford Stage
Cast Includes: Adrianne Krstansky – Patricia; Rom Barkhordar – Jason; Clio Contogenis – Beth; Michael Kaye – Mark; Laura Latreille – Charlene; Vivia Font – Katya; Sarah Newhouse - Understudy for Patricia; Steven Barkhimer - Understudy for Jason/Mark; Sandra Seoane-Serí - Understudy for Beth; Samantha Richert - Understudy for Katya/Charlene.
Additional Creative Team:
Luciana Stecconi - Scenic Designer; Kara Harmon - Costume Designer; Aja M. Jackson - Lighting Designer; Jane Shaw - Sound Design and Original Music; J. Jared Janas - Hair and Wig Design; Ted Hewlett - Fight Director; Charles Haugland – Dramaturg; Sondra R. Katz - General Manager; Alaine Alldaffer – Casting; Rosalind Bevan - Local Casting; Kelly Hardy - Production Stage Manager; Deirdre Benson - Stage Manager; Luz Lopez - Assistant Director; Ted Hewlett - Intimacy Consultant; Kelly Hardy - Fight Captain; Winnie Chiang, Olivia Tighe - Production Assistants; Steven Asaro, Hannah Ashe, Jay Graniss, Dawn Morningstar, JP Pizzuti, Kalika Reece – Carpenters; Zoë Sundra - Costume Design Assistant; Ana-Ayanna Escalante – Stitchers; Jennie Fuchs - Wardrobe Swing; Kathleen Shanahan - Wig Run; Anna Brevetti - Season Electrician; Kevin Barnett, Dean Covert, Violet Gayzagian, Piper Phillips, Eliott Purcell – Electricians; Dillon Brooks - Brighter Boston Intern; Lee Nishri-Howitt - Voice Coach.
Calderwood / BCA, 527 Tremont Street, Boston MA 02116
Performances:
January 13, 2023 through February 12, 2023
(Contact Box Office for Exact Times)
Tickets: $25 - $175
If one were to look up the definition for the word "acrimony" one might see this definition:
"a quagmire of lawsuits, acrimony, and finger-pointing"
With this in mind, the Huntington Theatre's "THE ART OF BURNING" seems a poorly chosen title for this play.
Given the sheer level of acrimony between all the characters on stage, the play should have been entitled "THE ART OF MISSPEAKING" or "THE ART OF VERBALLY BLUDGEONING ANYONE WHO EVEN ATTEMPTS TO MANSPLAIN" or, most accurate, "THE ART OF SAYING ABSOLUTELY THE WORST POSSIBLE THING AT THE WORST POSSIBLE TIME."
There is hardly a sentence contained in Kate Snodgrass' 85 minute one-act that doesn't contain a certain heightened level of venom.
Every single character seems to be extremely adept at saying the wrong thing at exactly the wrong time.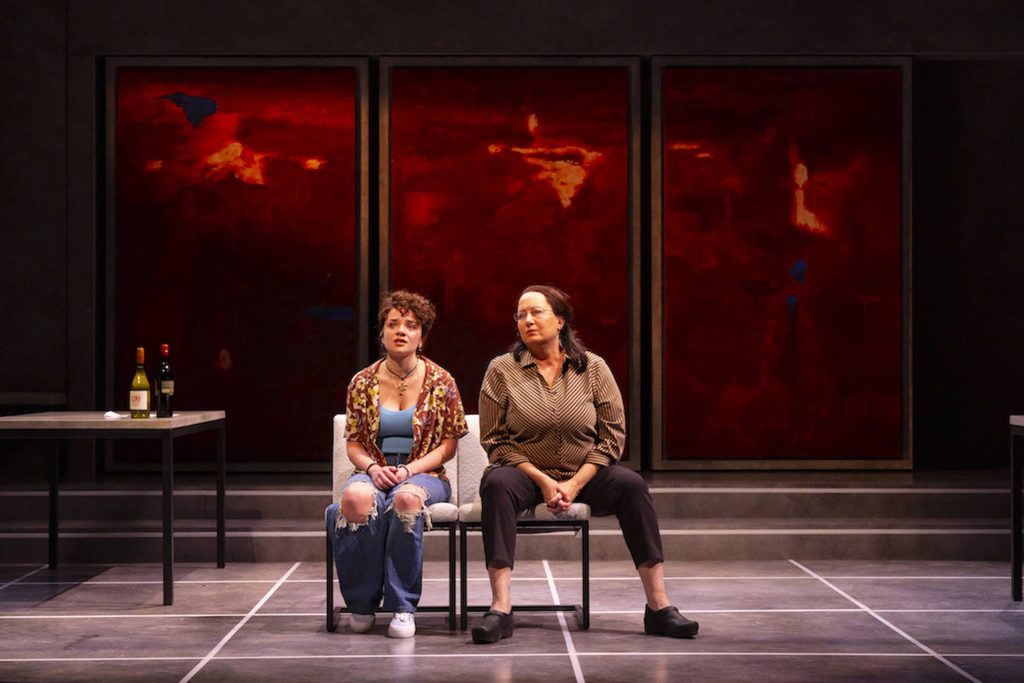 (Photo: Clio Contogenis and Adrianne Krstansky in a scene from "THE ART OF BURNING" by Kate Snodgrass presented by the Huntington Theatre in Boston, MA. through February 12, 2023. Photo Credit T. Charles Erickson)
There are six characters on stage and one would rather spend the evening with the morbidly unpleasant cast of Edward Albee's "Who's Afraid of Virginia Woolf" than ten minutes with any of the people presented in this play.
That said, as in the case of "Woolf," "THE ART OF BURNING" is still a gripping, well executed piece. Much of this is due to the script by Snodgrass and overall steadfast direction by Melia Bensussen.
Patricia (Adrianne Krstansky) is an artist in her 40s going through a painful divorce.
Her soon-to-be-ex-husband, Jason (Rom Barkhordar), is a financial planner who is seeking to finalize their divorce so he can be with Katya (Vivia Font), an attorney in Family Law.
The play begins with the day the divorce between Patricia and Jason is to be finalized.
Their mutual friend and attorney, Mark (Michael Kaye), is handling the divorce. Always a good idea (note sarcasm).
As the play unfolds, all the reasons for the chasm of animosity between Patricia and Jason is explained as we also simultaneously learn of secrets kept between Mark and his wife, Charlene (Laura Latreille).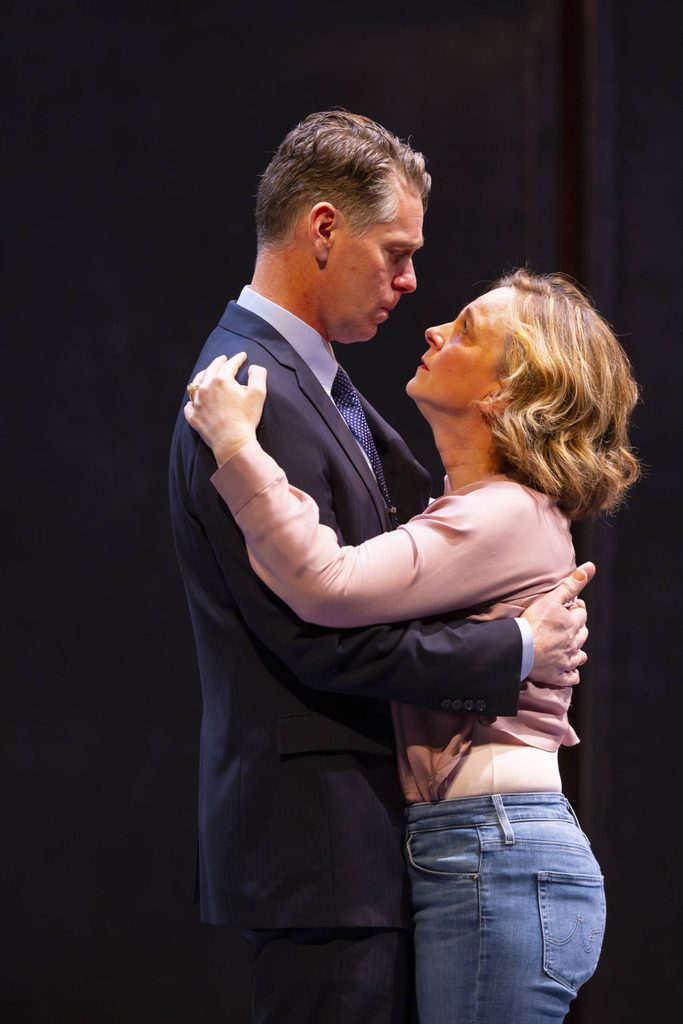 (Photo: Michael Kaye and Laura Latreille in a scene from "THE ART OF BURNING" by Kate Snodgrass presented by the Huntington Theatre in Boston, MA. through February 12, 2023. Photo Credit T. Charles Erickson)
The biggest source of contention in the divorce is over custody of Patricia and Jason's daughter, Beth (Clio Contogenis) who is dealing with issues not only stemming from her parent's divorce but also on just being a teenager in today's world.
Some may find it quite easy to align with certain characters here and to feel yourself almost wanting to cheer them on as they verbally assault one another against some incredibly insensitive statements made by their supposed "antagonists."
Not one character comes across as a classic villain in the piece. Yet, there is also not one person anyone could really develop any sympathy for, save, perhaps, Beth, who mysteriously goes missing the morning the divorce is to be finalized.
Yet, for all the arguing, these characters are all merely "conflicted humans" - living in a hostile society made up of confused humans who grew up influenced by others not cognizant of just how repugnant or toxic some long-held views might have been and still are.
Both Krstansky and Barkhordar give adept performances as the incompatible couple - and do not even suspect for a second that any "reconciliation" is in the offing.
With Patricia and Jason, as the play continues, while we see what makes them so wrong for each other, not just in marriage but as parents, we never see what would have made them think their were ever right as a couple or as parents.
That is either a weakness in Snodgrass' text or, perhaps, its greatest strength.
Kaye and Latreille share just one scene together as the married Mark and Charlene.
However, their on stage chemistry is so apparent, that brief scene is probably one of the best moments in the entire play.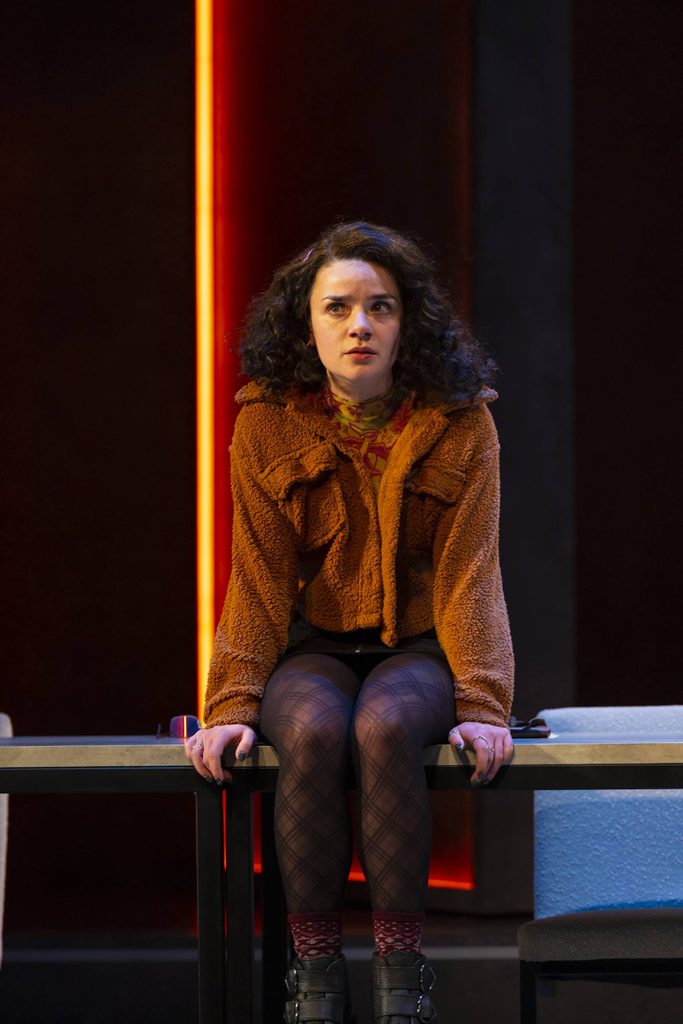 (Photo: Clio Contogenis in a scene from "THE ART OF BURNING" by Kate Snodgrass presented by the Huntington Theatre in Boston, MA. through February 12, 2023. Photo Credit T. Charles Erickson)
Font, as Katya, is exemplary and it would have been nice to see that character, given her startling revelation, expanded upon a little more to add greater impact upon the connected relationships by the end of the story.
Contogenis, as Beth, gives a dynamic, layered performance and her character proves most pivotal to all others on stage.
Through Beth, we see her troubled existence as a teenager. However, we also see her taking on the role of "responsible adult" in the absence of a responsible adult at the height of her parents' collective irresponsible words and actions.
The perspectives and interpretations by the adults supposedly in charge of Beth's life show how they cannot even begin to grasp the life of a teenager in this century.
So, Beth's contentious relationships with both parents comes across as tremendously genuine. A terrific performance.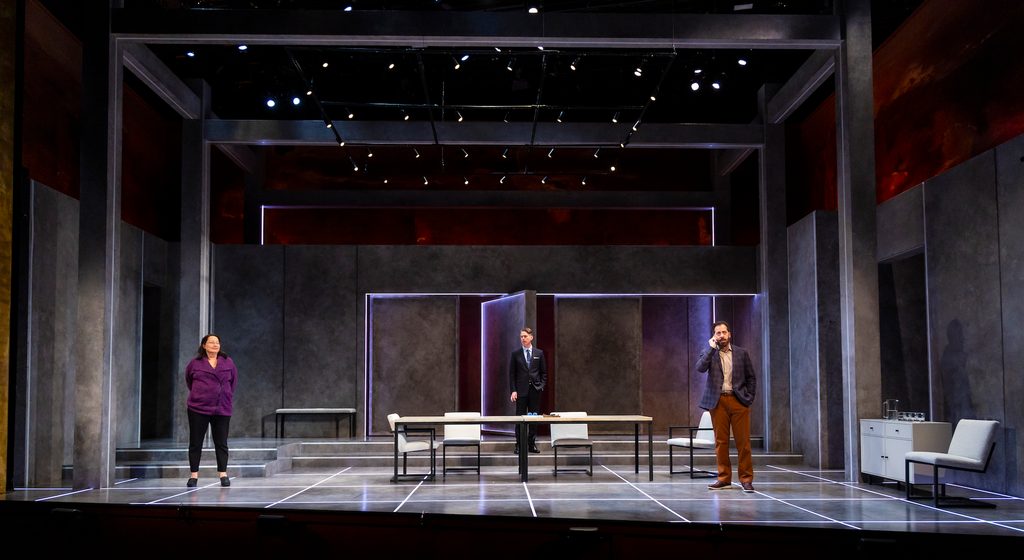 (Photo: The CAST of "THE ART OF BURNING" by Kate Snodgrass presented by the Huntington Theatre in Boston, MA. through February 12, 2023. Photo Credit T. Charles Erickson)
In conjunction with well designed lighting, the scenic design by Luciana Stecconi is both simple and efficient, allowing for ease of transitions between scenes. It also allows for a pivotal moment to be accentuated by heightened tension.
Editor's Note: Through unfortunate coincidence, there is some dialogue which some may find troubling as it will be hard to detach from recently reported tragedies in the news. Please also read the following "Content Advisory" from Huntington.
Content Advisory: "THE ART OF BURNING" contains a depiction of physical violence; a description of sexual assault; discussions of misogyny and violence against children (both in the context of the classic play Medea and involving the characters onstage); a brief mention of abortion in the context of a family planning conversation; and a gender-based slur.
"THE ART OF BURNING" plays at the Calderwood/BCA in Boston through February 12th.
Approximately 85 minutes with no intermission.
Kevin T. Baldwin is a member of the American Theatre Critics Association (ATCA)
@MetrmagReviews
@Theatre_Critics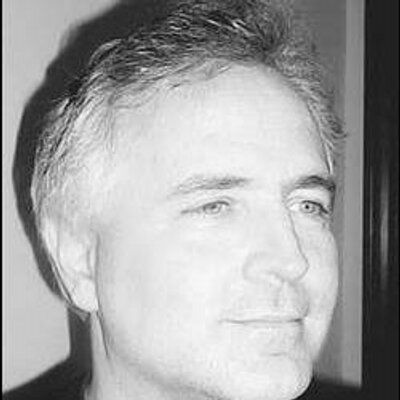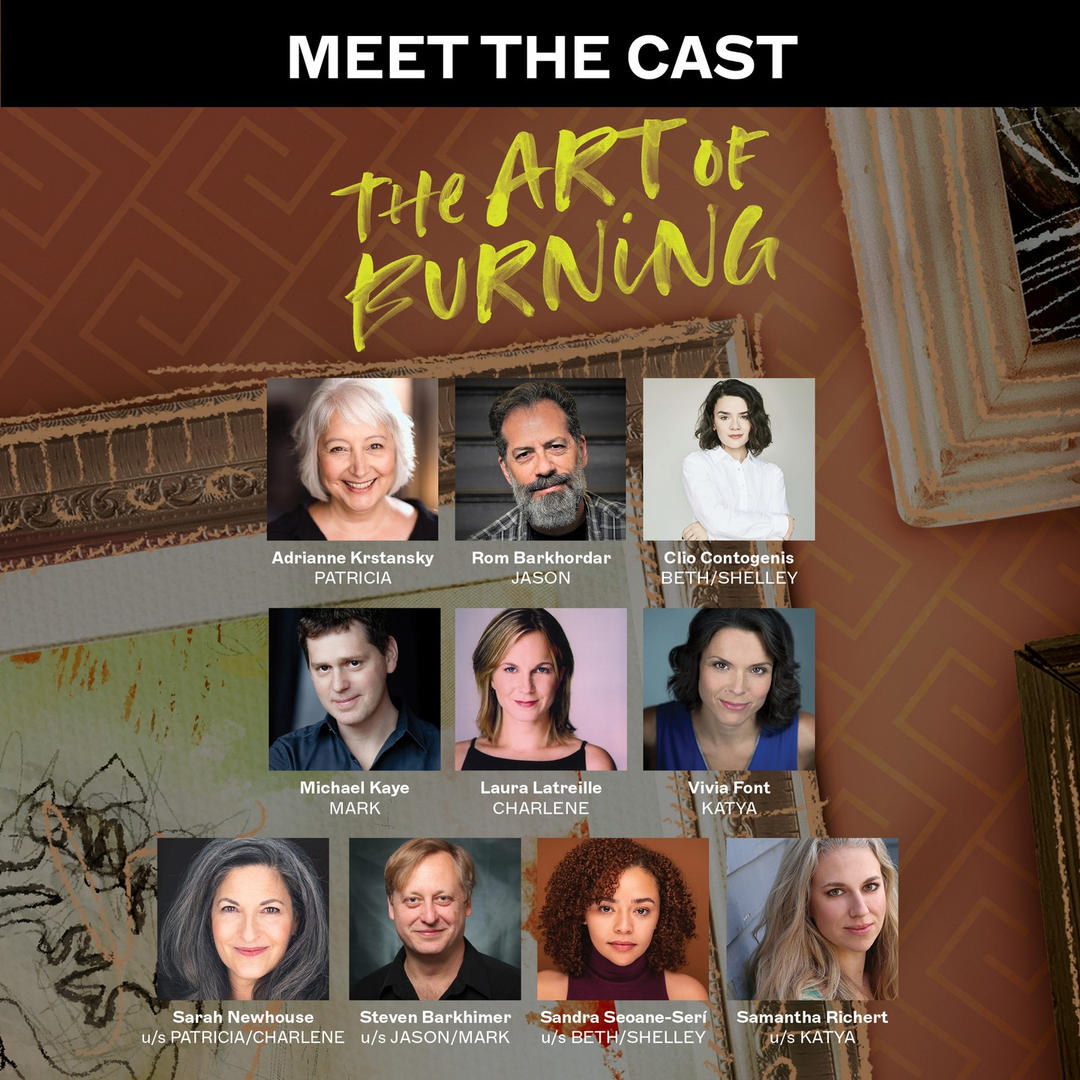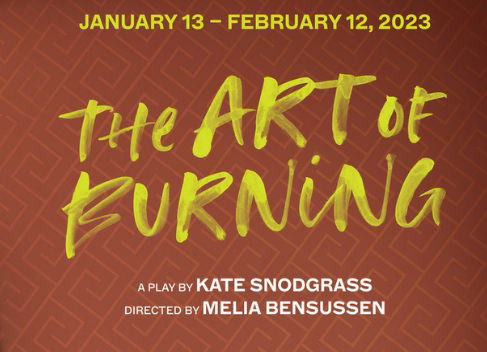 ABOUT THE SHOW
Mid-negotiation, modernist painter Patricia changes the terms of her 'conscious uncoupling' with Jason.
She wants full custody of their 15-year-old daughter Beth.
Jason demands that their daughter decide, but mysteriously Beth didn't show up for school.
Has Patricia hidden her away to protect her, or is there something more sinister afoot?
Crafted with humor and insight by Boston playwright Kate Snodgrass and director Melia Bensussen, "THE ART OF BURNING" explores the love, rage, and responsibility that come with marriage and parenting in America.
COVID 19 PROTOCOLS
COVID Safety Protocols: For the safety and comfort of all who attend our shows, masks must be worn at all times throughout the building unless actively eating or drinking concessions, available for purchase during intermissions.

ABOUT THE HUNTINGTON THEATRE COMPANY:
The Huntington Theatre Company is Boston's leading professional theatre and one of the region's premier cultural assets since its founding in 1982. Recipient of the 2013 Regional Theatre Tony Award, The Huntington brings together superb local and national talent and produces a mix of groundbreaking new works and classics made current to create award-winning productions. The Huntington runs nationally renowned programs in education and new play development and serves the local theatre community through its operation of the Calderwood Pavilion at the BCA. The Huntington has long been an anchor cultural institution of Huntington Avenue, the Avenue of the Arts, and will remain so on a permanent basis with plans to convert the Huntington Avenue Theatre into a first-rate, modern venue with expanded services to audiences, artists, and the community. The Huntington cultivates, celebrates, and champions theatre as an art form.
For more information, visit huntingtontheatre.org.