(Cover Photo: The CAST of the musical, "THE ADDAMS FAMILY" now playing at the Bradley Playhouse in Putnam, CT. through October 22, 2023. Photo Credit Lindsay Lehmann)




By Kevin T. Baldwin
METRMAG Reviewer
# 774-242-6724

"Time, my dear, is a thief. She'll steal your soul and flee on little fairy wings."
- ("Grandma") / Rick Elice, Marshall Brickman, Andrew Lippa

Presents the Broadway Musical
Written by Rick Elice, Marshall Brickman
Music and Lyrics by Andrew Lippa
Based on the characters created by Charles Addams
Directed by Greg Brock and Kathleen Atwood
Music Director and Conductor Diane Pollard
Choreographer Kat MacInnes
Tango Choreographer Kelly Wybieracki
Cast Includes: Adam Leidemer as "Gomez Addams"; Christine Healy as "Morticia Addams"; Shaun McCoy as "Uncle Fester"; Bonnie Theriault as "Grandma"; Bryn Elizabeth Martin as "Wednesday"; James Giacchi as "Pugsley Addams"; Wladimir Petruniw as "Lurch"; Jim Archambault as "Mal Beineke"; Chelsea Daniels as "Alice Beineke"; Galen Donavan as "Lucas Beineke"
Ancestors: Monique Dubois, Allison Hall, Melanie Garcia, Amy Stoelzel, Evony N'Chonon, Alecia Underhill, Kat MacInnes, Sophia McClay, Jessica Hall, Jane Ellis, Christine Crugnola Petruniw, Stephen Clarke, Colin Bragdon, Nathan Conrow, David Abbamonte, Sophia Pontbriand, Sophie Marcus, Casey Stoelzel, Seth Crino, Natalie Crino.
Additional Creative Team:
Dance Captains - Sophia McClay & Sophia Pontbriand; Stage Managers - Stephanie Brine Hebert & Natalie Crino; Artistic Committee Liaison - Madeline Jaaskela; Production Manager - Jeanne Foley; Production Coordinator Kathleen Atwood; Costume Designer and Coordinator - Kris Brandriff; Costume Collaborators - Cathy Schora, Linda Yeaw & Teal Griswold; Hair and Makeup - Rebecca Theriaque; Set Designer - Jason Preston; Set Artist/Makeup - Jason Preston; Set Artist's Assistant - Franny Melzer; Set Painters - Oliver Dexter, Christine Crugnola Petruniw; Set Construction - Carl Mercier, Greg Brock, Jason Preston, Finn Haney, Jim Archambault, David Abbamonte, Amy Stoelzel, Casey Stoelzel, Wladimir Petruniw, Christine Crugnola Petruniw, Franny Melzer, Sean & Alia; Props - Bonnie Theriault, Melinda Collelo, Wladimir Petruniw; Lighting Designer - Eric Davidson; Sound Designer - Pat Pollard; Light Operator - Hannah Viens; Sound Operator - Spencer LaBell; Spotlight Operators - Josie Hebert & William Alexson; Stagehand - Gregory Hebert; Photography - Lindsay Lehmann; Volunteer Coordinator - Cindy Beckman; TNECT Business Manager - Kristi-Lyn Sadosky; Marketing/Poster Design - Eddie Krauss.
Performances:
October 4 through October 22, 2023
(Contact Box Office for Exact Times)
THE BRADLEY PLAYHOUSE, 30 Front Street (Route 44) in Putnam, CT.
TICKETS
All seats reserved. Reservations may be made with a major credit card online at www.thebradleyplayhouse.org or by calling 860-928-7887.
COVID 19 PROTOCOLS
Contact Venue for Most Updated COVID-19 Safety Protocols and Information.
The Theatre Of Northeastern Connecticut (TNECT) at the Bradley Playhouse presents an uncontested fine staging of the Andrew Lippa musical, "THE ADDAMS FAMILY" featuring a solid cast and a pleasing enough score that proves that, when you're (watching) an ADDAMS musical, you "need to have a sense of humor."
The creative team and cast prove that, just like the ancestors in the story, when you come back, you come back strong.
And that is just what TNECT at the Bradley has done here.
All the creative team elements are well executed by the cast, crew and "Ancestor" ensemble: From stage direction by co-directors Greg Brock and Kathleen Atwood to music direction by Diane Pollard (who also conducts a fabulous live orchestra) and keenly placed choreography by Kat MacInnes (with a smoothly delivered Tango choreographed by Kelly Wybieracki).
From the moment the orchestra begins playing the iconic theme to the original television show, fingers are snapping or hands clapping, indicating the audience is ready to have a fun time.
Special technical elements (consisting of a multitude of lighting, fog, strobe and sound effects) are all done with precision and every scene change is seamless.
Everything seems to have been done with great care making this, all in all, a simply marvelous production.
The show is based upon "THE ADDAMS FAMILY" macabre cartoon characters created by Charles Addams.
"THE ADDAMS FAMILY" has a fun score featuring music and lyrics by Lippa with a book by Marshall Brickman and Rick Elice. To lift from the show, this is a musical that can be enjoyed by "the living, the dead and the undecided."
Lippa would ultimately be nominated for a Tony Award for Best Score.
However, if one examines the Brickman/Elice book closely, it bears a strong resemblance to George S. Kaufman and Moss Hart's "You Can't Take It With You." More on that later.
Although there have been several television and film adaptations of the "altogether ookie" ADDAMS, with the most recent being the Netflix series "Wednesday," the musical homage was the first stage show to be based on the characters.
"THE ADDAMS FAMILY" musical opened on Broadway in 2010 with a superb cast that included Nathan Lane as "Gomez" and Bebe Neuwirth as "Morticia."
The production ran until the end of 2011 and was nominated for two Tony Awards: one for Andrew Lippa's score and one for the supporting performance of Kevin Chamberlin as "Uncle Fester."
The original Broadway set design for "ADDAMS FAMILY" won a Drama Desk Award and an Outer Critics Circle Award. Lane would also be honored with the 2010 Drama League Award for Distinguished Achievement in Musical Theatre Award.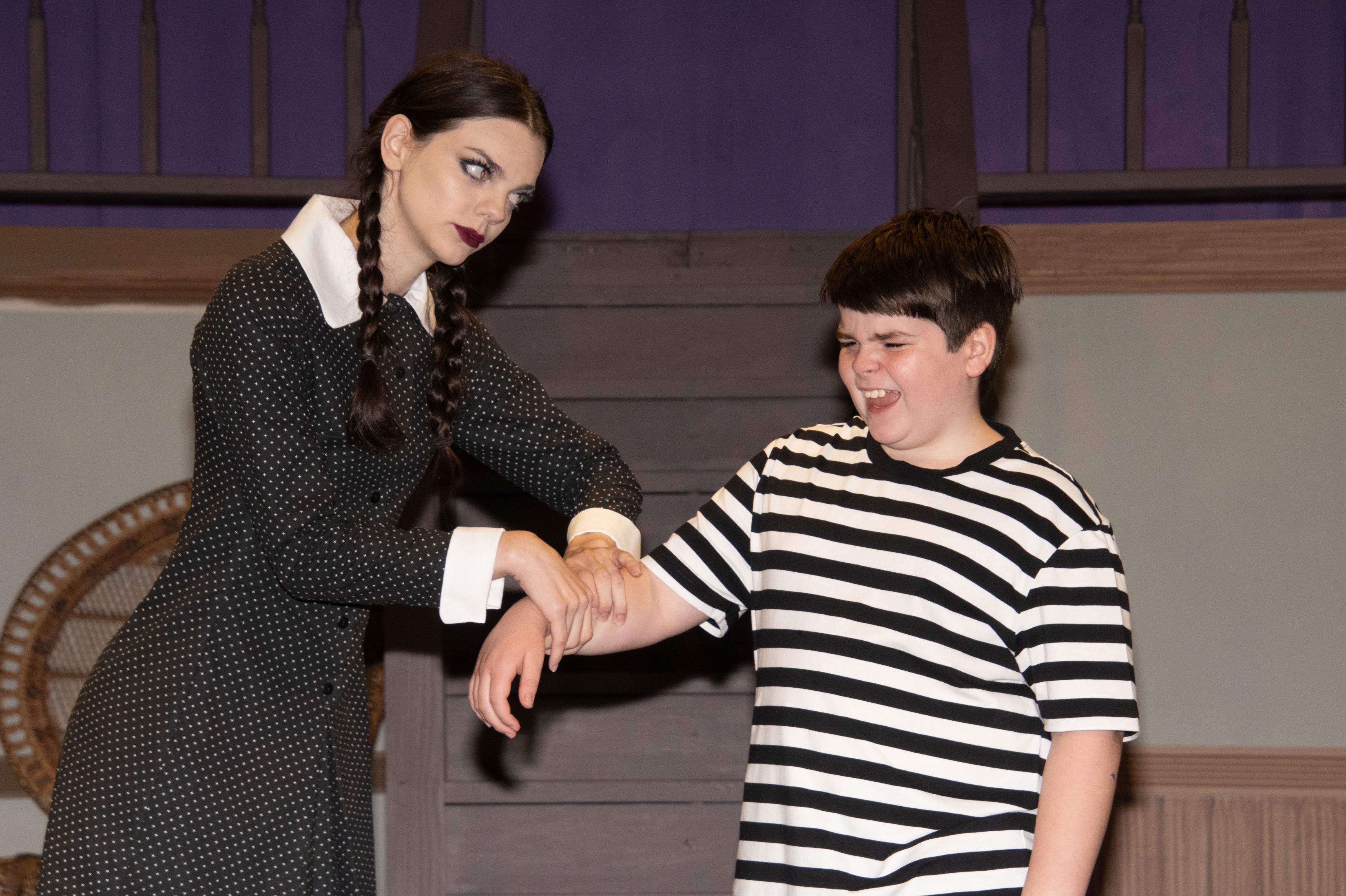 (Photo: Bryn Elizabeth Martin as "Wednesday" and James Giacchi as "Pugsley" in a scene from the musical, "THE ADDAMS FAMILY" now playing at the Bradley Playhouse in Putnam, CT. through October 22, 2023. Photo Credit Lindsay Lehmann)
In George S. Kaufman and Moss Hart's "You Can't Take It With You" the story revolves around two lovers whose families meet and they couldn't be more different.
Such is the plot of "THE ADDAMS FAMILY"...only, in this case, the story begins in front of a mausoleum with one of the most delightful and fun opening numbers ever - "When You're an ADDAMS" - as performed by the entire "ADDAMS FAMILY" and their ancestors.
Wednesday ADDAMS (Bryn Elizabeth Martin), now an adult, meets and falls for Lucas (Galen Donavan) and tells her father, Gomez (Adam Leidemer) that they plan to marry.
Wednesday begs Gomez not to tell his wife and her mother, Morticia (Christine Healy), about the impending nuptials just yet.
As part of some bizarre plan, she coerces her parents into inviting over to dinner the parents of secret fiancé Lucas, Mal (Jim Archambault) and Alice Beineke (Chelsea Daniels), a more conservative couple...of course, when it comes to "THE ADDAMS FAMILY", almost every family could be considered "more conservative."
Morticia and Gomez reluctantly agree to Wednesday's wishes but the secret Gomez keeps from his wife is unbearable as he coveys in the consecutive songs, "Two Things/Wednesday's Growing Up/Three Things."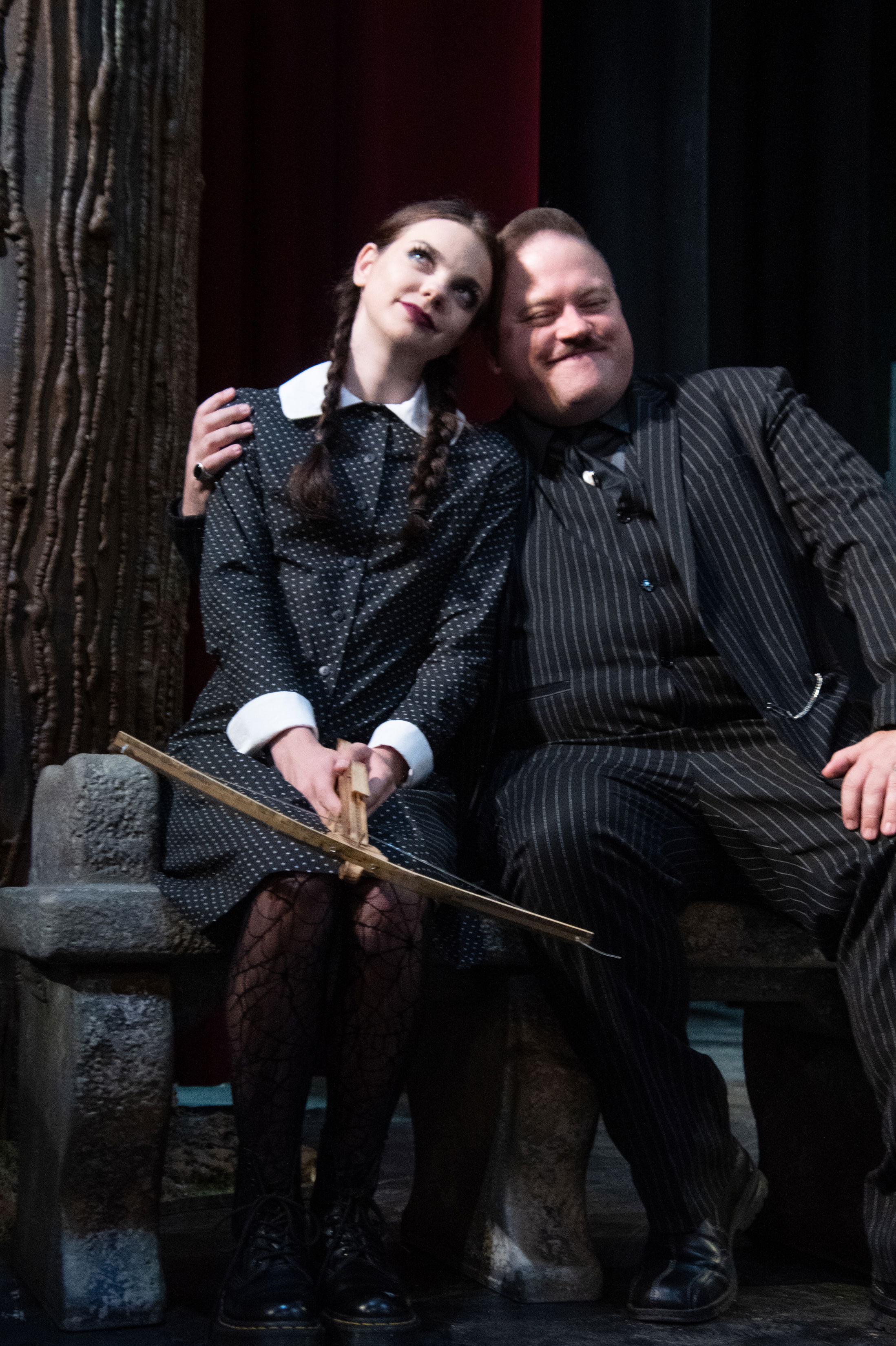 (Photo: Bryn Elizabeth Martin as "Wednesday" and Adam Leidemer as "Gomez" in a scene from the musical, "THE ADDAMS FAMILY" now playing at the Bradley Playhouse in Putnam, CT. through October 22, 2023. Photo Credit Lindsay Lehmann)
Adam Leidemer is exceptional as Gomez, as is Healy as Morticia and the two have undeniable on stage chemistry, as evidenced in a number of their duets including "Trapped," "Live Before We Die" and the aforementioned Tango number, "Tango De Amor."
Leidemer also sings a tender rendition the Act Two number "Happy Sad" when discussing all things life and love with his neat, sweet and petite daughter.
Archambault and Daniels are truly funny as Mal and Alice whose drab humdrum lives will forever be impacted by the evening's encounter with the creepy, kooky, mysterious and spooky ADDAMSES.
Two of the strongest performances comes from Bryn Elizabeth Martin as Wednesday and Galen Donavan as Lucas.
The contrastive couple seem to have a genuinely affectionate rapport and immediately prompt us to root for them to succeed in their romance, as demonstrated in their duet "Crazier Than You."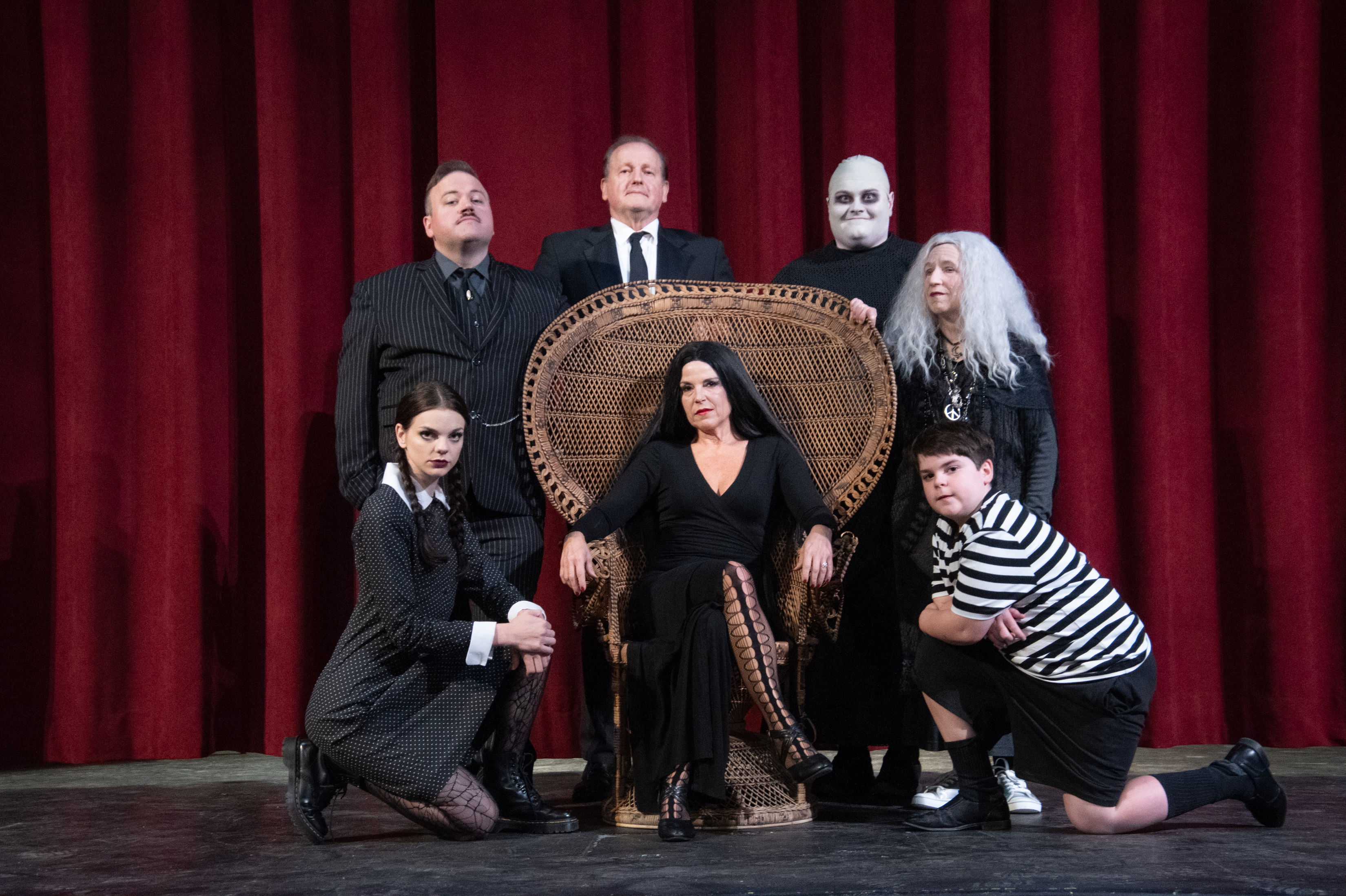 (Photo: The CAST of the musical, "THE ADDAMS FAMILY": Bryn Elizabeth Martin as "Wednesday," Christine Healy as "Morticia," James Giacchi as "Pugsley," Adam Leidemer as "Gomez," Wladimir Petruniw as "Lurch," Shaun McCoy as "Uncle Fester," and Bonnie Theriault as "Grandma" - now playing at the Bradley Playhouse in Putnam, CT. through October 22, 2023. Photo Credit Lindsay Lehmann)
Our guide throughout the evening is Uncle Fester, as played whimsically on point by Shaun McCoy, providing not only comedic high points but also a musical high point with the song, "The Moon and Me."
With regards to the overall production's skillful choreography, one minor curiosity concerns the number, "The Moon and Me."
For some reason (which becomes somewhat clearer near the end of the show), instead of using a projection of the Moon in the sky (or a suspended faux "Moon"), one of the "Ancestors" waves around a globe representing the Moon.
This choice unintentionally obstructs some of the otherwise terrific onstage choreography by the Ancestors and distracts from McCoy's equally fine singing.
Rounding out the "screamingly" good cast are James Giacchi as Wednesday's younger brother, "Pugsley," Bonnie Theriault as "Grandma" and Wladimir Petruniw as the ADDAMS' butler "Lurch."
The 19-member ensemble serving as the "Ancestors" (20 if you include a "Grim Reaper") could easily have been made about as interesting as the mausoleum but, thanks to the show's fine direction, they are seen as integral to the story and never falter. Not once.
It must also be pointed out how every single costume for the cast and the Ancestors was obviously produced with great care and made distinctive to each character. Such a task must have been a massive "undertaking" (pun intended).
The Ancestors do, however, appear to be crowded on the stage at times (nudged right up the proscenium curtain line) and, curiously, sometimes they can be seen by the cast and other times they cannot. Chalk those up to more "altogether ookie" moments.
So, for Bradley Playhouse's "THE ADDAMS FAMILY" (which plays in Putnam until October 22nd), as the song instructs, "put a witch's shawl on, a broomstick you can crawl on" and go and "pay a call on" this wonderful family.
Approximately two hours, 40 minutes with one intermission.
Kevin T. Baldwin is a member of the American Theatre Critics Association (ATCA)
@MetrmagReviews
@Theatre_Critics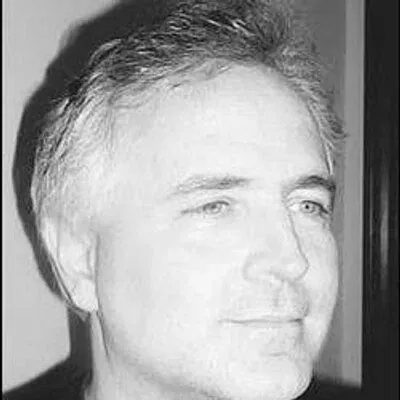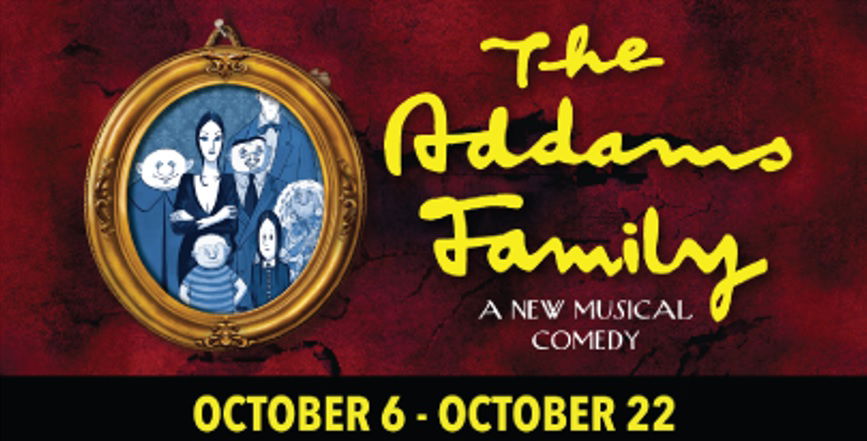 ABOUT THE SHOW
In the kooky, upside-down world of "THE ADDAMS FAMILY" to be sad is to be happy, to feel pain is to feel joy, and death and suffering are the stuff of their dreams.
Nonetheless, this quirky family still has to deal with many of the same challenges faced by any other family, and the spookiest nightmare faced by every family creates the focus Lippa, Brickman, and Elice's musical: the "THE ADDAMS FAMILY" kids are growing up.
"THE ADDAMS FAMILY" have lived by their unique values for hundreds of years and Gomez and Morticia, the patriarch and matriarch of the clan, would be only too happy to continue living that way.
Their dark, macabre, beloved daughter Wednesday, however, is now an eighteen year-old young woman who is ready for a life of her own.
She has fallen in love with Lucas Beineke, a sweet, smart boy from a normal, respectable Ohio family — the most un-ADDAMS sounding person one could be!
And to make matters worse, she has invited the Beinekes to their home for dinner.
In one fateful, hilarious night, secrets are disclosed, relationships are tested, and "THE ADDAMS FAMILY" must face up to the one horrible thing they've managed to avoid for generations: change.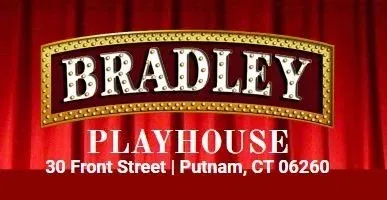 ABOUT THE BRADLEY PLAYHOUSE
THE BRADLEY PLAYHOUSE is a 117 year-old vaudeville theatre in the heart of the Putnam antiques and restaurant district in the "Quiet Corner" of Northeastern Connecticut. Since 1991, THE BRADLEY PLAYHOUSE has been managed by the volunteers of The Theatre of Northeastern Connecticut, Inc. (TNECT).
ABOUT THEATRE OF NORTHEASTERN CONNECTICUT (TNECT)
TNECT produces eight main season shows per year and a number of special fundraising events for The Bradley Playhouse Restoration Fund. TNECT's mission is to produce and sponsor quality theatre and entertainment for the residents of Northeastern Connecticut and the surrounding areas, to encourage the development of creativity through the support of local artists, and to support education and hands-on experience in the creation, direction, and production of theatre and the performing arts.
30 Front Street
P.O. Box 71
Putnam, CT 06260-1942