(Cover Photo: Victoria Bourque and Kevin Nessman in "The 39 Steps" presented by Cannon Theatre, now playing in Devens, MA. through May 22, 2022. Photo courtesy of Erik P. Kraft)

By Kevin T. Baldwin
METRMag Reviewer
Contact: 774-242-6724
"Ideas come from everything / puns are the highest form of literature"
(Alfred Hitchcock)

The Cannon Theatre
Presents
"THE 39 STEPS"
A madcap mystery featuring romance, espionage, mistaken identity, and intrigue set in 1930's England.
Director: Erik P. Kraft
Stage Manager: Laurie Marcinkewicz
Producer: Kathleen O'Connor.
Cast Includes:
Richard Hannay - Kevin Nessman
Compere & others - John Lynch
Mr. Memory & others - Bob Amici
Annabella Schmidt & others - Victoria Bourque
Chief Inspector & others - Matt Foster
Professor & others - Simon Jensen-Fellows
Pamela Edwards & others - Maren Caufield
Performances:
May 13, 14, 20 & 21, 2022 at 7:30pm
May 14, 15, 21 & 22, 2022 at 2:00pm
The Cannon Theatre relaunches at their new Devens location with a delightfully madcap, booming spoof of Alfred Hitchcock's film legacy in their latest production, "The 39 Steps" and, without a doubt, achieves high caliber results.
The show, which blends the plot of the 1915 novel by John Buchan with Hitchcock's film masterpiece, won a Laurence Olivier Award in 2007 for Best New Comedy and was nominated in 2008 for a Tony Award for Best Play.
This adaptation, under the direction of Erik P. Kraft, has a solidly desiccated dry wit and absurdist approach using quick takes, minimal sets and lots of props to project the story forward.
One does have to wonder, though: Since the Hitchcock film catalog is so vast with more iconic movies ripe for spoofing such as "Psycho," "Torn Curtain" or "Vertigo," why did writer Patrick Barlow choose to adapt the relatively innocuous story of "39 Steps?"
Part of the answer may lie in that "39 Steps" (as a spoof) is constructed in such a way that it allows for, and makes good use of, a multitude of classic Hitchcock film references which should prove memorable enough to amuse even the less fervent of Hitchcock fans.
The show is a rampant homage to vintage whodunits that leaves every character on stage under "suspicion" (and some characters so crazy they should be held under anesthesia).
It is 1935 pre-World War II England and Kevin Nessman portrays "Richard Hannay," the hero of the story - a suave, world weary 37(-ish?) year-old English gentleman with an "attractive pencil-thin mustache."
Nessman seems quite at ease with the character and consistently maintains audience focus throughout the production.
After taking in a West End show, the unsuspecting Richard "suddenly" finds himself at the end of his "rope." Either he knows too much or very little. Yet, either way, he is the "wrong man" at the wrong place and wrong time, ultimately finding himself on the run from the authorities for the murder of a woman involved with foreign espionage.
Victoria Bourque is splendidly diverse in Barlow's wonderful tribute to Hitchcock's leading ladies. She portrays several characters including two women in the show's first act who each become involved with Richard:
First she is the intriguing and seductive "Annabella Schmidt," the above mentioned victim. Later we see her later as "Margaret," a young, lonely Scottish wife who helps Richard to escape out of, surprise, a "rear window."
In Act Two, Bourque returns and is simply a hoot as a looney innkeeper.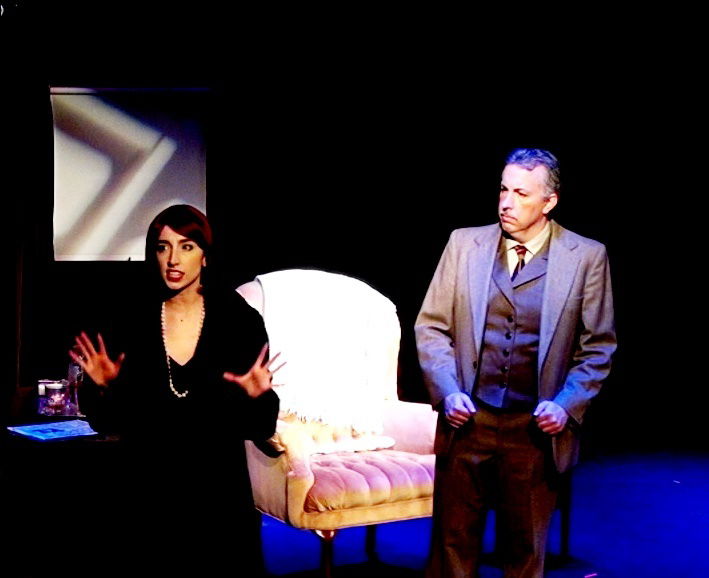 (Photo: Victoria Bourque and Kevin Nessman in "The 39 Steps" at the Cannon Theatre, now playing in Devens, MA. through May 22, 2022. Photo courtesy of Erik P. Kraft.)
Maren Caulfield primarily portrays "Pamela," a traveler who encounters Richard as "strangers on a train" and subsequently turns him in to the London authorities, only to find herself later handcuffed to Richard as he escapes and takes her on the run with him. Yet, is Richard running from the London authorities or is he running from (or toward) something far more sinister?
This eventual "linking" of Nessman to Caulfield as Richard and Pamela works. However, it is Barlow's script that does not allow any time for their relationship to evolve. So, their chemistry and romance proves less "spellbinding" and more haphazard.
With the many hazards Richard endures throughout the play, though, it is not all that surprising a romance would also occur in the same vein.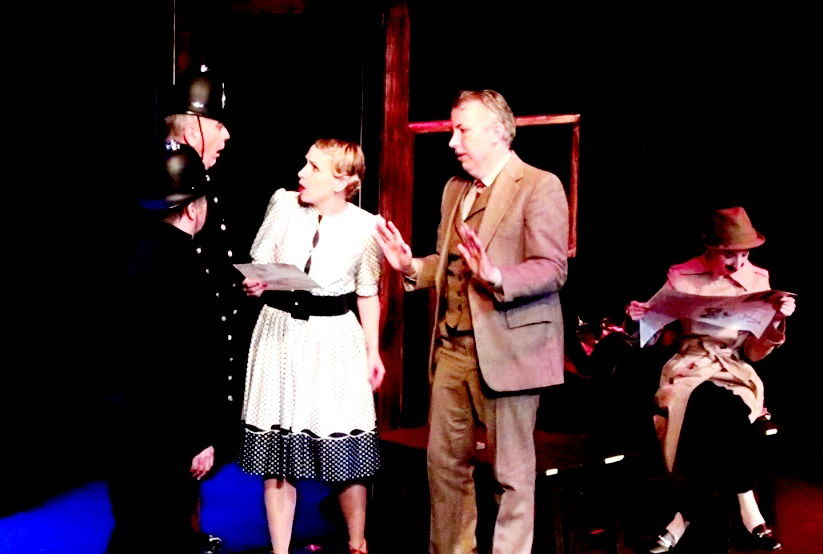 (Photo: Maren Caulfield and Kevin Nessman surrounded by members of the Cast of "The 39 Steps" at the Cannon Theatre in Devens, MA. playing now through May 22, 2022. Photo courtesy of Erik P. Kraft.)
Actors John P. Lynch, Bob Amici, Matt Foster and Simon Jensen-Fellows (along with Caulfield and Bourque) collectively and admirably serve as theatrical clowns, sharing in the portrayal of over 100 roles: living or dead, animated or inanimate, "saboteurs" and "sabotaged," all while using multiple UK accents, adeptly handling the relentless multi-tasking.
The ensemble utilize Cannon Theatre's brand new blackbox style theatre space well, bobbing and weaving, shifting left and right, running "north by northwest," through a multitude of fast-paced exchanges with expert precision.
Costumes, props, lighting and visual effects are all used exceptionally well and the stage crew earn high praise for the "notorious" horde of scene changes required in the two-act play.
Hannay's subdued demeanor conveyed at the beginning of the play is disarming. He charms us, then lures us in, taking us along on this adventure which, given all the "frenzied" plot twists and theatrical hijinks along the way, ensure this comedy is, "without a doubt," NOT for "the birds."
It does not take Alfred Hitchcock's Three Investigators to conclude that this is a thoroughly clever and charming show from Barlow and, for the returning Cannon Theatre, it is a fine welcome back, for sure.
Approximately 2 hours including intermission.
Kevin T. Baldwin is a member of the American Theatre Critics Association (ATCA)
@MetrmagReviews
@Theatre_Critics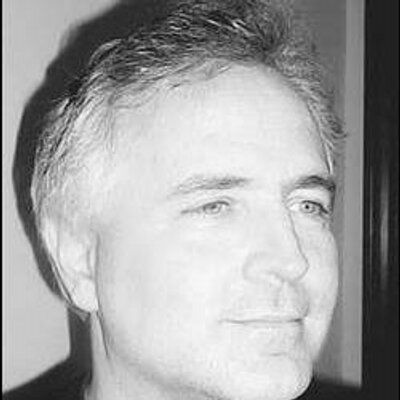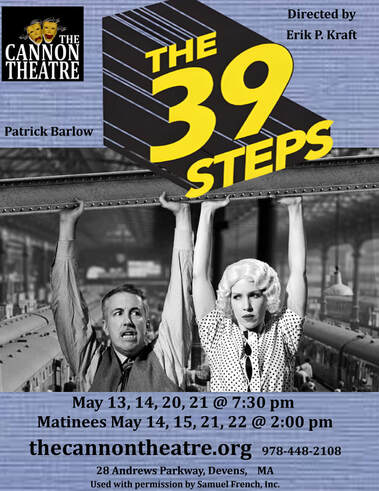 ABOUT THE SHOW
The 39 Steps is a parody adapted from the 1915 novel by John Buchan and the 1935 film by Alfred Hitchcock.
The original concept and production of a four-actor version of the story was by Simon Corble and Nobby Dimon. Patrick Barlow rewrote this adaptation in 2005.
The play's concept calls for the entirety of the 1935 adventure film The 39 Steps to be performed with a cast of only four.
One actor plays the hero, Richard Hannay, an actress (or sometimes actor) plays the three women with whom he has romantic entanglements, and two other actors play every other character in the show: heroes, villains, men, women, children and even the occasional inanimate object.
This often requires lightning-fast quick-changes and occasionally for them to play multiple characters at once.
Thus the film's serious spy story is played mainly for laughs, and the script is full of allusions to (and puns on the titles of) other Alfred Hitchcock films, including Strangers on a Train, Rear Window, Psycho, Vertigo and North by Northwest.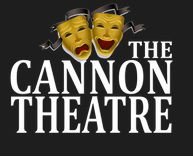 ABOUT THE CANNON THEATRE OF LITTLETON
The Cannon Theatre was founded by Shawn Cannon and Bret Bahe, who shared a dream of creating a community theater – a place for learning, and great plays, a place where people could enjoy the company of others, laugh, and just lose themselves in the joy of artistic expression. This intimate performance space was conceived of, designed, and built from scratch after they discovered and saw the great potential of a unique open space in the old mill building in Littleton. Over the years, the theater incorporated, and then became a non-profit organization, managed so that every precious cent made from each production is carefully fed right back into the creation of the next.

During the Pandemic of 2020, the theater was forced to close, as their overhead was too high, They began searching for a new space during 2021, and found it in the late summer of 2021.

The Cannon Theatre board, which still includes the theater's very active and passionate founders, invites you to join us and experience this welcoming community, whether as an audience member, an actor, backstage crew, or even director. We guarantee you will leave feeling satisfied!
THE CANNON THEATRE OF LITTLETON
28 Andrews Parkway
Devens, MA
978-448-2108
https://www.thecannontheatre.org/