(Cover Photo: The CAST of "THE 25TH ANNUAL PUTNAM COUNTY SPELLING BEE" from the New Players Theatre Guild in Fitchburg, MA. now playing through November 13, 2022. Photo Courtesy of Jennifer Knight)


By Kevin T. Baldwin
METRMAG Reviewer
# 774-242-6724

"The best spellers don't necessarily win."

New Players Theatre Guild
Presents
"THE 25TH ANNUAL PUTNAM COUNTY SPELLING BEE"
Book by Rachel Sheinkin
Music & Lyrics by William Finn
Conceived by Rebecca Feldman
Additional material by Jay Reiss
Directed by John Leslie
Music Director Kris Layton
Cast Includes: Brittany Stevens, Julia Ciccolini, Noah Dawson, Amanda Lanza, Shaun McCoy, Alycia Noeth, Joshua Raymond, Rain Smallcomb, Michael Knight
Performances:
November 4, 2022 at 7:30pm
November 5 & 13, 2022 at 2:00pm and 7:30pm
All performances are at the New Players Theatre Guild Center for the Performing Arts, 15 Rollstone Street, Fitchburg, MA.
TICKETS:
Phone # 978-345-6570
nptg.org@gmail.com
The latest offering by the New Players Theatre Guild, "THE 25TH ANNUAL PUTNAM COUNTY SPELLING BEE" is a musical that is a character actor's dream.
Under the sharp stage direction of John Leslie, the tight-nit ensemble for the New Players' production is rife with strong performances.
The production also features a nice use of the entire NPTG space in both the solo numbers and in various numbers choreographed by Nicole Skorb.
Composer William Finn weaves the story of the participants and those running the "Bee" through both spoken word and music that has a lighthearted tone and performs "deep dives" into each person on stage.
There are many hysterical moments throughout the show, some planned…some not so much…thanks to several audience members brought up to participate in the "Bee."
The book, written by Rachel Sheinkin, was conceived by Rebecca Feldman and delivers a multitude of laughs by a solid cast that never loses a beat tunefully under the music direction of Kris Layton.
Kicking off the show is former annual spelling bee champion Rona Lisa Perretti (Alycia Noeth).
Perretti works alongside Vice Principal Douglas Panch (Michael Knight) introducing the championship spellers of "THE 25TH ANNUAL PUTNAM COUNTY SPELLING BEE" who each begin singing about their collective aspirations and personal demons.
Knight functions in supervising correct spelling, offering both definitions of each word presented along with the use of the words in wildly funny sentences.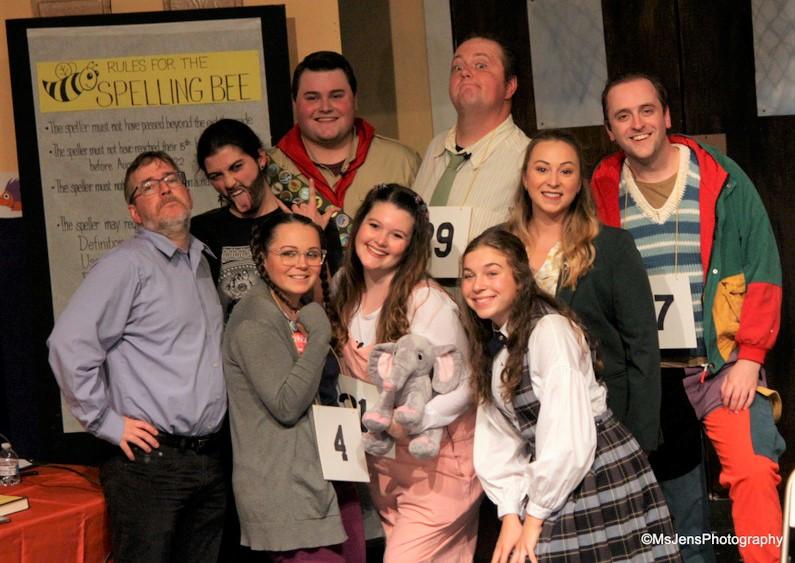 (Photo: The CAST of "THE 25TH ANNUAL PUTNAM COUNTY SPELLING BEE" from the New Players Theatre Guild in Fitchburg, MA. now playing through November 13, 2022. Photo Courtesy of Jennifer Knight)
One of the contestants we meet is the sweet and shy Olive Ostrovsky (Amanda Lanza).
In the number, "I Love You Song," Lanza proves herself an accomplished vocalist with a fine grasp of the character of Olive.
In her song "My Friend, the Dictionary," Olive sings about her only true source of companionship. This has helped her achieve success in spelling bees, although her success appears to be lost on her conspicuously absent parents.
Marcy Park (Julia Ciccolini) is a highly accomplished student (as she describes in her song, "I Speak Six Languages") but is pushed beyond her emotional threshold to succeed at everything.
Ciccolini provides an exceptional, even-handed portrayal of the highly stressed out young overachiever. While appearing combative and condescending to others, Marcy uses much of her vitriol and uber competitiveness to mask her own insecurities.
If it wasn't because both the winner and runner-up of a regional competition had to attend a Bat Mitzvah, third place finalist Leaf Coneybear (Noah Dawson) might not even be in the finals competition, but his objective is different from the other competitors.
Dawson is skillful at the aggressive physical comedy required from the musical.
However, even as he passes in and out of the "Leaf" role to portray other characters in the show, when he returns he never drops the overall playful nature of "Leaf" which is a joy to watch.
During the song "I'm Not That Smart" Leaf sings about how his family constantly berates and belittles him, yet, never losing his optimism, the audience is never led to believe Leaf is maudlin over this in any way.
Rain Smallcomb portrays "comfort counselor" Mitch Mahoney although, at first, Mitch seems far more menacing than comforting.
However, Mitch soon displays a more compassionate side as, one by one, each of the contestants is eliminated from the competition. Smallcomb gives a finely tuned performance.
In the number, "Woe is Me," Logainne Schwartzandgrubenierre (Brittany Stevens) laments about her two domineering fathers, one of whom (played by Dawson) applies pressure on Logainne to win competitions at any cost.
The obnoxious, arrogant and slovenly speller William Barfée (Joshua Raymond), uses his song, "Magic Foot," to illustrate how he uses his foot to visualize a word before saying it aloud. Later, he has more tender exchanges with Olive.
Raymond is spot on in his rendering of William making the character less one dimensional as it could otherwise be played.
Shaun McCoy plays boy scout and winner of the 24th Annual Putnam County Spelling Bee, Chip Tolentino. Chip seems overly anxious as he returns to defend his title.
Chip tries to talk to Marcy who cruelly shuts him down by saying, "I only remember the top ten."
The role requires the actor maintain a balance between neuroses and sensitivity which McCoy adequately provides without making the character cartoonish or two-dimensional.
The set design by Bill McGrath, Nancy King, Hal Smith, Edith Stephen and Elizabeth Waite was very nicely constructed with fine attention to detail.
There were a couple of sound hiccups and a few pitchy moments but, overall, "THE 25TH ANNUAL PUTNAM COUNTY SPELLING BEE" is a musical which cares about its characters and, more than that, makes us care about them, as well.
Approximately two hours with one intermission.
Kevin T. Baldwin is a member of the American Theatre Critics Association (ATCA)
@MetrmagReviews
@Theatre_Critics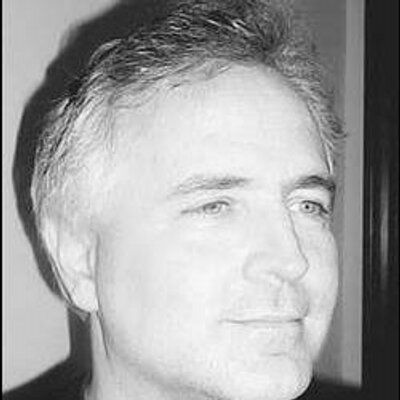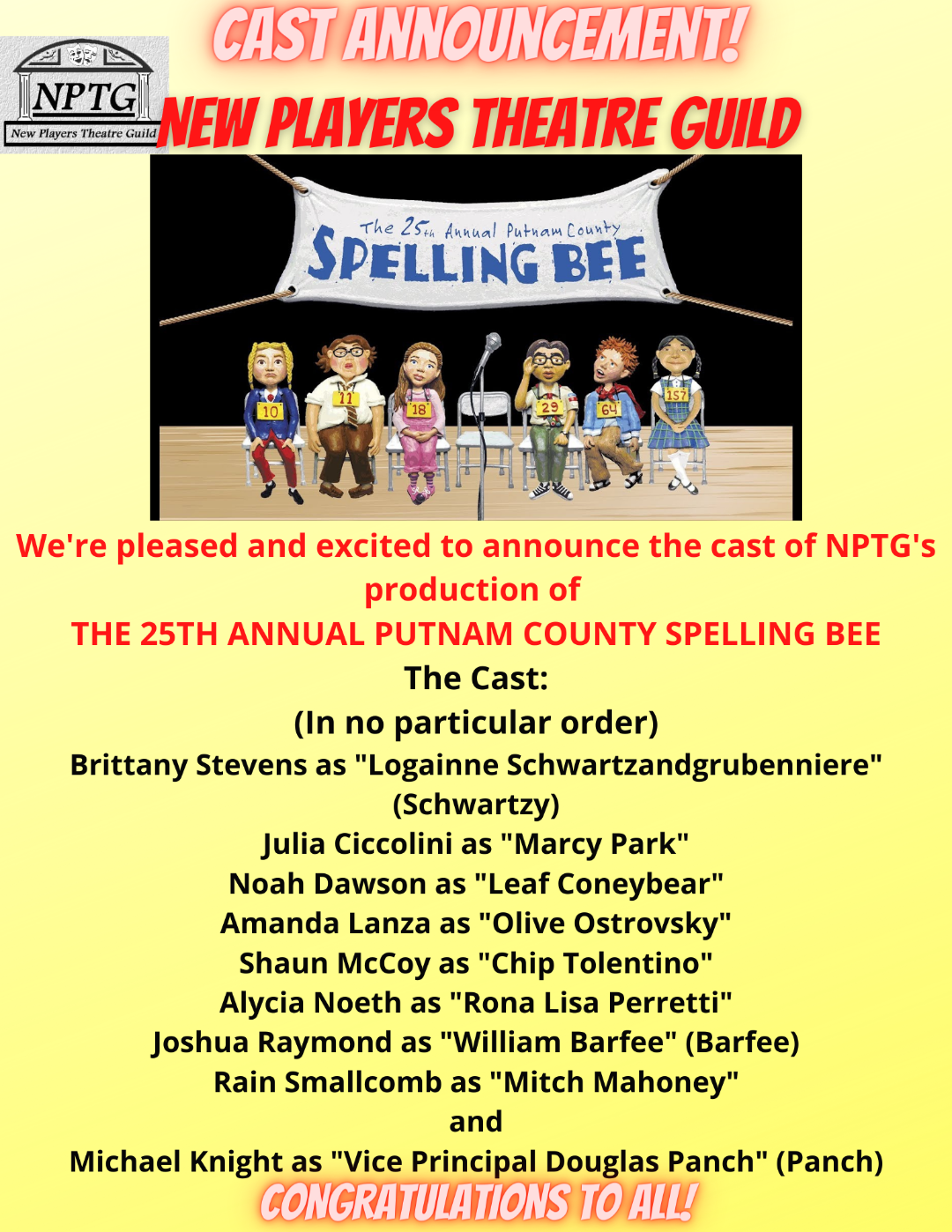 ABOUT THE SHOW
"THE 25TH ANNUAL PUTNAM COUNTY SPELLING BEE" is a musical comedy with music and lyrics by William Finn, a book by Rachel Sheinkin, conceived by Rebecca Feldman with additional material by Jay Reiss.
The show centers on a fictional spelling bee set in a geographically ambiguous Putnam Valley Middle School.
STAGEAGENT SUMMARY:
An eclectic group of sixth-graders arrives at "THE 25TH ANNUAL PUTNAM COUNTY SPELLING BEE" - each eager to win for very different reasons.
With an engaging, tuneful score, "THE 25TH ANNUAL PUTNAM COUNTY SPELLING BEE" causes audiences to fall in love, both with the show itself and its "perspicacious," "jocular," and "effervescent" spellers.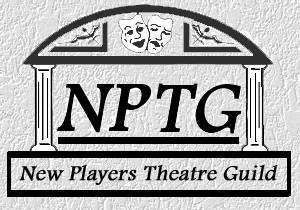 ABOUT NEW PLAYERS THEATRE GUILD
New Players Theatre Guild's goal is to foster and promote an active interest in community theater. It is a not-for-profit organization dedicated to encouraging people of all ages to participate in the joy of creating quality theater for the Montachusett area audiences. NPTG presents small to medium-scale musical productions and musical reviews for the public as well as straight plays. New Players Theatre Guild was founded in 1975 and varies in membership size, but has, at times grown to a membership of over 120 people. The group is managed by a Board of Directors, elected yearly by the membership, as well as several committees that carry out the various activities of the organization.
New Players Theatre Guild
15 Rollstone Street
Fitchburg, MA.
978-345-6570