(Cover Photo: Gregg Mozgala and Louis Reyes McWilliams in "Teenage Dick," a darkly funny, modern-day spin on Richard III playing December 3, 2021 through January 2, 2022 at The Huntington Calderwood/BCA. Photo: Teresa Castracane)
"An honest tale speeds best being plainly told."
Kevin T. Baldwin
METRMag Reviewer
# 774-242-6724

Huntington Theatre Company
Presents
"TEENAGE DICK"
An Astonishing New Version Of Richard III Set In A Modern High School
Written By Mike Lew
Directed By Moritz Von Stuelpnagel
Cast includes: Shannon DeVido, Louis Reyes McWilliams, Gregg Mozgala, Portland Thomas, Emily Townley, Zurin Villanueva.
CALDERWOOD / BCA: 527 Tremont Street, Boston MA 02116

TICKETING SERVICES: 617-266-0800
Performances:
December 10, 17, 31, 2021 at 8:00pm
December 11, 12, 18, 19, 22, 23 & 29, 2021 at 2:00pm
December 9, 14, 15, 16, 21, 22, 28, 29 & 30, 2021 at 7:30pm
December 10, 2021 at 10:00am
January 1 & 2, 2022 at 2:00pm
Tickets to Teenage Dick are available NOW only to Huntington season ticket holders.
Seated and flexible packages are available, and you'll get access to the very BEST SEATS before tickets go on sale to the public.
Mike Lew's compelling verbal onslaught that is the play "Teenage Dick" plunges us into the ostensibly endless depths of shallow behavior while discharging the flaccid clichés about people with disabilities. All the while positioning us under the limp Shakespearean banner of the Bard's "Richard III" erected at a high school.
Okay - puns aside, this show isn't really a "Richard III High School Edition" but many aspects of the tale, along with innumerous Shakespeare quotes, are brilliantly acted out over the course of a "to the winner goes the spoils" (apologies to Mark Twain) one hour 45 minutes (with no intermission).
The "disabled characters," as presented in "Teenage Dick," are not like those mostly seen represented in popular culture.
None of the characters with physical disabilities here can be seen as "sympathetic" or "inspiring" – In fact, they have personal character traits which are just as flawed as others in the play who appear to be without disabilities (again, physical disabilities, anyway). The success of Mike Lew's script is that it makes them seem all the more human.
There are no inspirational stories here of overcoming personal adversity. In fact, just the opposite. By the end of the show you find yourself not rooting for anybody, which is just what the play sets out to do. The one figure you may find yourself rooting for becomes the tragic figure of the piece, so...also consistent with the Bard.
"Every man's conscience is a thousand swords, to fight against that bloody homicide."
Shallow personae, shallow ambitions, shallow morals. All part and parcel with the source material "Teenage Dick" is based on.
Here, instead of "King Edward IV" we get "Eddie Ivy" (Louis Reyes McWilliams) a total conceited ass albeit the most popular boy and Junior class president at present day Roseland High School, where the play takes place.
McWilliams is textbook as the handsome Eddie - a stereotypical successful "jock" and less successful two-dimensional thinker. A robust bully with low aspirations other than meeting the bare minimum academic requirements to keep his spot playing football and seeking out the time and place of his next party.
So, it stands to reason, of course, that Eddie now seeks re-election for Senior year. Yes - historically speaking, this may seem vaguely familiar to some.
Out of malignant envy and disgust, Richard Gloucester (Gregg Mozgala), disabled with Cerebral Palsy, seeks to run against the more physically "chiseled" and morally absent football player.
Mozgala is simply splendid as Richard, who is mischievous, power-hungry and rancorous about his physical deformity. So much so, he sacrifices his own morality to attack that which offends his senses.
Richard aspires secretly to assume Eddie's mantle and vows to hurt anyone he has to in order to become ki-…uh, class president.
Richard, or "Richie" or "Dick," uses his intelligence and skills of deception to unleash a masterful plan of political manipulation as he begins his campaign for the thro-...uh, office.
Mozgala is captivating as Richard and keeps the audience riveted throughout the entire show. He breaks the fourth wall, engaging us, bringing us along for the ride as he performs a mad, delicate mental tightrope walk between sympathetic anti-hero and all-out villain, ultimately succumbing to his basest and most vile of urges, just like many teenagers (or hell - just like many adults, for that matter).
"Alack, I love myself. Wherefore? For any good that I myself have done unto myself? O no, alas, I rather hate myself for hateful deeds committed by myself. I am a villain. Yet, I lie: I am not."
Richard decides his best weapon will be Eddie's former girlfriend, Anne Margaret (Zurin Villanueva), who dumped Eddie under guarded circumstances. Richard feels if he can use Eddie's ex against Eddie in the campaign, his victory will be assured.
"Was ever woman in this humor wooed? Was ever woman in this humor won? I'll have her; but I will not keep her long."
As part of his plan, Richard asks out Anne and, apprehensively, she agrees, unaware of Richard's ulterior motives. He learns more about himself than he anticipates from her, yet it does not deter him from his mission.
Villanueva is stunning and adept as the seemingly privileged Anne, bringing a strong yet subdued vulnerability to her character. She seeks to escape life at Roseland and move to New York to become a professional dancer.
One of Richard's strongest adversaries in the play is the tough, vivacious "Buck" (Shannon DeVido), both intelligent foil and admirable foe for the vengeful young Richard. He feels she should be his ally (a la "Les Liaisons Dangereuses") as she lives with spinal muscular atrophy.
However, Richard soon realizes he could never be in her league - and she reminds him of this, repeatedly, much to her own self-serving pleasure, throughout the show.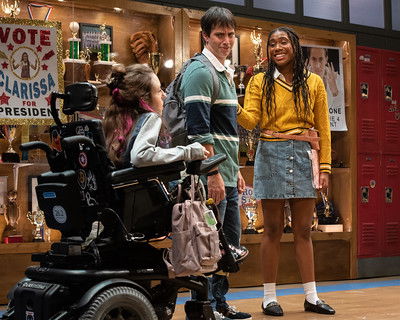 (Shannon DeVido, Gregg Mozgala, Portland Thomas in "Teenage Dick," a darkly funny, modern-day spin on Richard III playing December 3, 2021 through January 2, 2022 at The Huntington Calderwood/BCA. Photo: Teresa Castracane)
Whether it is a result of Lew's impeccable writing, (Tony® Award nominee) Moritz Von Stuelpnagel's directing, or DeVido's spot on delivery (more likely a combination of all elements), it is still DeVido's character that rises above the occasionally "gimmicky" plot to soar over the rest of the cast.
"Bloody thou art, bloody will be thy end; Shame serves thy life and doth thy death attend."
DeVido brings to the stage a singular performance because Buck is smart, rude, crude, lewd, superficial and totally unapologetic. She knows exactly what Richard is up to, causing him no end of grief, which she thoroughly enjoys. Hers is a master class in comedic timing.
The set design for "Roseland High" by Wilson Chin is deceptively simple but works on multiple levels. The built-in lockers embedded into flats, a red, white & blue color array and the outline structure so the school vaguely represents a Shakespearean castle are wonderful, unobtrusive nods to the source material.
(A scene from "Teenage Dick" playing December 3, 2021 - January 2, 2022 at The Huntington Calderwood/BCA)
The center stage walls open up toward the end of the show to reveal significantly advanced specialized lighting used for a school dance scene where Richard and Anne both "strut their stuff." There are some finely executed dance moves by the duo thanks to choreographer Jennifer Weber.
There are moments in this show which run the gamut of funny, morbid, grotesque, mean-spirited to downright cruel – many traits one might find in Shakespeare – or in high school.
In the end, this play proves just how much "Richard Loves Richard."
The show's approximate run time is one hour 45 minutes with no intermission.
Kevin T. Baldwin is a member of the American Theatre Critics Association (ATCA)
@MetrmagReviews
@Theatre_Critics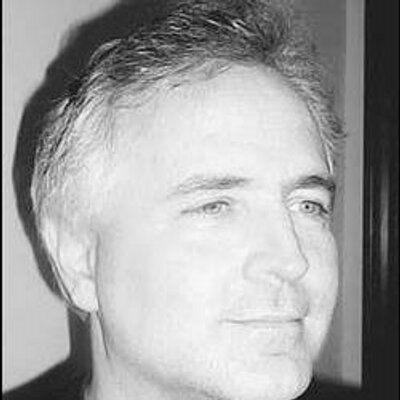 ABOUT THE SHOW
As the winter formal gives way to a glorious spring fling at Roseland High School, we enter the world of Mike Lew's darkly funny, modern-day spin on Richard III. Tony Award nominee Moritz von Stuelpnagel (Hand to God on Broadway) directs this ruthless and hilarious new play about a young man who, after years of torment by his classmates for his cerebral palsy, decides to campaign for student body president. But is it better to be loved or feared? And how far will he go to realize his ambition? The New York Times cheers "moving, exciting, and profoundly eye-opening." Produced in association with Woolly Mammoth Theatre Company and Pasadena PlayhouseArtwork: Gregg Mozgala, photo: Carol Rosegg
COVID-19 PROTOCOLS
Based on CDC and state guidelines, our specific policies and protocols will continue to evolve. Protocols for Witch performances will not be determined until early October and will be communicated clearly to all ticket holders in advance of their performance. Learn more.
ABOUT THE HUNTINGTON THEATRE COMPANY
The Huntington Theatre Company is Boston's leading professional theatre and one of the region's premier cultural assets since its founding in 1982. Recipient of the 2013 Regional Theatre Tony Award, the Huntington brings together superb local and national talent and produces a mix of groundbreaking new works and classics made current to create award-winning productions. The Huntington runs nationally renowned programs in education and new play development and serves the local theatre community through its operation of the Calderwood Pavilion at the BCA. The Huntington has long been an anchor cultural institution of Huntington Avenue, the Avenue of the Arts, and will remain so on a permanent basis with plans to convert the Huntington Avenue Theatre into a first-rate, modern venue with expanded services to audiences, artists, and the community. The Huntington cultivates, celebrates, and champions theatre as an art form. For more information, visit huntingtontheatre.org. OFFICES: 560 Harrison Avenue, Boston MA 02118CALL # 617-266-7900