(Cover Photo: The CAST of "SOME LIKE IT HOT" now playing at the Shubert Theatre in New York, N.Y. Photo Credit Marc J. Franklin)

By Kevin T. Baldwin
METRMAG Reviewer
# 774-242-6724

"Let different rhythms move your seat for I have often found we all dance to a different beat - and that's what makes the world go round." - Some Like It Hot!

The Shubert Organization
at the Shubert on Broadway
Presents the Musical
"SOME LIKE IT HOT

"
Hollywood's Funniest Film.
Broadway's Great Big Musical Comedy.
Presented by:
The Shubert Organization, Neil Meron, MGM ON STAGE, Roy Furman, Robert Greenblatt, James L. Nederlander, Kenny Leon, Hunter Arnold, John Gore Organization, The Daigleish Library Company Group, Sheboygan Conservatory Partners, Ambassador Theatre Group Productions, Bob Boyett, Janet and Marvin Rosen, The Araca Group, Concord Theatricals, Jujamcyn Theters, Henry R. Muñoz, III
Book by Matthew López and Amber Ruffin
Music by Marc Shaiman
Lyrics by Scott Wittman and Marc Shaiman
Directed and Choreographed by Casey Nicholaw
Cast Includes: Christian Borle - Adrianna Hicks/Josephine; J. Harrison Ghee - Jerry/Daphne; Adrianna Hicks – Sugar; Kevin Del Aguila – Osgood; NaTasha Yvette Williams - Sweet Sue; Adam Heller – Mulligan; Mark Lotito – Spats; Angie Schworer – Minnie; Esther Antoine – Swing; Tynia Brandon – Ensemble; Ian Campayno – Swing; Gabi Campo – Ensemble; Demarius R. Copes – Ensemble; Casey Garvin – Ensemble; Devon Hadsell – Ensemble; Ashley Elizabeth Hale – Swing; Jenny Hill – Ensemble; KJ Hippensteel – Ensemble; Abby Matsusaka – Ensemble; Jarvis B. Manning Jr. – Ensemble; Brian Martin – Ensemble; Amber Owens – Ensemble; Kayla Pecchioni – Swing; Richard Yoder – Ensemble; Charles South – Ensemble; Brendon Stimson – Ensemble; Raena White – Ensemble; Julius Williams - Swing (Note: Cast List from company website – subject to change)
Additional Creative Team:
Music Director - Darryl Archibald; Orchestrations - Charlie Rosen and Bryan Carter; Incidental Arrangements - Glen Kelly; Vocal Arrangements - Marc Shaiman; Dance Arrangements - Glen Kelly; Musical Supervisor - Mary-Mitchell Campbell; Scenic Design -Scott Pask; Costume Design - Gregg Barnes; Lighting Design - Natasha Katz; Sound Design - Brian Ronan; Hair & Wig Design - Josh Marquette; Make-Up Design - Milagros Medina-Cerdeira; Musical Coordinator - Kristy Norter; Additional Material by Christian Borle and Joe Farrell; Production Stage Manager - Karen Moore; Associate Director - Steve Bebout; Associate Choreographer - John MacInnis; Production Management - Juniper Street Productions; Casting - The Telsey Office, Bethany Knox, C.S.A.; Advertising and Marketing - Serino Coyne; Digital Marketing - Situation Interactive; Press Representative - Polk & Co.; Company manager - Jenny Peek; General Management - 101 Productions, Inc.
Performances:
NOW PLAYING
(Contact Box Office for Exact Times)
SHUBERT THEATRE, 225 West 44th Street, New York, N.Y. 10036
TICKETS
https://somelikeithotmusical.com/tickets
For anyone looking to get somebody Broadway tickets this holiday season, avid theatregoers would surely enjoy the witty dialogue, exciting musical score and inventive choreography - all tied together by a ribbon on top in the form of a terrific cast in the newly re-imagined production of "SOME LIKE IT HOT."
While the iconic movie of the same name featuring Marilyn Monroe, Tony Curtis and Jack Lemmon has been adapted for the stage before in the musical "Sugar" (which featured a great score by Jule Styne and Bob Merrill and a solid book by the always reliable Peter Stone) - toss that one out.
The "Bosom Buddies" days of the drag concept are long gone and may they never return.
"Sugar" had its day in the sun, but THIS "SOME LIKE IT HOT" is one made for a new world.
The original Billy Wilder story (who directed, produced and co-wrote the film) has been revamped for contemporary audiences thanks to the musical's hilarious new book by Matthew López and Amber Ruffin.
It also contains a far superior musical score thanks to the collaboration of Scott Wittman (lyrics) and Marc Shaiman (music, lyrics).
Set in Prohibition era, everyone hits the "speakeasy" for a little excitement and, in "SOME LIKE IT HOT," illegal booze, illicit activities, hot jazz, hot dancing and hot times are all on the menu - that is, until two struggling musicians witness a mob murder and are subsequently forced to run for their lives.
With the killers after them, the duo poses in drag as the newest members of an all-female big band that is crossing the country.
Previews for "SOME LIKE IT HOT" began on November 1, 2022 and, after 36 previews, the show officially opened yesterday, December 11th.
It cannot be emphasized enough: DO NOT MISS THIS SHOW!
Some shows are clever without shoving their ingenuity in the face of their audience yet neither do they apologize for being as clever as they are. "SOME LIKE IT HOT" is definitely one of those shows.
Combining a cleverly revised storyline that contains intelligent dialogue exchanges with an equally vibrant score replete with witty lyrics, "SOME LIKE IT HOT" explores many varied relationships between its characters.
The new show also has a sense of homage - an overwhelming nod to earlier musical comedy efforts such as "Dirty Rotten Scoundrels" or even megahit musical, "Something Rotten!'
"SOME LIKE IT HOT" then leaves those "Rotten" shows far behind in the dust.
The tap dancing, alone, in "SOME LIKE IT HOT" elevates the entire show to one of the best, most exciting tap dance musical comedies to come along in years because it not only accentuates - it is integrated meticulously to help tell the story.
The latter second act tap choreography by Casey Nicholaw is simply mind-blowing because, especially in the chase sequence, "Tip Tap Trouble," a symbiosis takes place whereby the comedy becomes one with the dance and the dance becomes one with the comedy, playing out like some high-octane, tap dancing "Scooby Doo"-style musical romp.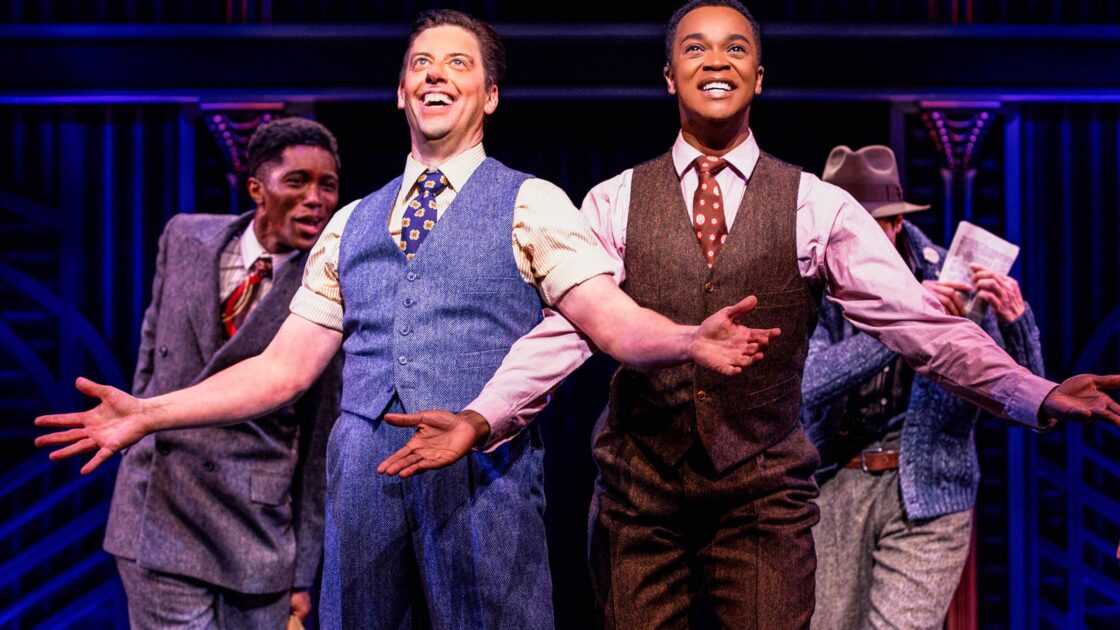 (Photo: Christian Borle and J. Harrison Ghee star in "SOME LIKE IT HOT" now playing at the Shubert Theatre in New York, N.Y. Photo Credit Marc J. Franklin)
While Christian Borle, as "Joe/Josephine," is arguably the most notable name in the cast and, because he is Christian Borle, certainly delivers the goods, as always - it is ultimately J. Harrison Ghee as "Jerry/Daphne" who steals the show.
Ghee brings a new dimension to the role originally played on film by Jack Lemmon.
Already some big heels to fill.
Yet, as to be expected from a former "Lola" in "Kinky Boots," Ghee's dynamic performance allows for the rejection of the antiquated drag concept, instead allowing "Jerry/Daphne" to explore more meaningful gender and self-identification concepts.
Nay...not "concepts" - truths, as fully examined and exemplified in Ghee's "You Coulda knocked Me Over With a Feather."
In addition to Ghee's undeniable chemistry on stage with Borle, Ghee also shares some of the show's funniest moments with Kevin Del Aguila as foppish, flamboyant millionaire "Osgood."
Del Aguila is hysterical as Osgood, and brings keen sensibility and additional layers to the amorously motivated millionaire, who shares his various woes in the witty, "Poor Little Millionaire."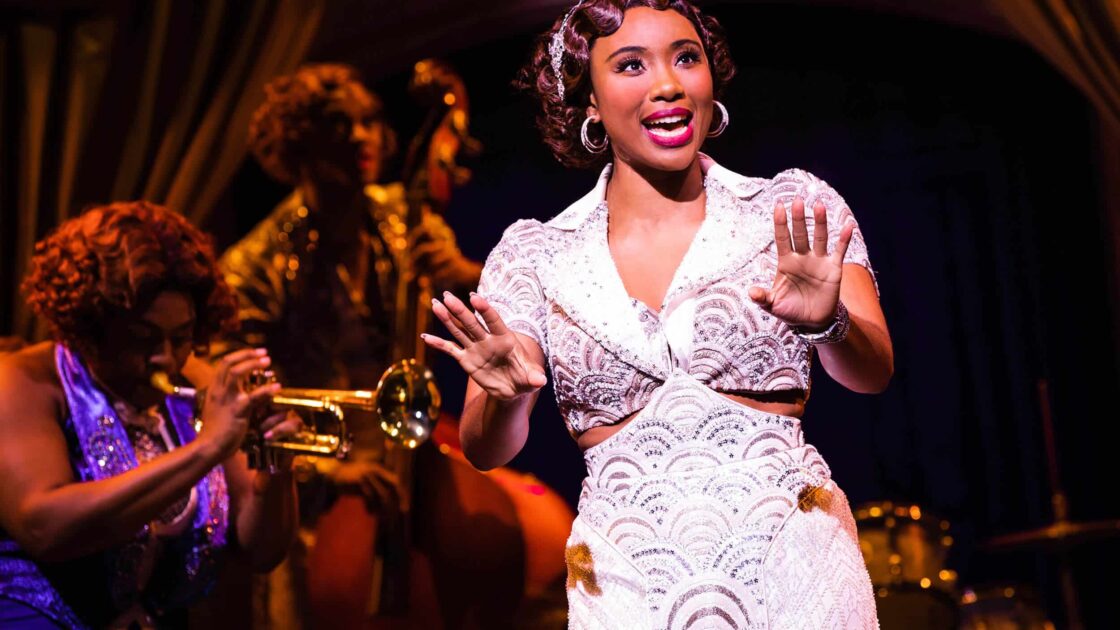 (Photo: Adrianna Hicks belting out as "Sugar" in "SOME LIKE IT HOT" now playing at the Shubert Theatre in New York, N.Y. Photo Credit Marc J. Franklin)
Adrianna Hicks assumes the role of "Sugar" made famous (or infamous) by the late Marilyn Monroe but, in this new retelling, Sugar is not presented as merely an object, a sexual conquest sought out by Borle's "Joe" in a self-centered, predatory, manipulative way.
Okay, actually, Joe still does all of the above...but THIS Sugar is an intelligent, fully formed individual whose fully formed sexuality is equally appreciated as is her talent, her spirit and her overwhelming good nature - and THIS Sugar is certainly not as easily swayed as the one from made famous (or infamous) in the original motion picture.
The sultry Hicks can also belt out an equally sultry tune like "A Darker Shade of Blue" in such a beckoning manner that ones feels she has embodied the music from the bluesy saxophone of which she sings. A bravura performance.
Which brings us to the one and only NaTasha Yvette Williams as "Sweet Sue" who dominates every single scene she is in on stage.
Others take their cue from Sue and from Williams, as well. She meticulously channels most of the funniest lines from the López and Ruffin script.
When it comes to the musical's "big money" numbers, Williams delivers, especially in the title song and Act One closer, "Some Like It Hot" featuring Hicks, Ghee and the incredibly talented ensemble.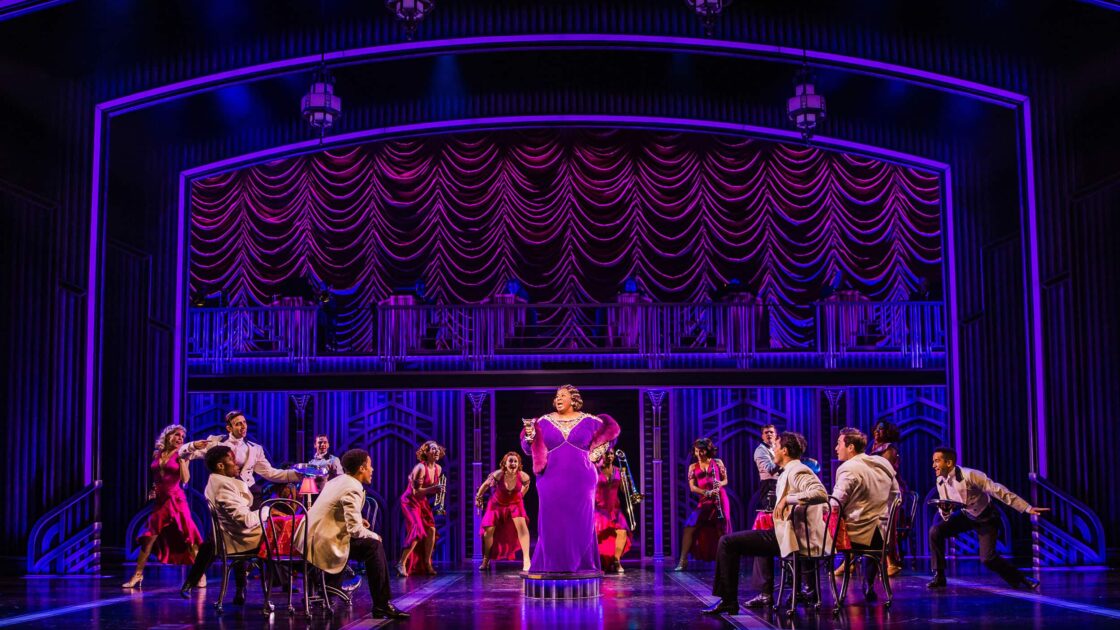 (Photo: NaTasha Yvette Williams and the CAST of "SOME LIKE IT HOT" now playing at the Shubert Theatre in New York, NY. Photo Credit Marc J. Franklin)
Other stand out numbers include, "Take It Up a Step," "Let's Be Bad," "Dance the World Away" and, for zure, the zealous "Zee Bap."
For a wonderful night of theatre, Broadway fans should definitely see this breathtaking production of "SOME LIKE IT HOT."
Approximately two hours, 30 minutes with one intermission.
Kevin T. Baldwin is a member of the American Theatre Critics Association (ATCA)
@MetrmagReviews
@Theatre_Critics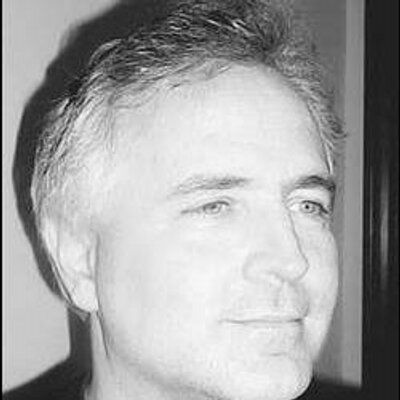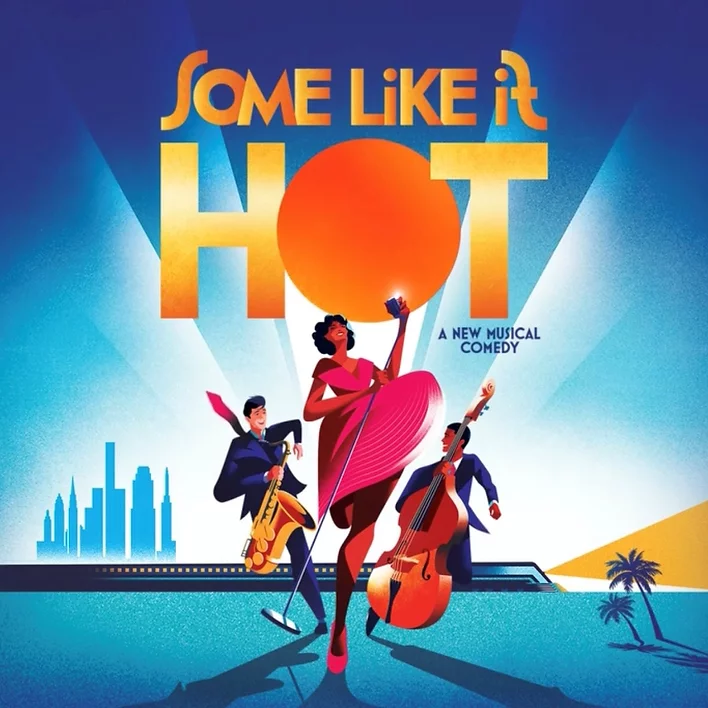 ABOUT THE SHOW
The funniest film in Hollywood history has been reimagined and reborn as Broadway's great big musical comedy.
"SOME LIKE IT HOT" brings together a who's who of Broadway's boldest creative talents: Tony Award® winner MATTHEW LÓPEZ ("The Inheritance") and Emmy® nominee AMBER RUFFIN ("The Amber Ruffin Show") for the book, Tony Award® winners MARC SHAIMAN and SCOTT WITTMAN ("Hairspray") for the music, and Tony Award® winner CASEY NICHOLAW ("Aladdin," "The Book of Mormon") for choreography and direction.
Together, they've set the stage for a non-stop musical adventure, as a sax, a bass, and a singer catch a cross-country train for the life-chasing, life-changing trip of a lifetime. All aboard for Broadway's big musical comedy!
Set in Chicago when Prohibition has everyone thirsty for a little excitement, "SOME LIKE IT HOT" is the rollicking story of two musicians forced to flee the Windy City after witnessing a mob hit.
With gangsters hot on their heels, they're on the run as the newest members of the swingingest big band ever to cross the country.
Can they hide in plain sight without completely losing themselves? Or will the mob, the truth, and maybe even love itself finally catch up to them?
COVID-19 PROTOCOL
Contact venue direct for most recent COVID-19 protocols.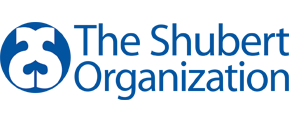 ABOUT THE SHUBERT ORGANIZATION
The Shubert Organization is America's oldest professional theatre company and the largest theatre owner on Broadway. Since the dawn of the 20th century, Shubert has operated hundreds of theatres and produced hundreds of plays and musicals both in New York City and throughout the United States. Shubert currently owns and operates 17 Broadway theatres, six off-Broadway venues, and the Forrest Theatre in Philadelphia.
SHUBERT ORGANIZATION
234 West 44th St
New York, NY 10036