(Cover Photo: Linnea Lyerly and Robin Shropshire share a tender embrace in a poignant moment from "SMALL MOUTH SOUNDS" by Bess Wohl presented by Worcester County Light Opera Company in Worcester, MA. through February 19, 2023. Photo credit: Christopher O'Connor)




By Kevin T. Baldwin
METRMAG Reviewer
# 774-242-6724

"And if, after all this, ALL this, after accepting and sitting with this, you STILL feel alone? Well, I'm sorry, but...."

Worcester Count Light Opera Company
Presents
"SMALL MOUTH SOUNDS"
Written by Bess Wohl
Directed by Eric Butler
Cast Includes: Paul Spanagel - Teacher; Robin Shropshire - Judy; Katie Speed - Alicia; Luke Savage - Ned; Mike Daniel - Rodney; Linnea Lyerly - Joan; David Foster - Jan.
Additional Creative Team:
Producer -Rachel Savage; Stage Manager - Alexis Prosser; Technical Direction - Vic Kruczynski; Set Design - Ed Savage; Scenic Artist - Mike Nosel; Lighting Design - Matt Wasser; Sound Design -Matt Freije; Costume Design - Nicole Lian; Dialect Coach - Martha Deering.
Grandview Ave. Playhouse, 21 Grandview Avenue, Worcester, MA.
Performances:
February 10, 2023 through February 19, 2023
(Contact Box Office for Exact Times)
TICKETS: 508-753-4383 or visit admin@wcloc.org
Worcester County Light Opera Company (WCLOC) presents a play that speaks volumes with very little dialogue in the prolific one act "SMALL MOUTH SOUNDS."
The concept of "wellness retreats" has been explored before in movies, episodic television and on stage.
So what makes "SMALL MOUTH SOUNDS" unique?
Simple - An intelligently structured script written by Bess Wohl.
"SMALL MOUTH SOUNDS" premiered Off-Broadway in 2015 and then again in 2016 to wide critical acclaim. Wohl won an Outer Critics Circle Award in 2017.
What also makes the WCLOC production special is the wise approach taken by director Eric Butler with regards to his allowing the physicality of the piece to dominate over the spoken word.
In the one hour and 45 minutes of the one-act play, much of what is presented is done so with little dialogue uttered or required.
Here we have six characters in search of answers - in search of any meaning to their varied issues.
Instead, they find more questions - and some of them involved those with which they are on "retreat."
So, they are in this physical retreat while sharing in their collective effort to emotionally "retreat" from the difficulties part and parcel within their lives.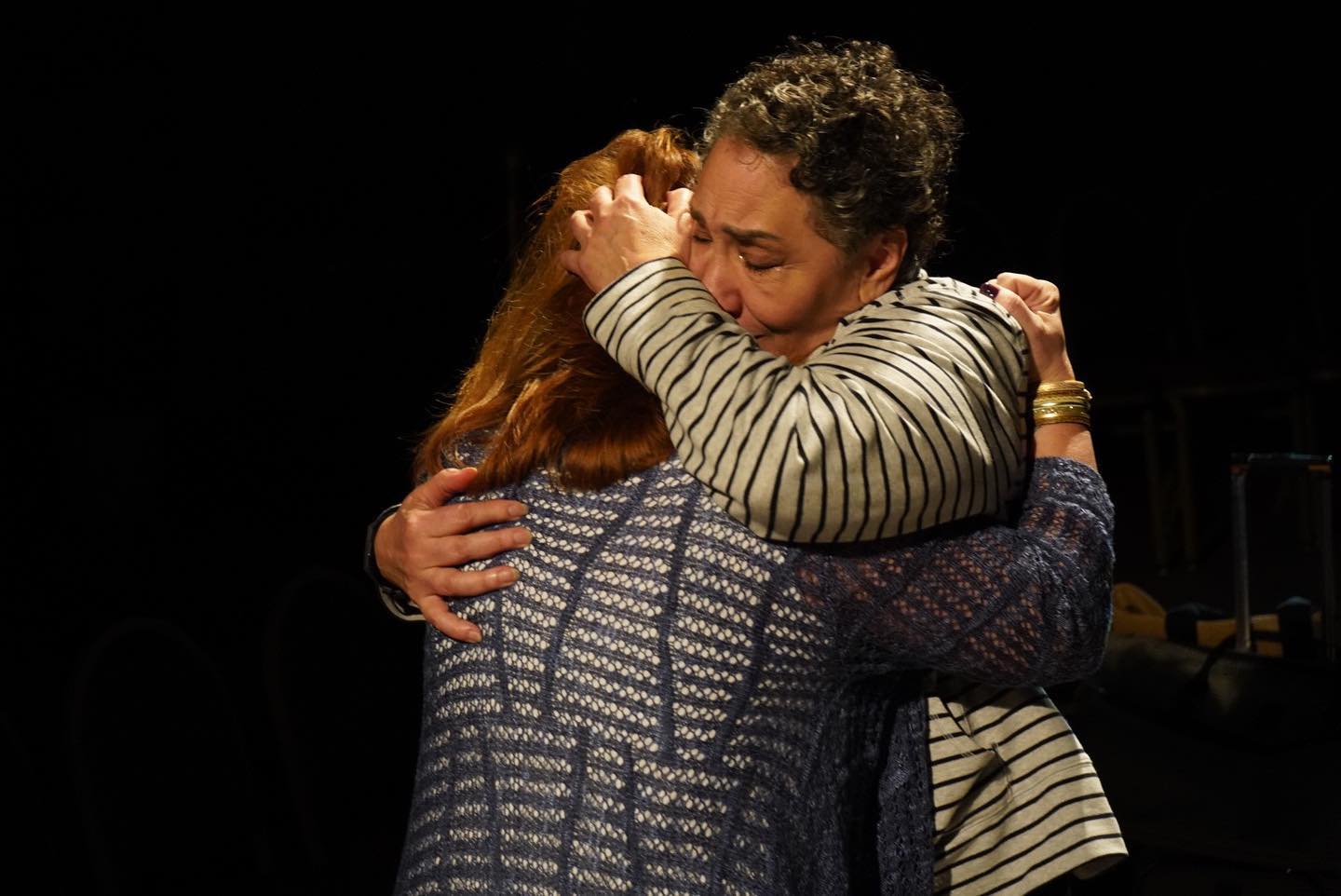 (Photo: Linnea Lyerly and Robin Shropshire share a tender embrace in a poignant moment from "SMALL MOUTH SOUNDS" by Bess Wohl presented by Worcester County Light Opera Company in Worcester, MA. through February 19, 2023. Photo credit: Christopher O'Connor)
Six strangers. All not quite sure of each other's motivations for being there.
With the requirement of silence while on retreat, together they must explore those motivations.
One, unseen voice known as the "Teacher" (Paul Spanagal) serves as mentor and host to the retreat attendees.
No concrete answers are provided in word form within Wohl's script (unless one has read the actual script) - although certain things do become quite evident if one listens...and, more importantly, watches...carefully.
The only thing these six folks know immediately is that they are facing demons causing each of them great agony and anxiety.
Judy (Robin Shropshire) and Joan (Linnea Lyerly) arrive together.
Both women obviously adore one another but have shared the impact of a long, strenuous, ongoing unidentified illness.
Both actresses are outstanding, committed to the determination of this loving couple.
Despite the secrets and other obstacles that are revealed during their time at the retreat, one has high hopes for their success.
Ned (Luke Savage) seems to be almost a caricature.
Comically inept, Ned always seems to be the wrong person at the wrong place at the wrong time and whose aspirations are low and his prospects…lower...much, much lower.
Yet, throughout most of the story, and thanks to Savage's performance, Ned never seems to lose his almost childlike sense of optimism which makes him one of the characters for which you most want to root.
Alicia (Katie Speed) is a little bit of an emotional train wreck when she arrives but does not seem 100 percent committed to engage at the retreat.
Alicia appears to be using her time there more as an emotional escape and little else.
Speed is exemplary as the seemingly self-absorbed Alicia who, at first, seems to be that girl at the party you wish you hadn't started up a conversation with.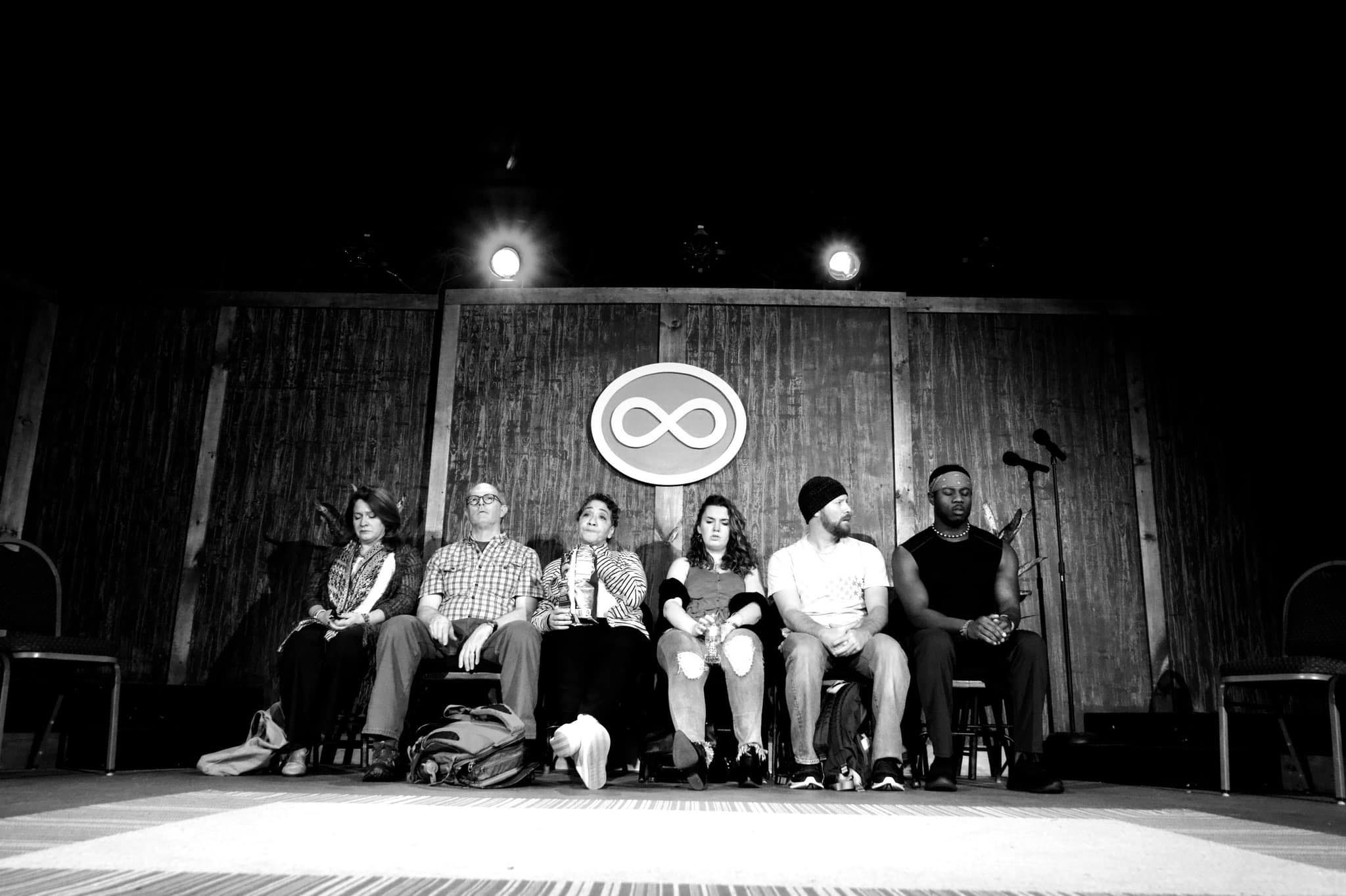 (Photo: The CAST of "SMALL MOUTH SOUNDS" by Bess Wohl presented by Worcester County Light Opera Company in Worcester, MA. through February 19, 2023. Photo credit Christopher O'Connor)
As the play progresses, though, and more layers are revealed, you might find yourself wishing you had listened a little more intently to what she was trying to say in that conversation.
Finally, there's handsome fitness nut Rodney (Mike Daniel) and the overtly quiet Jan (David Foster) and their characters present the greatest mysteries.
Daniel is a dominating presence on stage and, at times, exudes a wonderfully, disarming charisma.
Foster is especially adept at the silent, more physical, pantomimed moments of the play, a wonderful callback to some of the greats of the silent movie era.
The show is performed as an immersive experience, in the round with some of the audience situated on the WCLOC stage.
Together or separately, these characters might seem representative of people you know from your own life.
Throughout the course of the show, in this a "silent retreat" setting, the ensemble brings out their respective demons of anxiety into the open.
These demons are not to be feared but rather to be faced and, hopefully, overcome.
Demons determined to decrease each of these characters self worth.
In this effort, the six become dependent on one another and this bonding is the heart of "SMALL MOUTH SOUNDS."
The play continues at WCLOC through February 19th and is definitely a show worth advancing toward and not retreating from.
Approximately one hour, 40 minutes with no intermission.
Kevin T. Baldwin is a member of the American Theatre Critics Association (ATCA)
@MetrmagReviews
@Theatre_Critics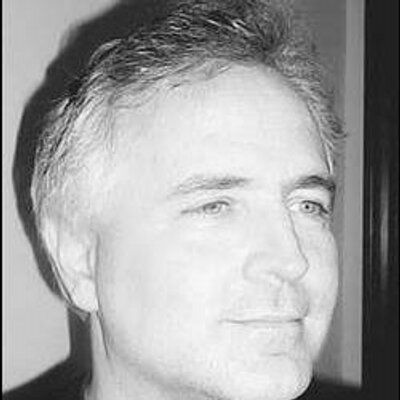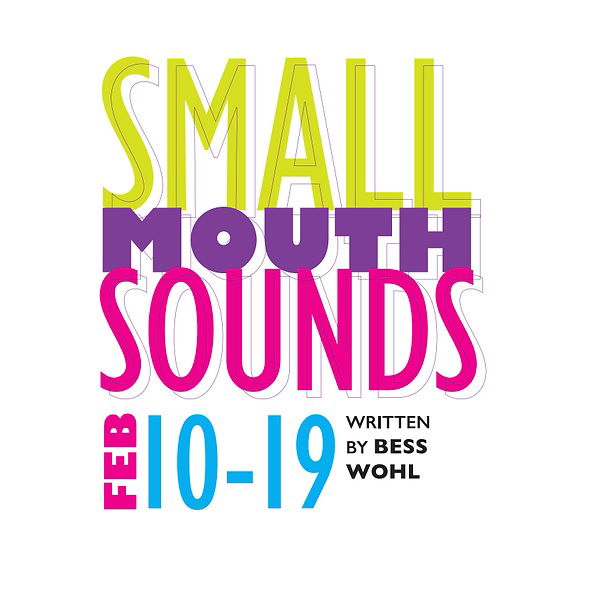 ABOUT THE SHOW
In the overwhelming quiet of the woods, six runaways from city life embark on a silent retreat.
As these strangers confront internal demons both profound and absurd, their vows of silence collide with the achingly human need to connect.
Filled with awkward humor, this strange and compassionate "SMALL MOUTH SOUNDS" asks how we address life's biggest questions when words fail us.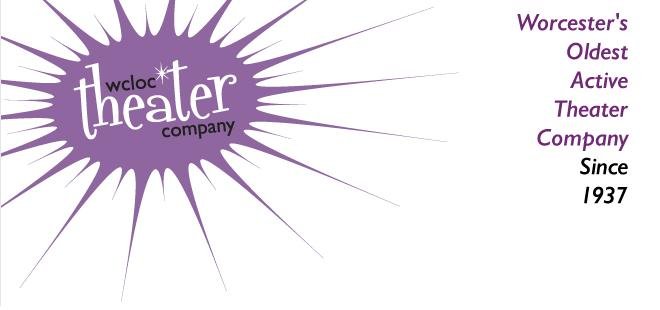 ABOUT WORCESTER COUNTY LIGHT OPERA COMPANY (WCLOC)
Founded in 1937, WCLOC is Worcester's oldest active theater company. As a local, non-profit community theater, we depend on the generosity of our members, patrons, subscribers, and donors to help forward the mission of our organization to entertain, inform, and nurture local artists and audiences through the production of high quality, affordable musicals, plays, and children's educational workshops. A donation to WCLOC allows us to continue to keep tickets affordable for local audiences, helps us maintain and make necessary improvements to our Clubhouse, and supports a full season of memorable theater and educational opportunities.
Worcester County Light Opera Company
PO Box 51
Worcester, MA 01613
508-753-4383
admin@wcloc.org