(Cover Photo: Dawn Ross as "Judy Denmark" and Autumn Dumas DeSisto as "Lita Encore" in a scene from "RUTHLESS! THE MUSICAL" by Joel Paley and Marvin Laird now playing through June 18, 2023 at Theatre at the Mount in Gardner, MA. Photo Credit Laura Cavanaugh)


By Kevin T. Baldwin
METRMAG Reviewer
# 774-242-6724

"She's legendary. Your mother's bad reviews closed dozens of plays and countless musicals."
- ("Sylvia") Joel Paley / Marvin Laird

Theatre at the Mount
Presents
"RUTHLESS! THE MUSICAL"
Book by Joel Paley
Music by Marvin Laird
Lyrics by Joel Paley
Directed by Lorien Corbelletti
Music Director Dave Twiss
Choreographer Kim Soel
Cast Includes: Dawn Ross - Judy Denmark; David Allen Prescott - Sylvia St. Croix; Catie Verostick - Tina Denmark; Debbie Richardson Moylan - Miss Thorn; Lynn Vaillancourt - Louise/Eve; Autumn Dumas DeSisto - Lita Encore.
Additional Creative Team:
Gail Steele - Producing Director; Jeff Boisseau - Technical Director/Set Designer; Sam Gagnon - Lighting Designer; Sean Kyle - Sound Engineer; Michelle Caissey - Stage Manager; David Allen Prescott - Costumer; Barb Fyfe - Costume Assistant; Jeanne Reiley - Wig Stylist; Zach Horn and Blake Ross - Spotlight Operators; Paul Caouette - Box Office Manager; Haley Caisse - Graphic Designer; Lori Adams - Lobby Posters; Ashley LaBarre , Mike Ross, Rylan Ross, Daniel Hoecker, Eliora Despres - Stage Crew.
Mount Wachusett Community College, 44 Green Street, Room 182, Gardner, MA.
Performances:
June 9, 10, 15, 16 & 17, 2023 at 7:30pm
June 18, 2023 at 2:00pm
Tickets are available online at mwcc.universitytickets.com or by phone at 978-630-9388.
For additional information contact Professor Gail Steele at 978 630-9162 or g_steele@mwcc.mass.edu
COVID 19 PROTOCOLS
Contact Venue for Most Updated COVID-19 Safety Protocols and Information.
As we theatre enthusiasts head into OUR "Super Bowl Sunday" (i.e. the "Tony Awards"), Theatre at the Mount in Gardner offers up the oddball comedy, "RUTHLESS! THE MUSICAL" which premiered Off-Broadway in 1992.
With music by Marvin Laird with book and lyrics by Joel Paley, the musical farce essentially satirizes iconic Broadway musicals.
Laird, who not only scored the show, also served as its premier music director, and would later work on the Broadway revivals of "Annie Get Your Gun" and "Gypsy."
The Theatre at the Mount production has been gifted by a premier team of its own in director Lorien Corbelletti, music director Dave Twiss and choreographer Kim Soel who, together with a solid cast and creative team, have staged a truly twisted tale.
The musical, according to the script, is set "in a world before cellphones and the Internet."
In "RUTHLESS!" we meet Judy Denmark (Dawn Ross), a "typical" housewife, mother of talented eight-year-old Tina (Catie Verostick) who is anything but "typical."
In a fine performance by Verostick, Tina comes across as a hybrid, an equal blending of "Cindy Brady" and "Nellie Olson," leaning a little closer to the "Little House" holy terror.
Judy, as adeptly played by Ross, comes across as a "B movie" suburban housewife, in the mold of "The Donna Reed Show."
Only this housewife has a deeply submerged alter ego that will surface later in the show.
Make no mistake - this show IS odd.
It is unconventional, offbeat and may not have the wider appeal as the larger scale musicals found along the Great White Way.
The plot is also completely bonkers with an absurd number of twists - but the musical contains such a whimsical score that the story won't leave you hanging.
If you think of musicals such as "BatBoy," "Cry Baby" or "The Brain From Planet X" "RUTHLESS!" certainly competes well within that same league.
None are bad (and actually, they are all quite good) - just "different" with most containing a quirky sense of humor oft times coming from "left field" and very much intended to be tongue-in-cheek.
Yet, "RUTHLESS!" also has been able to sustain a little more staying power over the years.
"RUTHLESS! THE MUSICAL" opened Off-Broadway in 1992 and closed in 1993 after 342 performances, ultimately winning that year's New York Outer Critics Circle Award for Best Off-Broadway Musical. Joel Paley would also win a Drama Desk Award that same year for Outstanding Lyrics.
Later performed in the U.K. in 2002, "RUTHLESS!" would also go on to win five Musical Stages Awards.
Since then, the musical has developed a cult following, culminating in numerous regional and professional productions, The 2018 London production was video recorded and released by BroadwayHD in 2019.
According to the script, the show begins set in a "safe and friendly suburban neighborhood located in the heart of Any Old Town, USA."
In the show's opener, "Tina's Mother," Tina sees her chance for stardom, proudly proclaiming that she was "born to entertain."
Sleazeball agent Sylvia St. Croix (David Allen Prescott) appears at Judy's door and convinces her to let Tina audition for the school play, "Pippi in Tahiti, The Musical," feeding into Tina's insatiable hunger for fame, much to the dismay of Judy, who just wants Sylvia to leave...anytime...soon.
"RUTHLESS!" was written for an "all-female cast." However, according to Wikipedia, it has since become a casting tradition for "Sylvia" to be played by a man only because the performer who originated the "Sylvia" character in the 1992 production (Joel Vig) gave the best audition.
Continuing in that tradition is David Allen Prescott, in a consummate, completely unrestrained performance.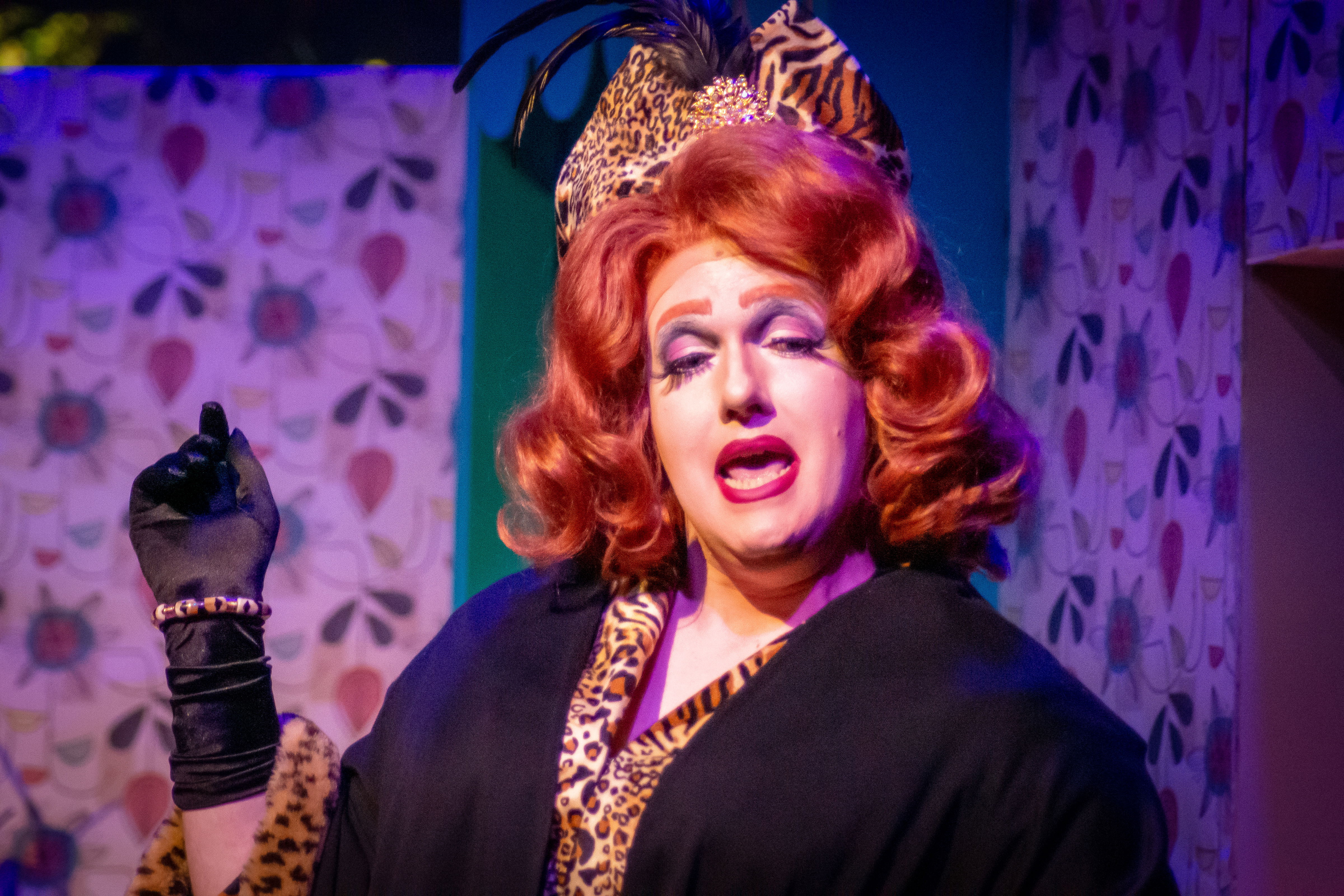 (Photo: David Allen Prescott as "Sylvia St. Croix" in a scene from "RUTHLESS! THE MUSICAL" by Joel Paley and Marvin Laird now playing through June 18, 2023 at Theatre at the Mount in Gardner, MA. Photo Credit Laura Cavanaugh)
Third-grade teacher and frustrated actress, Miss Myrna Thorn (Debbie Richardson Moylan) is directing the show, "Pippi in Tahiti" which she sings about in the song, "Teaching Third Grade."
Thorn casts maladroit Louise Lerman (Lynn Vaillancourt) for the lead because her parents have powerful influence in the school district.
Vaillancourt later plays "Eve" - a funny, eccentric maid, but one with a dark secret, much like everyone IN "RUTHLESS!"
Louise doesn't really want to do the part - and neither does anyone else, really, especially Tina.
Tina becomes Louise's "understudy" but soon is determined to, instead, make Louise HER "swing."
Lita Encore (Autumn Dumas DeSisto) is Judy's adoptive mother and Tina's grandmother. Lita is a harsh theatre critic who loathes musicals. If you forget this latter point, don't worry - she'll remind you several times in her song, aptly titled, "I Hate Musicals."
From the moment DeSisto appears, this is where many of the shows biggest laughs begin, especially during moments with Lita breaking the fourth wall.
Lita tells Judy that has shown up to review the premiere of "Pippi in Tahiti."
Due to an "unfortunate incident" involving Louise, a jump rope and a catwalk, Tina takes the stage as "Pippi."
In a series of revelations, we learn that Judy is actually the daughter of Ruth Del Marco, a Broadway star from the past who was believed to have committed suicide because of bad reviews from Lita.
This triggers and surfaces Judy's alter ego - a confident, fierce, sexy, badass performer who takes the stage by storm.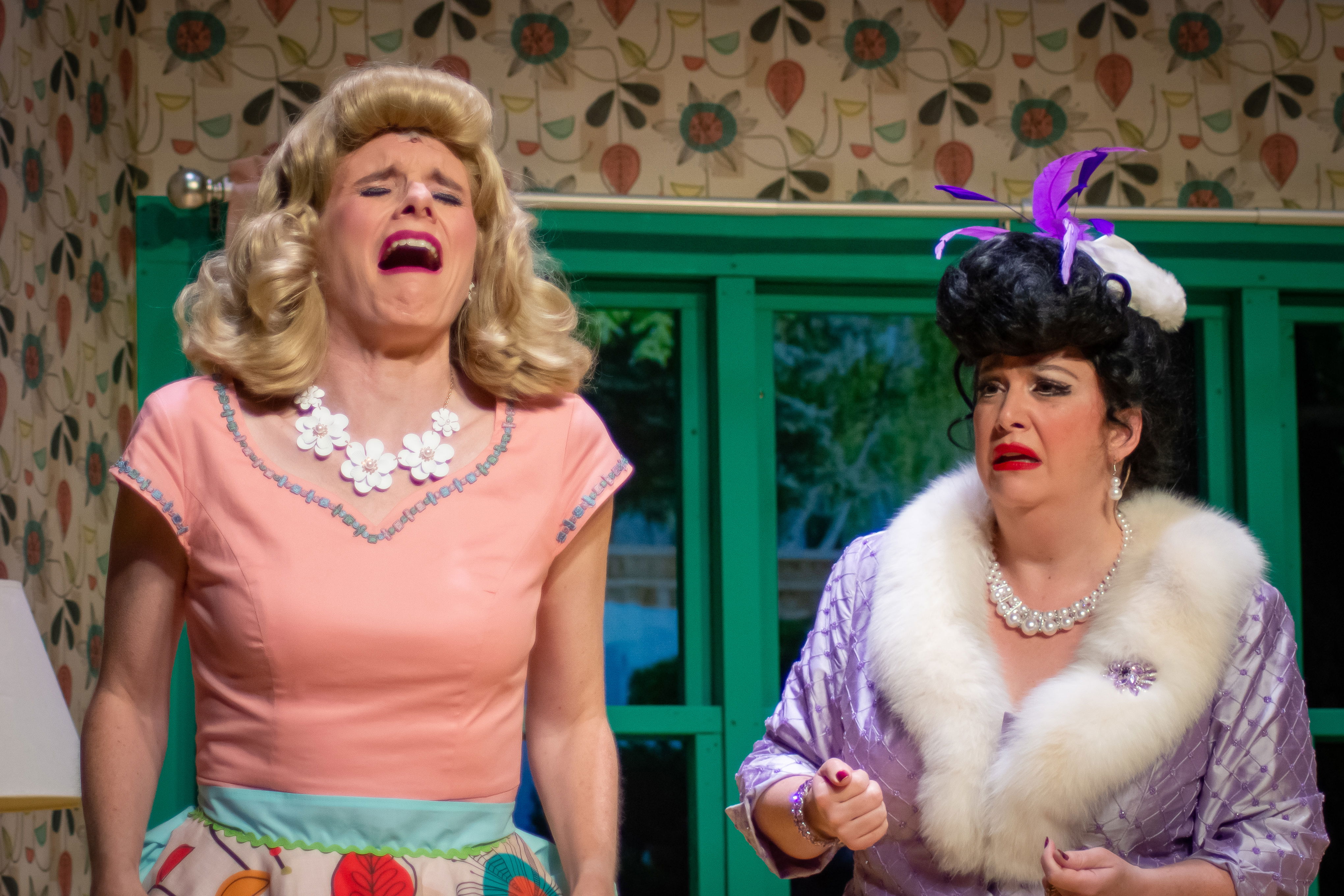 (Photo: Dawn Ross as "Judy Denmark" and Autumn Dumas DeSisto as "Lita Encore" in a scene from "RUTHLESS! THE MUSICAL" by Joel Paley and Marvin Laird now playing through June 18, 2023 at Theatre at the Mount in Gardner, MA. Photo Credit Laura Cavanaugh)
During the show's second act, it is one year later and we have moved from "Any Old Town, USA" to a fancy penthouse in New York City.
Tina has been sent off to the "Daisy Clover School for Psychopathic Ingenues" while Judy has achieved her own success on Broadway taking on the stage persona, "Ginger Del Marco."
Yes - It is simply amazing how much can happen in just a single year.
Mysteries are too enticing for some to just let go and soon the story reveals a veritable treasure trove of long-hidden family secrets.
There are so many family lineage twists and turns revealed, "Finding Your Roots" host Henry Louis Gates, Jr. would probably quit the show in trying to map this one out.
As the show reaches a boiling point, so do tempers and chaos ensues once everyone in this loathsome bunch feels it is time for their long, overdue DeMille "close-up."
But, obviously, not before a big ensemble number.
The adorably preposterous show does have appeal. Yet, while some of the jokes land, some don't - and, while the lyrics are comical, the music doesn't always sufficiently compliment that humor.
The show's title song "Ruthless!" is a delightful full cast number and the best song in the show which the ensemble performs quite well.
That said, the number doesn't even take place until we are almost an hour-and-a-half into the story. More group numbers might have enhanced the overall musical ambience of the show.
With a cast of six and a single piano for accompaniment, the show feels perfect for a more intimate setting and possibly best suited for theatre in the round than larger arenas, really bringing the audience into the story and along for the crazy ride.
Costumes are absolutely perfect in creating an over-the-top "feel" of a "B movie" atmosphere required for the story.
The second act set of the New York penthouse works far better than the more confining first set of a suburban home. The color scheme and supporting multi-media projected backdrops help enhance the overall look of both sets.
As mentioned at the start, the "76th Tony Awards" broadcast will be on Sunday, June 11th on CBS with streaming coverage on PlutoTV.
But, either before or after Sunday's broadcast, make sure to check out "RUTHLESS! THE MUSICAL" which continues at Theatre at the Mount in Gardner until June 18th - because it would be a crime to pass it up.
Finally, a brief plug for Theatre at the Mount's "88 KEYS" fundraiser:
Theatre at the Mount is looking for 88 music lovers to sponsor a piano key for $50 (or more) to help defray the cost of professional musicians for their August production of

"HELLO DOLLY

.

"



Aside from royalties, the orchestra is their biggest single expense, and a donation of any amount is greatly appreciated.

"Key Players" donors will be recognized for their support in the

"HELLO DOLLY"

playbill.
Approximately two hours with one intermission.
Kevin T. Baldwin is a member of the American Theatre Critics Association (ATCA)
@MetrmagReviews
@Theatre_Critics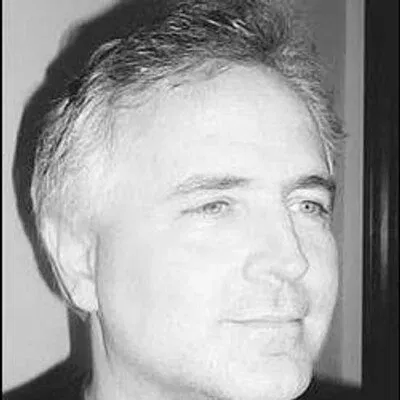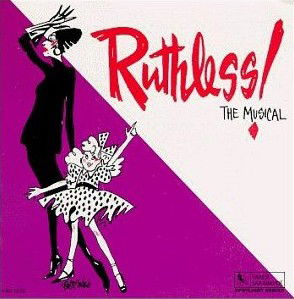 ABOUT THE SHOW
"RUTHLESS! THE MUSICAL" is the story of a naïve 1950s housewife, Judy, and her adorable but sociopath 8-year-old daughter Tina.
Encouraged by her manager, Sylvia, Tina will do ANYTHING to get the lead role in her school play "including murdering the leading lady!"
In Act II, while Tina spends time at a reform school for psychopathic ingenues, Judy discovers from her adoptive mother that her birth mother was a famous actress.
Judy decides that she should be famous as well and becomes a Broadway diva.

Mount Wachusett Community College
444 Green Street
Gardner, MA 01440