(Cover Photo: Katherine Callaway as "Luanne Cooper" and Lisa Tucker as "Emery" in a scene from "ROOTED" by Deborah Zoe Laufer, playing at the Lyric Stage in Boston, MA. until June 25, 2023. Photo Credit Ken Yotsukura)
By Kevin T. Baldwin
METRMAG Reviewer
# 774-242-6724
"In all of my plays, people are looking for salvation outside their world or beyond the people they are with and, in 'ROOTED,' it is the same thing."
- Deborah Zoe Laufer

Lyric Stage Company
Presents Deborah Zoe Laufer's
"ROOTED"
Written by Deborah Zoe Laufer
Directed By Courtney O'Connor
Cast Includes: Karen MacDonald* as "Hazel"; Lisa Tucker* as "Emery"; Katherine Callaway as "Luanne Cooper"
Additional Creative Team:
Scenic Design - Janie E. Howland**; Costume Design - Karen Perlow**; Sound Design - Dewey Dellay; Production Stage Manager - Greg Nash*; Assistant Stage Manager - Emma Hunt; Props Artisan - Lauren Corcuera; Wardrobe - Hannah Schuurman; Head Electrician - Gabriel Goldman
* Member of Actors' Equity Association, the Union of Professional Actors and Stage Managers in the United States
** Represented by United Scenic Artists, Local USA 829 of the IATSE
° Stage Directors and Choreographers Society
Performances:
June 2, 2023 through June 25, 2023
(Contact Box Office for Exact Times)
Lyric Stage Company, 140 Clarendon Street, Boston, MA 02116
BOX OFFICE # 617-585-5678
Lyric Stage Company has cultivated a lovely production of Deborah Zoe Laufer's "ROOTED," the second installment of a planned trilogy.
While this is the Boston premiere for "ROOTED," the show originally "blossomed" in Ohio in February of 2022 at the Cincinnati Playhouse.
"ROOTED" purports to look at the role of "social influencer."
We now live in an era of mass opinion where, every single day, it seems, any one person on social media can become either an instant "pariah" or "messiah" based upon a single comment.
In a Lyric press release, playwright Laufer mentions that, in "ROOTED," "salvation comes in surprising forms."
This is reflected from the moment you enter the Lyric space and view the stunning set (by Janie E. Howland) of a gorgeous "living" treehouse. It is no wonder why some might journey here to seek their "salvation."
The attention to detail on the set is outstanding - from the wood-carved flooring to the trunk of the tree situated along the back to the beautiful branches extending overhead.
The only thing missing in this treehouse is central heating.
"ROOTED" is set in Millerville, where sheltered introvert Emery (Lisa Tucker) lives alone in this treehouse (named "Mabel"), surrounded by a dozen or so plants she researches, names, and talks to.
Like her previous play, "BE HERE NOW," (staged by the Lyric in 2021) Deborah Zoe Laufer's "ROOTED" is set in a "fictionalized version of her childhood home."
The above allows some playwrights certain freedoms, as writers, to explore, to not have to worry about certain aspects, landmark or iconic, specific to the area in which they may want to place a story.
Also similar to "BE HERE NOW," all the characters found in "ROOTED" are multi-layered and extremely likeable without becoming (dare he say it) "sappy" (yes he did).
You really have a sense of enjoyment while watching the events unfold.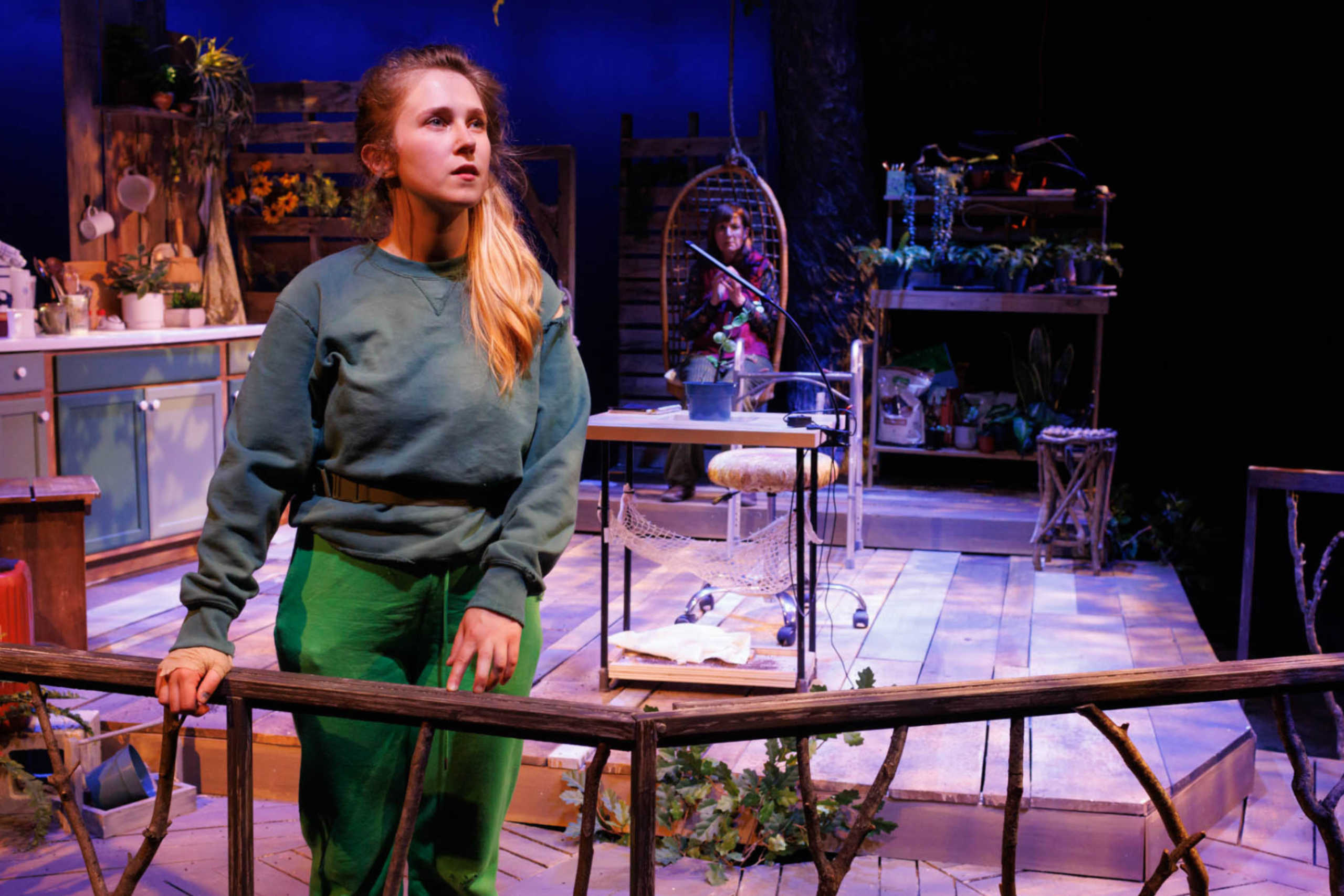 (Photo: Katherine Callaway as "Luanne Cooper" in a scene from the play "ROOTED" by Deborah Zoe Laufer playing at the Lyric Stage in Boston, MA. until June 25, 2023. Photo Credit Ken Yotsukura)
Laufer's plays have been staged all over the country including at the Steppenwolf Theatre Company, Cincinnati Playhouse in the Park, the Everyman Theatre in Baltimore, the Humana Festival of New American Plays, and Off-Broadway at The Duke on 42nd Street and the Ensemble Studio Theatre.
In 2008, Laufer also won the "Harold and Mimi Steinberg New Play Citation" from the American Theatre Critics Association (ATCA) for her play, "END DAYS."
In "ROOTED," Emery never leaves her treehouse.
(By the way - just a note: Where "plumbing" fits into the make-up of this tree is a good question, as there is a sink area yet no visible water pipes or rest room. And, if this question was answered, I didn't catch it. It doesn't really matter, though, as the set is still a visually stunning piece.)
Tucker is inspired as the reclusive Emery, who does not engage "socially" outside of her bark-shingled home - except socializing with her plants.
However, Emery has achieved something she hadn't expected - a massive number of online followers as a result of her "engaging" with them via social media and YouTube.
On her YouTube channel, Emery demonstrates and documents her tests in responsive plant life studies that has gotten her over 14,000 hits.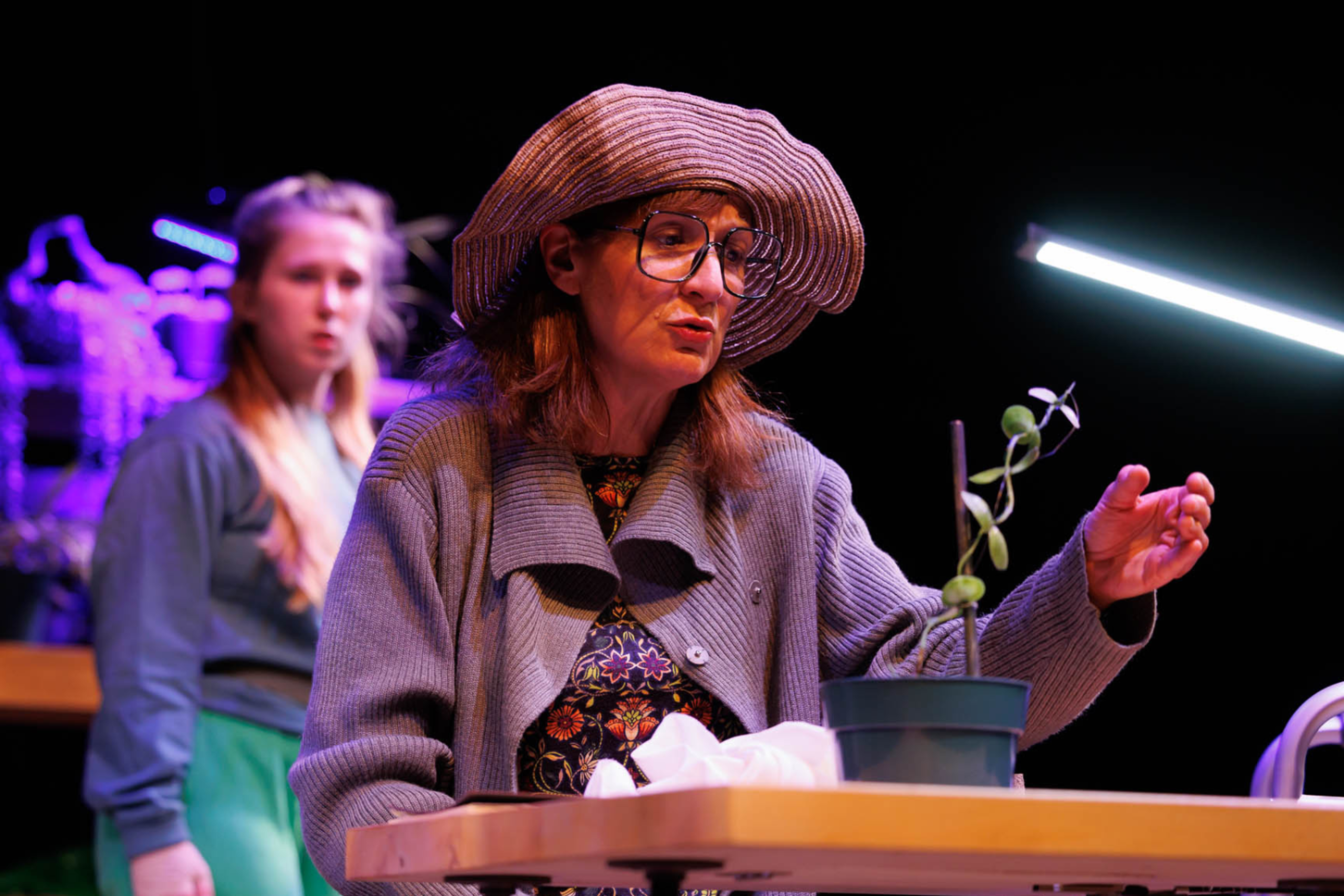 (Cover Photo: Katherine Callaway as "Luanne Cooper" and Lisa Tucker as "Emery" in a scene from "ROOTED" by Deborah Zoe Laufer playing at the Lyric Stage in Boston, MA. until June 25, 2023. Photo Credit Ken Yotsukura)
Yet, these "hits" are not just subscribers. Emery has unwittingly tapped into a frenzy where these followers have raised her profile to that of a divine being or prophetess.
Laufer's tale was inspired from a podcast on the subject of a plant scientist doing remarkable experiments on plants. According to Laufer, through those experiments, it was discovered that plants can learn, remember, communicate, and remember for a long time.
For whatever reasoning (escaping rational thought), Emery's "disciples" have misinterpreted Emery's rather mundane experiments as a form of inspired spiritual guidance and have decided to make a mass pilgrimage to Emery's treehouse.
Emery's only real form of human interaction has been with her sister, Hazel (Karen MacDonald), who finds her sequestered sister's new found "elevated" popularity both amusing...and profitable.
MacDonald is a forceful presence on stage, playing the unhappy waitress at the end of her rope - just looking for a way to branch out of her dreary existence. Yet, she would never abandon her sister.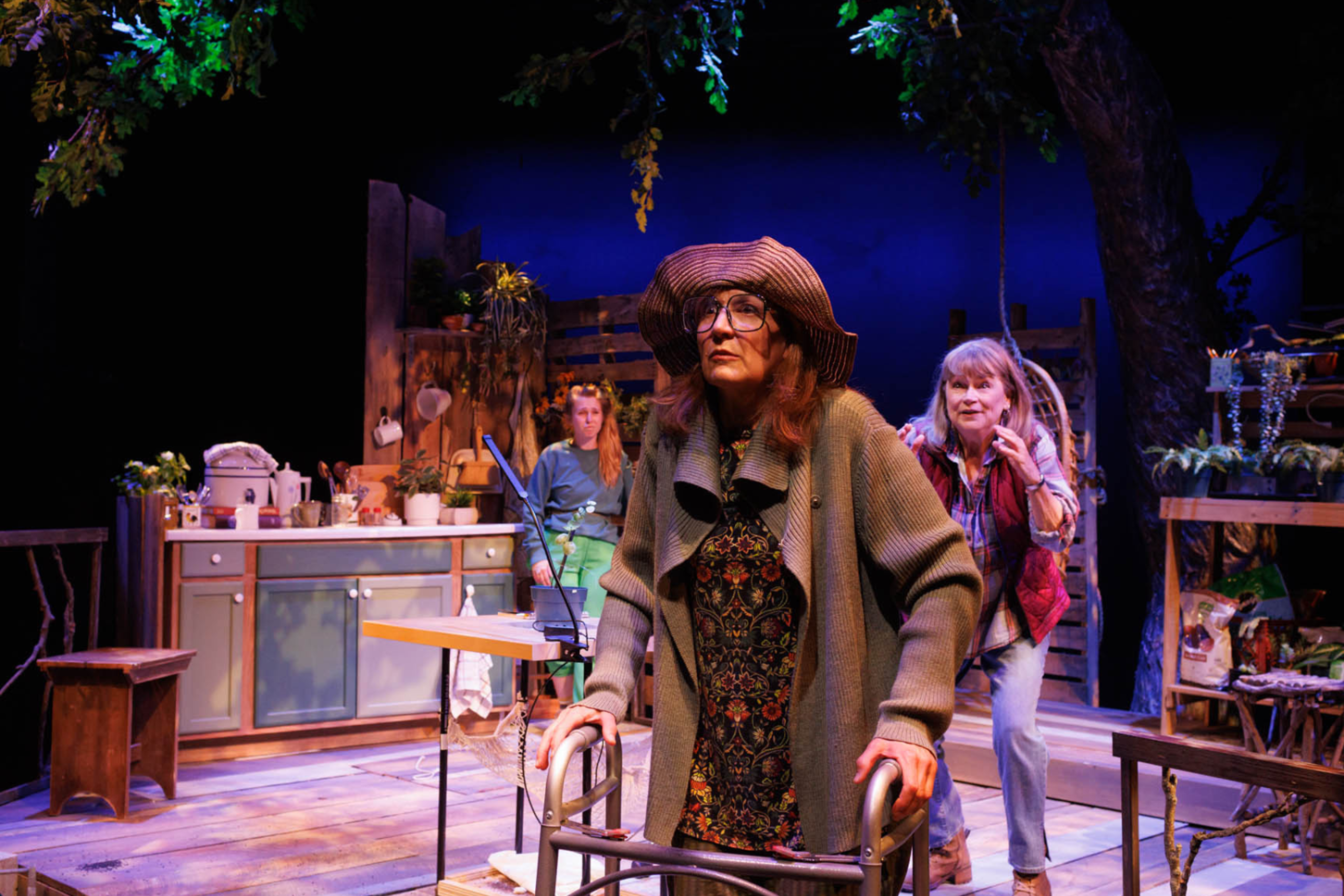 (Cover Photo: Katherine Callaway as "Luanne Cooper," Lisa Tucker as "Emery" and Karen MacDonald as "Hazel" in Deborah Zoe Laufer's "ROOTED" playing at the Lyric Stage in Boston, MA. until June 25, 2023. Photo Credit Ken Yotsukura)
Amassed outside Emery's treehouse, the "disciples" call up to their supposed "truth giver" to make an appearance, to which the misanthropic Emery absolutely refuses.
Emerging from a trap door in the floor of the treehouse is one of the followers, played by actress Katherine Callaway, returning as the jovial "BE HERE NOW" character, "Luanne Cooper," a person not afraid of "going out on a limb" for something (or someone) in which she believes.
Callaway is resilient as the naïve but relentlessly cheerful LuAnn, whose enthusiasm never wanes, keeping the other characters from drifting into a more maudlin tone, thus elevating the energy and pacing of the overall piece.
Under the astute direction of Courtney O'Connor (who also directed "BE HERE NOW" for Lyric in 2021), all three actresses are completely immersed in their respective characters.
More than making us believe in who they are portraying, the performers make us care deeply for these women and what happens to them.
There are some ingenious moments featuring an imaginative use of lighting and sound.
There is also some clever use of onstage "foliage trickery" which I won't divulge, safe to say it all serves to make the relationships conveyed in the story all that more endearing.
Whatever the story the final installment of this trilogy holds, one can only hope it maintains the same optimistic spirit of its predecessors.
"ROOTED" continues at the Lyric Stage in Boston until June 25th.
Approximately one hour, 45 minutes with no intermission.
Kevin T. Baldwin is a member of the American Theatre Critics Association (ATCA)
@MetrmagReviews
@Theatre_Critics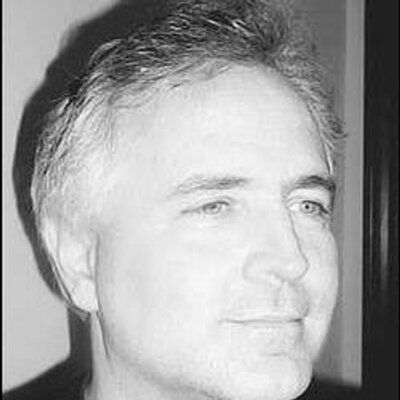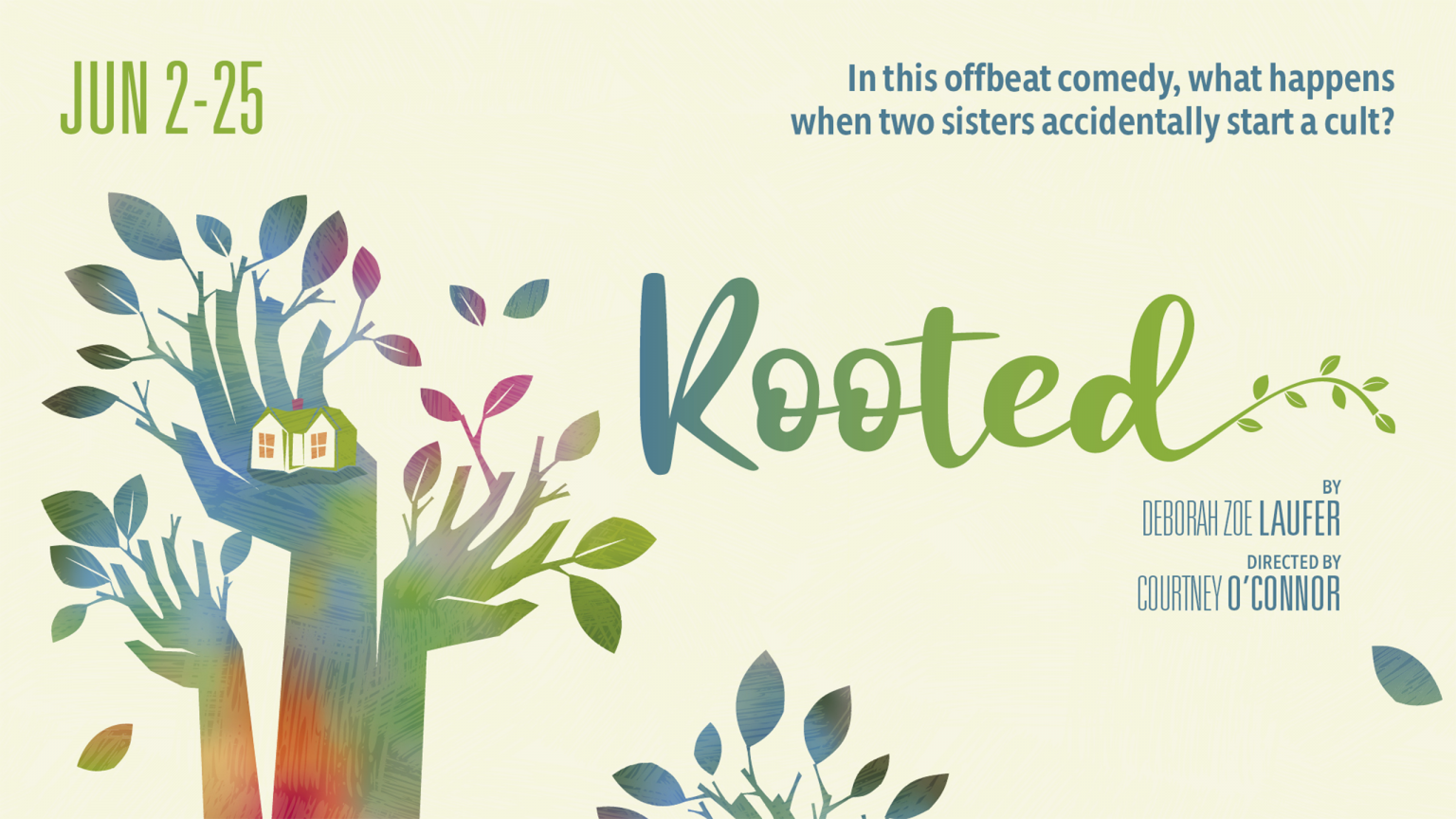 ABOUT THE SHOW "ROOTED"
"In this offbeat comedy, what happens when two sisters accidentally start a cult?"
In the claustrophobic town of Millerville, Emery Harris lives alone in a treehouse named Mabel surrounded by a dozen or so plants she researches, names, and talks to.
Her overbearing sister Hazel is Emery's only connection to reality, along with her YouTube channel where she documents her studies that have garnered several thousand followers.
When her calm and quiet is disrupted by an entourage of devotees chanting and singing to her – their botanical, new-age messiah –-she is forced to look down from the branches and face the outside world.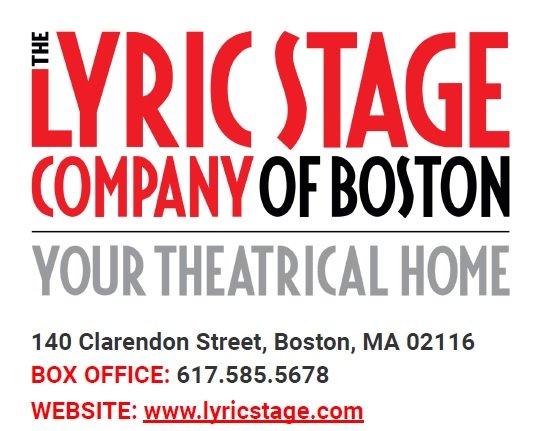 ABOUT THE LYRIC STAGE OF BOSTON
Founded in 1974 and in residence at 140 Clarendon Street since 1991, the Lyric Stage Company is Boston's oldest resident theatre company. Our mission is to produce and present live theatre in Greater Boston with an intimate approach that promotes inclusivity and connection. The Lyric Stage leads an effort to integrate live theater and theater education into the lives of all residents of greater Boston.
140 Clarendon Street
Boston, MA. 02116
BOX OFFICE: 617-585-5678