(Cover Photo Credit: Amy Boyle 2019)
Jonathan Larson "RENT" 20th Anniversary Tour review
By Kevin T. Baldwin
METRMag Reviewer
# 774-242-6724

BOSTON: "RENT 20th Anniversary Tour" Presented by Work Light Productions at the Boch Center Shubert Theatre, 265 Tremont Street, Boston, MA. Performances: Oct. 29, 31, Nov. 1, 2, 5, 6 at 7:30pm, Oct. 30 at 7:00pm, Nov. 2 at 2:00pm, Nov. 3 at 1:00pm and Nov. 3 at 6:30pm. Ticket prices range from $38.25 to $98. Call 617-532-1116 or email groups@bochcenter.org.
Book Music and Lyrics by Jonathan Larson. Musical Arrangements by Steve Skinner. Original Concept and Additional Lyrics by Billy Aronson. Musial direction by Mark Binns. Music Supervision and Additional Arrangements by Tim Weil. Choreography by Marlies Yearby. Directed by Evan Ensign, based on original direction by Michael Greif.
Cast includes: Cody Jenkins, Coleman Cummings, Aiyana Smash, Shafiq Hicks, Joshua Tavares, Kelsee Sweigard, Samantha Mbolekwa, Juan Luis Espinal, Zare Anguay, Rayla Garske, Lexi Greene, Ysabel Jasa, Caira Asanté Lakota, Stephen Rochet Lopez, Benjamin H. Moore, Carlina Parker, James Schoppe, Jason Tyler Smith, Kevin Stevens and Sam Van Vleet (cast information from 2019 tour site and information subject to change).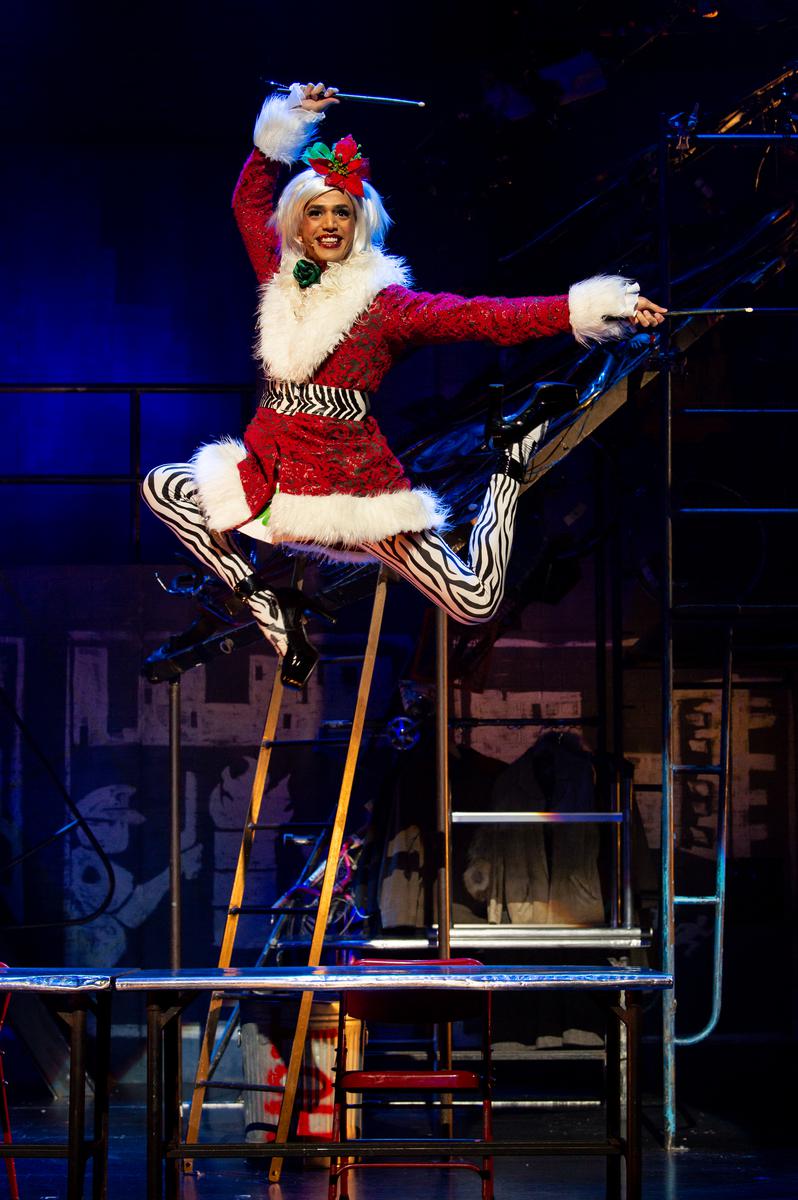 Joshua Tavares in "RENT".
Photo courtesy of Boch Center Shubert Theatre
Work Light Productions and the Boch Center Shubert Theatre bring Jonathan Larson's resilient musical "Rent" to Boston and the cast proves just how timeless the show has become.
It is true that the former Tony Award-winning juggernaut shows some wear and tear on the surface but, after 20 years (technically 23 years), it also still reaches across many generations of admirers.
There were people in the audience who, quite possibly, were at the first Boston tour back in November of 1996 when Carrie Hamilton (Carol Burnett's late daughter) blew the roof off the Shubert playing the character of Maureen, the role originally portrayed by Idina Menzel.
The original Broadway production certainly made more prominent the names of performers Taye Diggs, Jesse L. Martin, Idina Menzel, Adam Pascal, Anthony Rapp and Daphne Rubin-Vega, among others.
There were definitely similarities showing in the presentation last night, but the creative team and cast definitely provided a respectful homage to the original Broadway production while providing their own spin to Larson's show.
The show was and is electric, engaging and, above all else, energetic.
This was both a blessing and a curse for some of the performers as occasionally they seemed out of breath.
The musical focuses on a struggling collective of young artists living in ramshackle housing in New York City's East Village.
The show was a technical mess as many simple things went wrong which one would not, should not expect at a show operating at this level.
Lights and sound both had a number of miscues, while body mics were popping like crazy.
Also, the band was exceptionally loud. However, while excessive, the show IS "Rent" and the show is loud. The show is supposed to be loud. The band is also supposed to be quite loud. If you do not enjoy loud shows, this musical may not be for you.
That being said, the cast rose above these minor mishaps and presented a period piece that authentically celebrates the end of an era. More specifically, the end of the last millennium.
As had been reported when this tour hit the Hanover Theatre in Worcester this past year: "Rent" still has characters many people can connect with emotionally and their experiences, separate and collective, become part of our own experience.
The show depicts well that angry generation of mid 90s "new" adults who represent the "lost" group of children born during the 1970s: Aimless, this group converges and begins living a Bohemian lifestyle, a la "La Vie Bohème."
Hurting, for various reasons, these characters sought out that missing "something" in their lives that they felt their parents either could not provide, would not provide, or, in fact, just flat out destroyed.
As their stories begin to intertwine, the audience experiences the characters' struggles through word and song which are, intentionally, communicated without much eloquence. Rather things are expressed guttural, raw and primal, done so we can understand better the scream of a generation crying out, "This is who I am! Why can't you accept me?"
This cry, some might suggest, still continues today, especially given the current state of our volatile social and political climate. But then, to counter that scream, we hear a more subdued, yet far more resounding, message that comes in the form of the compelling song, "Seasons of Love," which has the same elevated authority as a prayer, perhaps a prayer for that same generation.
Most of the characters exist at the height of the HIV/AIDS epidemic, in a place that was a virtual "melting pot" of junkies, homosexuals, strippers, prostitutes, drag queens, avant-garde filmmakers, grunge musicians, philosophers, assorted survivalists…artists.
We meet them all, in various pairings or isolated as the show unfolds, but then their worlds all intersect in the show's first act finale in the now iconic, "La Vie Boheme."
First there is Mimì (Aiyana Smash) an exotic dancer who can't pay her bills or keep her electricity on because her money goes to feed her drug habit.
Smash's performance fluctuated from superb to winded, the latter especially noticeable in the extremely physical number "Out Tonight." Then, almost immediately after that, she turned that around as she provided some of her finest vocal moments in the duet, "Another Day."
Mimi becomes the girlfriend of Roger (Coleman Cummings), a musician faced with a serious creative mental block ever since he quit his drug habit after his girlfriend, April, committed suicide after discovering both she and Roger were HIV positive.
Roger lives in a tenement building with his friend and filmmaker Mark (Cody Jenkins) who serves as the audience's guide for the show from the show's title opening number, "Rent."
Cummings has a spectacular voice but occasionally had issues blending in the group numbers and fell flat in some of the duets.
Mark had been the boyfriend of Maureen who, in this latest tour is played by Kelsee Sweigard, who nails the classic part-recitative/part-performance art song, "Over the Moon."
Maureen is in a consistently inconsistent bisexual relationship with lawyer Joanne (Samantha Mbolekwa) which provides many shocks and laughs throughout the show. Mark and Joanne compare notes about Maureen in their hysterical duet "Tango: Maureen."
Even after 20 years, the most engaging characters in Larson's script are still Tom Collins (Shafiq Hicks), a philosopher and out of work nihilist professor, dealing with his own mortality as an AIDS survivor; and his lover, Angel (Joshua Tavares).
Angel, a drag queen and street percussionist who also has AIDS, ironically has the most optimistic outlook of all the characters living in bleak circumstances, as demonstrated in his song, "Today 4 U."
Tavares came across a bit winded during that particular number but later both he and Hicks were splendid in their tender duet, "I'll Cover You" which later, Hicks and Company reprised brilliantly.
Less splendid in their duets were couples Mbolekwa and Sweigard & Cummings and Smash. The duos had sufficient chemistry but voices did not always complement one another. However, later in the second act, Cummings and Jenkins harmonized quite well on what would be the show's best up tempo duet, "What You Own."
Overall, it was Jenkins as Mark who had the performance of the night. He provided a humor and athleticism both unique in his portrayal which made Mark much more charismatic than neurotic.
The biggest problem in this particular staging are the two sets of speakers located on either side in front of the stage , which obstructed any action taking place on those sides before the audience.
Either the creative team should adjust the staging or the crew needs to move the speakers. In light that this is not likely to happen, ticket buyers are strongly urged to purchase seating in center or upper levels (balcony/mezzanine).
The show runs approximately two hours 30 minutes with one intermission.
Not appropriate for younger audiences
Kevin T. Baldwin is a member of the American Theatre Critics Association (ATCA)