(Cover Photo: Victoria Bourque as "Belladova" in a scene from the musical "PHANTOM" by Maury Yeston and Arthur Kopit now playing at The Cannon Theatre in Devens, MA. through May 28, 2023. Photo Credit Shawn Cannon)


By Kevin T. Baldwin
METRMAG Reviewer
# 774-242-6724

"Go in the world – Don't return from the world till you find me the one with the stance of a queen and an eye as serene and as bright as the sun can shine."
- Maury Yeston and Arthur Kopit



The Cannon Theatre
Presents the Musical
"PHANTOM"
Music and Lyrics by Maury Yeston
Book by Arthur Kopit
Directed and Produced by Shawn Cannon
Music Director James Haupt
Based on Gaston Leroux's novel "The Phantom of the Opera"
Cast Includes: Phantom - Anthony Masciangioli; Christine - Sofia Santoro; Count - Justin Linscott; Carrierre - Glen Grimard; Cholet - John Lynch; Carlotta - Donna Dewitt; Jean-Claude - Matt Foster; Inspector - Tedford Armistead; Minister of Culture - Nancy Roberts; Gabrielle/Belladova - Victoria Bourque; Florence - Martha Brooks; Flora - Nicole Armistead; Fleure - Katie Witalia; Mademoiselle Buquet - Lexi Rock; Young Erik - Charlotte Nash.
Performances:
May 12, 2023 through May 28, 2023
(Contact Box Office for Exact Times)
The Cannon Theatre, 28 Andrews Parkway, Devens, MA.
Tickets:
For Tickets Contact the Box Office at # 978-448-2108 or visit www.thecannontheatre.org
COVID 19 PROTOCOLS
Contact Venue for Most Updated COVID-19 Safety Protocols and Information.
(Warning: The following review may contain spoilers)
The Cannon Theatre presents an alternative look at a troubled "PHANTOM" as this musical adaptation is now underway in Devens this month.
Any comparisons to the 1986 Andrew Lloyd Webber musical "Phantom of the Opera" is purely…and unfortunately…unavoidable and also totally unwarranted.
Just as it is equally unfair to compare either "PHANTOM" to the classic 1925 Lon Chaney silent black and white movie or, for that matter, any of these to the 1910 novel by Gaston Leroux.
All iterations of the basic story should be able to be judged exclusively on their own merits - and this version currently underway at Cannon certainly warrants more attention than it receives given its pleasing enough score.
This "PHANTOM" comes from the writing team of the musical "NINE" - Maury Yeston who provided the score and Arthur Kopit who wrote the book for the musical.
In 1982, four years BEFORE the Webber musical began its (recently ended) 35-year run, the writing duo of Yeston and Kopit came off a huge Tony Award win for "Best Musical" and were approached by actor/director Geoffrey Holder to write a musical based on Leroux's novel, which he obtained the rights to and planned to direct.
Jump ahead to 1991, five years AFTER the Webber musical became the mammoth blockbuster of all musicals, and Yeston/Kopit's "PHANTOM" was first staged - NOT on a Broadway stage but rather on a stage in Houston, Texas.
"Yippee Ki Yay" - The reception by critics then was mixed.
However, the production has since developed a minor cult following with numerous productions staged all around the world.
In this latest staging by the Cannon Theatre, what immediately jumps to mind is an effort by the writers to explore the origin story of the "PHANTOM" himself.
We see less of the normal portrayal of this threatening "ominous figure" who is hell-bent on tormenting the residing troupe of a Parisian Opera House.
Instead, it is the turn of the last century, and we learn the tragic tale of a disfigured baby boy named Erik (played as an adult by Anthony Masciangioli and as a child by Charlotte Nash).
Erik is kept hidden - raised in the catacombs by his mother, Belladova (Victoria Bourque) from an intolerable cruel world that would fear his appearance, labeling Erik a "monster."
Belladova has a gorgeous soprano voice and sings to Young Erik, soothing his troubled spirit as he grows before the realization sets in of his grotesquely disfigured appearance.
(Note: The above occurs during Act Two but this info helps set the stage for much of what transpires in the shows first act.)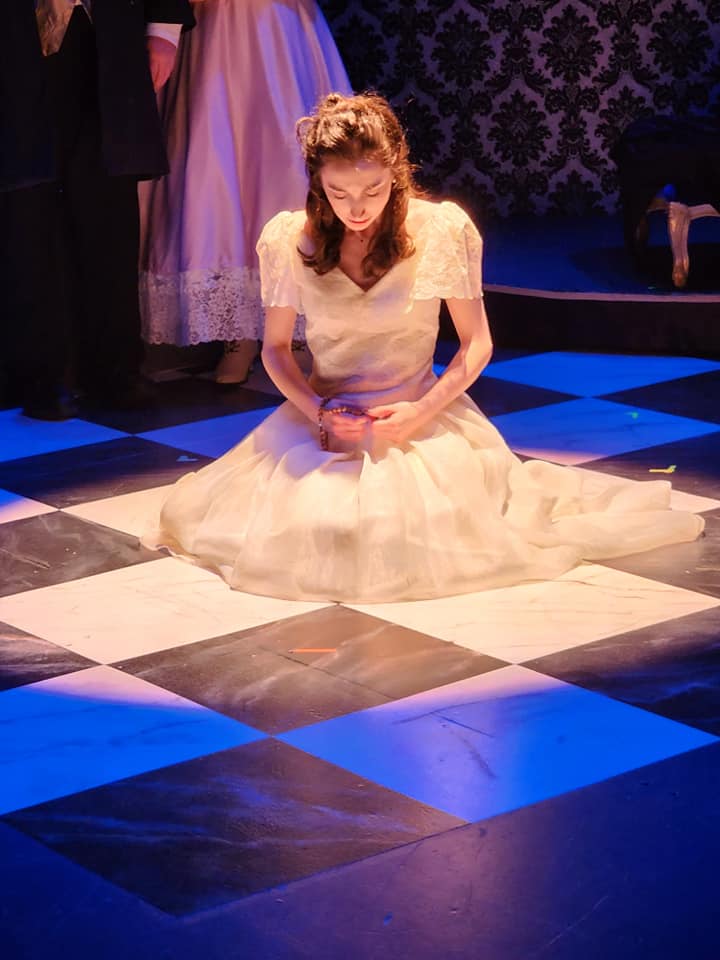 (Photo: Victoria Bourque as "Belladova" in the musical "PHANTOM" by Maury Yeston and Arthur Kopit now playing at The Cannon Theatre in Devens, MA. through May 28, 2023. Photo Credit Shawn Cannon)
Years pass and multiple tragedies strike, leading Erik to exist as an assumed "ghost" of the Opera House.
Gérard Carrière (Glen Grimard), sole "confidante" to Erik and Opera House company manager, is fired from his position as head of the Opera House by new owners.
Grimard gives a fine performance as the sole person Erik allows himself to trust and his reasons, revealed during Act Two, add more layers to the character's backstory and his relationship with Erik.
Over the years, Erik's unbalanced obsession with meticulously good sopranos is equal to that of his disdain of horrendous ones. The disfigurement of his face has become less than that to his soul and his fragile mental state.
Enter Carlotta (Donna Dewitt), diva and wife of the new owner of the Opera, who is in a class of bad all her own. She has a distinctly wretched sounding voice that causes Erik severe distress, pushing him to the brink of insanity.
The pivotal moment when Erik assumes his role of the musical's homicidal villain comes as a costuming assistant wanders down into his lair and discovers him.
This forces Erik into a hitherto unforeseen tragic decision which also serves to reinforce his position as the 'fiendish' "Phantom of the Opera."
A street singer named Christine (Sofia Santoro) arrives on the scene peddling her original compositions and, in a chance meeting with ladies man, Count Philippe de Chandon (Justin Linscott) gets work with the Opera House company.
Linscott's performance as the foppish Philippe is up to the task but his character is underdeveloped, giving Linscott far little to do in order for us to buy into the budding romantic relationship between Philippe and Christine.
Santoro, a consummate soprano, elevates "PHANTOM" with the performance of the evening, a masterful balance of character and vocalist.
Her rendition of the song, "Home," proves the pinnacle of the Yeston/Kopit score which is supplemented once Masciangioli as Erik later joins in, making it the musical's best duet.
Masciangioli is imposing as his tormented character conveyed eloquently though his songs, "Where in the World" and "My Mother Bore Me."
Erik becomes enamored with Christine - or, perhaps, her voice - and, in a tense exchange, convinces Christine to become his pupil. She flourishes as a performer and soon becomes a tremendous hit with the public.
As Carlotta becomes jealous of Christine's increasing popularity, she schemes to sabotage Christine's debut. This serves as a catalyst for the resulting mayhem that ensues.
Dewitt is deliciously evil as the conspiring Carlotta, the true "monster" of "PHANTOM" - far more nefarious than Erik who, as a reminder, is a homicidal maniac. She effortlessly conveys her character's own malicious intentions in the song, "The Place is Mine."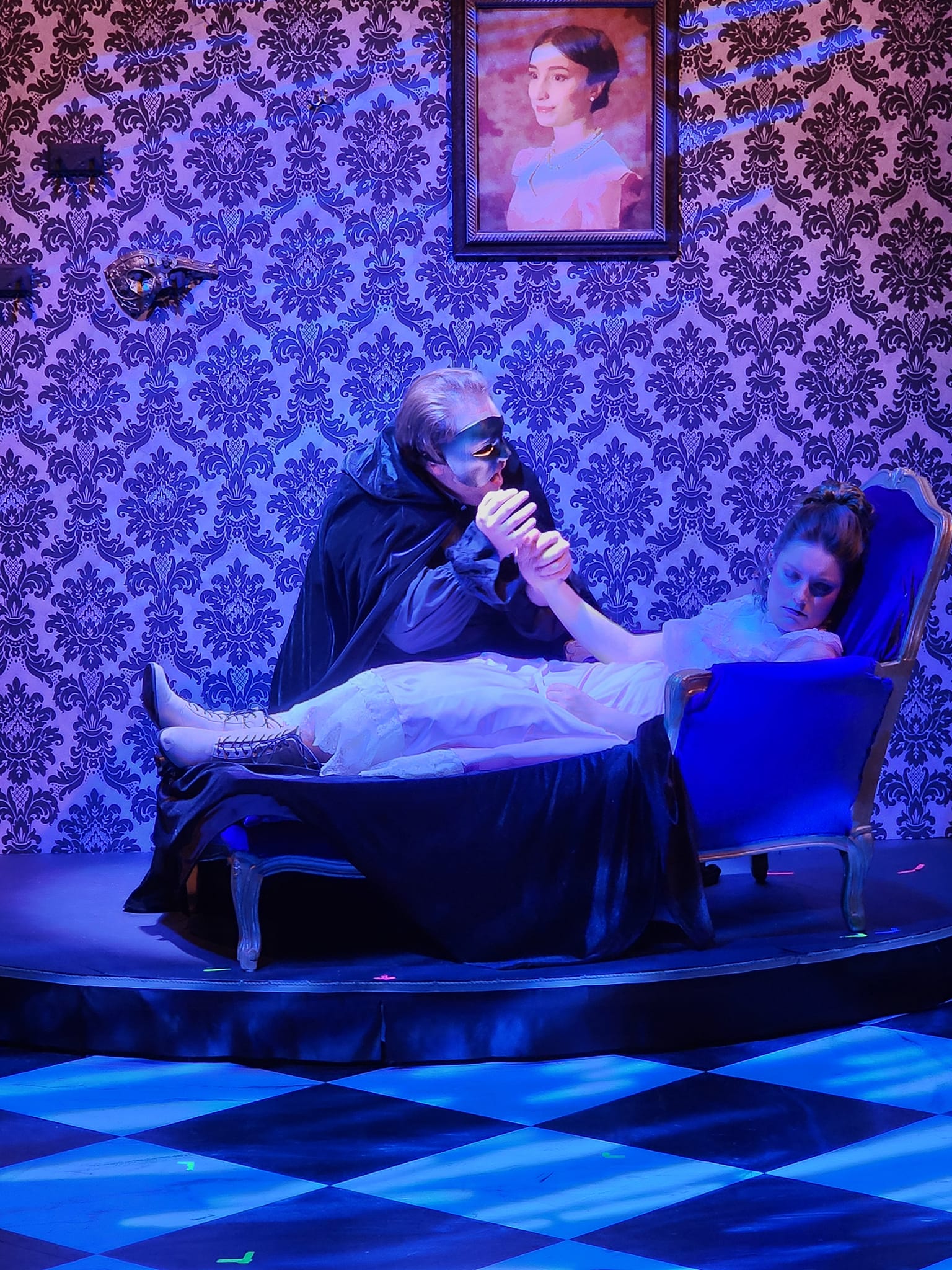 (Photo: Anthony Masciangioli as "Erik" (left) and Sofia Santoro as "Christine" in the musical "PHANTOM" by Maury Yeston and Arthur Kopit now playing at The Cannon Theatre in Devens, MA. through May 28, 2023. Photo Credit Shawn Cannon)
There are multiple "peaks and valleys" in the Cannon production.
One of the highest peaks comes in the form of an impeccable execution by the ensemble of the melodious Yeston/Kopit's "PHANTOM" score.
Under the capable musical direction of James Haupt, the recorded score is followed well by the cast.
Other musical highlights include the numbers "Melodie de Paris" and "As You Would Love Paree" sung by Christine and the ensemble.
The chemistry between Santoro and Masciangioli is undeniable but, as if the premise of a "disfigured musical maniac wearing a ceramic half plate on his face" isn't a bit far fetched already, there are moments of the musical which truly stretch credibility.
As Erik teaches Christine in the scene featuring the numbers "Lessons" and "You Are Music" we lose that sense of mystery surrounding Erik's character - making him look less ominous or imposing and more like a voice teacher in a Halloween costume...and wearing a ceramic half-plate on his face.
If Erik had, instead, remained more "separated" - that is, more obscured or unseen by Christine - it would help maintain that enigmatic quality.
The critical element which makes Erik more human and relatable in the Yeston/Kopit score also reduces his distant "spectral" nature inherent to the mysterious "PHANTOM" character.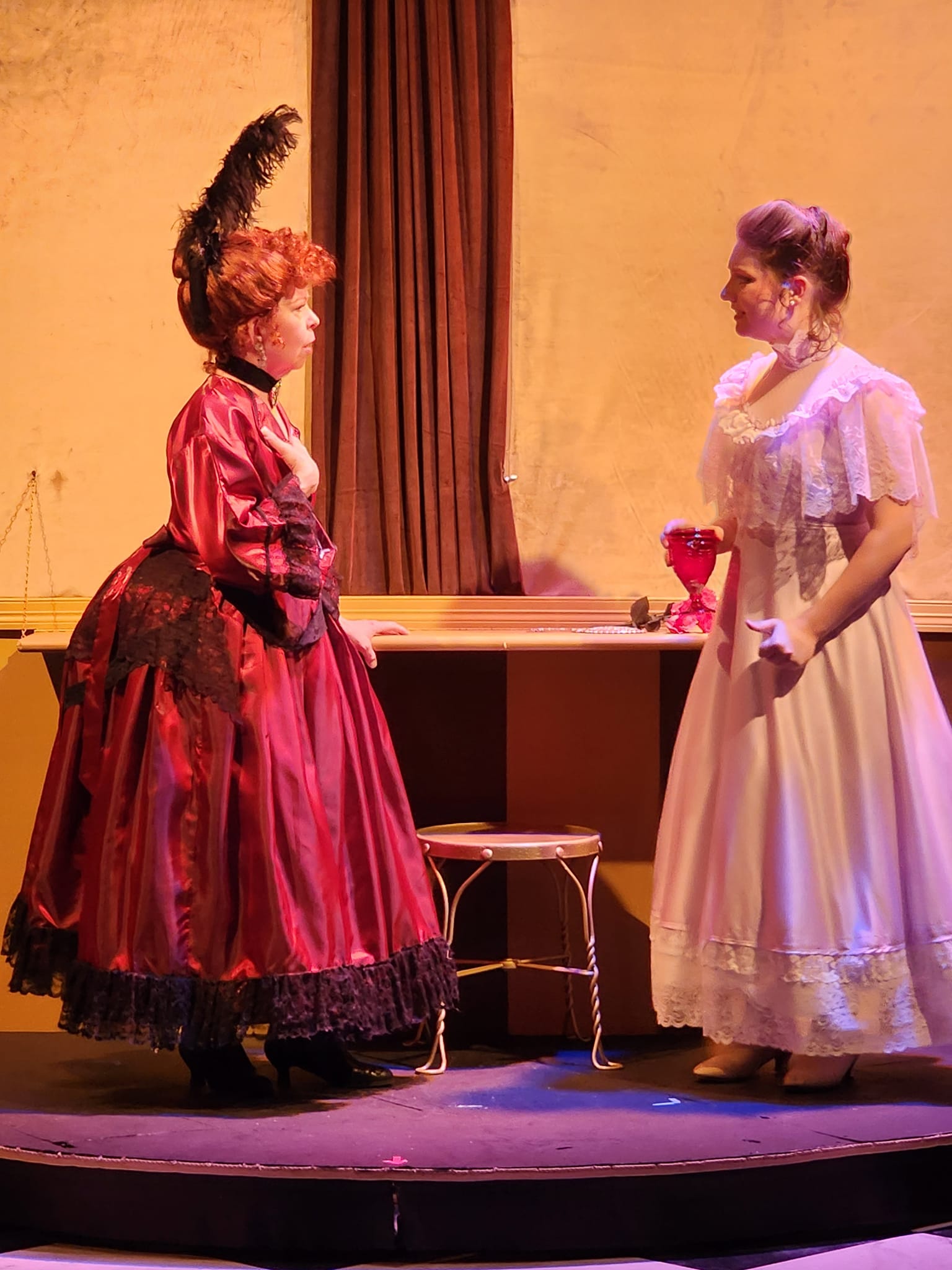 (Photo: Donna Dewitt as "Carlotta" (left) and Sofia Santoro as "Christine" in the musical "PHANTOM" by Maury Yeston and Arthur Kopit now playing at The Cannon Theatre in Devens, MA. through May 28, 2023. Photo Credit Shawn Cannon)
Costumes are resplendent for all the female characters. Carlotta and Christine's costumes are particularly radiant.
Conversely, a majority of the male characters costumes seem ill fitting and, in a couple of cases, appear to be experimenting with a "steam punk" look which absolutely does not blend well with the majority of period-specific costumes.
Philippe's costuming is particularly most head scratching as he looks less like a Count and more like a soldier...or as a member of a marching band...or, with the cape added, as a comic book superhero, "Captain Xylophone."
The seriously confined spacing is probably lowest valley as it appears less accommodating for the production which seems to call out for more space.
That said, the creative use of space by director Shawn Cannon - complete with a cleverly constructed revolving wall - is an inspired attempt at resolving the spacing issues.
There is little choreography provided which is actually a plus since there is literally very little space in which the ensemble can move.
Ultimately, it is up to the audience to decide whether the staging makes the material more of an "intimate experience" bringing them more into the fable or if it reduces its more grandiose opulence.
The haunting musical tale of the "PHANTOM" continues through May 28th at the The Cannon Theatre in Devens.
Approximately two and a half hours with one intermission.
Kevin T. Baldwin is a member of the American Theatre Critics Association (ATCA)
@MetrmagReviews
@Theatre_Critics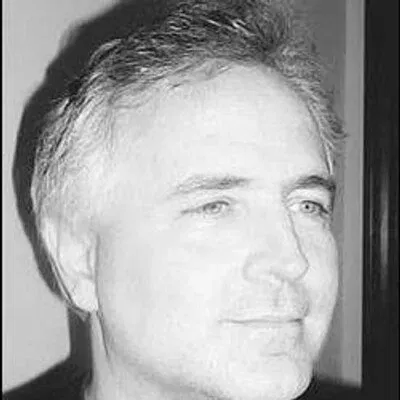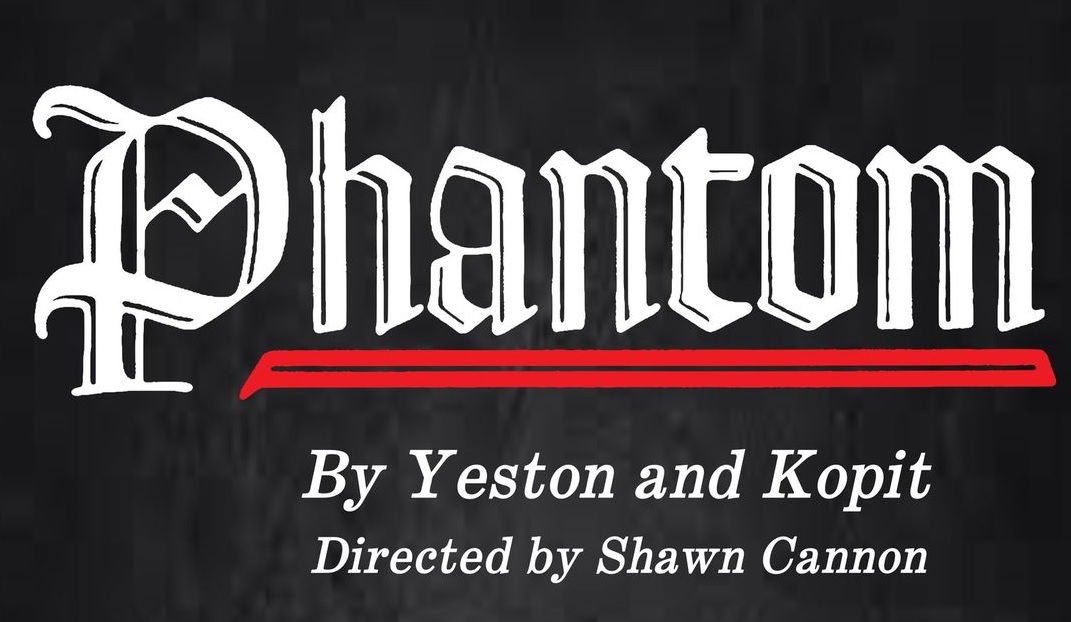 ABOUT THE SHOW
This mesmerizing "PHANTOM" is traditional musical theatre in the finest sense.
The Tony award winning authors of "Nine" have transformed the Gaston Leroux "Phantom of the Opera" into a sensation that enraptures audiences and critics with beautiful songs and an expertly crafted book.
It is constructed around characters more richly developed than in any other version, including the original novel!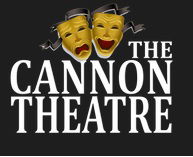 ABOUT THE CANNON THEATRE
The Cannon Theatre was founded by Shawn Cannon and Bret Bahe, who shared a dream of creating a community theater – a place for learning, and great plays, a place where people could enjoy the company of others, laugh, and just lose themselves in the joy of artistic expression. Over the years, the theater incorporated, and then became a non-profit organization, managed so that every precious cent made from each production is carefully fed right back into the creation of the next. During the Pandemic of 2020, the theater was forced to close, as their overhead was too high, They began searching for a new space during 2021, and found it in the late summer of 2021.
The Cannon Theatre board, which still includes the theater's very active and passionate founders, invites you to join us and experience this welcoming community, whether as an audience member, an actor, backstage crew, or even director. We guarantee you will leave feeling satisfied!
THE CANNON THEATRE
28 Andrews Parkway
Devens, MA
978-448-2108