(Cover Photo: Susan Nest as Aoife Muldoon, Bernard Galvin as Anthony Reilly, and Dave Clark as Tony Reilly. Photo Credit: Matthew Carr)
Pilgrim Soul Productions takes a pilgrimage to "Outside Mullingar"
By Kevin T. Baldwin
CORRESPONDENT
# 774-242-6724

WHITINSVILLE: "Outside Mullingar" by John Patrick Shanley. Presented by Pilgrim Soul Productions. GB & Lexi Singh Performance Center at Alternatives' historic Whitin Mill, 60 Douglas Road, Whitinsville, MA. Performances: March 6, 7, 13 & 14 at 7:30pm; March 15 at 2:00pm. Tickets $20.00; Under 18 and Seniors $18.00; Groups of 10 or more $16.00. To reserve tickets call 508-296-0797, or send email to pilgrimsoulproductions@gmail.com . (Tickets are also available at the door.)
Written by John Patrick Shanley. Directed by Matthew J. Carr.
Cast Includes: Dave Clark, Bernard Galvin, Susan Nest, Cherry Lynn Zinger.
Perfect for the month in which Saint Patrick's Day is celebrated, Pilgrim Soul Productions takes on John Patrick Shanley's gentle Irish comedy "Outside Mullingar," which plays in Whitinsville the next two weekends.
The story, which spans from 2008 to 2013, concerns Anthony (Bernard Galvin) and Rosemary (Cherry Lynn Zinger) who are two withdrawn middle-aged souls.
As the show begins they are both coming back from a funeral for Rosemary's father. They gather at Anthony's house where they are joined by Rosemary's widowed mother, Aoife (Susan Nest) and Anthony's father, Tony (Dave Clark).
Anthony and Tony, alone and living by themselves now on a century old farm, entertain Rosemary and Aoife, who will now shall share their neighboring farm alone together, as well.
Anthony, approaching middle-age, has spent his entire life on his family's farm in Killucan (or "Outside Mullingar"). While Rosemary, six years his younger, has worshipped him from afar, never having the courage to tell Anthony how she feels because of their bickering families.
It is hardly the Hatfields vs. McCoys or Montagues vs. Capulets, but there is definitely some bad blood between the Reillys and Muldoons and some of it is tied to a singular event that happened between Rosemary and Anthony in their childhood.
Clark and Nest are both impressive as the respective elder Reilly and Muldoon providing some of the show's biggest laughs.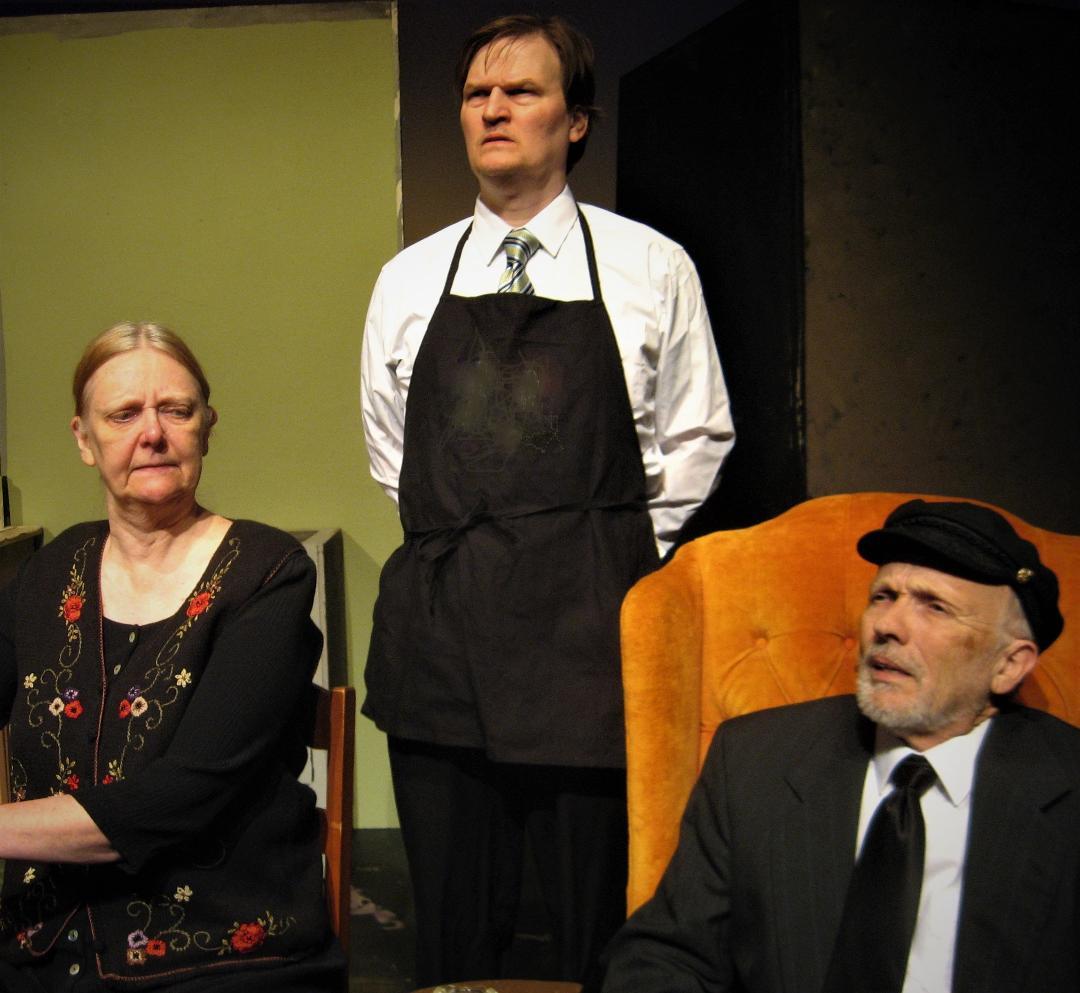 Susan Nest as Aoife Muldoon, Bernard Galvin as Anthony Reilly,
and Dave Clark as Tony Reilly.
Photo Credit: Matthew Carr.

During the latter half of the show's second act, the scene shifts from the Reilly home to the Muldoon home – same ugly sink and stove but a tad bit tidier than the Reilly farmhouse kitchen.
With Anthony and Rosemary becoming sole heirs to their respective "estates" (such as they are), and with no other marital prospects in the offing, they begin to awkwardly focus their attention on each other.
While Shanley's romance premise requires a leap of faith (there is hardly a "Wuthering Heights" comparison to be found here), the chemistry been Zinger and Galvan make it work. Galvan as Anthony is geeky and awkward while Zinger plays the long-suffering Rosemary as a strong, confident woman.
There is a wonderful scene with Clark at the beginning of the second act which perfectly foreshadows the evolving relationship (or lack thereof) between Rosemary and Anthony. Both are in serious need of a "sign" and we, in the audience, are compelled to root for them thanks to Shanley's wonderfully crafted dialogue.
The show has a harvest of laughs coming from a sad event and in a show where two of the four main characters don't make it to the end (not a spoiler, it is mentioned continuously throughout the show).
The Irish accent(s) used by the performers seemed a bit forced, at times, but certainly did not diminish from the full impact of Shanley's marvelously witty and sometimes poignant dialogue.
Carr's set design for this black box theatre production is a bit sparse and minimalistic using only several pieces of furniture "boxed" in by several partitions. There is just an old sink and decrepit looking stove along the back wall overlooked by some shoddy cabinets. It would only have been slightly more effective if there had been no walls used at all to suggest rural isolation. However, as is, it definitely gives the sense of the family's impoverished economic situation…and subsequent emotional desolation.
It is a wonderful journey to another land where love takes a beating. The performances are all competent and compassionate showing that it is never too late to take a chance on love. The final moments of the show wraps up far too quickly but speaks volumes about love and human relationships.
The show runs approximately one hour and 45 minutes with one intermission.
Kevin T. Baldwin is a member of the American Theatre Critics Association (ATCA)