(Cover Photo: Bernard Galvin, Dave Clark and Susan Nest in a scene from John Patrick Shanley's "OUTSIDE MULLINGAR" from Pilgrim Soul Productions and Calliope Productions in Boylston, MA. now playing through March 19, 2023. Photo Credit Karen Josbacher)



By Kevin T. Baldwin
METRMAG Reviewer
# 774-242-6724

"Is a man, who does what he must - though he feels no pleasure, less of a man than one who's happy?"
- John Patrick Shanley

Calliope Productions
In Association With
Pilgrim Soul Productions
Presents
"OUTSIDE MULLINGAR"
Written by John Patrick Shanley
Directed by Matthew J. Carr
Cast Includes: Dave Clark as Tony Reilly; Bernard Galvin as Anthony Reilly; Susan Nest as Aoife Muldoon; Cherry Lynn Zinger as Rosemary Muldoon.
Additional Creative Team:
Stage Manager - Cynthia A. Nardella Ciullo; Stage Crew - Doug Beller, Kelcey Beller; Sets - Dave Ludt; Lighting & Sound - Dave Ludt
Performances:
March 9, 10, 11, 17 & 18, 2023 at 7:30pm
March 12 & 19, 2023 at 2:00pm
Calliope Theatre, 150 Main Street, in Boylston, MA.
Tickets: https://www.ticketstage.com/bin/f.wk?ts.performance.gen
Tickets $20 for regular admission, and $17 for students and seniors.
Contact the Box Office at 508-869-6887
Forced to suspend performances in 2020 due to the COVID-19 Pandemic shutdown, Pilgrim Soul Productions returns right where they left off with their fine staging of John Patrick Shanley's gentle Irish comedy, "OUTSIDE MULLINGAR" - now playing on the Calliope Productions' stage in Boylston over the next two weekends.
It is a fortuitous return thanks to the added blessing of having all four original cast members (Dave Clark, Bernard Galvin, Susan Nest and Cherry Lynn Zinger)able to resume their respective roles after having their run shortened so mercilessly three years ago.
Therefore, as this review will examine many of the same elements as in 2020, one thing is for certain - the show has aged quite well.
Shanley's "OUTSIDE MULLINGAR" premiered on Broadway at the Samuel J. Friedman Theatre in a Manhattan Theatre Club production from January to March, 2014.
The story, which spans from 2008 to 2013, concerns Anthony (Bernard Galvin) and Rosemary (Cherry Lynn Zinger) who are two withdrawn middle-aged souls.
As the show begins they are both coming back from a funeral for Rosemary's father.
They gather at Anthony's house where they are joined by Rosemary's widowed mother, Aoife (Susan Nest) and Anthony's father, Tony (Dave Clark).
Anthony and Tony, alone and living by themselves now on a century old farm, entertain Rosemary and Aoife, who will now shall share their neighboring farm alone together, as well.
Anthony, approaching middle-age, has spent his entire life on his family's farm in Killucan (or "OUTSIDE MULLINGAR").
While Rosemary, six years his younger, has worshipped him from afar, never having the courage to tell Anthony how she feels because of their bickering families.
It is hardly the Hatfields vs. McCoys or Montagues vs. Capulets, but there is definitely some bad blood between the Reillys and Muldoons and some of it is tied to a singular event that happened between Rosemary and Anthony in their childhood.
Clark and Nest are both impressive as the respective elder Reilly and Muldoon providing some of the show's biggest laughs.
During the latter half of the show's second act, the scene shifts from the Reilly home to the Muldoon home – same ugly sink and stove but a tad bit tidier than the Reilly farmhouse kitchen.
With Anthony and Rosemary becoming sole heirs to their respective "estates" (such as they are), and with no other marital prospects in the offing, they begin to awkwardly focus their attention on each other.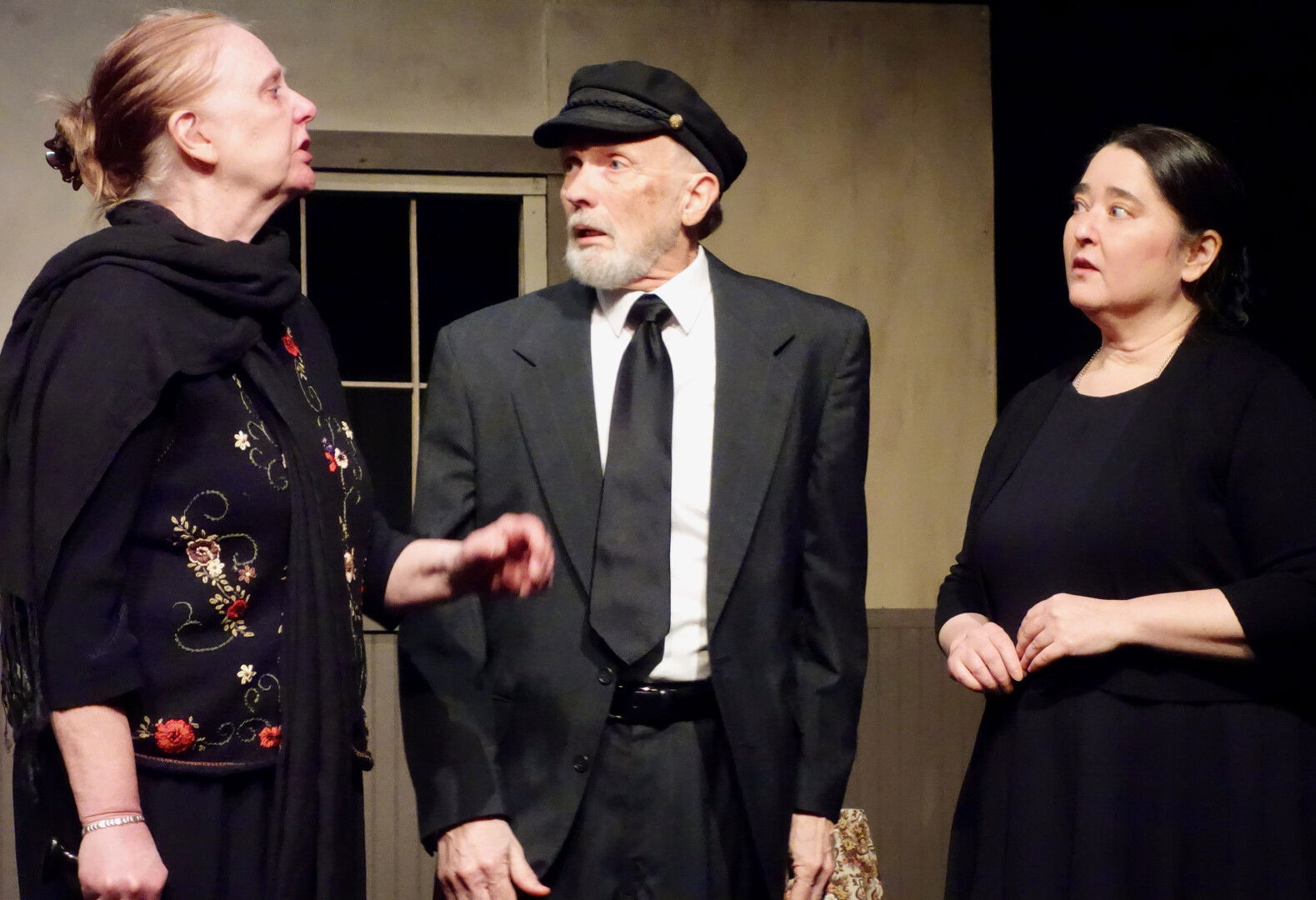 (Photo: Susan Nest, Dave Clark and Cherry Lynn Zinger in a scene from John Patrick Shanley's "OUTSIDE MULLINGAR" from Pilgrim Soul Productions and Calliope Productions in Boylston, MA. now playing through March 19, 2023. Photo Credit Karen Josbacher)
Much of the above is in keeping with the production by Pilgrim Soul in 2020.
So, what is unique to the new Calliope venue performance? What, if anything, has changed from Pilgrim's 2020 staging?
In short...it is better.
While the performances appear consistent to how the staging was done previously, there was an undeniable "comfortable-ness" each of the actors conveyed with their characters.
It helps the actors had three years to practice - but the bond between the ensemble members, be it either from Shanley's material or from their shared experience of being this phoenix arising from the ashes of a pandemic-forced shutdown (or a mixture of both)- felt undeniably strong.
While Shanley's romance premise still requires a leap of faith (there is hardly a "Wuthering Heights" comparison to be found here), the chemistry been Zinger and Galvan is undeniable.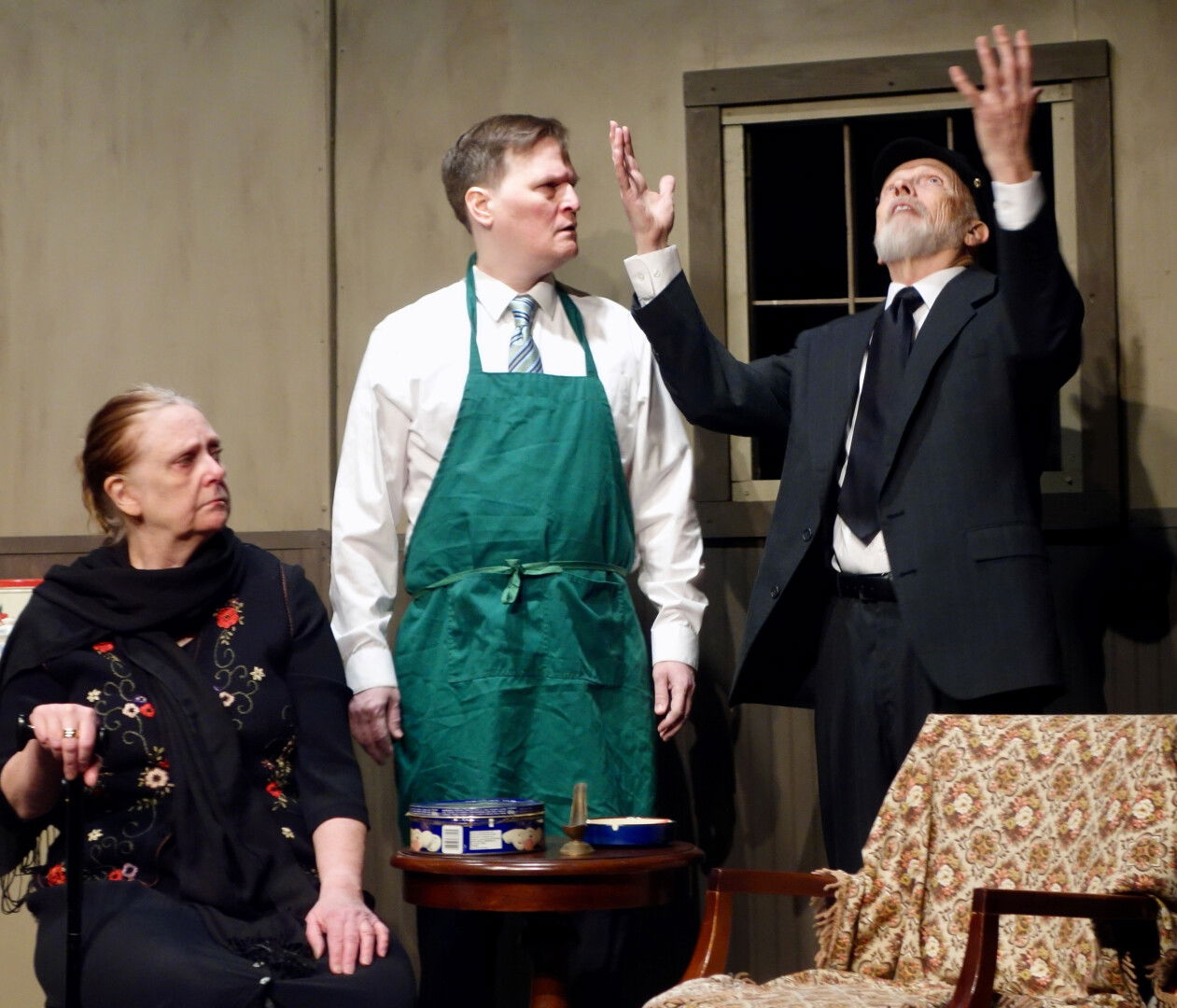 (Photo: Susan Nest, Bernard Galvin and Dave Clark in a scene from John Patrick Shanley's "OUTSIDE MULLINGAR" from Pilgrim Soul Productions and Calliope Productions in Boylston, MA. now playing through March 19, 2023. Photo Credit Karen Josbacher)

Galvan, as Anthony, is geeky and awkward while Zinger plays the long-suffering Rosemary as a strong, confident woman.
There is a wonderful scene with Clark at the beginning of the second act which perfectly foreshadows the evolving relationship (or lack thereof) between Rosemary and Anthony.
Both are in serious need of a "sign" and we, in the audience, are compelled to root for them thanks to Shanley's wonderfully crafted dialogue.
As it did in 2020, the show contains a harvest of laughs resulting from a sad event. Shanley's dialogue is marvelously witty and occasionally poignant.
The minimalist set design by Dave Ludt functions well. However, an Act Two scene change did not flow smoothly.
The use of "scene markers" along the back wall seems unnecessary as events appear to unfold not requiring the information (which is also already contained within the pages of the program).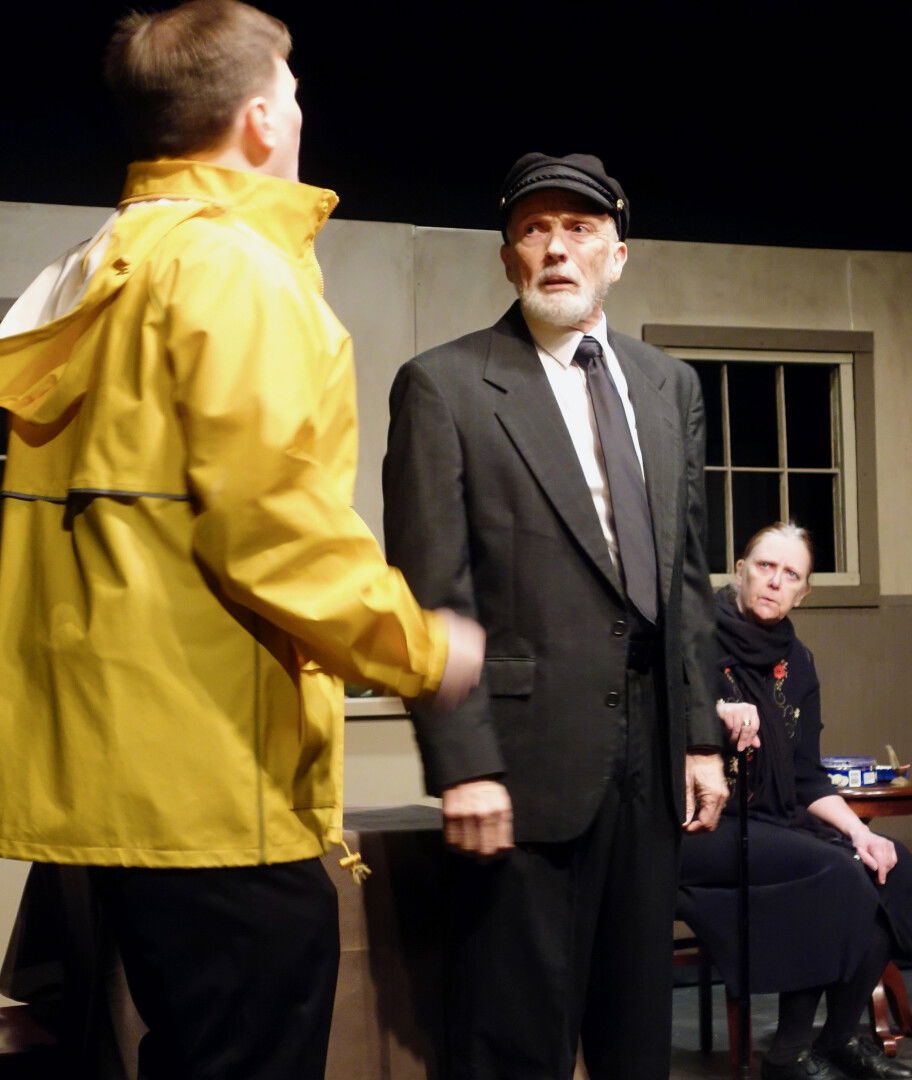 (Photo: Bernard Galvin, Dave Clark and Susan Nest in a scene from John Patrick Shanley's "OUTSIDE MULLINGAR" from Pilgrim Soul Productions and Calliope Productions in Boylston, MA. now playing through March 19, 2023. Photo Credit Karen Josbacher)
"OUTSIDE MULLINGAR" is a journey to another land where love takes a beating. However, the story also proves that it is never too late to take a chance on love.
The final moments of the show wraps up far too quickly but speaks volumes about love and human relationships.
The resurrected "OUTSIDE MULLINGAR" continues at Calliope in Boylston through March 19th and is one lucky charm of a show.
Approximately one hour, 30 minutes with one intermission
Kevin T. Baldwin is a member of the American Theatre Critics Association (ATCA)
@MetrmagReviews
@Theatre_Critics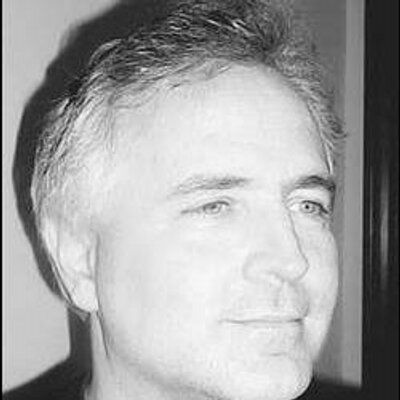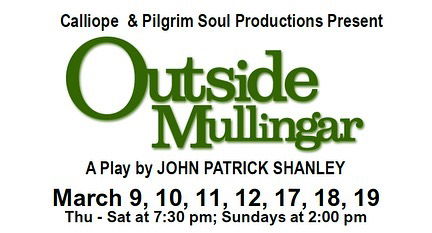 ABOUT THE SHOW
Anthony Rielly and Rosemary Muldoon have grown up next to each other on two farms in rural Ireland.
Rosemary fell in love with Anthony at the age of six, and is convinced that he will eventually come to her.
Anthony had his heart broken as a young man, and hasn't dared open it to another woman since. Forty years later, the two of them are still living next to each other, instead of together.
With a small land feud happening between the two families, it seems unlikely that a romance will ever happen.
Rosemary's determination, however, eventually brings the two of the together, and two unlikely souls eventually find happiness.

ABOUT CALLIOPE PRODUCTIONS
Calliope Productions

is a year-round non-profit theatre company founded in 1982 that serves the needs and interests of audiences and performers in the Central Massachusetts region. Calliope Productions presents six main-stage productions each year, and operates performance training workshops for students (ages 9 - 18) and adults.

Calliope Productions

is a member of the American Association of Community Theatre, the Eastern Massachusetts Association of Community Theatres, and the Worcester Cultural Coalition.
Calliope Productions
150 Main Street
Boylston, MA 01505
508-869-6887