(All pictures and information courtesy of New Repertory Theatre)
New Repertory Theatre presents an inventive "Oliver"
By Kevin T. Baldwin
METRMAG Reviewer
# 774-242-6724

WATERTOWN: "Oliver" by Lionel Bart presented by New Repertory Theatre, at the MainStage Theater at the Mosesian Center for the Arts, 321 Arsenal Street, Watertown, MA. Performances: Dec. 13, 14, 20, 21, 27 & 28 at 8:00pm, Dec. 14, 21 at 3:00pm, Dec. 15, 22 & 29 at 2:00pm, Dec. 18, 19 at 7:30pm, Dec. 26 at 1:00pm and 7:00pm. Tickets $22-$62 and may be purchased by calling the New Rep Box Office at 617-923-8487 or visiting newrep.org. Student, senior, and group discounts are available, as well as free tickets for WIC/EBT cardholders.
Book, music and lyrics written by Lionel Bart. Directed and Choreographed by Michael J. Bobbitt. Music Director Sariva Goetz.
Cast Includes: Rashed Alnuaimi, Johanna Carlisle-Zepeda, Noura Deane, Daniela Delahuerta, Rollanz "Rollie" Edwards, Jr., Ian Freedson Falck, Jane Jakubowski, Jackson Jirard, Mark Johnson, Sydney Johnston, H.C. Lee, Austin Pendleton, Ben Choi-Harris, Daisy Layman, Andy Papas, Luis Negrón, Shannon Lee Jones, Michael R. Rodriguez, Jr.
New Repertory Theatre in Watertown presents a fresh new inventive take on the treasured family-friendly musical "Oliver," based on the Charles Dickens' novel.
"Oliver" by Lionel Bart, originally made its debut in Lodnon's West End in 1960 and follows the life of the courageous orphan, Oliver (Ben Choi-Harris) who, around the turn of the last century in London, gets involved with the disreputable Fagin (Austin Pendleton), the Artful Dodger (Sydney Johnston) and Fagin's band of wayward youths that Fagin has trained to become thieves.
Choi-Harris has a nice voice for the show's most memorable numbers sung by Oliver, "Who Will Buy" and "Where Is Love" yet seemed to lack a certain "presence" which is common for many young actors in the role. There seems to be a lack in Bart's libretto that allows for the character of Oliver to really evolve and become more layered.
Conversely, Johnston as the Artful Dodger was fully engaged and animated in the role, especially during the Dodger's signature number "Consider Yourself" which was equally animated thanks the ensemble utilizing, to full effect, director Michael J. Bobbitt's choreography.
The ensemble also excelled during the song, "Oom-Pah-Pah" led by the incredible voice of the show's "Nancy" (Daisy Layman). Nancy is alumna of Fagin's gang and girlfriend to the show's ultimate villain, Bill Sikes (Rashed Alnuaimi).
Layman provided the evening's show-stopping performance with her rendition of Nancy's lament "As Long As He Needs Me" which garnered thunderous applause and rightly so. Her interpretation of the lyrics allowed herself to elevate beyond Nancy being perceived as merely a woman to be used as Sikes' combination doormat/punching bag.
Another standout performance was Andy Papas as Mr. Bumble, who had a powerful operatic voice that was evidenced in every number in which he contributed.
Alnuaimi as Sikes, who was costumed as if he had just stepped off the "Serenity" spaceship (used in the television science fiction series "Firefly"), was wonderfully unrelenting and venomous throughout the show, playing Sikes as vicious and, unfortunately, one-dimensional.
His one song, "My Name," was three minutes where he terrorizes everyone on stage and it was particularly captivating.
Interestingly enough, though, the characters of Sikes and Oliver have the same problem, as a result of Bart's libretto, which abridges the hell out of the original Dickens' story.
The character of Sikes, just like Oliver, really has very little depth and the actor, unfortunately, has nowhere from which to evolve.
Which brings us to Pendleton as Fagin, arguably the most memorable character within the musical.
Pendleton, at age 79, is truly a veteran among veteran performers and was utterly convincing in his interpretation of Fagin as, not only a mentor of thievery, but as a befuddled, sometimes forgetful but always thoughtful inebriate. He never even attempted to feign a British accent or persona.
Pendleton was equally on the mark in his interpretation of the classic Fagin musical diatribe, "Reviewing the Situation."
Exploring the great chasm between the rich and poor of Victorian London, Bobbit's unique staging also elevated the material so we see more than just a world that is set against its characters from the very beginning.
The set design was highly inventive, reminiscent of a set one might see in the musical, "Seussical."
Costuming seemed to take a significant "Steampunk" approach but never went 'over the top' which suited the material well.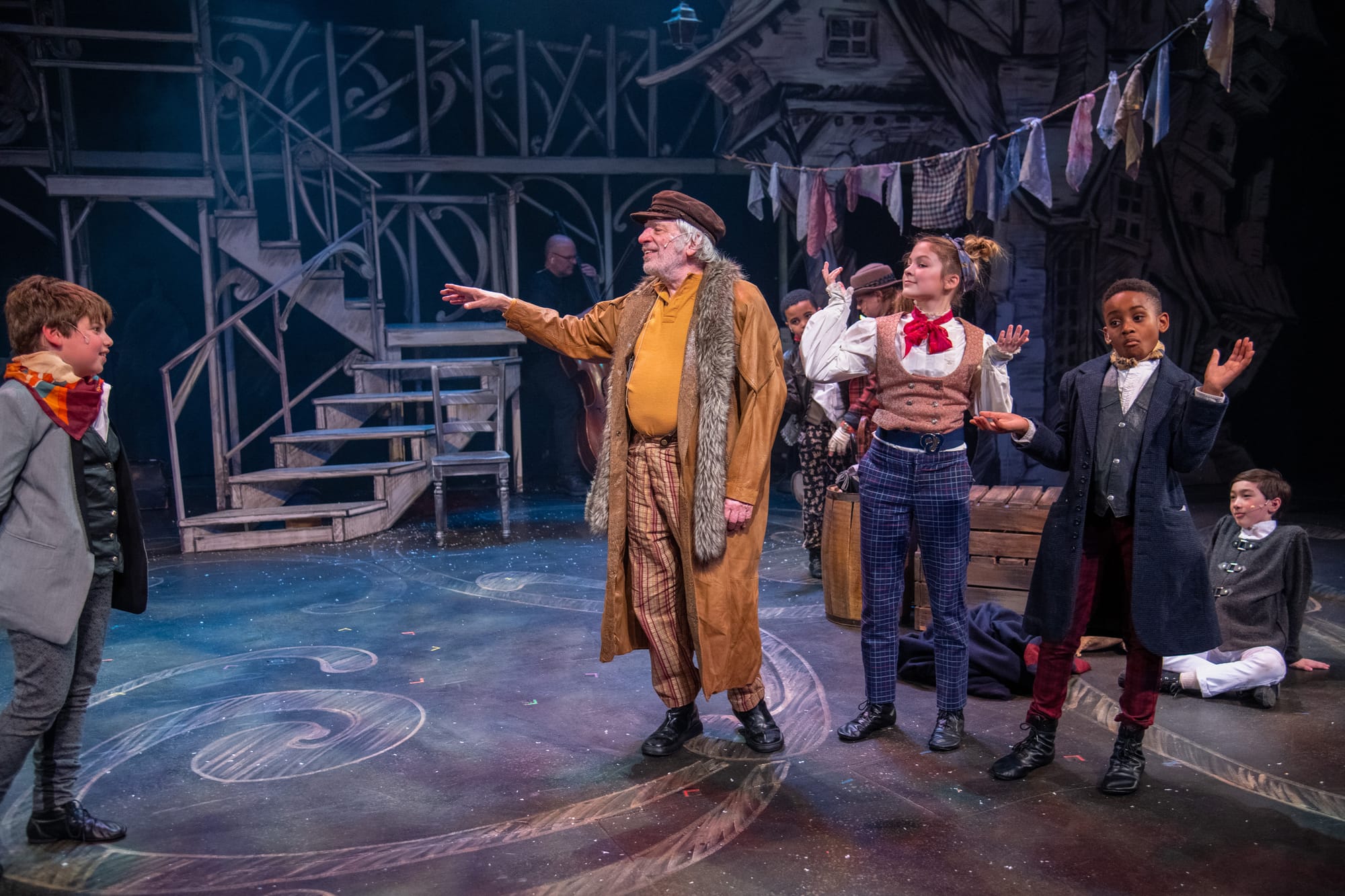 Austin Pendleton as Fagin with the cast of New Repertory Theatre's "Oliver!"

Bobbitt's intentional homage to the films of Tim Burton was also well utilized here. The scene in the coffin house at the beginning of Oliver's first act was especially reminiscent of the Burton film "Edward Scissorhands."
While a creative wonder, the show got off to an extremely sluggish start and did not really come alive until the end of the first act. Some of the set changes were a little slow and haphazard, as well.
Music under the direction of Sariva Goetz was superbly executed.
But, overall, the show is a unique and delightful way to celebrate all that one might have and to take the time to think of those who may not be so fortunate during the holiday season.
For tickets contact the box office: http://www.newrep.org/box-office/
The show runs approximately two hours 20 minutes with intermission.
Kevin T. Baldwin is a member of the American Theatre Critics Association (ATCA)
@MetrmagReviews
@Theatre_Critics