(Cover Photo: Jared Troilo as "Curly" and Kayla Shimizu as "Laurey" share a moment in the Rodgers and Hammerstein classic musical "OKLAHOMA" now playing at Reagle Music Theatre in Waltham, MA. through July 2, 2023. Photo Credit Robert Pascucci)


By Kevin T. Baldwin
METRMAG Reviewer
# 774-242-6724

"Never mind the 'furthermore' - the plea is self-defense."
- ("Carnes") Richard Rodgers / Oscar Hammerstein

Reagle Music Theatre of Greater Boston
Presents the Iconic
Rodgers and Hammerstein Musical
"OKLAHOMA!"
Music by Richard Rodgers
Book and Lyrics by Oscar Hammerstein
Based on the play "Green Grow the Lilacs" by Lynn Riggs
Directed and Choreographed by Rachel Bertone
Music Direction by Dan Rodriguez
Managing Director Emma Calabrese
Cast Includes: Jared Troilo* – Curly; Kayla Shimizu – Laurey; Rebekah Rae Robles – Ado Annie; Jack Mullen* – Will Parker; Carolyn Saxon* - Aunt Eller; Daniel Forest Sullivan – Jud; Johnny Gordon – Ali Hakim; Rick Sherburne – Andrew Carnes; Caitlin Zerra Rose – Gertie; Nicole Volpe* - Dream Laurey; Joel Douglas* - Dream Curley; Kevin Groppe – Ike Skidmore: Ray Robinson – Slim; Jean-Alfred Chavier – Cord Elam; Elias Robles – Ensemble; William Guenther – Ensemble; Olivia Foght – Ensemble; Tess Stevens – Ensemble; Alexa Wang – Ensemble; Ekaterina Hicks-Magana – Ensemble; Carson Hollingsworth – Ensemble; Teddy Edgar – Ensemble; Heather Dorler – Ensemble; Kindred Grace Moore – Ensemble; Nick Potts – Ensemble; Sadie Goodman – Ensemble; Willy Nelson – Ensemble; Melissa Paz – Ensemble; Olivia Aniceto – Ensemble; Nora Sullivan – Onstage Swing; Jessica Nichter – Onstage Swing; Olivia Lancellotta – Onstage Swing.
Additional Creative Team:
Emerald City Theatrical - Costume Design; Franklin Meissner Jr. - Lighting Design; Sebastian Nixon - Sound Design; Lauren Corcuera - Props Master; Line Producer - Jay Pension; Production Stage Manager - Jolie Frazer-Madge*; Asst. Stage Manager - Paige D'Ambrosio*; Producing Associate - Katie Culloden; COVID Compliance Manager - Emma Calabrese; Company Manager - Erica Jurus; Child Wrangler - Sammy Janoff; Dramaturg - Sarah Gruber; Associate Director/ Choreographer - Dustienne Miller; Associate Music Director - Mindy Cimini; Orchestra Contractor - Jeff Leonard; Asst. Director - Sophie Pratt; Asst. Choreographer - Jess Nichter; Asst. Tap Choreographer - Jack Mullen*; Fight Choreographer/ Intimacy Consultant - Angie Jepson; Dance Captain - Joel Douglas*; Fight Captain - Jack Mullen*; Intimacy Captain - Carson Hollingsworth; Wardrobe Supervision - Emerald City Theatrical; Stitchers - Anne Marie Cardosi, Patricia Clay, Teal Griswold, Regina O'Connor, Judi Olson, Abby Tuchon; Wig Supervisor - Olivia Lancellotta; Scenic Consultant - Cameron McEachern; Technical Director - Lori E. Baruch; Scenic Drops - Bob Moody; Charge Artist - Brenda Dziadzio; Painter - Diana Tovar; Sound Engineers - Sebastian Nixon, Finnegan McMaster; Run Crew - Conor Meehan, Katie Culloden, Aeon Smith, Valeria Molina, Roz Umbrell, Sebastian Nixon; Master Electrician - Craig Robertson; Electrics Crew - Crystal VanArtsDalen, Larry Dysart, Craig Brennan, Dan Silvia, Nick Welton, Martina Grein, Finnegan McMaster; Follow-Spot Operator - Nick Welton, Robert "Mocha" Crisafulli; Archival Videographer - Robert Pascucci; EDI Consultant - Kira Troilo.
* Member of Actors' Equity Association, the Union of Professional Actors and Stage Managers in the United States
** Represented by United Scenic Artists, Local USA 829 of the IATSE
° Stage Directors and Choreographers Society
Performances:
June 23, 2023 through July 2, 2023
(Contact Box Office for Exact Times)
Robinson Theatre, Reagle Music Theatre, 617 Lexington St. Waltham, MA 02452
TICKETS:
https://www.reaglemusictheatre.org/buy-tickets-oklahoma
By Phone # 781-891-5600
Box Office Window: Located under the Reagle Music Theatre marquee at Waltham High School. Box Office Hours: Monday through Friday, 10:00am until 4:00pm
COVID 19 PROTOCOLS
Contact Venue for Most Updated COVID-19 Safety Protocols and Information.
Reagle Music Theatre in Waltham offers up an absolutely gorgeous production of the musical "OKLAHOMA!" that does not hold anything back, giving us a dynamic cast, terrific scenic design, phenomenal accompaniment and high caliber, high stepping choreography.
In other words: "Oh, what a beautiful show."
It is.
No matter how detractors might want to disparage "OKLAHOMA!" as being a dated musical reflecting archaic values having little to no relevancy in today's world - after 80 years, this is still simply a delightful musical that many can enjoy.
(Note: For the purposes of this review, it is going to be assumed that most of you reading this have actually already seen some prior staging of this show or the movie during your lifetime.)
As the first musical written by composer Richard Rodgers and lyricist-dramatist Oscar Hammerstein II, the story was based on a 1931 play by Lynn Riggs entitled, "Green Grow the Lilacs."
The original Broadway production opened in 1943 and was an instant smash, running for an unprecedented 2,212 performances and later was adapted into an Oscar-winning 1955 motion picture.
Rodgers and Hammerstein (R&H) collectively won 34 Tony Awards, 15 Academy Awards, two Pulitzer Prizes (for "OKLAHOMA!" and "SOUTH PACIFIC") and two Grammy Awards.
Before the musical begins, the house lights go down and the orchestra begins playing the Overture.
Sounds like something one might expect from a musical, right?
Review that last line again, though: "the orchestra begins playing the Overture."
Who would have thought that those would be such delightful words to write?
With so many groups relegated to the more cost-effective "piping in" of recorded music, the impact of hearing this wonderful, actual orchestra playing is thrilling beyond comparison and, under the music direction of Dan Rodriguez, this particular band of musicians executes the R&H score flawlessly.
Musically, it cannot be overstated how "OKLAHOMA!" also set the "gold standard" for other musicals.
With its use of repeating musical motifs, the refined R&H structure helps keep fluid the music to the dance (or other staged moments) to the storyline throughout the course of the libretto.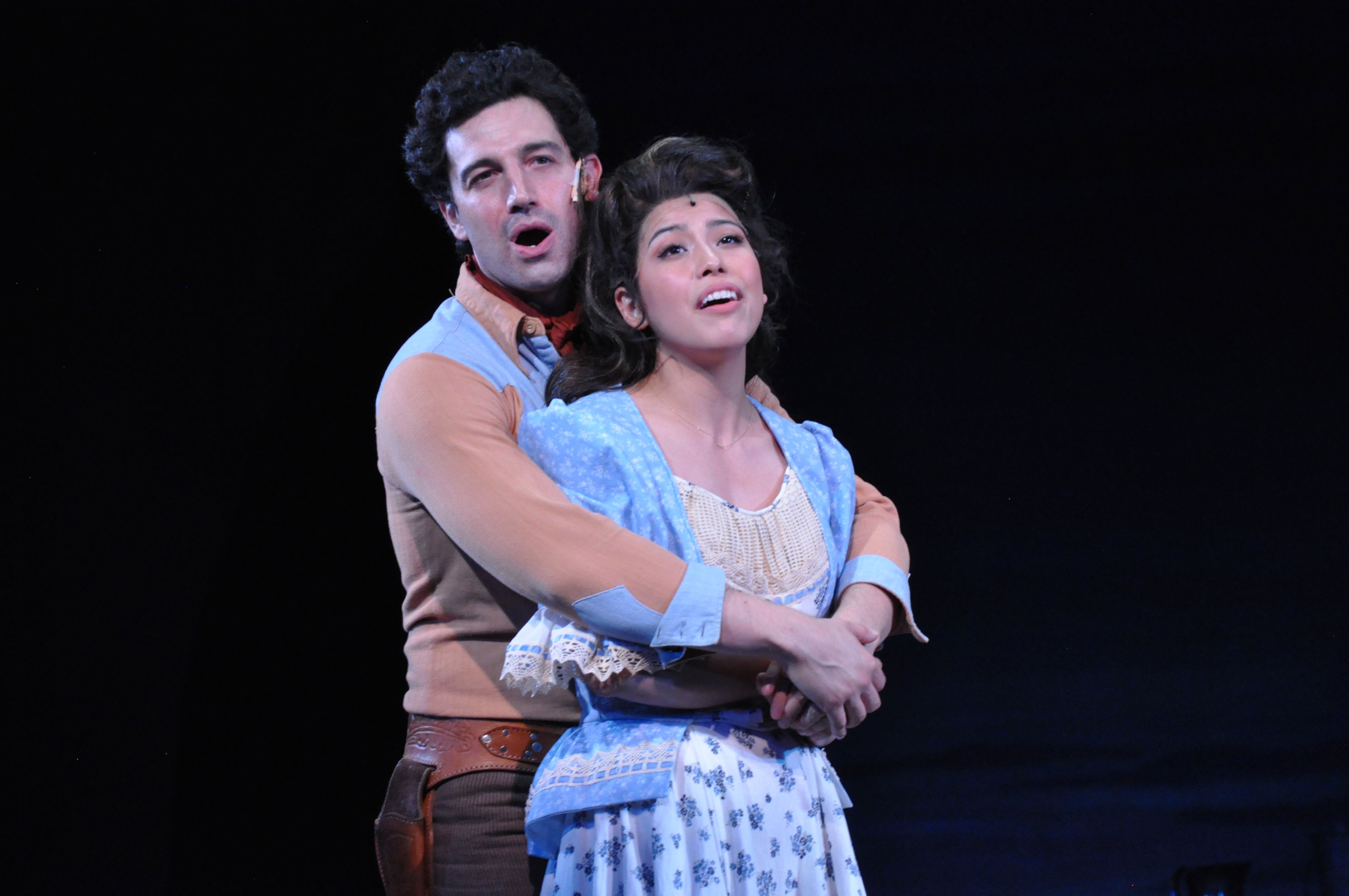 (Photo: Jared Troilo as "Curly" and Kayla Shimizu as "Laurey" share a moment in the Rodgers and Hammerstein classic musical "OKLAHOMA" now playing at Reagle Music Theatre in Waltham, MA. through July 2, 2023. Photo Credit Robert Pascucci)
As "OKLAHOMA!" begins, it is the turn of the last century - 1906, to be exact. We are in "OKLAHOMA" farm country. The territory has not yet achieved statehood.
It is during a day with a noted "bright golden haze on the meadow" and with corn growing "as high as an elephant's eye."
Farm girl Laurey (Kayla Shimizu) is the focus of most of the story as she is distraught by two rival suitors - lanky, upbeat cowpoke Curly (Jared Troilo) and troubled, downbeat hired hand, Jud (Daniel Forest Sullivan).
All performers comprising this triad are exceptionally talented, totally embracing their characters from beginning to end.
Their vocal renditions of many classic songs include Troilo as Curly singing "Oh, What A Beautiful Mornin" and "The Surrey With The Fringe On Top" and Shimizu singing Laurey's "Many A New Day" and "Out of My Dreams" with the latter song leading into the breathtakingly beautiful "Dream Ballet."
The elaborate "Dream Ballet" sequence (performed elegantly by all the dancers involved, including Joel Douglas as "Dream Curly" and Nicole Volpe as "Dream Laurey") reflects Laurey's emotional struggle with her growing love for Curly and her equally evolving fear of Jud.
The chemistry on stage between Shimizu and Troilo is undeniable. When their duet "People Will Say We're In Love" arrives, Curly and Laurey already have us in their corner.
Also in their corner is one of the best supporting characters ever written for a musical (and often repeated in other shows). That is the character of Aunt Eller (Carolyn Saxon) a feisty woman who is as quick with her wit and temper as she is with a shotgun.
Saxon is absolutely splendid in the role and, as a singer, shines in numbers such as "Farmer and the Cowman" and the show's title song, "OKLAHOMA!" still bringing down the house after eight decades.
An inherent problem in "OKLAHOMA!" is the R&H character of "Jud" and trying to comprehend how Laurey would even consider going out on any kind of date with him.
On stage, in any scene, there is literally no chemistry between the two characters, at least, none sufficient enough to indicate any attraction.
None. "Zilch."
So, at least as far as Laurey is concerned, her reasoning for accepting Jud's invitation to the "Box Social Dance" could be seen as not only self-serving but a bit cruel to Jud, as well.
In the Reagle staging, Sullivan does give us a more compassionate take on his morally askew character which Curly and Jud sing about in "Pore Jud Is Daid."
Later, Jud mulls his lot in life as he looks around his distinctive "Lonely Room" and contemplates his next move to win Laurey away from Curly.
Sullivan allows us to see Jud's blood begin to boil. A marvelous approach to the character.
Director and choreographer Rachel Bertone has breathed some new life into how each of these moments unfolds, not just in terms of movement but also lyrically.
Each line of dialogue, every word or phrase, seems to be punctuated with a new found emphasis, intent or perspective – at least, newer than what people may be used to from this show.
This especially is evident in how Curly interacts with Jud – with Curly not always playing "Caesar" to Jud's "Brutus" (or for you more modern readers, Curly's "Spider-Man" to Jud's "Green Goblin").
Both men come across as more flawed, as a result, yet they also come across as layered - a little more human than caricatures.
The relationships formed between this trio moves from playful to something far more threatening as the story evolves over the course of the three-hour musical.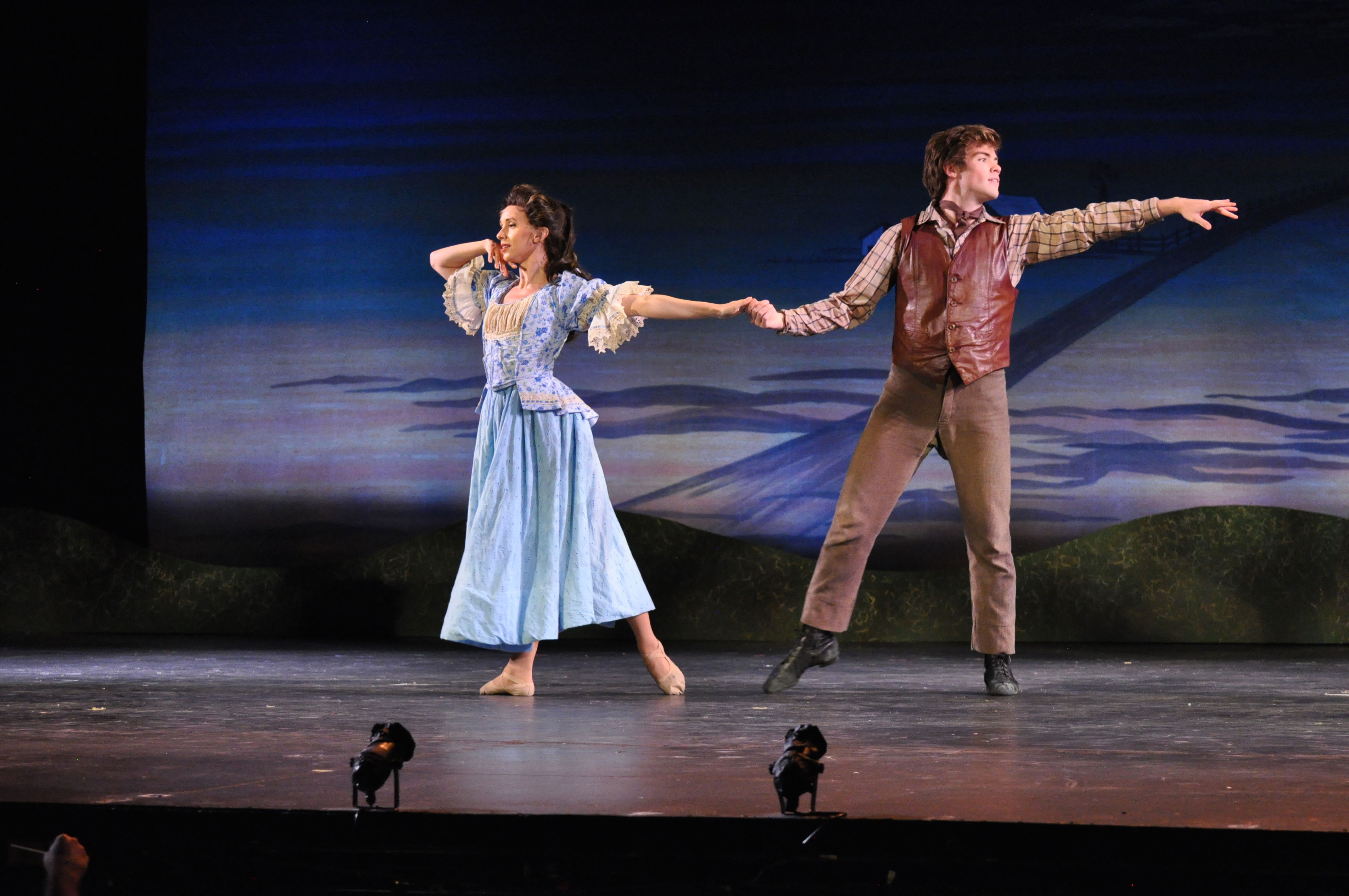 (Photo: Nicole Volpe as "Dream Laurey" and Joel Douglas as "Dream Curly" in the "Dream Ballet" sequence from the Rodgers and Hammerstein classic musical "OKLAHOMA" now playing at Reagle Music Theatre in Waltham, MA. through July 2, 2023. Photo Credit Robert Pascucci)
Another cowboy, Will Parker (Jack Mullen) has returned from Kansas City (Missouri) to finally lasso his lasciviously "frisky" fiancée, Ado Annie (Rebekah Rae Robles) who explains her rationality in the equally frisky song "I Cain't Say No."
Supported by a supremely vibrant dance ensemble, "Kansas City" as performed by Will is thrilling with a few wonderful surprises included.
Normally, this is a duo whose subplot would normally take a back seat in the show but NOT in the Reagle production.
These two performances allow Will and Ado to stand toe-to-toe with the "Curly-Laurey" storyline, especially during the Act Two Will and Ado duet, "All Er Nuthin."
Both Jack Mullen and Rebekah Rae Robles are given ample opportunities to showcase their talents and never do they disappoint.
Rebekah Rae Robles is an accomplished singer with an impressive range and a complete conviction to her character's proclivities.
Mullen is an exceptional dancer with a fun, slick style and an overwhelming enthusiasm that simply works the room.
Other noteworthy performances include Johnny Gordon as quick-witted peddler Ali Hakim, Rick Sherburne as the acerbic, shotgun-carrying Andrew Carnes and Caitlin Zerra Rose as the hilarious, flirtatious girl with a hyena laugh, Gertie.
The set design features a striking use of colors along the back wall, complimenting the vibrant, dazzling color scheme of the costumes.
The only technical aspect which seemed to suffer during the June 23rd performance was in the area of sound.
There was an inordinate number of mishaps with either popping sounds or microphones cutting out on stage. Yet this did not diminish the overall enjoyment of the production.
The caliber of overall dance in the Reagle production will most likely exceed all expectations. These dancers are absolutely THAT good.
A top-notch staging by Reagle Music Theatre which cannot be missed, "OKLAHOMA!" continues in Waltham until July 2nd.
Approximately three hours with one intermission.
Kevin T. Baldwin is a member of the American Theatre Critics Association (ATCA)
@MetrmagReviews
@Theatre_Critics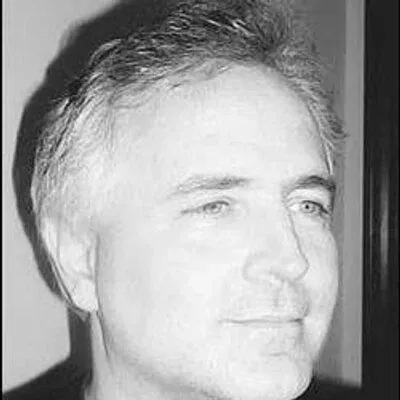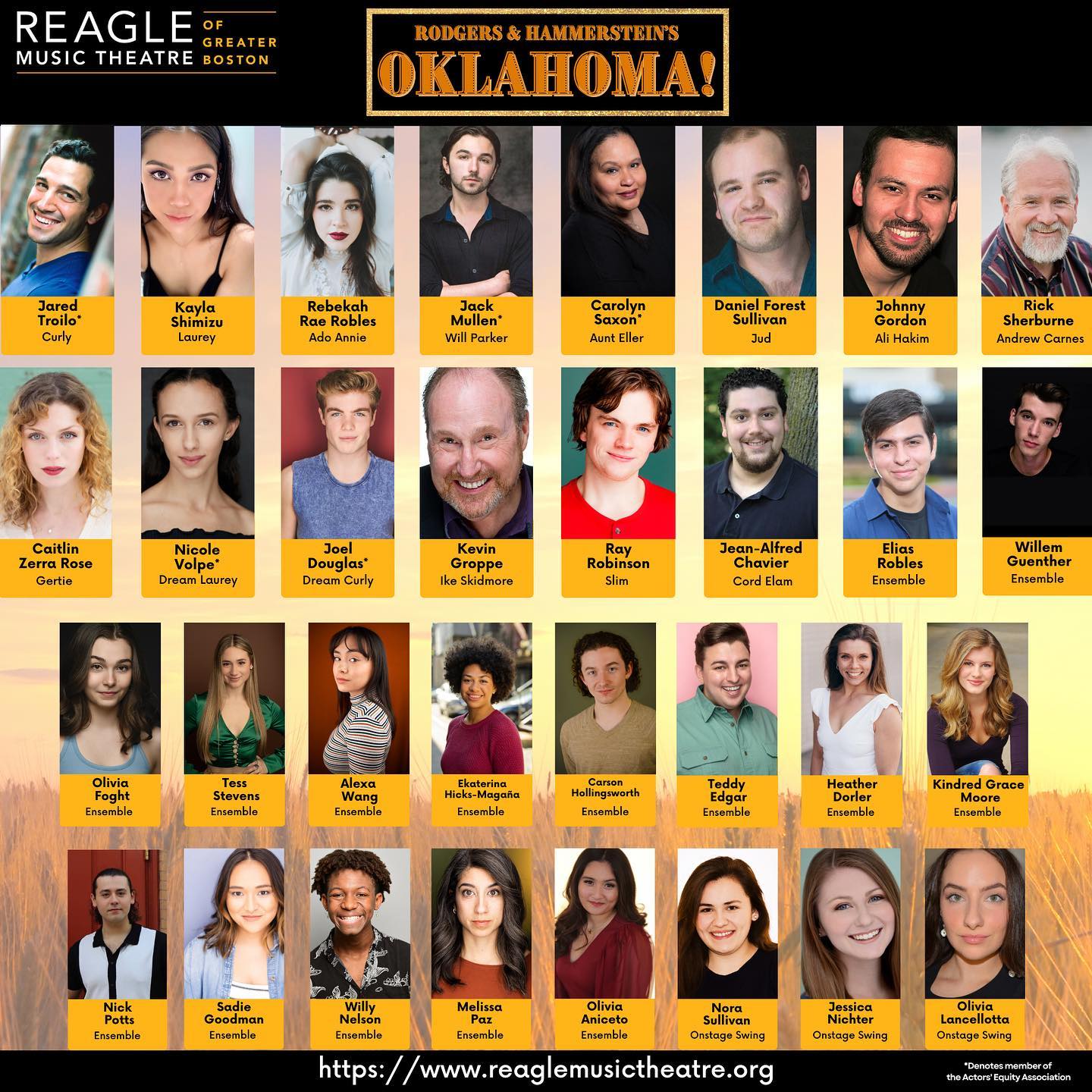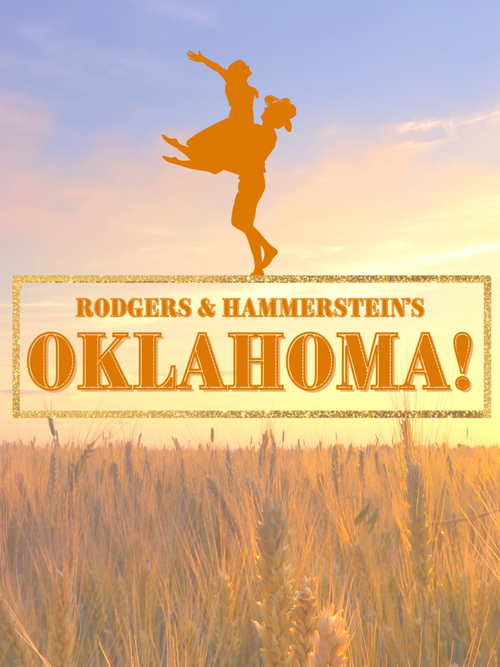 ABOUT THE SHOW
Rodgers & Hammerstein's groundbreaking musical, "OKLAHOMA!" set the stage for all that followed!
Laurey, a fiercely independent farm girl, and Curly, a charming cowboy who knows it, experience a romantic journey that is as bumpy as a surrey ride down a country road.
With classic songs, including "Oh, What a Beautiful Mornin," "The Farmer and the Cowman," and "People Will Say We're in Love", this story is full of cowboys, farmers, romance, and fearless optimism.
Approximately 150 Minutes with one intermission
Ages: recommended 10+ (No children under the age of 5 will be admitted)

ABOUT REAGLE MUSIC THEATRE OF GREATER BOSTON
REAGLE MUSIC THEATRE OF GREATER BOSTON's mission is to present the highest quality of musical theatre productions by combining talented regional performers with professional performers and technicians, thus providing an unusual learning experience for its regular members and more enjoyable experiences for its audiences. REAGLE MUSIC THEATRE is committed to using the skills of its company to strengthen and enhance teaching and learning in the Waltham Public Schools by educating youth to the joys of theatre, and by using theatre techniques to enhance learning in other curriculum areas. Our offerings include musicals, concerts, revues, educational programming, New York theatergoing trips, and more.
REAGLE MUSIC THEATRE OF GREATER BOSTON, INC.
617 Lexington Street
Waltham, MA 02452
PHONE: 781-891-5600
FAX: 781-701-0750