(Cover Photo Theresa Allie, Ryan Bird and Krystle Bernier in Exit 7 Players production of Michael Frayn's "Noises Off". Photo Courtesy of Exit 7 Players Facebook Page)
Exit 7 Players present an exceptional "Noises Off"
By Kevin T. Baldwin
METRMAG Reviewer
# 774-242-6724

"Noises Off" by Michael Frayn. Presented by Exit 7 Theater, 37 Chestnut Street, Ludlow, MA 01056. Performances: Feb. 14, 15, 21 & 22 at 8:00pm, Feb. 16 & 23 at 2:00pm. Tickets: Preferred Seating $22, Adult $20, Seniors (62+) $18, Children (12 and Under) $18, Group tickets (excluding preferred seats) of 10 or more $15 by calling the Box Office at 413-583-4301. Calls will be returned within 24 to 48 hours.
Written by Michael Frayn. Directed by: Bruce Torrey. Produced by: Chris Climo and Jami Wilson.
Cast Includes: Jason Rose-Langston, Theresa Allie, Ryan Bird, Krystle Bernier, Angela Sanches, Terrance Peters, Gilana Chelimsky, Mark Hildreth, Dan Jarvis.
LUDLOW, MA. - Michael Frayn's "Noises Off," just short of 40 years old, has become a staple non-musical for many theatre groups. There is a reason for it. It is literally one of the funniest shows ever produced in the last four decades.
Originally produced in 1982, the scripted farce by Frayne is challenging for any director as it allows for very little "wiggle room" in its staging. It is like a finely woven farcical tapestry where, as you tug upon a single plot thread, the rest of the subsequent events begin to magnificently unravel.
In his stage directions, Frayne has mapped out every single movement for the actors and deviation from those instructions is almost impossible. A tall task for any director but, under Bruce Torrey, the Exit 7 creative team and cast not only met expectations, they exceeded them.
The set is also very much made to a specific blueprint by Frayne where there is very little on stage that is not specifically instructed to be there and/or to be used for a specific purpose.
The actors in "Noises Off" are staging a tour for the play "Nothing On," directed by the world weary Lloyd (Jason Rose-Langston) who has been sleeping around with gorgeous young actress Brooke (Kryslte Bernier) and also his assistant stage manager Poppy (Angela Sanches).
The exposition of the three-act play starts of fairly routine but, as the ridiculous intertwining subplots build, the performers ultimately find themselves performing at breakneck speed, usually with intentionally disastrous and hilarious results.
Each act presents a different point in time of the "Nothing On" production with the first act showing the set (of a modified English country home) from the front as the cast conducts their final rehearsal before opening night.
During the second act, we see the behind the scene antics of the cast back stage as another performance of the show takes place.
Then, in the final act, we see the cast at their absolute lowest point in the tour, with the set turned around again to the front view.
As we meet the "Noises Off"/"Nothing On" characters, through all performers and staff antics of this "show-within-a-show,' what ensues is a humorous plethora of bangs, bruises and pratfalls, lovers trysts gone horribly awry, and unbelievably incompetent acting (by the fictional cast, not by the Exit 7 cast) .
Rose-Langston is outstanding as Lloyd, who must not only deal with his incompetent cast, he must also deal with the startling news that one of the two women is pregnant with his child.
Sanches as Poppy didn't always seem comfortable in the role of passive-submissive Poppy while, conversely, Bernier seemed to flourish as the stunning Brooke, who is a bit limited as an actress, incapable of ad-libbing when things go wrong on stage.
She seems "programmed" only to say the lines she has been given, without exception. This proves to be quite the handicap as the story unfolds, especially during the hysterical final act.
Poppy is aided by Lloyd's stressed out assistant stage manager Tim (Mark Hildreth), who valiantly tries to keep the show going under the worst of conditions. Hildreth was quite adept at playing the frenzied Tim.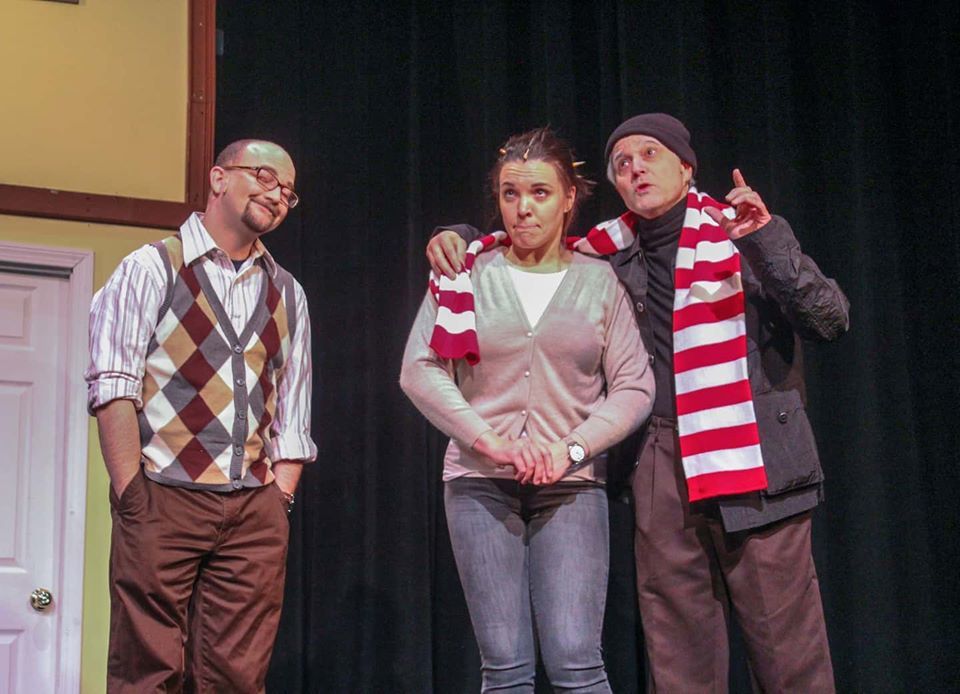 Jason Rose-Langston, Angela Sanches and Dan Jarvis in Michael Frayn's "Noises Off". Photo Courtesy of Exit 7 Players Facebook Page.
Further complicating matters for Lloyd, and increasing his stress level, are the backstage romances and shenanigans of his other performers in "Nothing On," including middle aged actress Dotty (Theresa Allie), who has become involved with jealous, much younger, very handsome and incredibly unfocused leading actor, Garry (Ryan Bird).
Other actors with personal issues include Freddy (Terrance Peters), who always seems to have a penchant of proving much of Murphy's Law, prone to nosebleeds and fainting under adverse conditions which, like Brooke, turns into a disastrous handicap.
Both Bird and Peters are quite in tune with their characters carrying the lion's share of the physical comedy throughout the show.
Also part of the unstable cast is the elderly, eccentric, deaf and oft-inebriated Selsdon (Dan Jarvis). Jarvis brings a unique spin to his interpretation of Selsdon, especially in his line delivery, but it still works quite effectively.
Trying to ease things for Lloyd is Belinda (Gilana Chelimsky) who (unsuccessfully) tries to act as a calming influence on the troupe (as it utterly and hysterically falls apart).
Chelimsky seemed occasionally acerbic as Belinda (as opposed to diplomatic) but still gave a sold performance.
While the cast ensemble deserves high praise, Torrey's technical crew for "Noises Off," featuring set design by Torrey, must also be given equal credit.
The set is a wonderful, but extremely complex, monstrosity, requiring all hands to turn the behemoth around (twice). This makes the set almost like a living, breathing added character. The set changes are almost as entertaining the show itself.
At three hours, the show is long, and there were some 'non-scripted mishaps' that took place. However, thanks to Torrey's capable direction, the overall pacing is fluid.
The only part that was not executed as well as it could have been was during the second half of the second act, which needed far less 'verbalization' by the cast and far more pantomime in order to make Frayn's intended 'silent' comedy work for the act.
But this is a minor complaint as this Exit 7 staging, replete with witty dialogue, slamming doors, pratfalls, bumbling slapstick, is a show that absolutely should not be missed.
The play runs about three hours with one intermission.
Kevin T. Baldwin is a member of the American Theatre Critics Association (ATCA)
@MetrmagReviews
@Theatre_Critics