(Cover Photo: Stephanie Carlson and Brian Argotsinger in a scene from "MOONGLOW" written and directed by Jack Neary now playing at the Majestic Theater in West Springfield, MA. through December 3, 2023. Photo Credit Kait Rankins)
By Kevin T. Baldwin
METRMAG Reviewer
# 774-242-6724

"You think I took on this non-paying job as your band secretary because I enjoy sitting in on those rehearsals every Monday night? Don't you notice my ears start bleeding along about the fourth run-through of the Lichensteiner Polka?"
- ("Arlene") / Jack Neary


Presents Jack Neary's
Written and Directed by Jack Neary
Producing Director Danny Eaton
Assistant Director Sandra Blaney
Cast Includes: B. Brian Argotsinger* as "Ray"; Stephanie Carlson* as "Arlene"; Rand Foerster* as "Father Hackett"; Nora Streeter as "Dorothy"; Stephanie Craven as "Clancy"; Margaret Reilly Streeter as "Linda"; Understudies - Jack Grigoli* ("Ray," "Hackett"); Myka Plunkett ("Arlene," "Clancy," "Linda")
Additional Creative Team:
Associate Producing Director - Sue Dziura*; Production Stage Manager - Stephen Petit*; Costume Designer - Dawn McKay; Lighting Designer - Daniel D. Rist; Scenic Artist - Braith P. Dicker; Scenic Carpenter - David Ellis; Wardrobe Mistress - Christine Thompson; COVID Compliance Officer - Carol Rucinski; Photographer - Rick Teller; Associate Production Manager - Aurora Ferraro; Set Designer - Daniel D. Rist
* Member of Actors' Equity Association, the Union of Professional Actors and Stage Managers in the United States
THE MAJESTIC THEATER, 131 Elm Street, West Springfield, MA 01089
Performances:
October 26, 2023 through December 3, 2023
(Contact Box Office for Exact Times)
Tickets can be purchased at the box office or by phone at # 413-747-7797.
BECOME A 26th SEASON SUBSCRIBER
Download and Print Subscription Form
COVID 19 PROTOCOLS
Contact Venue for Most Updated COVID-19 Safety Protocols and Information.
The Majestic Theater in West Springfield offers up a sweet, tender autumn romance in the charming two-act, "MOONGLOW" written and directed by Jack Neary.
Taking place at a Catholic school in Massachusetts in 1967, middle-aged music teacher Ray (B. Brian Argotsinger) finds himself suddenly made aware of strong romantic feelings had toward him by his office assistant, Arlene (Stephanie Carlson).
Arlene is exasperated. trying to understand Ray's obliviousness to her advances.
Soon, upon the arrival of a telegram, all becomes clear.
In the letter, Ray learns of the passing of his ex-wife's husband from cancer.
In a flashback sequence, we meet Ray's wife, Clancy (Stephanie Craven) and, just before Ray goes off to serve in World War II, they marry.
Upon Ray's return, he finds Clancy distant and soon discovers she wants a divorce.
Arlene's dilemma?
Ray is a devout Catholic and, while divorce was legal in the 1940s, it was never officially sanctioned by the Catholic church, meaning Ray and Clancy, in 1967, are still considered "married" in the eyes of the church.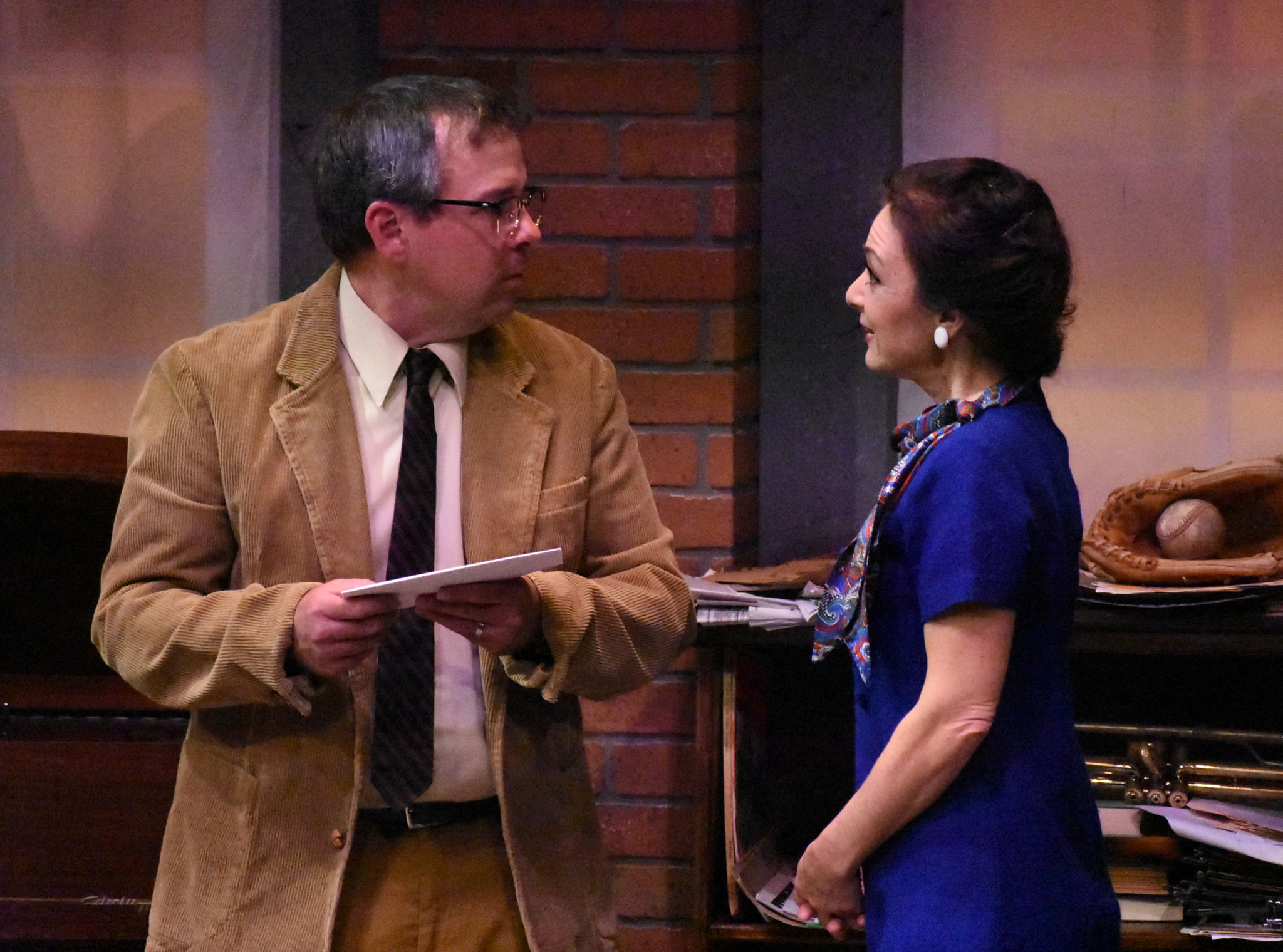 (Photo: Brian Argotsinger and Stephanie Carlson in a scene from "MOONGLOW" written and directed by Jack Neary now playing at the Majestic Theater in West Springfield, MA. through December 3, 2023. Photo Credit Kait Rankins)
Even though he has not seen his wife since she remarried, Ray is still seemingly stuck in a "wedded abyss," torn between faith and fact.
IS he still married? By legal definition = No. By Catholic faith = Yes.
Representing the church in this story is the character of Ray's priest, Father Hackett (Rand Foerster) who has served the mission of the church by keeping Ray in a kind of "spiritual limbo" where it seems as if Ray has lived his "post-Clancy" life with blinders on when it comes to women.
Foerster is on point as Hackett, keeping Ray aligned with what he truly believes is "correct" by church teachings.
Ray could never perceive of any relationship beyond Clancy since, again, by church doctrine, they are still husband and wife. So, Arlene's advances have pretty much been overlooked by this faithfully "married man."
Argotsinger gives a admirable performance as Ray. In a role which could be portrayed or seen as obtuse, nebbish and almost cartoonish, Argotsinger avoids turning Ray into a caricature and helps us see the depth of this poor man's genuine internal struggle and the vastness of his heart.
All Ray wants is to do what is right but cannot see that what he has been told is right is so very, very wrong - for him and for Arlene.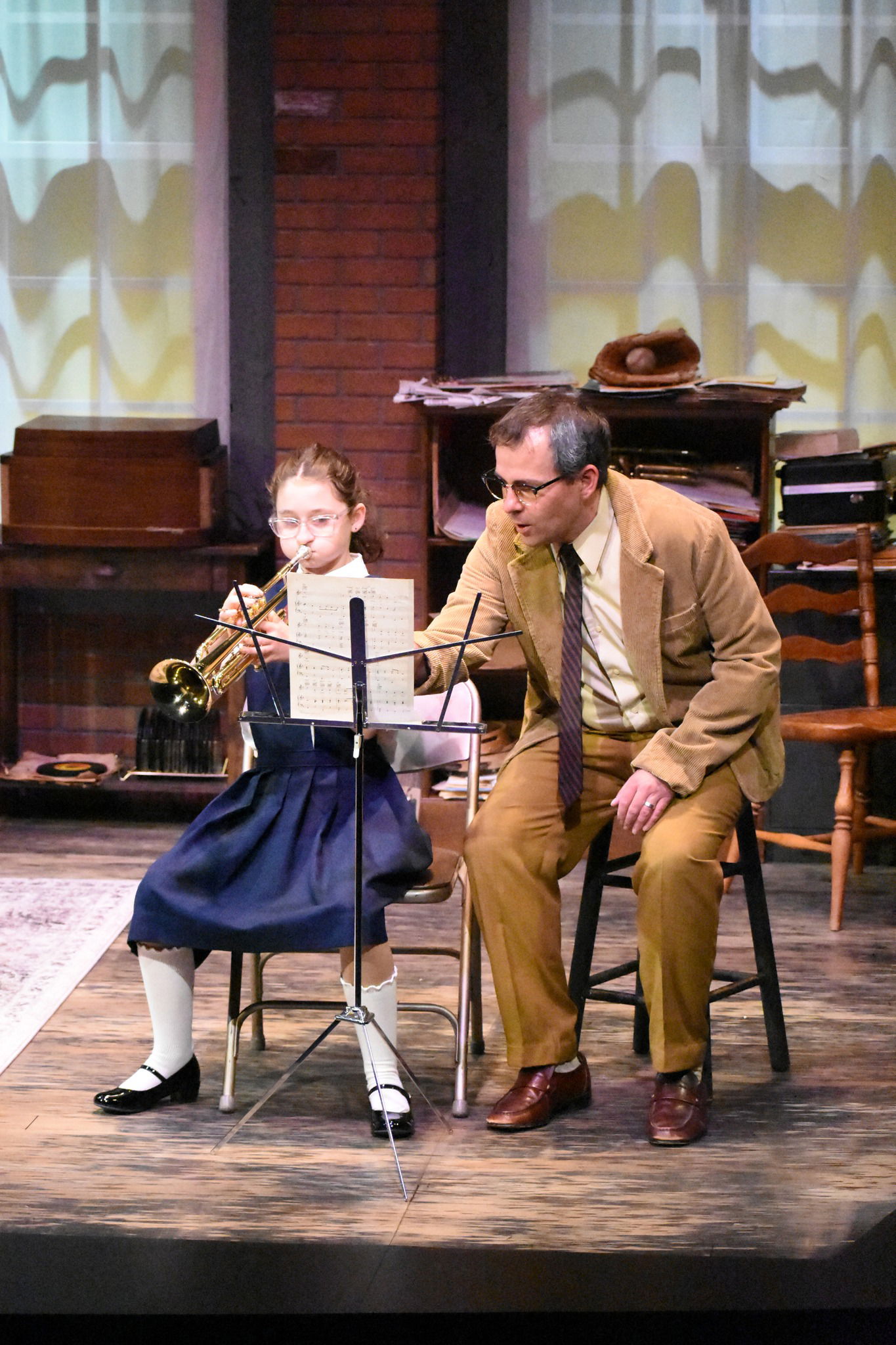 (Photo: Nora Streeter and Brian Argotsinger in a scene from "MOONGLOW" written and directed by Jack Neary now playing at the Majestic Theater in West Springfield, MA. through December 3, 2023. Photo Credit Kait Rankins)
As Arlene, Stephanie Carlson comes across strong-willed and determined, not just for the possibility of a relationship with Ray but as a friend who sees Ray struggling with his own emotional purgatory.
Even though Ray has made his apprehensiveness clear, she knows he is taking his life "instructions" from a higher power and those instructions, in this instance, are completely wrong.
While Arlene fights outwardly for the sake of Ray (in a particular volatile exchange with Father Hackett), Ray fights inwardly - conflicted to the point where even his beloved music offers no solace for his struggle. In his mind:
How can doing what he knows to be absolutely right, both in his mind and in his heart, feel so absolutely wrong?
Author and director Jack Neary astutely approaches the sensitive subject matter, walking a very delicate tightrope.
He does not seek to firmly or outwardly condemn all religion nor admonish all Catholic church practices - but he does succinctly point out the failing(s) in this one, particular area.
Aligned with thoughtful drama there is also a lot of humor in "MOONGLOW" and much of it comes from the supporting characters:
Ray's trumpet student, Dorothy (Nora Streeter) a "flighty" student who likes "The Flying Nun" television show and will, single handedly, take over the world someday; and Dorothy's acerbic, non-nonsense mother, Linda (Margaret Reilly Streeter), who has similar designs on Ray which become quite, QUITE, obvious during the show's second act.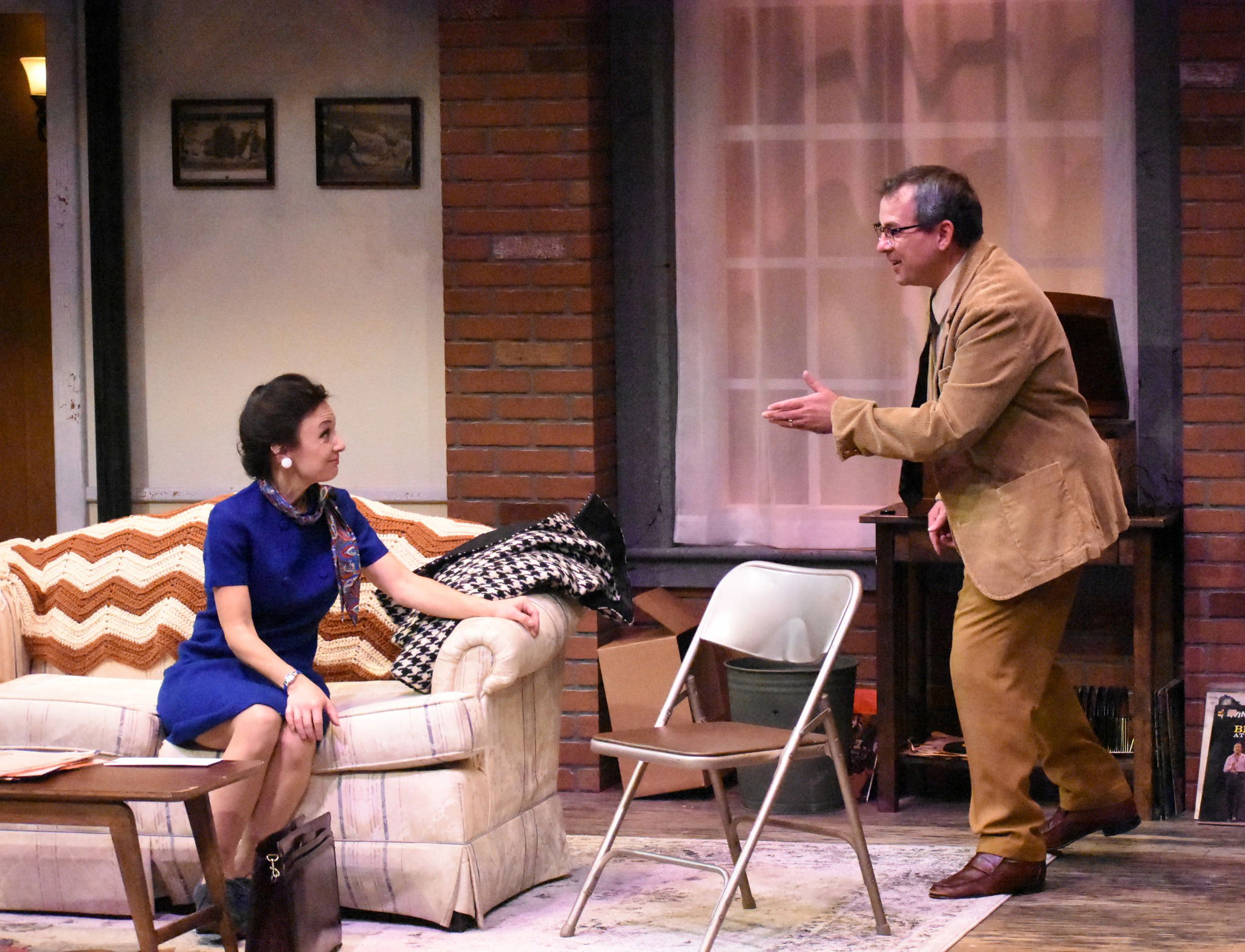 (Photo: Stephanie Carlson and Brian Argotsinger in a scene from "MOONGLOW" written and directed by Jack Neary now playing at the Majestic Theater in West Springfield, MA. through December 3, 2023. Photo Credit Kait Rankins)
The story's best feature is in the relatability of the characters, especially in the interactions between Ray and Arlene, speaking volumes about the considered performances by Argotsinger and Carlson.
We root for the duo. We recognize these people. We know these people.
Maybe we've even been where these people are now - struggling with an internal crisis made worse by the very institutions we would normally go to for help with such emotional turmoil.
The impressive single set design is split between the Parish Rectory and the Catholic school's music room office where Ray works and is meticulously detailed for the time period. The use of an old record player was a nice added touch adding authenticity to the surroundings.
The touching, enjoyable "MOONGLOW" continues at the Majestic Theater in West Springfield until December 3rd and, to miss out seeing this one, it just might be considered a sin.
Approximately two hours with one intermission.
Kevin T. Baldwin is a member of the American Theatre Critics Association (ATCA)
@MetrmagReviews
@Theatre_Critics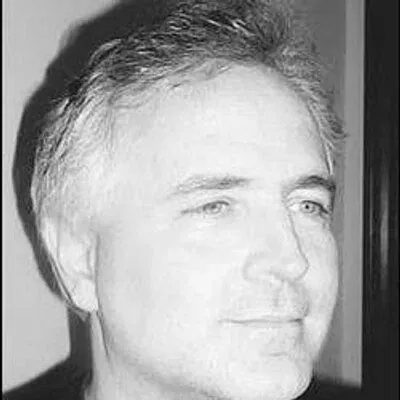 ABOUT THE SHOW
Set in Lowell, Massachusetts in the 1960s, "MOONGLOW" is a romantic comedy that combines fresh dialogue, interesting characters, and a bit of good old Catholic guilt.
Ray Healy is a middle-aged music teacher and Catholic School band director whose personal life is "a big question mark."
When his secretary finally comes clean about her romantic aspirations for their relationship, secrets about Ray's past are revealed.
This clever and warm play has some surprises up its sleeve.
It has been a few years since we've seen one of playwright Jack Neary's plays ("Jerry Finnegan's Sister," "First Night," "The Porch") on the Majestic stage and this one, witty and full of heart, is sure to surprise and entertain.

ABOUT THE MAJESTIC THEATER
Locally-produced professional live theater since 1997. Before it was a live theater, local residents may remember THE MAJESTIC THEATER as a movie house. It has since been renovated and reimagined to bring live performances to the West Springfield area, giving local performance and technical artists the opportunity to thrive. Every season at THE MAJESTIC consists of five productions (including at least one musical) featuring local actors. In addition to the subscription season, the summer includes children's theater, concerts, plays, open mic nights, and improvisational comedy shows. Recently named the best place to see live theater in the Pioneer Valley in the Valley Advocate Readers' Poll, THE MAJESTIC THEATER continues to offer great theater thanks to the support and generosity of its 4200+ subscribers.
131 Elm Street
West Springfield, MA 01089
# 413-747-7797