(Cover Photo: The CAST of the musical "SPAMALOT" by Eric Idle an John Du Prez, presented by Square One Players in Shrewsbury, MA. through August 13, 2023. Photo Courtesy of Joanne Smith)



By Emily Baldwin
Special METRMAG Correspondent Reviewer
# 774-242-6724
"The odd thing is I knew that if 'SPAMALOT' was going to be successful it would have to appeal to people who weren't just Python fans. What happened was that Middle America discovered Python through 'SPAMALOT'."
- Eric Idle

Square One Players
Presents
MONTY PYTHON'S

"SPAMALOT"
Written by Eric Idle and John du Prez
Based upon the movie "Monty Python and the Holy Grail" written by Eric Idle, Graham Chapman, John Cleese, Terry Gilliam, Terry Jones and Michael Palin. Music composed by Eric Idle, Neil Innes and John Du Prez.
Directed by Kevin McGerigle
Music Directed by Sam Asuque
Choreographed by Kaitlin Ekstrom-Doig
Cast Includes: Kevin Moylan as "King Arthur"; Gary Swanson as "Patsy"; James Lamoureux as "Sir Lancelot"; Isaac Swanson as "Sir Robin"; Raymond Johnson as "Sir Galahad"; James Gillis as "Sir Bedevere"; Izzy Scampoli as "Lady of the Lake"; Ensemble - Lauren Blumberg, Jim Catapano, Nick Doig, Laura Gulli, Foley Hermann, Takaaki Masumoto, April Swanson, Jackie Wyatt.
Additional Creative Team:
Stage Manager - Tara Lamoureux; Production Manager - Joanne Smith; Assistant Production Manager - Tara Alano; Rehearsal Pianist - Stephanie Sarkisian; Lighting Designer - Terryn Fraser-Mines; Backstage Crew - Barbara Wilkins; Costume Designer - Foley Hermann.
Flanagan Theater, Southgate at Shrewsbury, 30 Julio Drive, Shrewsbury MA.
Performances:
August 5, 2023 through August 13, 2023
(Contact Box Office for Exact Times)
Tickets:
COVID 19 PROTOCOLS
Contact Venue for Most Updated COVID-19 Safety Protocols and Information.
(Editor's Note: For the following review of "SPAMLOT" background information on the original Broadway production was provided by Kevin T. Baldwin. The bulk of the Square One review was contributed by Emily Baldwin, edited by Kevin T Baldwin.)
Hot on the heels of the announcement that the 2005 Tony® Award winning musical farce "SPAMALOT" shall be returning to Broadway in mere months, the Square One Players proudly decry "Ah, not so fast, Lafarge!" with their own faithful staging in Shrewsbury.
The musical, based on the 1975 movie "Monty Python and the Holy Grail," was written by Emeritus "Pythoner" Eric Idle with music co-written by Idle, John Du Prez and Neil Innes.
For those of you who skipped the credits above at the beginning of the article just to get to this review, the original movie was written by Idle along with fellow Pythoners Graham Chapman, John Cleese, Terry Gilliam, Terry Jones and Michael Palin.
To anyone attending the Square One production that is already familiar with the movie and the extensive "Monty Python" legacy, most of the show's references will reverberate and they might be the ones in the audience smiling and laughing the loudest.
No. Not "might" - they will be.
However, even if you haven't the foggiest idea as to how some "python named 'Monty' has anything to do with an additive made up of pork and ham meat, salt, water, potato starch, sugar, and sodium nitrite" this musical is still side splitting fun.
The original Broadway run, which completed 1,575 performances, was directed by Mike Nichols and received 14 Tony Award nominations, winning in three categories, including Best Musical.
The original production also contained a veritable treasure trove of talent starring Tim Curry as the mythical "King Arthur." Along with Curry was a dynamite supporting cast which included Worcester's own Michael McGrath, Hank Azaria, David Hyde Pierce, Christian Borle - and Sara Ramirez, who would go on to win the Tony that season for Best Featured Actress in a Musical.
As mentioned, some of the musical's material came from sources other than the "Holy Grail" movie. In the movie, Neil Innes wrote the tunes "Knights of the Round Table" and "Brave Sir Robin."
Idle collaborated with John Du Prez on most of the "SPAMALOT" score, except for the song "Finland" which was written by Pythoner Michael Palin for "Monty Python's Contractual Obligation Album" and the song "Always Look on the Bright Side of Life" which was written by Idle for the 1979 Python movie, "Monty Python's Life of Brian."
The Monty Python team has always maintained the option of a single "killer veto" whereby any proposed idea by anyone in the group could be "nixed" by any one member of the team. A film adaptation of the musical had been underway in planning stages but Idle later confirmed the film was cancelled as two of the Pythoners vetoed the project.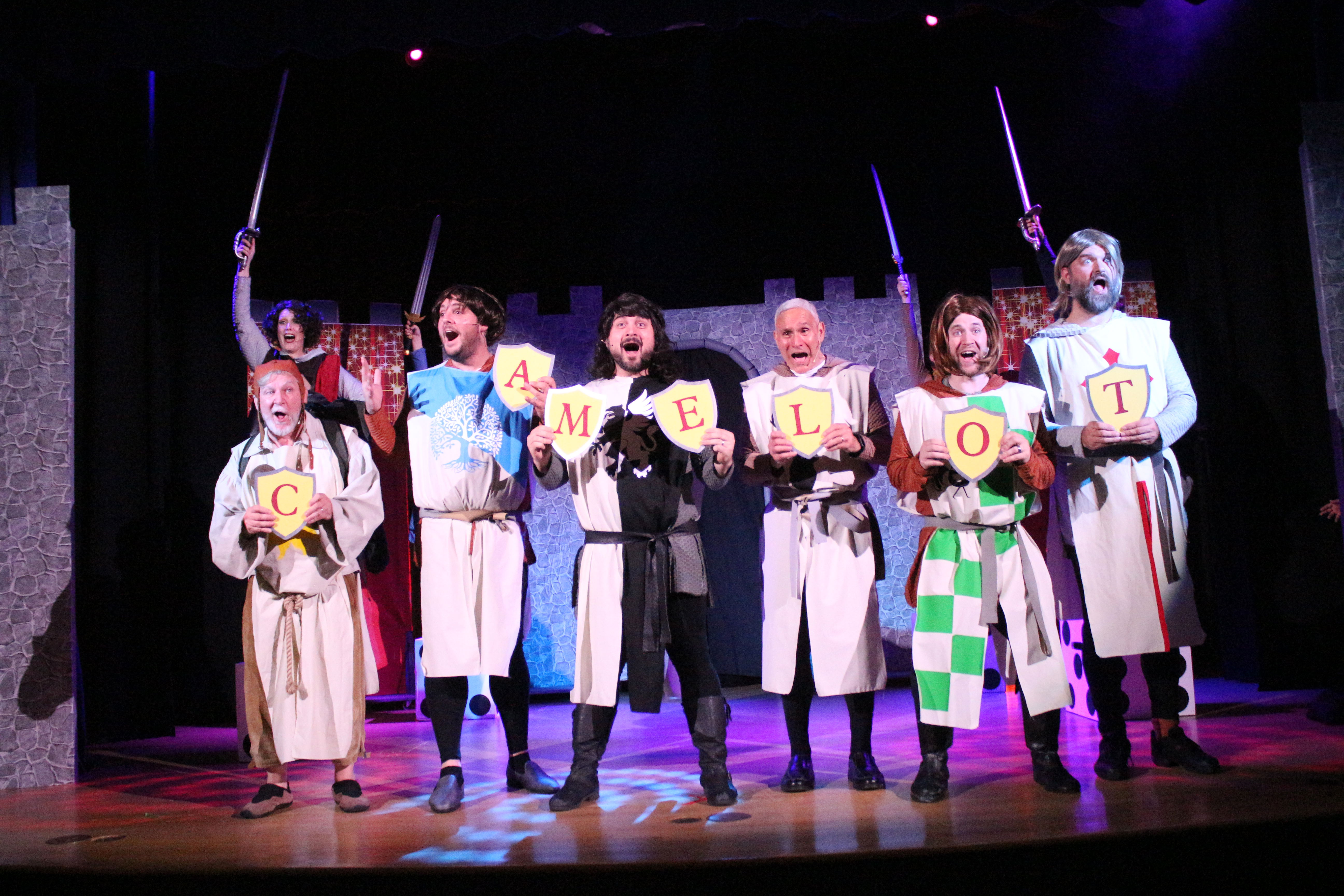 (Photo: From the musical "SPAMALOT" are (left to right) Gary Swanson, James Gillis, James Lamoureux, Jim Catapano, Isaac Swanson and Ray Johnson. Presented by Square One Players in Shrewsbury, MA. through August 13, 2023. Photo Courtesy of Joanne Smith)
In the latest staging by Square One, the preposterous premise of the story follows King Arthur (Kevin Moylan) and his band of knights.
Gary Swanson, who plays Arthur's stalwart aide "Patsy" has great chemistry with Moylan, especially in the number "I'm All Alone" - a somewhat ironic number that builds itself into a massive "UN-alone" number, but it is also the number where the pair truly shines as King Arthur and Patsy.
The two actors were noticeably having fun throughout the show, and it was a joy to watch.
Under the capable direction of Kevin McGerigle partnered well with Music Director Sam Asuque and Choreographer Kaitlin Ekstrom-Doig, the Square One production of "SPAMALOT" is delightful, albeit with some minor inconsistencies, some totally out of their control.
The orchestra, under Asuque, is exemplary and, occasionally, join in the fun, becoming part of the show, which is a highly inventive touch.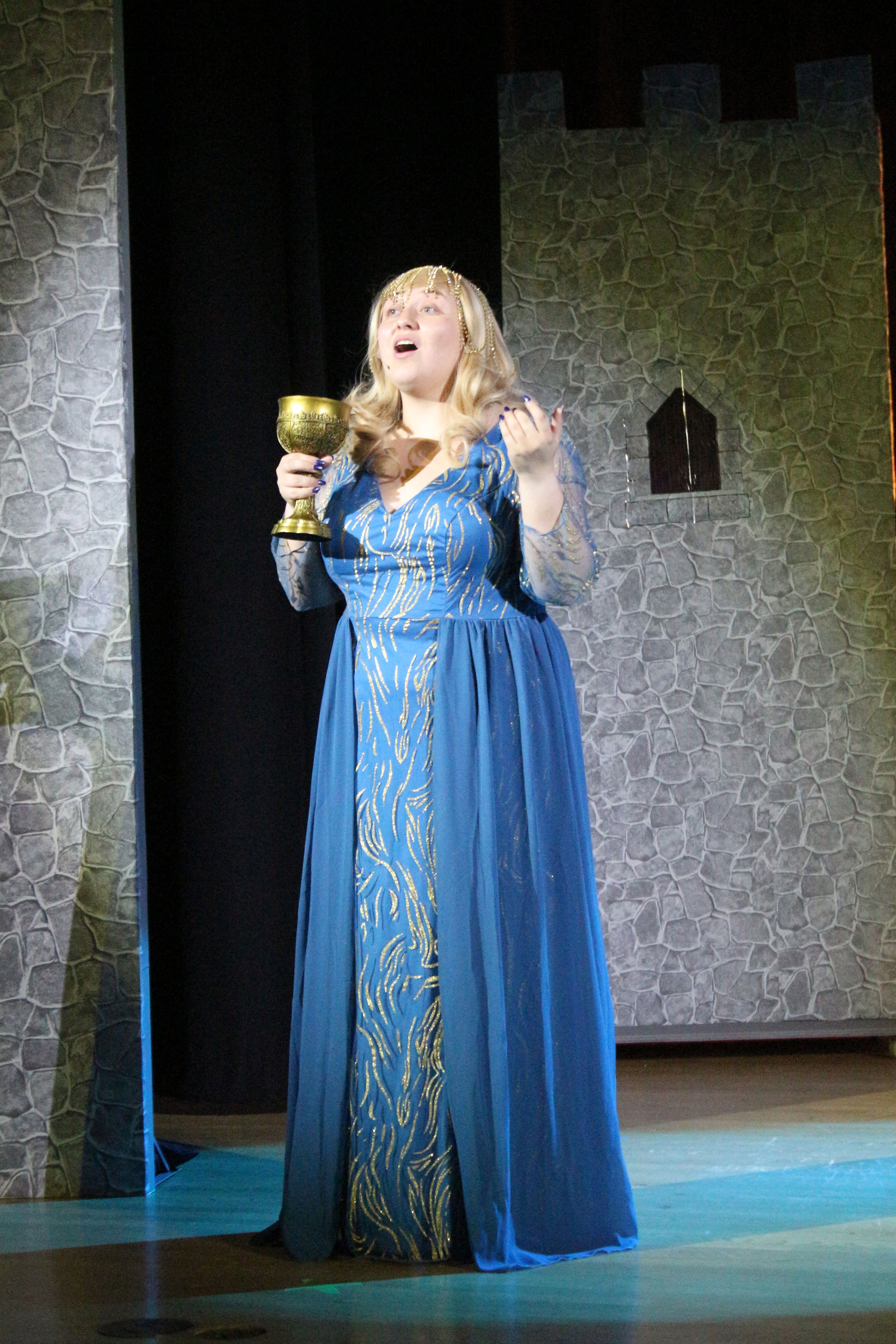 (Photo: Izzy Scampoli as the "Lady of the Lake" in a scene from the musical "SPAMALOT" presented by Square One Players in Shrewsbury, MA. through August 13, 2023. Photo Courtesy of Joanne Smith)
Since the show deals with a specific "type" of humor, i.e. the "Monty Python" brand of humor, it requires a firm grasp of the British absurdist colleagues which is so incredibly specific at times that some of it seems a little lost by a few within the cast, who still, nonetheless, give it their best effort.
Some of Idle's interwoven vignettes do occasionally drag on, especially in the show's second act, but this is instantly forgiven by most "Python" fans who would complain they didn't add MORE classic "Python" material.
Other of Idle's more "naughty bits" happen so fast and subtly that they can be missed by the audience or simply fall flat.
The fine choreography by Kaitlyn Ekstrom-Doig is mostly well executed. However, some members of the cast seem to noticeably have an easier time than others in picking up and executing the "silliness factor" associated with much of the varied choreography in the dance numbers.
One cast member that seems to completely understand the "Pythonesque" humor is Izzy Scampoli, who shines as the "Lady of the Lake."
Not only is Scampoli's voice outstanding in the numbers "Find Your Grail" and "Whatever Happened to My Part?" her comedic timing is spot on throughout the entirety of the show.
Another standout is Ray Johnson as "Galahad" who duets with Scampoli on "The Song That Goes Like This."
Johnson, as with fellow "knight" actors Swanson and Lamoureux, is in that select group which completely grasps the rhythm and execution of the Pythonesque brand of humor.
Jackie Wyatt leads a hilarious, and impressive, tap number as "Not Dead Fred" during the beginning of the first act in the toe tapper "I Am Not Dead Yet" with prospective knights "Robin" (Isaac Swanson) and "Lancelot" (James Lamoureux) and the ensemble.
Takaaki Matsumoto - who also appears as "Herbert" singing "Where Are You?" - is a true standout in many of the ensemble numbers, including leading the charge in the exuberant, "His Name Is Lancelot."
Of all the numbers in the show, "You Won't Succeed on Broadway" is the number to wait for.
Isaac Swanson, as "Sir Robin," leads this number with an abundance of energy. Some might argue it comes with a bit TOO much energy. However, it is the most memorable group number of the evening.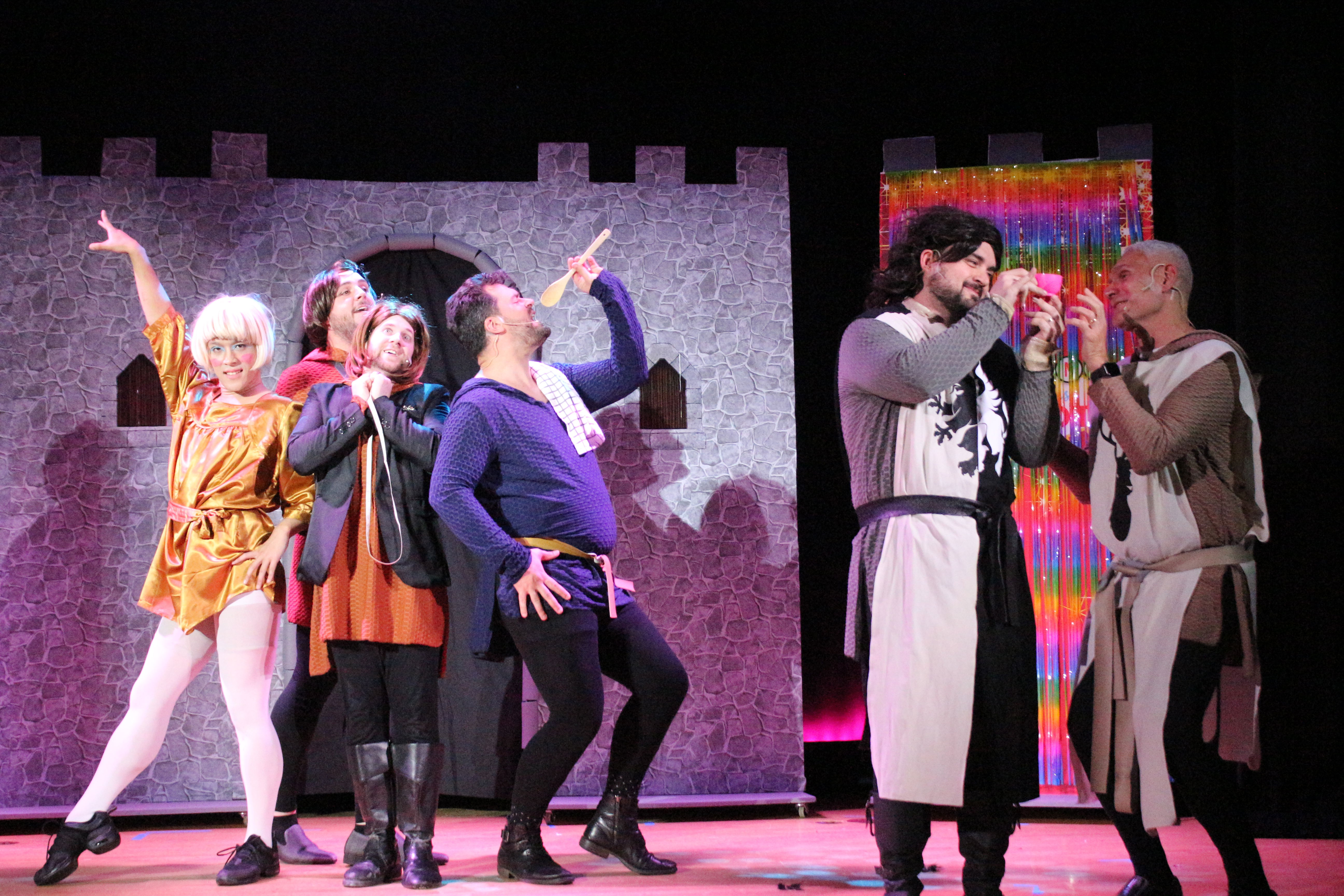 (Photo: Takaaki Matsumoto, James Gillis, Isaac Swanson, Nick Doig, James Lamoureux and Jim Catapano like to dance a lot and dream in the musical "SPAMALOT" by Eric Idle an John Du Prez, presented by Square One Players in Shrewsbury, MA. through August 13, 2023. Photo Courtesy of Joanne Smith)

Costumes by Foley Hermann successfully achieved the essence of the original production.
The bulk of scene transitions occur expeditiously if not seamlessly.
Eric Idle once pointed out that (paraphrasing) "Python recognizes the form that it is in and calls attention to it" (be it television show, movie, book, record or, in the case of "SPAMALOT" a Broadway musical).
It also does so successfully in a humorous manner rather than try forcing the material into attempting something it cannot achieve.
This explains, in part, why the bulk of early Python sketches from their television show never had an "ending" and would simply, absurdly, transition to the next vignette.
Under the direction of McGerigle, the Square One creative team and cast also take this same approach and make full use out of what limited space they have.
Since there is no way to stage certain aspects of the grander original Broadway production, the more simplified set proves effective and, turning disadvantage into humorous advantage, the lack of a big-scale set allowed for some hilarious choices made by McGerigle.
The Square One production wisely and wittily calls attention to the town where it is (Shrewsbury) the venue (Flanagan Theater, Southgate) and has fun not trying to be a carbon copy of the Broadway show, understanding it cannot do some of the things the Broadway venue could do.
That said, when utilizing the entire space, the usage of the aisles did leave some blind spots for audience members sitting in the balcony. This was particularly noticeable during the musical number, "Always Look On The Bright Side Of Life."
Above all else, though, it is apparent that this cast has a lot of fun performing in this show together, and that affection becomes infectious.
While most performances are already sold out, if you are looking for a show that will bring a smile to your face, then you should still try and see one of the remaining performances in their final weekend.
"SPAMALOT" continues at the Flanagan Theater at Southgate in Shrewsbury until August 13th. Bring your own coconuts.
"To horse!"
Review Contributed by Emily Baldwin - Special METRMAG Correspondent
Approximately two hours with one intermission.
Kevin T. Baldwin is a member of the American Theatre Critics Association (ATCA)
@MetrmagReviews
@Theatre_Critics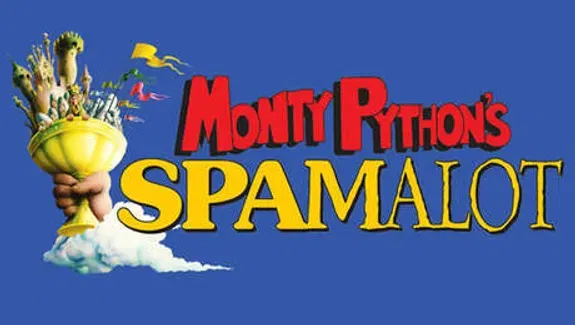 ABOUT THE SHOW
"SPAMALOT" tells the legendary tale of King Arthur's quest to find the Holy Grail.
Inspired by the classic comedy film, "Monty Python and the Holy Grail," the musical also diverts a bit from more traditional versions of the legend.
Instead, "SPAMALOT" features shenanigans including a line of beautiful dancing girls, flatulent Frenchmen, and killer rabbits.
Outside, there is plague with a 50% chance of pestilence and famine.
Throughout the show, Arthur, traveling with his servant Patsy, recruits several knights to accompany him on his quest, including Sir Bedevere, Sir Robin, Sir Lancelot, and Sir Galahad.
Besides the rabbits and farting Frenchman, they meet such characters as the Lady of the Lake, Prince Herbert, Tim the Enchanter, Not Dead Fred, the Black Knight, and the Knights who say Ni.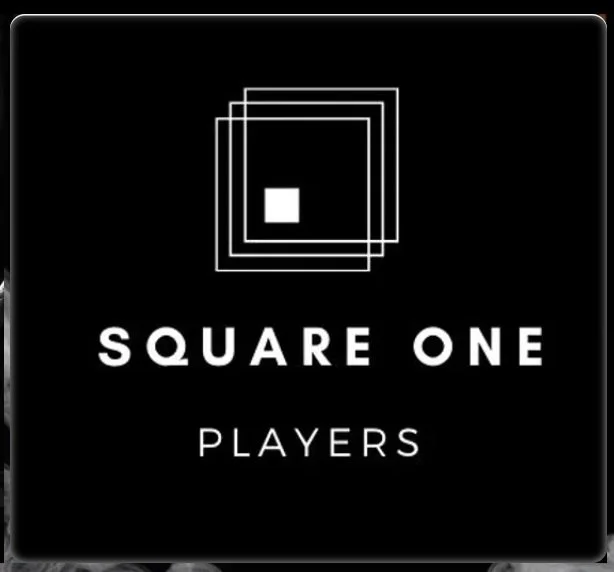 ABOUT SQUARE ONE PLAYERS
Our mission is to provide a venue to promote and support the performing and cultural arts in Central Massachusetts. The goal of the Square One Players is to provide a quality and economical live theater program that is all inclusive and of course, have a little fun along the way. We strive to open opportunities to anyone who wishes to participate in the art of theater. We hope that one and all will feel welcome to participate either by viewing or taking part in our theater shows. Come join us and be ready to be entertained!