(Cover Photo: Company of "Million Dollar Quartet", playing at the Boch Center Shubert Theatre. Photo Courtesy of the Tour)
"Goodness Gracious..."
Kevin T. Baldwin
METRMag Reviewer
# 774-242-6724

The Boch Center Shubert Theatre
Presents the
Tony® Award-Winning Musical
"Million Dollar Quartet"
Million Dollar Quartet Comes to Boston's Boch Center Shubert Theatre For Three Shows
Written by Colin Escott and Floyd Mutrux.
Directed by Tim Seib
Cast Includes: Jacob Barton (Elvis Presley), Nathan Burke (Carl Perkins), Trevor Dorner (Jerry Lee Lewis), Sean Casey Flanagan (Sam Phillips), Taylor Kraft (Dyanne), Steven Lasiter (Johnny Cash), Bill Morey (Brother Jay), Jon Rossi (Fluke, Music Director)
Additional Creative Team Includes:
Gershwin Entertainment – Producer; Jaimie Selke - Associate Producer; Evan Bernardin Productions - General Manager; Steve O'Shea - Associate Lighting Designer; Kirk Bookman - Lighting Designer; Steve Royal & Adam Koch - Scenic Design; Jeffrey Meek - Costume Designer.
Performances:
October 29, 2021 at 8:00pm
October 30, 2021 at 2:00pm and 8:00pm.
Boch Center Shubert Theatre, 265 Tremont Street, Boston, MA.
The musical "Million Dollar Quartet" marks its return to Boston this fall for three performances at the Boch Center Shubert Theatre and is absolutely riveting two hours of non-stop Rockabilly and Rock & Roll classics.
The Tony® Award winning show captures the magic of one of the greatest nights in rock-n-roll history as Elvis Presley (Jacob Barton), Carl Perkins (Nathan Burke) , Jerry Lee Lewis (Trevor Dorner) and Johnny Cash (Steven Lasiter) all gathered at a recording studio in Memphis.
The performances by these actor-musicians are intended as representational and not as pure imitation - so do not expect to walk away believing in reincarnation or uncanny impersonations as your expectations may not be met. But, under the astute direction of Tim Seib, what you can expect to believe in is the sheer collective talent of the cast and some outstanding musicianship.
Backing them up are Bill Morey as "Brother Jay" on standup bass and the show's Music Director, Jon Rossi, doubling as drummer "Fluke" who each musician gets a moment to dazzle the audience with an instrumental solo.
There is a fact-based re-enactment here as these actors are portraying these music icons as they were in this earlier time in their lives - they are younger, rougher, simpler, rawer and quite rural. If they didn't go into music they'd be driving a truck, pumping gas at a two-pump filling station, preaching in a one-room church or working in a doomed lumber mill somewhere.
Yet, history would prove that they were all on the cusp of a great fame none of them were prepared for. So, they sought advice from the single person they could all trust implicitly - Sam Phillips (Sean Casey Flanagan).
Phillips serves as our guide and narrator of this infamous night - a unique, and actual, meeting of some of the most famous rockers of the period who gathered at Sun Records in Memphis, TN on Dec. 4, 1956.
Flanagan comes off as extremely genial in his portrayal of a man who was both mentor and businessman for this collection of icons that could be considered the "Mount Rushmore of Rock & Roll" (if one were to eliminate the overwhelming contributions made by earlier African American artists like Chuck Berry who had a profound influence and impact on the budding genre).
Flanagan, who does not sing throughout the show, surprises with his expert musicianship during the show's incredible finale - a finale, by the way, which CANNOT BE MISSED so don't leave to get your car just yet.
Presley, Perkins, Cash and Lewis all met and held a spontaneous jam session where an iconic photograph of the quartet was taken. But before that moment happens, we are treated to a two hour jam session unlike any other in music history. (Note: Be prepared - there is no intermission.)
Philllips is unaware that he is about to lose these men from his record label, shortly after the photo was taken, as each had already begun to sign with different record labels before this night.
Representing the several women who were actually present during the real recording is the composite character of "Dyanne" (Taylor Kraft), a strong female presence as Elvis's girlfriend (Kraft also happens to be actually married to Jacob Barton) singing great renditions of "Fever" and "I Hear You Knockin'."
Kraft's character, based on Elvis's real girlfriend at the time, dancer Marilyn Evans (by some accounts, the real Evans was closer to a casual friend than romantically involved with Elvis), is not only an observer of the action but also becomes an integral part of the performance dynamic.
Kraft is not only a versatile singer but also helps to provide the outsider's perspective on these men - to reduce their respective and collective legend and make their humanity a little more accessible to the audience.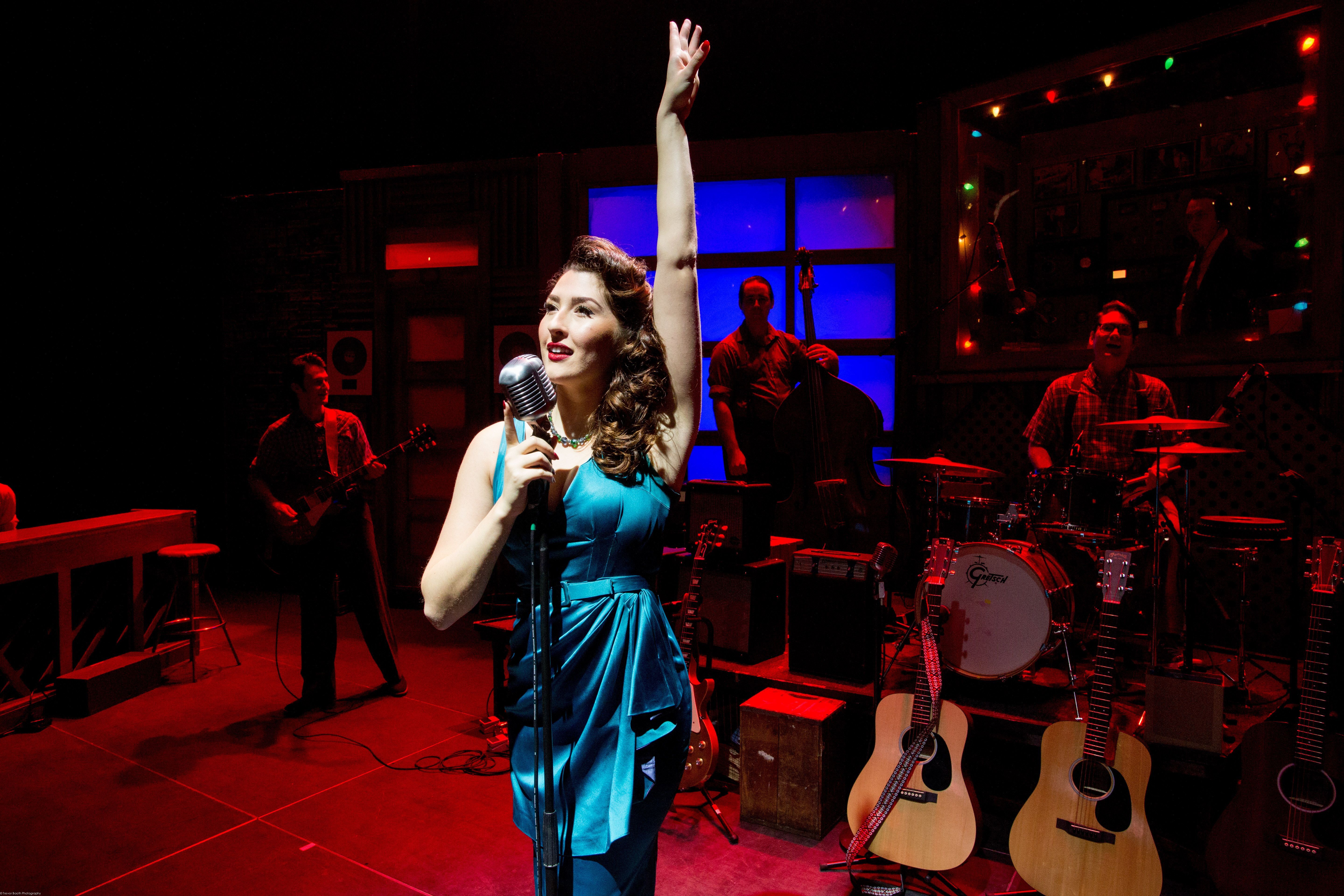 (Taylor Kraft from "Million Dollar Quartet", playing at the Boch Center Shubert Theatre. Photo Courtesy of the Tour)
Even though this is a "jukebox musical" the Colin Escott/Floyd Mutrux true story construct about this gathering of music icons works well with songs chosen to be performed. All of the four actor-musicians get several moments to shine in the spotlight, many times backing each other up which is where the show excels.
Of particular note is the performance of Nathan Burke as "Carl Perkins" who plays one mean guitar, especially on the Perkins classic "Who Do You Love" and then later on "See You Later Alligator."
He also gives a sympathetic portrayal of Perkins here, still young and stung by Elvis's unanticipated success on the "Ed Sullivan Show" performing Perkin's "Blue Suede Shoes" which would never again be thought of as Perkins' song as a result. Burke makes us believe this was almost as significant as the death of a child.
Also serving as much of the show's comedy relief was Trevor Dorner who gives us a glimpse of the frenzied, unabashed, unapologetic and unrelenting personality that was (and, now at age 86, probably still is) "The Killer" Jerry Lee Lewis. If you wonder if we hear "Great Balls of Fire" and "Whole Lotta Shakin' Goin' On"...of course we do and Dorner's piano playing is extremely on pointe as the Killer.
Dorner also surprises with some Killer harmonies on such group songs as "Down By the Riverside" and "Peace in the Valley."
Which brings us to the "King of Rock & Roll," Elvis. Jacob Barton does not totally look nor sound like Elvis but, again, this is not intended to be a performance of mere imitation. So, don't expect a Vegas impersonation here.
Barton provides us with a glimpse of younger Elvis, on the cusp of world wide movie success having just appeared in "Love Me Tender" and is being pulled in multiple directions, feeling like a lost prince more than a king of any kind. So, he returns to Sun to seek advice from his mentor and one man who "shoots straight" - Phillips.
Where he excels musically is on the tunes "That's All Right" and "Hound Dog" which are both exhilarating.
As the "Man in Black," Johnny Cash, Steven Lasiter sounds more like Cash when he sings on "Sixteen Tons" and "I Walk the Line." Yet, when he speaks, Lasiter seems to sound closer to the voice of "Ted Lasso" at times.
The character of Cash, as written for this show, seems like a caring, somewhat puritanical older brother bent on trying to keep the family (the "Sun Recording" family) at peace. However, thanks to Lasiter's even handed portrayal, Cash also, later, is seen as more of a sympathetic character having to ultimately confess to "father figure" Phillips about signing on to a new label.
All of these intersecting backstories and plot twists that supposedly took place during this historic gathering is highlighted by an abundance of electrifying songs played expertly with pure adrenaline and passion. There really is a "Whole Lotta Shakin' Goin' On" in Boston at the Boch Center Shubert Theatre.
Tickets for Million Dollar Quartet are on sale now at the Boch Center Box Office or www.bochcenter.org.
The show runs approximately two hours with no intermission.
Kevin T. Baldwin is a member of the American Theatre Critics Association (ATCA)
@MetrmagReviews
@Theatre_Critics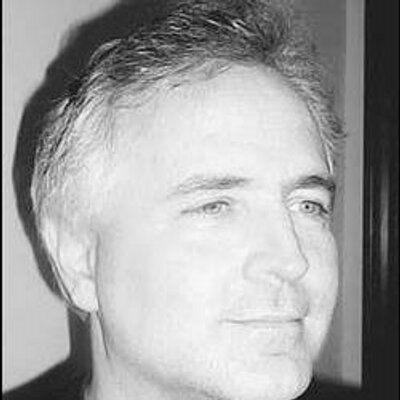 ABOUT THE SHOW:
On December 4, 1956, an auspicious twist of fate brought together four young musicians – Johnny Cash, Jerry Lee Lewis, Carl Perkins, and Elvis Presley. Sam Phillips, the undisputed "Father of Rock 'n' Roll" who was responsible for launching the careers of each of these icons, gathered the four legendary singer/songwriters at the Sun Records studio in Memphis for the first and only time.
The result? One of the greatest rock 'n' roll jam sessions in history.
Million Dollar Quartet brings that unbelievable musical moment to life with an irresistible tale of broken promises, secrets, betrayal, humor, celebration, unforgettable performances of such timeless and enduring hits as "Blue Suede Shoes," "Fever," "That's All Right," "Sixteen Tons," "I Walk the Line," "Great Balls of Fire," "Folsom Prison Blues," "Whole Lotta Shakin' Goin' On," "Hound Dog," and more.
The cast of actors portraying the four legends in this jukebox musical certainly hold the likeness to the original artists. Elvis Presley will be played by Jacob Barton; Johnny Cash will be played by Steven Lasiter; Jerry Lee Lewis will be played by Trevor Dorner; Carl Perkins will be played by Nathan Burke; Sam Phillips will be played by Sean Casey Flanagan; Brother Jay Perkins will be played by Justin Bendel; Fluke is played by Jon Rossi; and Dyanne will be played by Taylor Kraft.
Million Dollar Quartet won a Tony® Award for Best Performance by a Featured Actor in a Musical and received two Tony® nominations, one for Best Musical and one for Best Book of a Musical (Colin Escott and Floyd Mutrux).
The show received an Outer Critics Circle Award for Outstanding Featured Actor in a Musical, a Drama Desk nomination for Outstanding Musical Revue, and three Drama League nominations including Distinguished Production of a Musical and Distinguished Performance.
Million Dollar Quartet is written by Colin Escott and Floyd Mutrux.
The show is directed by Tim Seib with musical direction by Jon Rossi and produced by Gershwin Entertainment.
Lighting Design by Kirk Bookman, set design by Adam Koch and costume design by Jeffrey Meek.
COVID-19 UPDATE
The Boch Center is committed to helping stop the spread of COVID-19 and announced it will require all patrons to be fully vaccinated or provide a negative COVID test taken within 72 hours of the show. Guests will be asked to show their vaccination card or test results and a government issued ID prior to entering an event at the Wang or Shubert Theatres. The new policy goes into effect on September 14. The Boch Center recently introduced a similar measure, requiring all administrative staff members, ushers, security personnel, stagehands and vendors be fully vaccinated. At this time masks are required for all guests as per the City of Boston mandate. The Boch Center will continue to monitor state and local health guidelines and will adjust the mask policy if the current guidelines change.

ABOUT THE BOCH CENTER
Tickets for Million Dollar Quartet at the Boch Center Shubert Theatre October 29th 8:00 PM and October 30th, 2:00 PM and 8:00 PM are available at the Boch Center Box Office, www.bochcenter.org, by calling (800) 982-ARTS (2787) and via Ticketmaster.
ABOUT THE SHUBERT THEATRE
The Shubert Theatre is located at 265 Tremont Street in Boston, MA.
The Boch Center is one of the nation's leading nonprofit performing arts institutions and a guardian of the historic Wang and Shubert Theatres. As New England's largest cultural venue, the Boch Center is home to theater, classical and popular music, dance, comedy, opera, Broadway musicals, family entertainment, and more. Located in Boston's historic Theater District, the Boch Center also offers a diverse mix of educational, cultural and community outreach initiatives, including the City Spotlights Leadership Program and the Folk Americana Roots Hall of Fame; collaborates with artists and local nonprofit arts organizations; preserves historic venues; and acts as a champion for Greater Boston's arts and cultural community. Learn more at bochcenter.org.