(Cover Photo: (From left) Marty Bongfeldt, Cate Damon and Lori Efford in a scene from the Broadway smash musical "MAMMA MIA!" now playing at West Springfield's Majestic Theater through October 16, 2022. Photo by Lee Chambers)
"Something good in everything I see"
Kevin T. Baldwin
METRMag Reviewer
# 774-242-6724

The Majestic Theater
Presents the Broadway Smash Musical
"MAMMA MIA!"
Book by Catherine Johnson
Music and Lyrics by Benny Anderson and Bjorn Ulvaeus
Directed by Danny Eaton
Music Director Mitch Chakour
Choreographer Russell Garrett
Additional Creative Team:
Costume Design - Dawn McKay; Scenic Design - Greg Trochlil; Lighting Design - Daniel D. Rist; Associate Music Director - Elisabeth Weber; Sound Design - Doug Wallace; Stage Manager - Stephen Petit
Cast Includes: Cate Damon, Vivienne Damon, Marty Bongfeldt, Lori Efford, Ben Ashley, Russell Garrett, Gene Choquette, Sam Snyder, Caelie Scott Flanagan, Natasha Ellis, Dean Hernandez, Steven Sands, Michael Garcia, Emma Hagan, Michael Luciano, Chelsie Nectow, Richard Parris Scott, Sofia Rosato, Tully Russell, Christine Voytko
Performances:
September 8, 2022 through October 16, 2022
(Contact Box Office for Exact Times)
Tickets range from $31-37 and can be purchased at the box office or by phone at # 413-747-7797.
All audience members must be fully vaccinated and wear masks inside the theater. Majestic Theater, 131 Elm Street, West Springfield, MA 01089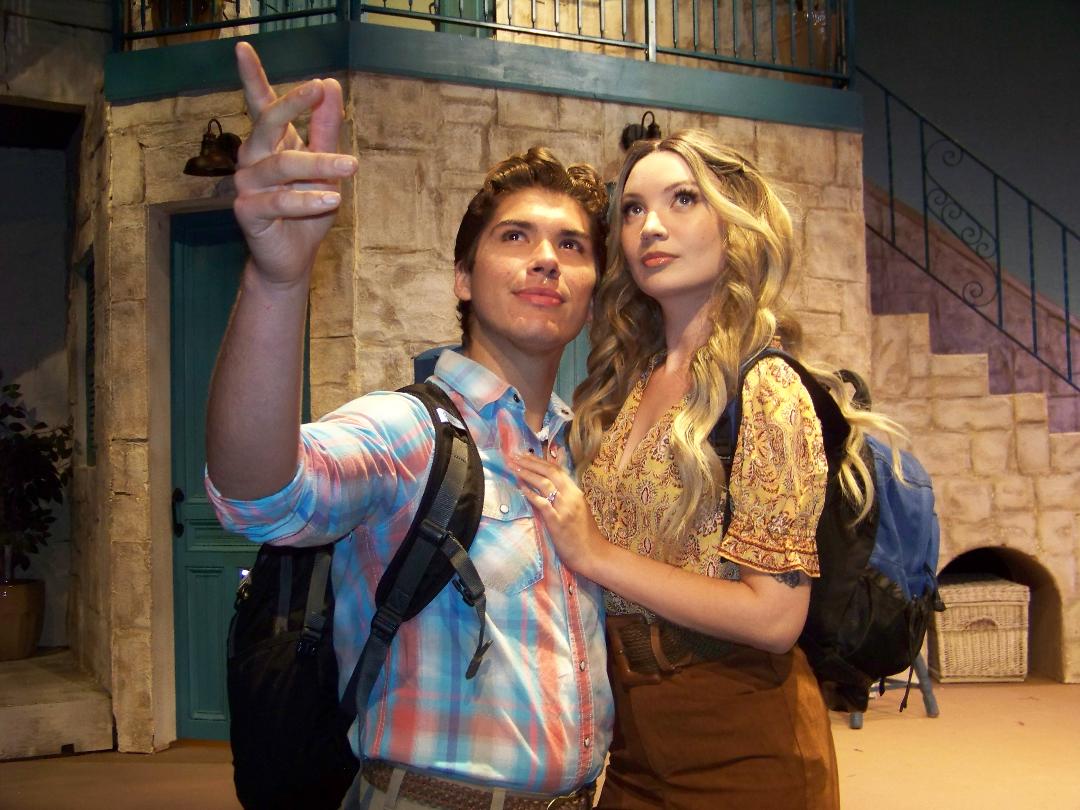 (Photo: (From left) Sam Snyder and Vivienne Damon portray engaged couple Sky and Sophie in the smash musical "MAMMA MIA!" now playing at West Springfield's Majestic Theater through October 16, 2022. Photo by Lee Chambers)
"MAMMA MIA!" is a musical farce with a heart of "ABBA Gold."
The Majestic Theater stage is transformed into a Greek tropical paradise as the Broadway musical smash "MAMMA MIA!" provides an entertaining evening of preposterous fun and, make no mistake, you WILL be on your feet cheering on the cast by the end of the night.
To try and state that the classic ABBA hit song lyrics by composers Benny Anderson & Bjorn Ulvaeus make any coherent sense to the plot of the story by Catherine Johnson cannot truly be done with any credibility.
However, the musical does have the distinction of re-igniting the concept of the "jukebox musical" on Broadway which serves up audiences with deliciously schmaltzy pop hits by an artist or artist around a lame, preposterous original story.
The book for this musical was provided by Catherine Johnson, who really had only one job here, which was to find a way to somehow connect the biggest hits and notable tunes of ABBA to tell this story…and she succeeds…barely.
One still may want to throw the "book" at the show's book writer for shoehorning the lyrics of "Chiquitita" into a scene where the words make very little sense to the action.
And the song lyrics to "Thank You For The Music" which has Sophie convincing her perspective "Dad"(s) to remain for her wedding day never really fit into the moment, even though, lyrically, it is just supposed to be a random "song" that was a childhood favorite.
Johnson could have stuck any ABBA tune in there for the same effect -"Ring, Ring", "People Need Love" - although, admittedly, "The King Kong Song" might not have produced the desired effect.
Also, to be fair to the book writer, in the end, ultimately, nobody walks away humming the plot toa show (unless it's a Sondheim/Lapine score, perhaps).
The best advice is to not...for one second...take this show's story seriously. That way you can just sit back, enjoy, and sing along (and, if you know and love these songs, you WILL be singing along).
One thing about composers Benny Andersson and Björn Ulvaeus of the iconic quartet known as ABBA, they absolutely knew how to come up with a good musical "hook" and were masterful at knowing how to layer it with creative instrumentation and phenomenal harmonies. In "MAMMA MIA!" ALL of that is on display.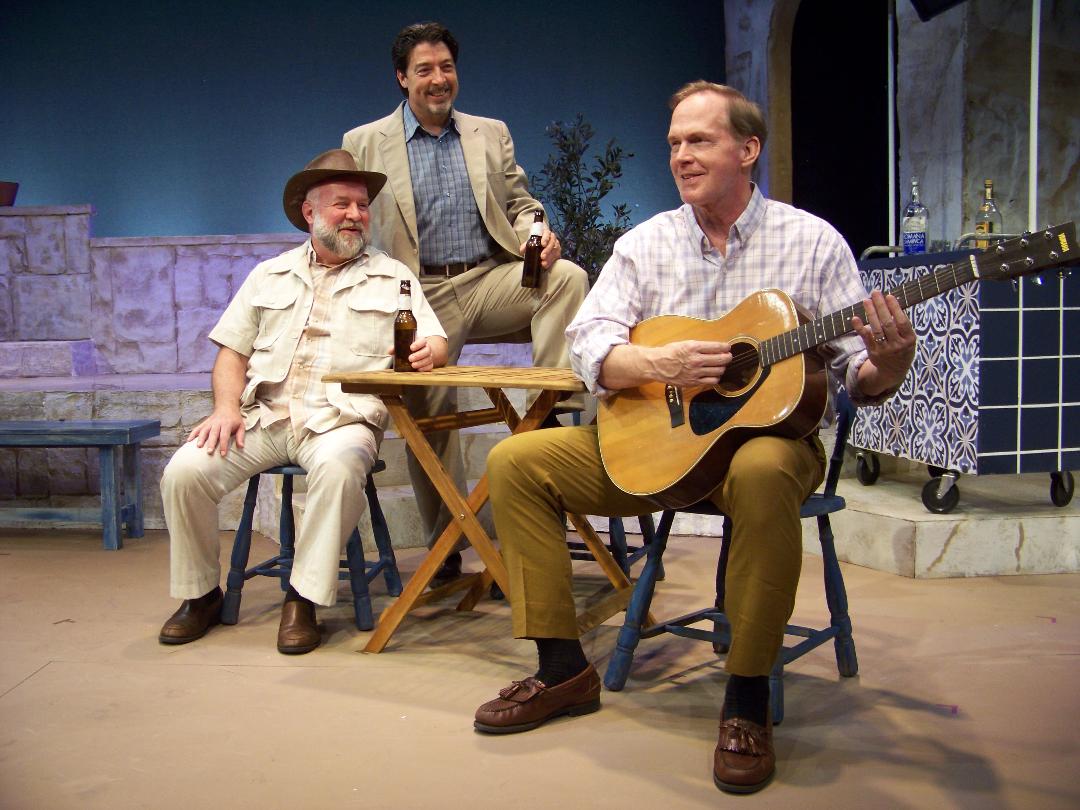 (Photo: (From left) Gene Choquette, Ben Ashley and Russell Garrett in a scene from the Broadway smash musical "MAMMA MIA!" now playing at West Springfield's Majestic Theater through October 16, 2022. Photo by Lee Chambers)
There is an engaging story here and Johnson's dialogue reveals some especially empowering moments for the central female characters in the show.
Tanya (Marty Bongfeldt) and Rosie (Lori Efford) have come to a Greek island resort hotel run by their lifelong friend and former band mate, Donna (Cate Damon).
Donna's only daughter, Sophie (Vivienne Damon, Cate Damon's real-life daughter) is getting married that weekend to Sky (Sam Snyder) but, while Donna has struggled to raise her daughter as a single mom, Sophie knows her father is alive and is determined to find out who he is so he can give her away at her wedding.
Vivienne Damon is a fine vocalist and absolutely captivating as Sophie who is, arguably, dominant on stage moreso than any of the other characters.
Sophie's relationship with Donna is strained as Sophie rebels, overtly seeking the very things Donna has rejected - which includes having a father in her life, a father to walk her down the aisle as she marries another man, and choosing the handsome, young Sky (Sam Snyder) to be her husband and who will, ultimately, be father to their children someday.
Sophie invites three men to the wedding: Sam (Ben Ashley), Bill (Gene Choquette) and Harry (Russell Garrett, who also choreographed the show), one of whom might be her father, at least according to Donna's diary, which 20-year old Sophie reads. Basic math becomes a pivotal tool as each man slowly learns the true reason as to why they have been invited to the wedding.
Once committed to attending Sophie's wedding, though, many lives will change forever before the last note of the fun, uplifting musical is sung.
"MAMMA MIA!" is overflowing with many familiar ABBA hits, to be sure - from the show's wistful opener "I Have a Dream" sung by Sophie, to the show's closer, which happens to be the reprise of "I Have a Dream."
In between those musical numbers, there is not one cast member who falls short of delivering a solid performance of each and every song from this show's selected ABBA catalog of hits.
The ensemble, under the music direction of Mitch Chakour, kicks the show into high gear early on with the numbers "Gimme, Gimme, Gimme" and "Voulez Vous" featuring excellent choreography by Garrett. Also impressive is the creative Act Two opener, "Under Attack."
There's also old ABBA favorites "Dancing Queen" and "Super Trouper" sung by Donna and her friends which will have more than a few in the audience (literally) dancing in their seats.
Ben Ashley as "Sam" is another standout performance, especially as it becomes clear just how much Sam loves Donna and, much to Donna's dismay, just how quickly he bonds with Sophie (as do all the suspected potential fathers).
This leaves Donna conflicted - she has never really gotten over Sam but also, she is a successful independent businesswoman and mother who has not "required" a man in her life. Yet, now she feels helpless as her daughter seems to pull farther away.
All the principals, under the direction of Danny Eaton, have great chemistry and, in most musical numbers, the vocals blend nicely. They are supported by the ensemble both onstage and off which yields some mixed results while working with an unseen musical pit. At the opening show, this was evident by a few stumbles into some numbers but, once into the song, everything clicked.
The pivotal supporting cast, Bongfeldt, Efford, Garrett and Choquette, especially, provide some of the funniest moments in the show. Also, it cannot be emphasized enough just how integral to the success of the show the ensemble players are, as well.
Cate Damon gives a dynamic, intense performance, capturing the essence of fiercely proud, independent and empowered Donna. It is a vocally demanding role, especially during the Act Two's emotionally charged, "The Winner Takes It All."
Usually the number, "Slipping Through My Fingers" (which has Donna preparing Sophie for her wedding) is a bit sappy and lethargic.
However, the tender ballad became unexpectedly poignant due to an overwhelming sense of sincerity, affection and truth conveyed between real-life mother and daughter on stage.
Set Design by Greg Trochlil is simply astounding and, working in tandem with Daniel D. Rist's Lighting Design, there are simply not enough superlatives to convey just how well these elements work together. The immense attention to detail is clearly evident and the set and lighting are each deserving of a standing ovation of its own.
Dawn McKay's costumes provide a totally appropriate look for principal members of the cast and the entire ensemble. Also provided are wonderfully outlandish 70s disco/glam throwbacks for the show's curtain call.
At the opening night performance, occasionally there was a slight imbalance of sound and, as a result, there were a few missed musical entrances. Overall, though, the unseen band, led by Conductor/Keyboardist Elisabeth Weber, executed the score quite admirably.
During the curtain call, the audience WILL sing along with the cast (whether prompted or not) a wonderful assortment of straightforward ABBA songs that include "Mamma Mia," "Dancing Queen" and "Waterloo" (the last one is not located anywhere else in the score).
There is probably no place in the Springfield area where more fun is happening this month than at the Majestic Theater. So, stand, sit, dance around in your seat, or just hum along...but there's plenty to enjoy with "MAMMA MIA!" and it should not be missed.
The show's approximate run time is 2 hours, 30 minutes with one intermission.
Kevin T. Baldwin is a member of the American Theatre Critics Association (ATCA)
@MetrmagReviews
@Theatre_Critics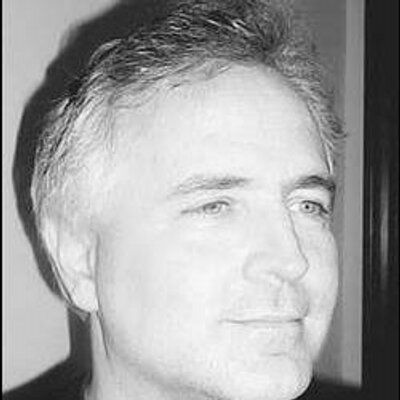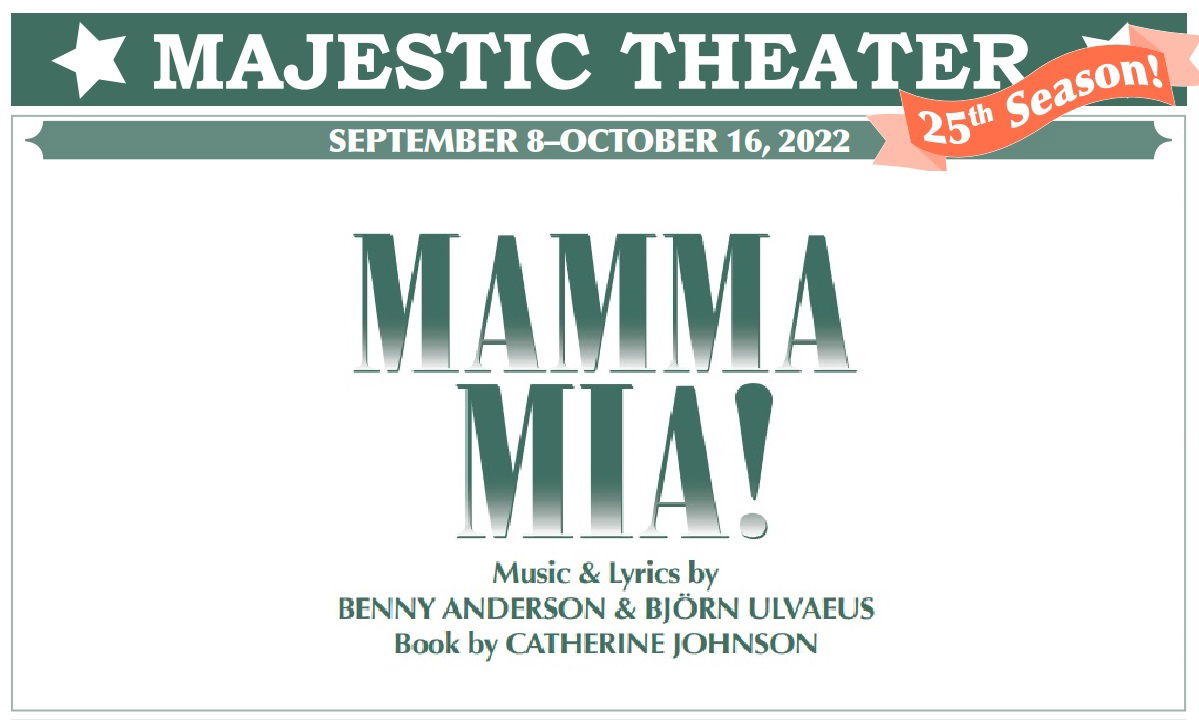 ABOUT THE SHOW
MAMMA MIA! tells the story of Donna, who lives a quiet life on a Greek Island, which is nearly upended when her daughter, Sophie, gets engaged.
Never knowing the identity of her father, Sophie hatches a scheme to invite the three men who may be her dad to the wedding.
Love, friendship, and plenty of dancing and singing to the timeless music of ABBA make MAMMA MIA! a joyous celebration, which is the perfect way to kick off the Majestic Theater's 25th Anniversary season!
Joining in the festivities will be YOU and some of our Majestic friends, old and new, who have graced our stage over the years:
• Ben Ashley (The Buddy Holly Story, Miss Saigon, La Cage Aux Folles)
• Real-life mother and daughter duo Cate Damon (Blood Brothers, Enchanted April, Alabama Story) and Vivienne Damon (9 to 5, Guys & Dolls, The Miracle Worker)
• Paula Cortis (A Funny Thing Happened on the Way to the Forum, The Full Monty)
• Buzz Roddy (Stones in His Pockets, 33 Variations, Guys & Dolls)
• Robbie Simpson (Lost in Yonkers, The Last Five Years, Breaking Up Is Hard to Do)
• ... and 14 additional wildly talented cast members to be announced! Come join the party as we celebrate a quarter century of quality professional theater in West Springfield.

ABOUT THE MAJESTIC THEATER
Locally-produced professional live theater since 1997Before it was a live theater, local residents may remember the Majestic Theater as a movie house. It has since been renovated and reimagined to bring live performances to the West Springfield area, giving local performance and technical artists the opportunity to thrive. Every season at the Majestic consists of five productions (including at least one musical) featuring local actors. In addition to the subscription season, the summer includes children's theater, concerts, plays, open mic nights, and improvisational comedy shows. Recently named the best place to see live theater in the Pioneer Valley in the Valley Advocate Readers' Poll, the Majestic continues to offer great theater thanks to the support and generosity of its 4200+ subscribers.
Majestic Theater
131 Elm Street
West Springfield, MA 01089
# 413-747-7797