(Cover Photo: The Cast of Calliope Production's latest "Love, Loss, and What I Wore" by Nora and Delia Ephron. Photo Courtesy of Calliope Productions.)

"Fashion - Nonsense for the clothes minded"


By Kevin T. Baldwin
METRMAG Reviewer
# 774-242-6724

Calliope Productions
Presents "Love, Loss, and What I Wore"
Written by Nora and Delia Ephron
Director Karen Josbacher. Stage Manager Michele Tousignant.
Cast Includes: Pat Delano, Miranda Jacobs, Karen Josbacher, Betty Kristan, Linnea Lyerly.
Calliope Theatre, 150 Main Street in Boylston, MA.
Performances:
October 7, 8, 9, 15 & 16, 2021 at 7:30pm
October 10 & 17, 2021 at 2:00pm
Tickets: $20 for regular admission and $17 for senior and students (age 16 and older). All tickets are for reserved seats and must be purchased in advance through TicketStage.com. Visit Calliope's ticketing site at www.ticketstage.com/T/CALLIOPE - Anyone who has a Calliope TheatrePass, requires wheelchair seating, or cannot access online ticketing services should call Calliope at # 508-869-6887 for assistance.
Full disclothesure – I am neither a woman nor do I identify as a "fashionista."
However, you need not be either to enjoy Calliope Productions' latest show, "Love, Loss, and What I Wore," playing now in Boylston. This show transcends gender while simultaneously celebrating a topic on which many women can relate.
The five-actress staged reading, written by Nora and Delia Ephron (based on the book by Ilene Beckerman), perfectly illuminates the concept of apparel signifying one's "identity" – that emotional yet strictly symbolic bond between an article of clothing and the person wearing it to show who that person is…or, sometimes, who that person isn't.
Similar to what exists in fashion, there was an attempt here, using varied elements, to make a compatible combination or blend. In this case, a wardrobe of compatible colorful stories, and the combination succeeds.
We learn all the detailed rationale behind the selection process for clothing choices made during this tapestry of multiple character interactions:
How a person chose the particular item being discussed, where they chose it, why they chose it, the-history-and-psychological-reasoning-behind-their-decision-as-to WHY they chose that particular article of clothing (over something else), and, ultimately, reaction to the sometimes questionable choices.
All of this information is conveyed (nay, "revealed") in a series of letters shared by the actresses.
Accessorizing these multiple tales of attire are occasional drawings depicting certain personal moments, not just fashion moments, in the lives and relationships of all the characters (nay, people) featured in the letters.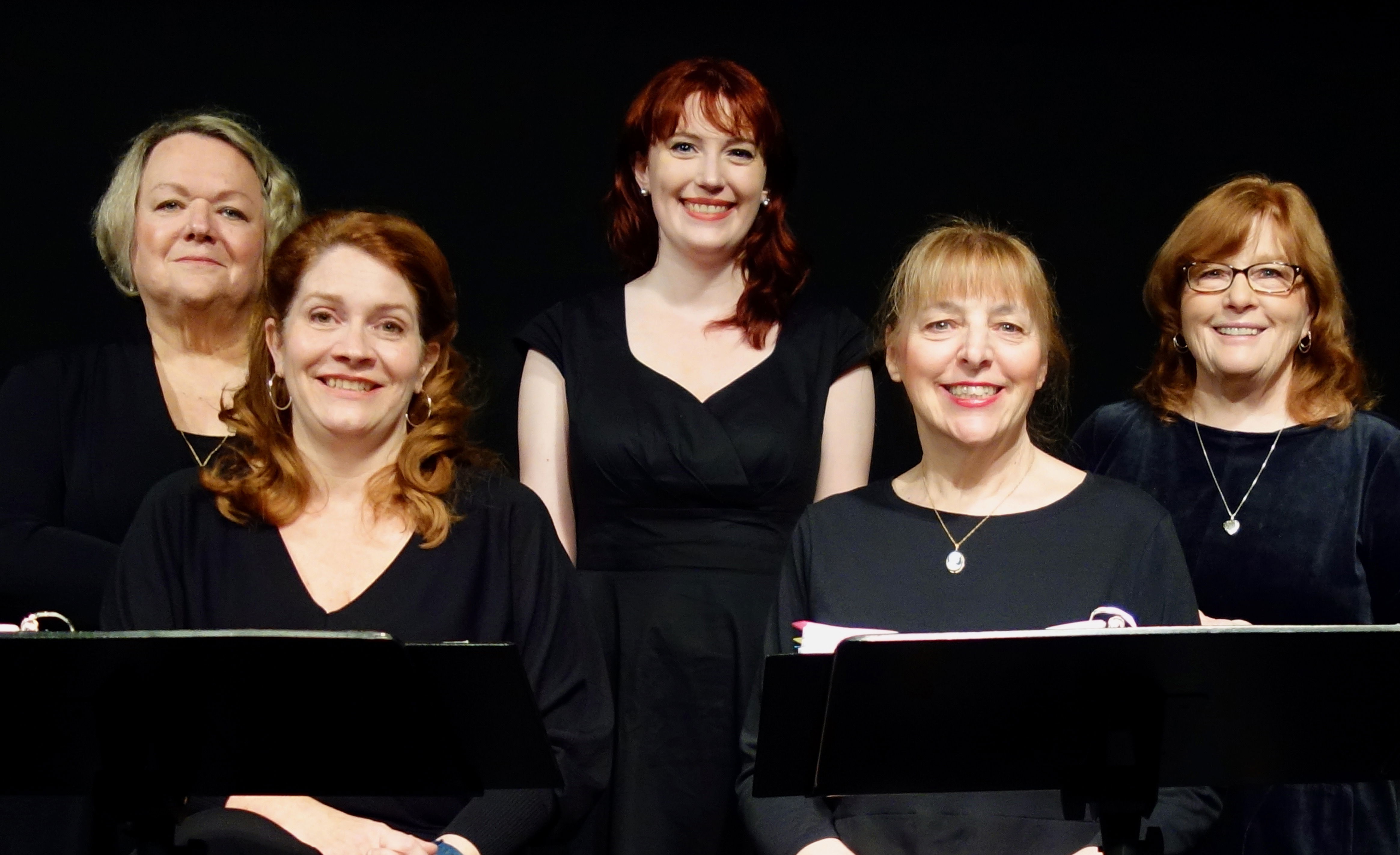 (The Cast of Calliope Production's latest "Love, Loss, and What I Wore": Pat Delano, Linnea Lyerly, Miranda Jacobs, Betty Kristan and Karen Josbacher. Photo Courtesy of Calliope Productions.)
The cast includes Karen Josbacher (Gingy), Pat Delano (Gingy's Mother, Nancy's Mother, Rosie, Lynne, Mary, Nora & Doctor), Linnea Lyerly (Nancy, Liz, Annie, Mary's Mother, Amanda & Woman), Betty Kristan (Alex's Mother, Holly, Pam, Merrill, Older Sister, Dora, Eve's Shrink, Lisa & Geralyn) and Miranda Jacobs (Alex, Stephanie, Nancy aka "Gang Sweater", Younger Sister, Heather & Eve).
Sitting in chairs across the front of an empty stage, all dressed in black (the performers and the stage), the scripts are laid out on music stands and the cast read from the scripts.
However, most of the actresses did not require those scripts as the monologues and read exchanges seemed to flow quite fluidly with great sincerity, showing an intimate connection to the material.
What was not quite as fluid were the abrupt moments of inconsistent isolated lighting throughout the production which diminished some of the effect. Nonetheless, the actresses persevered.
Subjects running the vignette catwalk include: bras, pantyhose, boots, shoes, bathrobes, purses, gang sweaters...MADONNA...brownie skirts to "outfits" to prom dresses, revealing to concealing attire...and more.
We are regaled with a mix and match of tales full of joy, sorrow, and even a few random hangers just loaded with embarrassment. All stories seem to converge with a 'closet full' of phrases using occasional leading (and sometimes self-induced) body-shaming questions common to the subject matter:
"Did I go UP a size?"
"The NEW black?"
"HORIZONTAL stripes?"
"Does this make me look FAT?"
"You're wearing THAT?"
There are many stories in common with, but not exclusive to, female identity but, certainly contained here within the letters as read, these are events for which many women in the audience could relate.
Events such as: The parent taking their daughter to buy the young girl's first training bra (and loudly pointing out EXACTLY where these are in the store); The aggressive women's clothing store employee overtly "helping out" a customer in the ladies dressing room; The mother who disagrees with virtually every fashion choice their daughter makes, and more.
Josbacher (who also directed) does admirably as "Gingy" anchoring the topics as Gingy's overall story interweaves with the other tales. Delano is a howl as she commands the audience's attention with her hysterical diatribe regarding the "purse."
Yet mixed within the more humorous "yarns" are also poignant pieces about apparel serving as a reminder of a specific time (like a rape victim who 'flashes back' to a miniskirt and a pair of boots, or a woman who 'ties' a specific shirt to a failed romance).
It is in many of these more subtle or even subdued moments that Kristan tends to excel, such as when she waxes poetic during her touching monologue as a cancer survivor who chooses to have reconstructive surgery and gets a tattoo.
Whether you are mixing or matching, wearing the basic neutral colors of the Autumn wardrobe palette, or even if you decide to wear an abundance of ghastly seasonal hues and prints, however you attire, when you attend "Love, Loss, and What I Wore," please remember to put on a mask as you enter the theatre and view this impressive 'ensemble.'
The show is approximately 95 minutes with no intermission.
Kevin T. Baldwin is a member of the American Theatre Critics Association (ATCA)
@MetrmagReviews
@Theatre_Critics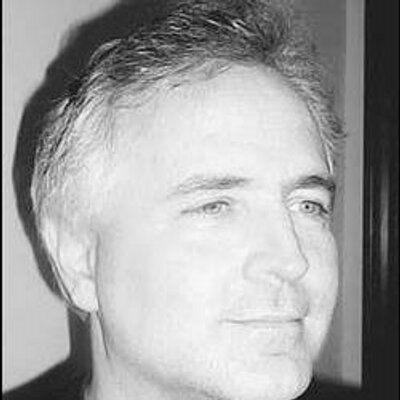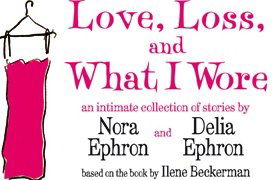 Calliope Productions presents 2010 Drama Desk Award winner LOVE, LOSS, AND WHAT I WORE, a comedy by Norah and Delia Ephron, presented by five women over the course of 95 minutes.
LOVE, LOSS, AND WHAT I WORE is like a heart-to-heart chat with a best friend over coffee.
The conversations meander from the story of a stepmother wearing the same style bathrobe as her husband's late wife, to a couple's musings about what they wore on their wedding day, to a rant about purses, and includes such topics as cowboy boots, and outfits that make mothers cringe.
COVID-19 PROTOCOL
IMPORTANT: In keeping with Calliope's current Covid-19 protocol, all performers and staff are fully vaccinated, and all audience members will be required to wear masks and present proof of vaccination or negative PCR test results.
For more information or to reserve or purchase tickets, please visit the LOVE, LOSS, AND WHAT I WORE performance page at https://calliopeproductions.org/loveloss.php or call the Calliope box office at 508-869-6887. We look forward to seeing you at the theatre!

ABOUT CALLIOPE PRODUCTIONS
Calliope Productions is a year-round non-profit theatre company founded in 1982 that serves the needs and interests of audiences and performers in the Central Massachusetts region. Calliope Productions presents six main-stage productions each year, and operates performance training workshops for students (ages 9 - 18) and adults. Calliope Productions is a member of the American Association of Community Theatre, the Eastern Massachusetts Association of Community Theatres, and the Worcester Cultural Coalition.
Calliope Productions
150 Main Street
Boylston, MA 01505
508-869-6887