(Cover Photo of "One Slight Hitch" at WCLOC. Photo Credit: Christopher O'Connor)
WCLOC's "One Slight Hitch" takes us to an 80s wedding
By Kevin T. Baldwin
METRMag Reviewer
Contact: 774-242-6724

WORCESTER - "One Slight Hitch" by Lewis Black. Presented by Worcester County Light Opera Company, 21 Grandview Avenue, Worcester. Performances: Feb, 13, 14 & 15 at 7:30pm, Feb. 16 at 2:00pm. Ticket prices $25.00 General Admission, $20.00 Seniors (62+) & Students.
Written by Lewis Black. Directed by Jeremy Woloski.
Cast Includes: Luke Savage, Neal Martel, Norman Dubois, Krissi Forgues, Victoria Doughty, Maggie McCarthy, Caitlin Lahey
Worcester County Light Opera Company (WCLOC) presents brings us back to the 1980s where a single wedding day in a family turns into a cautionary tale thanks to famed comedian turned playwright Lewis Black.
The relatively standard plot by Black centers on Courtney (Caitlin Lahey), a stressed out bride-to-be just a few short hours from marrying her psychologist fiancé Harper (Norman Dubois).
Her equally stressed out mother, Delia (Krissi Forgues) and physician father… appropriately referred to as "Doc"…(Neal Martel), both are doing everything they can to make it a special day without everyone in the family losing their collective sanity in the process.
This admirable goal is shot all to hell as Doc opens the door to his house, where the wedding is about to take place, and is unhappily startled by the appearance of Ryan (Luke Savage), Courtney's former boyfriend.
Doc, convinced Ryan has returned to try and stop the wedding, tries to hide Ryan away.
with the assistance of his youngest daughter PB (Maggie McCarthy, who also occasionally serves as our host and narrator for the show).
While the footloose and freewheeling stoner Ryan actually didn't even know a wedding was taking place, it still becomes harder and harder for Doc to keep things secret.
Martel and Forgues have terrific chemistry as the long married couple. They make their relationship believably manic during the show, especially as Doc tries to keep Delia "calm" as best as he can under the difficult circumstances that unfold throughout the less-than-happy wedding day.
We then meet Courtney's other sister, the alcoholic nymphomaniac Melanie (Victoria Doughty) who discovers Ryan's presence and immediately starts to make the move on him, in between shots of…well, everything.
As the show progresses, it is obvious that the worst thing ever installed in this family home was a bar. There is more drinking and pill popping here than was reported at Studio 54 in the seventies…all of the seventies.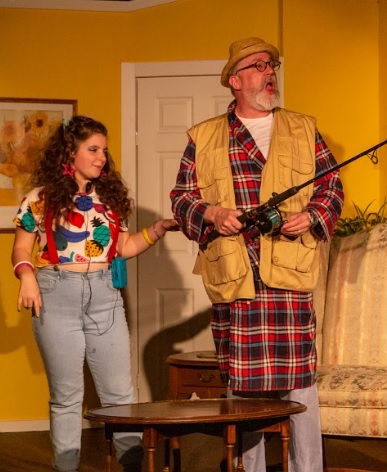 Maggie McCarthy and Neal Martel in "One Slight Hitch" at WCLOC. Photo Credit: Christopher O'Connor.

The presence of Ryan is obviously disruptive of the nuptials, but Lewis Black's astutely constructed farce takes several distinctive turns and thankfully saves itself from dissolving into mediocrity.
Under the direction of Jeremy Woloski, the cast is exemplary in how it executes Black's carefully timed entrances, exits and other comedic beats.
At the end of Act Two, there is an oddly placed, semi-serious soul-searching monologue from Delia about the concept of wedding and marriage as experienced by the "last great generation" which allows Black to wax poetic (at least a little, and in his own cynical way).
Woloski has done a fine job staging the show, approaching it as one might a Neil Simon comedy. The beats are there, yet Black still manages to slip in some of the trademark acerbic insights one might see in his stand-up act, usually through the character of Doc.
Lahey proves her expert comedic timing as Courtney, especially in how Courtney's emotional state spirals out of control until an epiphany by Courtney is ultimately reached.
Savage and Dubois had a few exchanges late during act two which could have provided the basis for their own show as the repartee and chemistry between the two actors was that solid.
The single set design by Woloski is quite effective and appropriate to the time period. While the show is set in 1981, many of the musical selections used by PB as scene transition music were from the entire decade, not specific to the year 1981.
There were a few minor gaffes and line stumbles and sometimes the dialogue tended to ramble. However, overall, this was a very funny show which should not be missed and let's hope we can look forward to more from Lewis Black, playwright.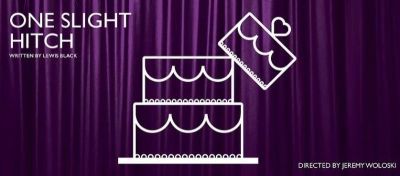 The show runs approximately 2 hours with one intermission.
Kevin T. Baldwin is a member of the American Theatre Critics Association (ATCA)