(Cover Photo: Regan Sims and Ivan Cecil Walks in a scene from Lenelle Moïse's "K-I-S-S-I-N-G" now playing at the Huntington Theatre Company in Boston, MA. through April 2, 2023. Photo Credit T. Charles Erickson)




By Kevin T. Baldwin
METRMAG Reviewer
# 774-242-6724

"Stories can't be pretty. They can be good, sad, funny, or incomplete."
- Lenelle Moise

Huntington Theatre Company
Presents Lenelle Moïse's
"K-I-S-S-I-N-G"
A Co-Production with the Front Porch Arts Collective
Written By Lenelle Moïse
Directed By Dawn M. Simmons
Assistant Director- Kelsey Fonise
Choreographer- Misha Shields
Cast Includes:
Patrese D. McClain – Dot; James Ricardo Milord – Jack; Bobby Cius - Neighbor; U/S Dani, Albert; Regan Sims – Lala; Sharmarke Yusuf – Dani; Ivan Cecil Walks – Albert; Thomika Bridwell - U/S Dot; Adrian Peguero - U/S Neighbor; Sandra Seoane-Serí - U/S Lala; Rodney Witherspoon II – U/S Jack.
Additional Creative Team:
Jason Ardizzone-West - Scenic Designer; Dominique Fawn Hill - Costume Designer; Jorge Arroyo - Lighting Designer; Anna Drummond - Sound Design; Yee Eun Nam & Hannah Tran - Co-Projection Design; Charles Haugland – Dramaturg; Sondra R. Katz - General Manager; Alaine Alldaffer – Casting; Rosalind Bevan - Local Casting; Lauren J. Burke - Production Stage Manager; Kevin Schlagle & Kendyl Trott - Stage Managers; Gregory Geffrard - Intimacy Consultant; Christine Hamel & Rebecca Schneebaum – Voice Coaches; Kendyl Trott, Ross Gray & Hannah Marks - Production Assistants; Baron Pugh - Assistant Scenic Designer; Steven Asaro, Thomas Capelli, Joe Ellard, Will Stanley, Michelle Walker & Amy West - Carpenters; Corey Roberts – Props Run; Sam Galvao & Saskia Martinez - Scenic Artists; Emily Keebler - Wardrobe Run; Becca Jewett - Wardrobe Swing; Eduardo Ramirez - Assistant to Lighting Designer; Hannah Ashe, Kevin Barnett, Dean Covert, Makenna Harden, Miller Koppang, Baz Kouba, Toni Locurto, Jessie Marasco & Cindy Wade – Electricians; Lexie Lankiewicz - Audio Run; Massimiliano DiMartino - Projections Programmer.
Cultural Consultant- New England Aces – http://www.neaces.org/
Calderwood / BCA, 527 Tremont Street, Boston MA 02116
Performances:
March 3, 2023 through April 2, 2023
(Contact Box Office for Exact Times)
Tickets: $25 - $175
Huntington Theatre Company presents "K-I-S-S-I-N-G," an exhilarating play by Lenelle Moïse about teens emotionally and sexually cast adrift on an emotional voyage of their mutual growth, respective urges and confusion - with role models who prove not to be the guiding "compass" they require to help them in their journey.
In short, "K-I-S-S-I-N-G" is a simply beautiful and engaging production from beginning to end.
From stunning set design to captivating performances and everything (everywhere, all at once) in between, this is simply what theatre is meant to be.
It all stems from Moïse's impeccably constructed script. When it is funny, it is exceptionally funny. When it is poignant, it is deeply poignant.
Throughout the two-act comedy-drama, almost every sentence is designed to make you think, laugh, cry, feel a sense of compassion and, above all, consider.
Consider how we, as a society, perceive certain relationships and what is expected within those relationships, even when some of us aren't ready to fully comprehend or traverse those feelings - at least, not just yet,
Like a work of art by a master painter, in this case Moïse, the usage of light where darkness exists is meticulously placed.
There is humor existing in an environment where despair is prevalent. There is great optimism existing among characters living in that environment which offsets the perpetuated gloom.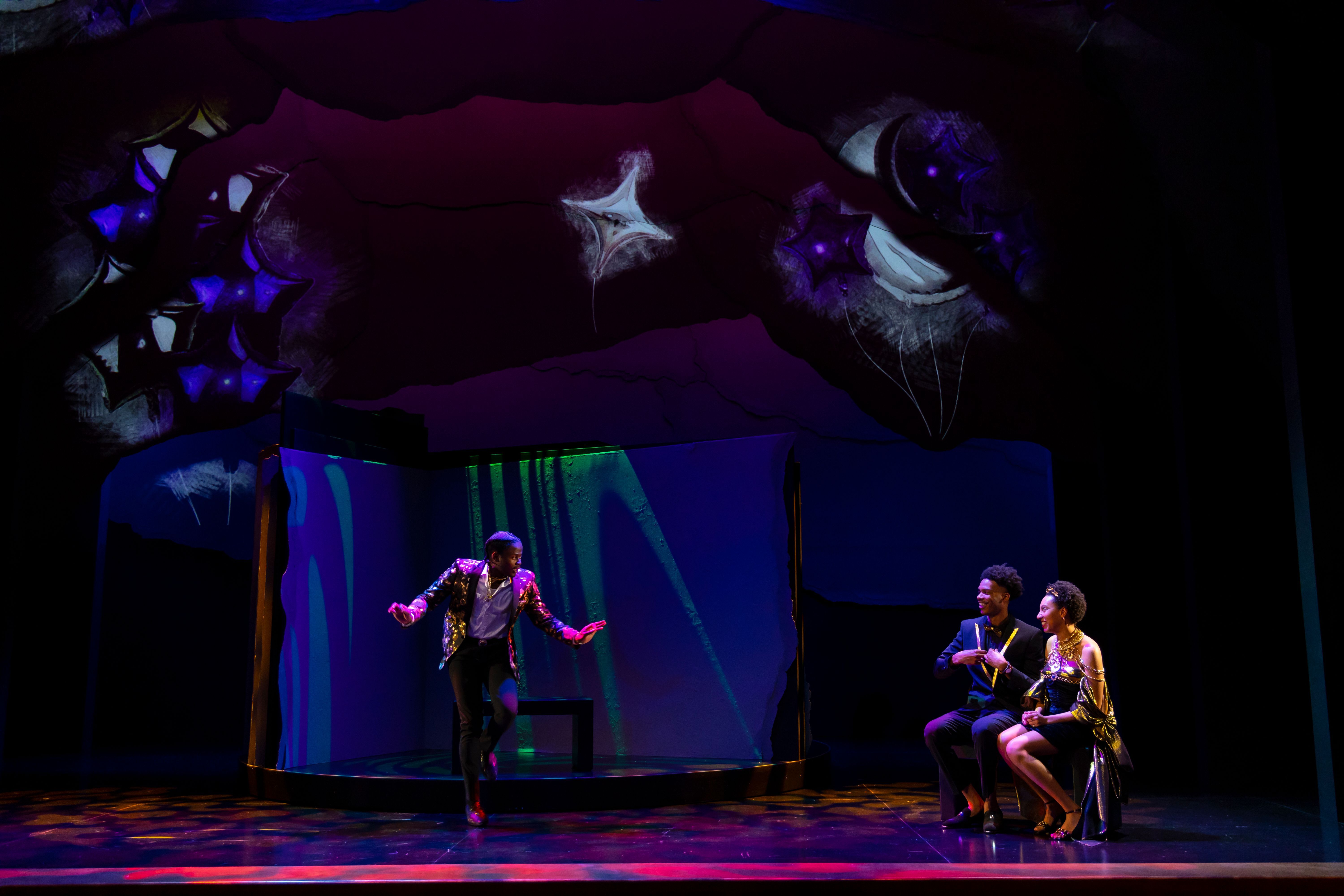 (Photo: Ivan Cecil Walks, Sharmarke Yusuf and Regan Sims in a scene from Lenelle Moïse's "K-I-S-S-I-N-G" now playing at the Huntington Theatre Company in Boston, MA. through April 2, 2023. Photo Credit T. Charles Erickson)
Lala (Regan Sims) is a teenager from a poor neighborhood who is also a budding artist. She meets slightly older fraternal twin brothers, Dani (Sharmarke Yusuf ) and Albert (Ivan Cecil Walks), who are from a wealthier neighborhood.
Yusuf is absolutely a dynamo on stage as Dani who seems to have a far more cultured and enlightened sense of self (which he does not), while Walks is equally convincing as Albert who fancies himself a ladies man (which he is not).
While the three never seem to share a verbal exchange together on stage, SIms has many great exchanges with each of the actors in many heartwarming scenes.
This showcases the near polar-opposite distinctness between the brothers' differing personalities and how those differences actually appear to attract Lala to each of them.
Both actors show us the brothers as complex, layered characters instead of simply one-dimensional competing love interests for Lala.
While both young men are attracted to her, Lala finds more in common with Dani. So much so, in fact, that she begins to date Dani in her first true relationship.
While Lala is perfectly willing to let their relationship "move to the next level," Dani shows a hesitation which confuses her, as clearly he likes her and shows every indication he would like to also move forward.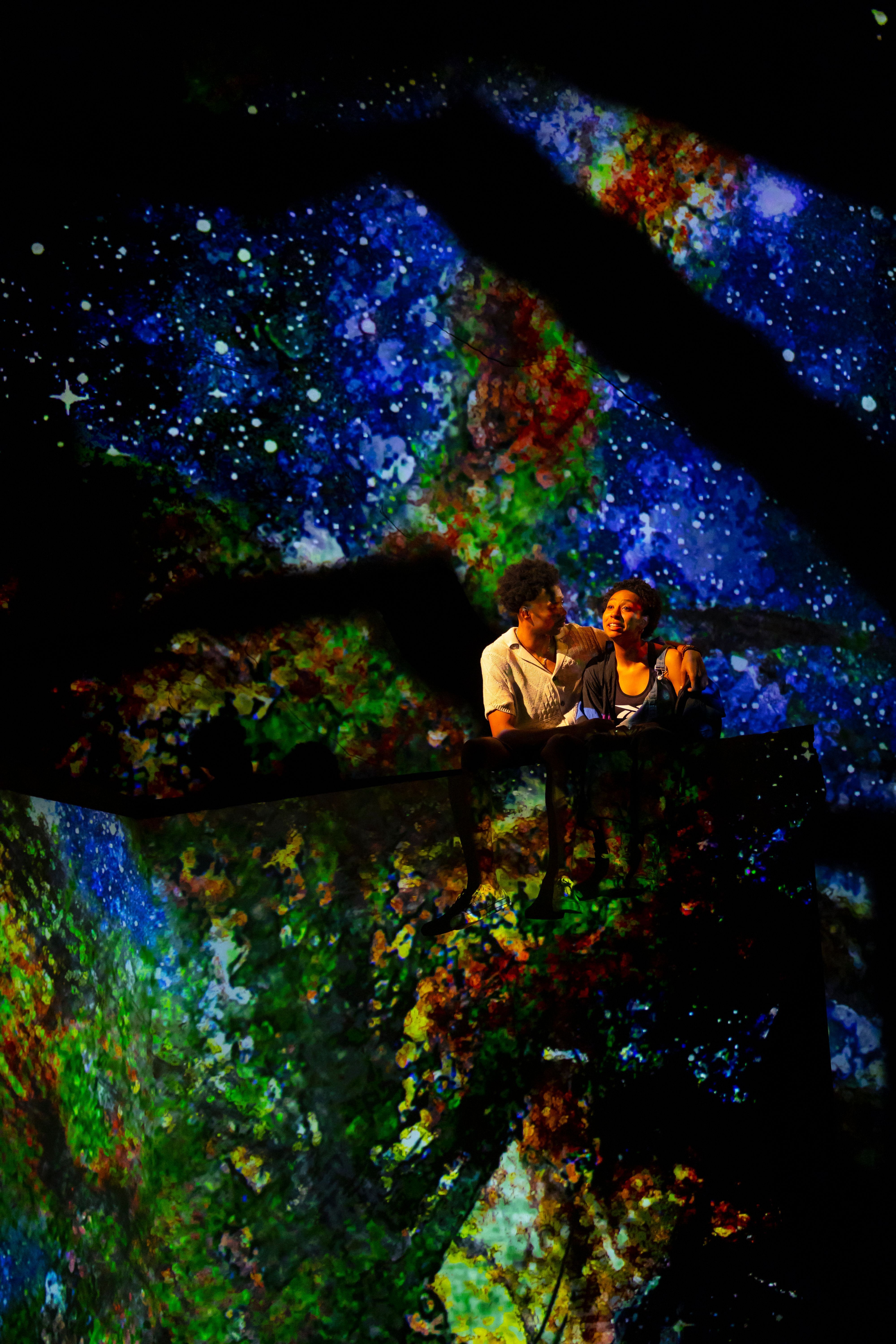 (Photo: Sharmarke Yusuf and Regan Sims in a scene from Lenelle Moïse's "K-I-S-S-I-N-G" now playing at the Huntington Theatre Company in Boston, MA. through April 2, 2023. Photo Credit T. Charles Erickson)
We also meet Lala's divorced parents, Jack (James Ricardo Milord) and Dot (Patrese D. McClain). Their respective stories also resonate with us and their mutual bond with their daughter makes us root for Lala even more.
Milord is outstanding as Jack, who works 17 hours a day to make ends meet. He wants to be there for his daughter, but circumstances make his time shared with Lala precious and few.
McClain is a just an relentless, unstoppable force as Dot, who is troubled, haunted by her past, and yet, is also very demanding.
Dot is trying to survive in the present, survive her own demons while simultaneously determined to keep her young daughter from making the mistakes Dot made in her own youth.
Ultimately, it is Sims simply captivating performance as Lala.
She pulls us in and guides us through as Lala navigates her personal growth and sexual awakening throughout the majority of "K-I-S-S-I-N-G" - it is Lala's story we become most fascinated by and for which we feel the most compassion.
Yet, Lala also serves as a catalyst, making us care even more for the other characters in the play in how they directly impact Lala and her future.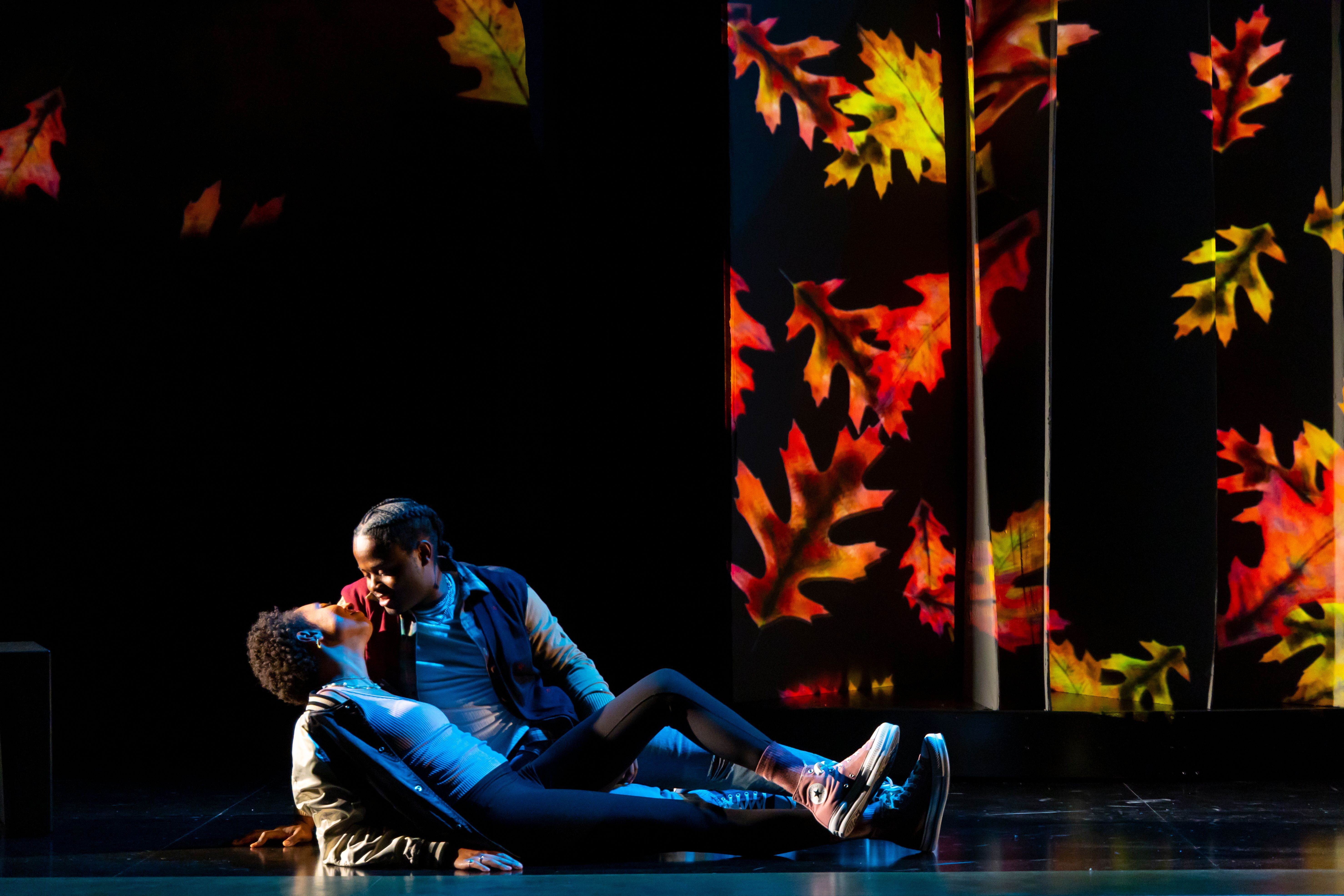 (Photo: Regan Sims and Ivan Cecil Walks in a scene from Lenelle Moïse's "K-I-S-S-I-N-G" now playing at the Huntington Theatre Company in Boston, MA. through April 2, 2023. Photo Credit T. Charles Erickson)
Under the direction of Dawn M. Simmons, it is the exploration of the concept of "relationship" which seemingly exists at the heart of "K-I-S-S-I-N-G" and which makes it a riveting play. We almost instantly embrace each of the characters from the moment they walk on stage.
There is also an occasional and very slight "breaking of the fourth wall" where some of the characters "feed" off of the reactions by the audience.
This is done not for the sake of either comedy or drama but exclusively for a heightened sense of "connection" and this, too, works well. We are made to feel as if we are not merely observers but literally part of the story going on in front of us.
The scenic design by Jason Ardizzone-West is a visually complex representation of a sketchbook which adeptly serves to help punctuate pivotal moments in the story.
Occasionally, there are projected images of eyes containing question marks.
This subtle but prevalent usage of imagery could be, by some, interpreted as symbolic of the deep personal questions Lala is asking of herself or how she sees her self...or maybe it is Albert asking those questions...or Dani...or Dot or Jack or any of the characters we meet during the show.
To paraphrase from the show, "K-I-S-S-I-N-G" isn't "pretty." It is "good, sad, funny AND incomplete" which is exactly what it should be - as these characters' stories continue, just like life.
In the end, though, "K-I-S-S-I-N-G" is a deeply moving experience which should definitely not be missed.
The show continues at Huntington Theatre Company until April 2nd.
Approximately two hours, 20 minutes with one intermission
Kevin T. Baldwin is a member of the American Theatre Critics Association (ATCA)
@MetrmagReviews
@Theatre_Critics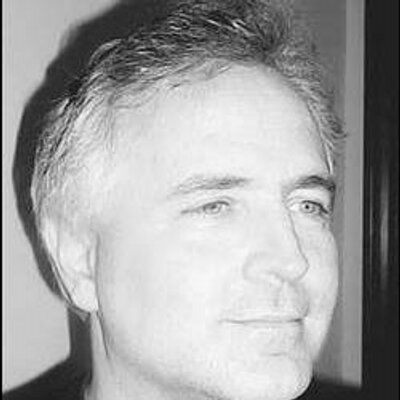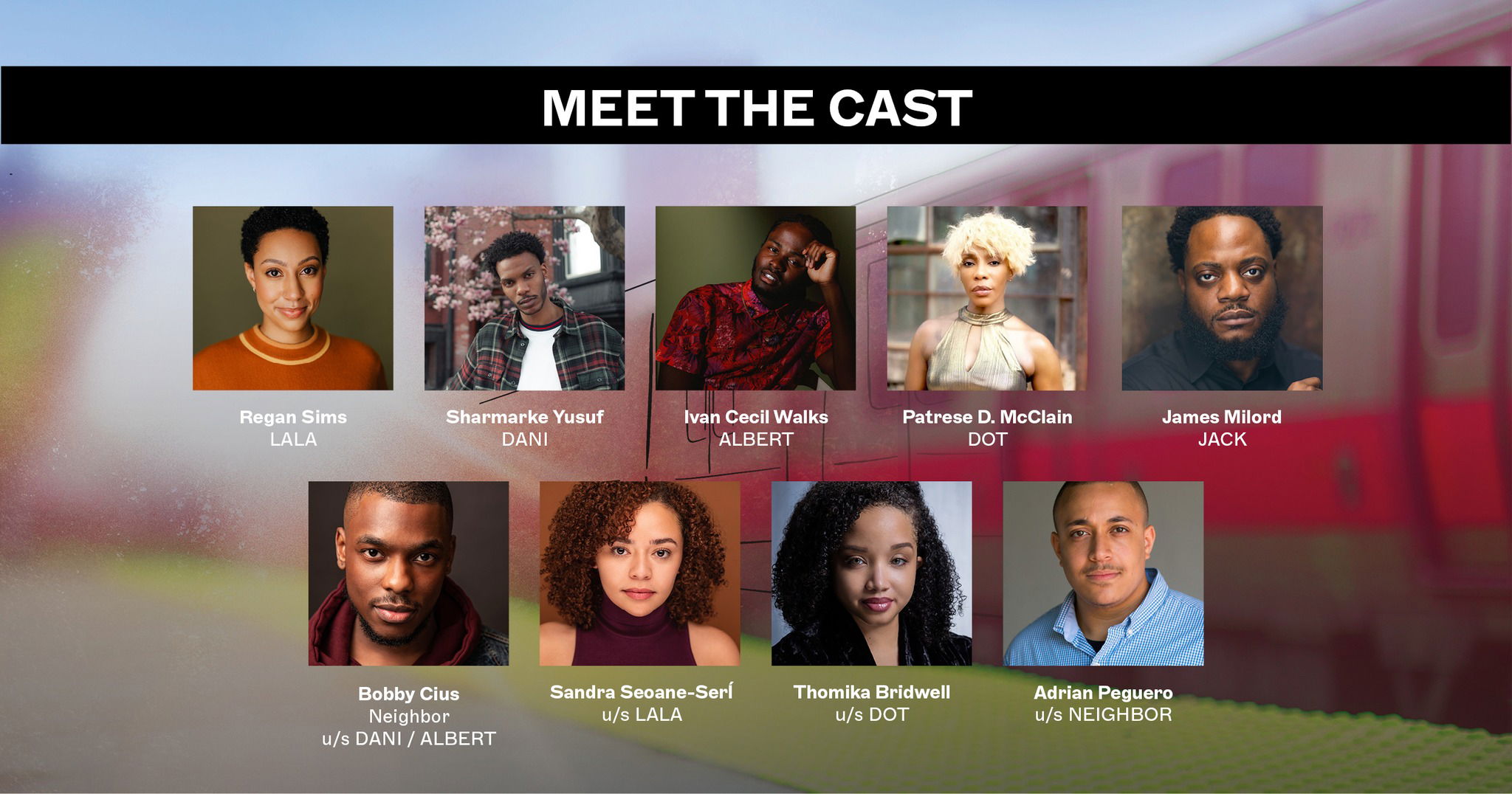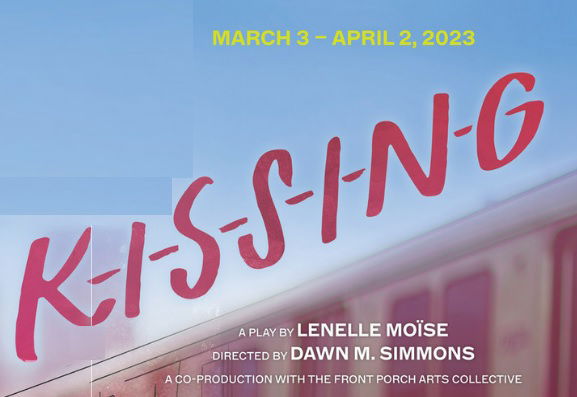 ABOUT THE SHOW
Lala makes fine art on the back of pizza boxes.
A sweet and sticky summer inspires her to romance Dani, a budding femenist⏤and Albert, his smooth-talking twin.
What's good?
Love or lust?
Either way, she'll find her muse.
Playwright and poet Lenelle Moïse returns to her hometown with "K-I-S-S-I-N-G" - a heart-opening story for fans of David Bowie, bell hooks, and fireworks by the Charles.
The Front Porch Arts Collective hooks up with the Huntington for this highly anticipated co-production, directed by Dawn M. Simmons.
COVID 19 PROTOCOLS
COVID Safety Protocols: For the safety and comfort of all who attend our shows, masks must be worn at all times throughout the building unless actively eating or drinking concessions, available for purchase during intermissions.

ABOUT THE HUNTINGTON THEATRE COMPANY:
The Huntington Theatre Company is Boston's leading professional theatre and one of the region's premier cultural assets since its founding in 1982. Recipient of the 2013 Regional Theatre Tony Award, The Huntington brings together superb local and national talent and produces a mix of groundbreaking new works and classics made current to create award-winning productions. The Huntington runs nationally renowned programs in education and new play development and serves the local theatre community through its operation of the Calderwood Pavilion at the BCA. The Huntington has long been an anchor cultural institution of Huntington Avenue, the Avenue of the Arts, and will remain so on a permanent basis with plans to convert the Huntington Avenue Theatre into a first-rate, modern venue with expanded services to audiences, artists, and the community. The Huntington cultivates, celebrates, and champions theatre as an art form.
For more information, visit huntingtontheatre.org.