(Cover Photo: Stacy Fischer, Breezy Leigh, and Ryan Winkles in a scene from Taylor Mac's "JOY AND PANDEMIC" now playing at the Huntington Theatre Company in Boston, MA. through May 21, 2023. Photo Credit T. Charles Erickson)


By Kevin T. Baldwin
METRMAG Reviewer
# 774-242-6724

"Perfection is for assholes."
- Taylor Mac

Huntington Theatre Company
Presents Taylor Mac's
"JOY AND PANDEMIC"
In Association With Magic Theatre
Written by Taylor Mac
Directed by Loretta Greco
Cast Includes: Ella Dershowitz - Young Pilly; Stacy Fischer - Joy; Breezy Leigh – Melanie; Marceline Hugot – Rosemary; Ryan Winkles – Bradford; with Understudies Thomika Bridwell, Rebecca Whitney Klein, Alexander Platt, and Marina Re.
Additional Creative Team:
Arnulfo Maldonado - Scenic Design; Sarita Fellows - Costume Design: Jen Schriever - Lighting Design; Fan Zhang - Sound Design and Original Music; Rachel Padula-Shufelt - Wig and Hair Design - Lyndsay Allyn Cox - Associate Director; Frances Hellums - Assistant Director; Shirley Fishman – Dramaturg; Kevin Schlagle - Production Stage Manager; Ashley Pitchford - Stage Manager.
Calderwood / BCA, 527 Tremont Street, Boston MA 02116
Performances:
April 21, 2023 through May 21, 2023
(Contact Box Office for Exact Times)
Tickets: $25 - $175
COVID 19 PROTOCOLS
Contact Venue for Most Updated COVID-19 Safety Protocols and Information.
Huntington Theatre Company presents a quirky tale reflecting on life choices and consequences in "JOY AND PANDEMIC."
Set in 1918 at a young person's art school in Philadelphia, the story takes place during the First World War and just as an influenza pandemic also grips the world.
Joy (Stacy Fischer) is a practicing Christian Scientist who, along with her husband, Bradford (Ryan Winkles), believes their faith protects them from the so-called "Great Influenza."
Art and artistic interpretation is an important component in the two-act play.
Art teacher Joy, along with daughter, Pilly (Ella Dershowitz), works feverishly to keep her art school active. They are at risk of being shut down as the growing health crisis takes hold of the city.
Joy receives a relentless, crushing amount of pressure from her mother-in-law, Rosemary (Marceline Hugot) and also from an eccentric mother, Melanie (Breezy Leigh), whose child, Marjorie, is a budding artist attending the school.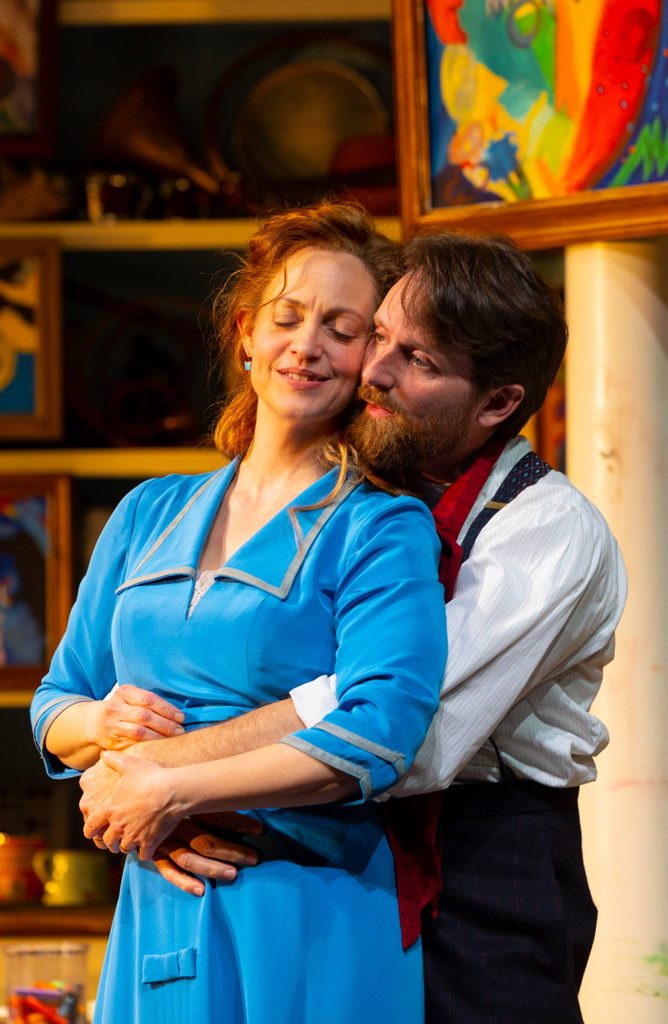 (Photo: Stacy Fischer and Ryan Winkles in a scene from Taylor Mac's "JOY AND PANDEMIC" now playing at the Huntington Theatre Company in Boston, MA. through May 21, 2023. Photo Credit T. Charles Erickson)
During Act Two, Fischer assumes the role of "Pilly" later in life and Leigh plays the role of Melanie's artist daughter, "Marjorie."
If one were to critique "JOY AND PANDEMIC" as if it were a painting, one might look closely at the "brush strokes" used by playwright Taylor Mac.
As one analyzes the various plot elements and principles being focused upon in the story of "JOY AND PANDEMIC," one might immediately parallel the thoughts, values and perspectives to our more recent pandemic and, more specifically, our pandemic "culture."
Also, much like artwork, sharp eyes might also notice the fine use of "lines, values, and colors" throughout the piece.
Through the dialogue, we learn how the goals of each character might be hindered by their own varied albeit intransient beliefs.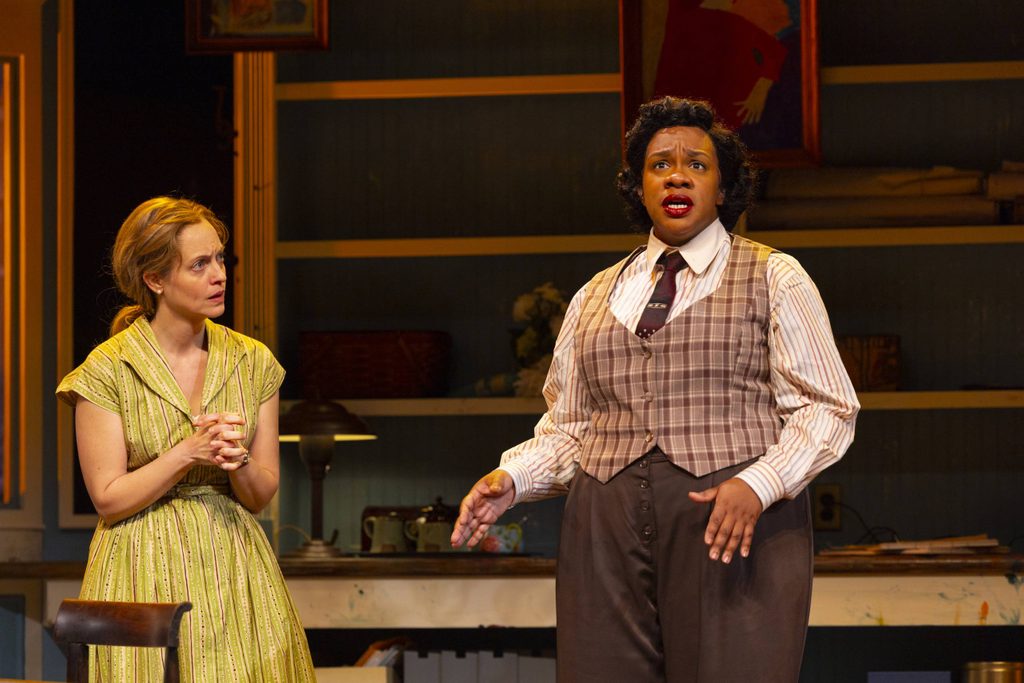 (Photo: Stacy Fischer and Breezy Leigh in a scene from Taylor Mac's "JOY AND PANDEMIC" now playing at the Huntington Theatre Company in Boston, MA. through May 21, 2023. Photo Credit T. Charles Erickson)
There may be those who can also appreciate the unity, proportion, balance and rhythm found within the work.
The unity between parent and child, the proportion between artist and student, the balance between faith and science and the sustained rhythm required for success at any of these.
Ultimately, does this work have something to say?
Absolutely.
Under the stalwart direction of Loretta Greco, "JOY AND PANDEMIC" looks closely at the darkness and light in the lives of these characters.
They are forever impacted by the pandemic, the war, but mostly by their own actions (or inaction) - and that impact reverberates several decades later.
There is also some fine use of space with meticulously placed bits of blocking, mainly executed by Dershowitz and Fischer, respectively, as the younger and older "Pilly."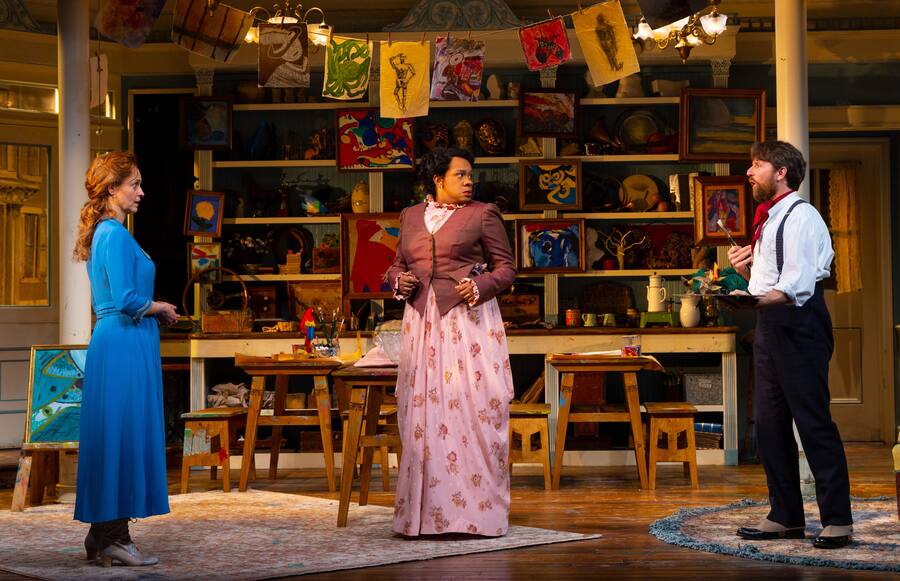 (Photo: Stacy Fischer, Breezy Leigh, and Ryan Winkles in a scene from Taylor Mac's "JOY AND PANDEMIC" now playing at the Huntington Theatre Company in Boston, MA. through May 21, 2023. Photo Credit T. Charles Erickson)
That said, some of the "brush strokes" in Mac's script do tend to go astray at times, almost missing the "canvas" altogether.
The dialogue moves at a frenetic pace, occasionally resulting in a number of "half executed sentences" due to constant interruptions.
In the final moments of the play, the dialogue abruptly falls flat, leaving us wanting.
When the dialogue does work, it does so magnificently.
The performances by the entire five-person cast is consummate. Fischer and Leigh have the most stage time together and, as a combined total of four separate characters, their varied interactions in both acts prove totally convincing.
All costumes are appropriate with a fine attention to detail for the two time periods represented.
Another production element with a firm focus on detail and which, in itself, could be considered a fine work of art, comes in the form of the scenic design by Arnulfo Maldonado.
Replete with a completed "ceiling" with hanging lights and a secondary back wall (indicating a street scene where a parade takes place) - while appearing deceptively simplistic, the set design is phenomenal, worthy of the applause it receives the moment the curtain opens at the start of the show.
"JOY AND PANDEMIC" continues at the BCA/Calderwood until May 21st.
Approximately one hour, 55 minutes with one intermission
Kevin T. Baldwin is a member of the American Theatre Critics Association (ATCA)
@MetrmagReviews
@Theatre_Critics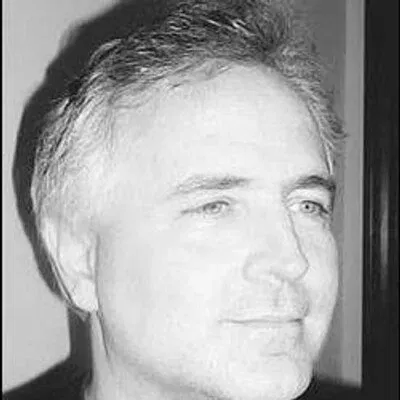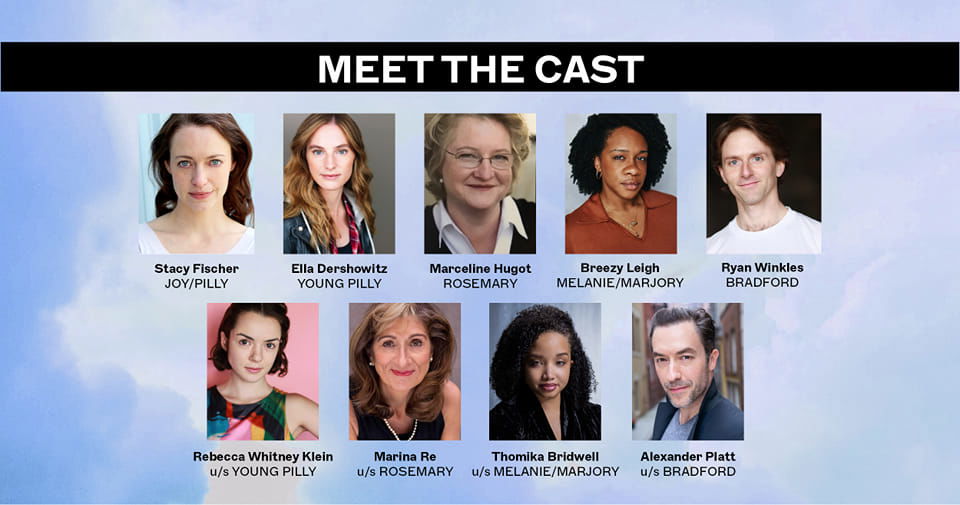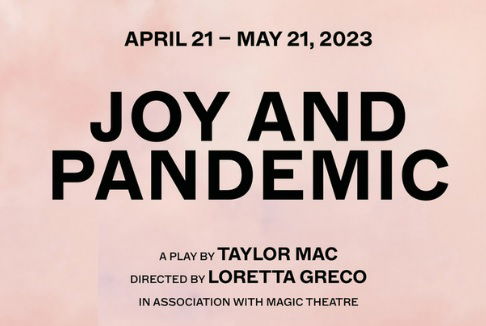 ABOUT THE SHOW
"JOY AND PANDEMIC" questions how our passions regarding family, art, and war impact the very meaning of our lives.
As Joy finds her Philadelphia children's art school at risk in a burgeoning public health crisis, she hopes to keep her dream of the school alive.
When her unyielding faith runs up against another mother's beliefs, an afternoon in the early 20th century transforms the world for both of their daughters for decades to come.
With infinite humor and insight, MacArthur Fellow Taylor Mac and The Huntington's new Artistic Director Loretta Greco explore the complex and ever-evolving relationships between science and faith, art and tradition, and parents and children.

ABOUT THE HUNTINGTON THEATRE COMPANY:
The Huntington Theatre Company is Boston's leading professional theatre and one of the region's premier cultural assets since its founding in 1982. Recipient of the 2013 Regional Theatre Tony Award, The Huntington brings together superb local and national talent and produces a mix of groundbreaking new works and classics made current to create award-winning productions. The Huntington runs nationally renowned programs in education and new play development and serves the local theatre community through its operation of the Calderwood Pavilion at the BCA. The Huntington has long been an anchor cultural institution of Huntington Avenue, the Avenue of the Arts, and will remain so on a permanent basis with plans to convert the Huntington Avenue Theatre into a first-rate, modern venue with expanded services to audiences, artists, and the community. The Huntington cultivates, celebrates, and champions theatre as an art form.
For more information, visit huntingtontheatre.org.