(Cover Photo: Gavin Creel in Stephen Sondheim and James Lapine's musical "INTO THE WOODS" playing at the Emerson Colonial Theatre through April 2, 2023. Photo Credit: Matthew Murphy and Evan Zimmerman for MurphyMade)




By Kevin T. Baldwin
METRMAG Reviewer
# 774-242-6724

"What I want most of all is to know what I want."
- James Lapine and Stephen Sondheim

The Emerson Colonial Theatre
Presents The Critically Acclaimed and Much Beloved Broadway Production Of
"INTO THE WOODS"
In Boston For Exclusive, Strictly Limited Engagement
Featuring Broadway Stars Montego Glover, Stephanie J. Block, Sebastian Arcelus and Gavin Creel to Reprise Their Roles
Book by James Lapine
Music & Lyrics by Stephen Sondheim
Directed by Lear DeBessonet
Choreography by Lorin Latarro
Music Supervision by Rob Berman
Music Director John Bell
Cast Includes: Witch - Montego Glover; Baker's Wife - Stephanie J. Block; Baker - Sebastian Arcelus; Cinderella's Prince/Wolf - Gavin Creel; Jack - Cole Thompson; Little Red Ridinghood - Katy Geraghty; Cinderella - Diane Phelan; Cinderella's Stepmother -Nancy Opel; Rapunzel's Prince - Jason Forbach; Jack's Mother - Aymee Garcia; Narrator/Mysterious Man - David Patrick Kelly; Cinderella's Father/Puppeteer - Josh Breckenridge; Cinderella's Mother/Granny/Giant - Felicia Curry; Lucinda - Ta'nika Gibson; Florinda - Brooke Ishibashi; Milky White/Puppeteer - Kennedy Kanagawa; Steward - Jim Stanek; Rapunzel - Alysia Velez.
Additional Creative Team Includes:
Scenic Designer - David Rockwell; Costume Designer - Andrea Hood; Lighting Designer - Tyler Micoleau; Sound Designers - Scott Lehrer & Alex Neumann; Puppet Designer - James Ortiz; Hair, Wigs & Makeup Designer - Cookie Jordan; Production Supervisor - Cody Renard Richard; Production Stage Manager - Scott Rowen; Music Coordinator - Kimberlee Wertz; Associate Director - Martavius Parrish & Victoria Davidjohn; Associate Choreographer - Matthew Steffens; Casting By - The Telsey Office, Craig Burns, CSA & Geoff Josselson, CSA; Tour Marketing, Press & Engagement Management - Allied Global Marketing; Social Media - Marathon Digital; General Management - Showtown Theatricals, Nathan Gehan & Samuel Dallas; Production Management - Aurora Productions; National Press - DKC/O&M; Company Manager - Michael Sanfilippo; Dance Captain - Eddie Lopez.
Performances:
March 21, 2023 through April 2, 2023
(Contact Box Office for Exact Times)
TICKETS:
Tickets for "INTO THE WOODS" will be available starting December 15 at 12:00pm by calling # 888-616-0272 or online at www.emersoncolonialtheatre.com.
Online and phone ticket purchases are subject to standard service fees.
Box Office: 106 Boylston Street, Boston, MA. 02116
Hours: Tuesday-Sunday starting at noon.
Emerson Colonial Theatre
106 Boylston Street
Boston, MA 02116
MAP IT
"INTO THE WOODS" is produced on Broadway by Jujamcyn Theaters; Jordan Roth; New York City Center; Daryl Roth; Hunter Arnold; Concord Theatricals; Nicole Eisenberg; Jessica R. Jenen; Michael Cassel Group; Kevin Ryan; ShowTown Productions; Armstrong, Gold & Ross; Nicole Kastrinos, Executive Producer.
The fairy tale lives of several Brothers Grimm fictional characters intersect in the musical "INTO THE WOODS" written by James Lapine, presented at the Emerson Colonial Theatre featuring a powerhouse cast executing one of the most notable scores by Stephen Sondheim.
The show, which won a Tony Award for Best Score in 1988, is best known for its captivating underlying theme of: While we may not get the happy endings we feel exist "as written" for each of us, we WILL get an ending and, God willing, it will be the one we deserve.
The overall concept of the piece and its music not only proves consummate - it is also dazzling and sidesplitting, thanks to probably the most inventive staging imaginable and impeccable musical performances.
Directed by Lear DeBessonet with choreography by Lorin Latarro (with an imaginative scenic design by David Rockwell), you will NOT see another production of "INTO THE WOODS" like this anytime soon, folks.
It is simply spectacular.
The precision movements that help to elevate the humor cannot be understated. They truly "brought the funny" to a musical predominantly staged as if it were an opulent Greek tragedy.
Like other Sondheim enthusiasts, I have virtually all of Sondheim's shows in my CD collection (yes, I still have a CD collection) and find him to be an unequivocal musical genius.
Sondheim was a master craftsman of making musical dialogue just that - a "dialogue" or, at least, conversational.
However, I am enough of an admirer to recognize which of Sondheim's scores work well ("Sweeney Todd," "Company") and which ones tend to fall short of his genius ("Assassins," "Bounce").
"INTO THE WOODS" tends to fall somewhere in the middle of his catalog, working cleverly on many levels and, probably due mostly to the fairy tale appeal, is arguably one of Sondheim's most popular works among the average theater going public.
Yet, where previous renderings of the show have concentrated on the "clever" - this one highlights the hilarity and THANK GOD because it is such a breath of fresh air.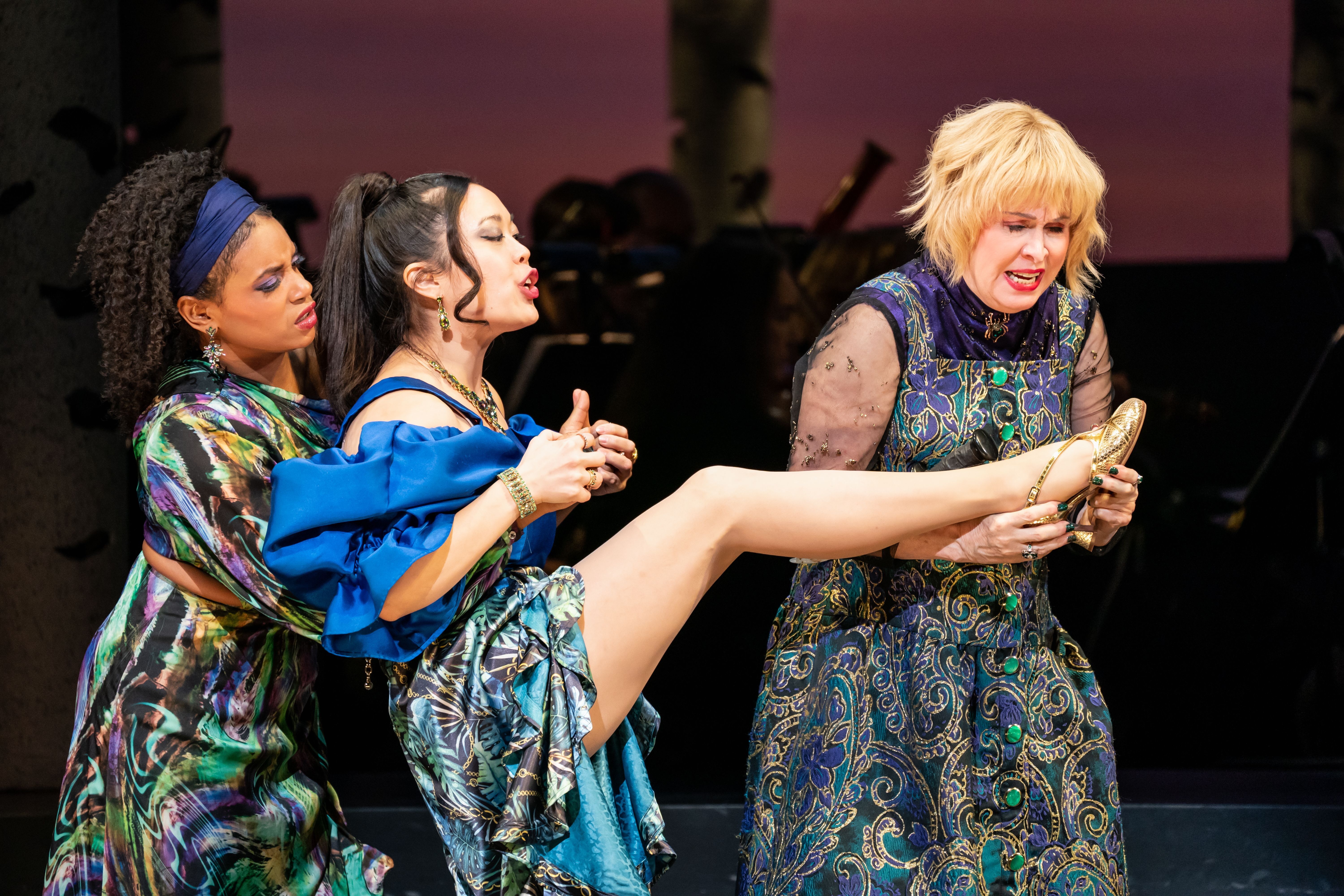 (Photo: Ta'Nika Gibson, Brooke Ishibashi and Nancy Opel share a hysterical moment from Stephen Sondheim and James Lapine's musical "INTO THE WOODS" playing at the Emerson Colonial Theatre through April 2, 2023. Photo Credit: Matthew Murphy and Evan Zimmerman for MurphyMade)
As the musical unfolds, we are guided by a Narrator (David Patrick Kelly) who introduces us to all the fabled characters with whom we are about to become re-acquainted, yet not in the way we might recall them from our youth.
Kelly is wonderfully animated on stage, moving between his part of the "Narrator" and the "Mysterious Man" with tremendous ease.
The story of "INTO THE WOODS" concerns a Baker (Sebastian Arcelus) and his wife (Stephanie J. Block) wishing to have a child but learn they are incapable of conceiving one due to a curse cast upon them by the evil Witch (Montego Glover).
Glover is an unstoppable, unrelenting onstage dynamo in a riveting performance.
She is everything anyone could ask for from Sondheim's iconic "Witch" to be - a flawed, multi-layered character, a commanding presence and a compelling vocalist, dominating every moment she sets foot on stage...and giving us the sense she is just loving it.
So are we.
Both Arcelus and Block are absolutely sublime in their respective roles, which helps bond the audience to the rest of this superb cast.
Block received the night's longest ovation, justly so, for her Act Two rendering of the lyrical, "Moments in the Woods," oozing with a mere sampling of the score's greatest poetry:
"That's what woods are for:
For those moments in the woods...
Oh, if life were made of moments,
Even now and then a bad one--!
But if life were only moments,
Then you'd never know you had one."
The Baker and his wife journey through (okay, "into") the woods in order to find a way of breaking the Witch's curse.
There, they meet young Jack (Cole Thompson), who wishes his cow, "Milky White" (magnificently handled by puppeteer Kennedy Kanagawa) would give milk.
Thompson brings not only a rousing enthusiasm to the role of Jack but also a tender side as he bonds with almost everyone he meets.
Aymee Garcia, as "Jack's Mother," shows a more maternal and tender side to the character, at times, which is refreshing (as the character can sometimes come across as a one-dimensional harpy).
Kanagawa's performance as the emotive bovine nearly steals every scene in which "Milky White" appears.
The Baker also meets Little Red Ridinghood (Katy Geraghty) who is rescued by the Baker from the evil, manipulative Wolf (Gavin Creel, who also plays Cinderella's Prince).
Geraghty's flawless comedic timing is equaled only by her incredible singing voice.
The Witch holds young Rapunzel (Alysia Velez) captive in a tall castle room. While she actually loves Rapunzel as a daughter, the Witch keeps the kidnapped girl locked away until another handsome Prince (Jason Forbach) falls in love with Rapunzel and attempts to rescue her.
Then there is Cinderella (Diane Phelan), who wishes to attend a festival being held by the King in honor of his handsome, womanizing son, the Prince (Gavin Creel, who, again, also plays the Wolf - coincidence?).
Phelan gives an inspired portrayal of the "footwear-challenged" princess, simply nailing the the Act One, "On the Steps of the Palace."
She not only brings a wistful element to her character (as in "when will I find my happiness?"), she also brings an insatiable inquisitive element to her, as well (as in always wondering, even after she finds her prince, "what now?").
The "Cinderella" sub-plot is enhanced, in part, by the brilliantly bombastic supporting comedic performances by Nancy Opel as Cinderella's evil stepmother and Ta'Nika Gibson and Brooke Ishibashi as Cinderella's equally-wretched step-siblings.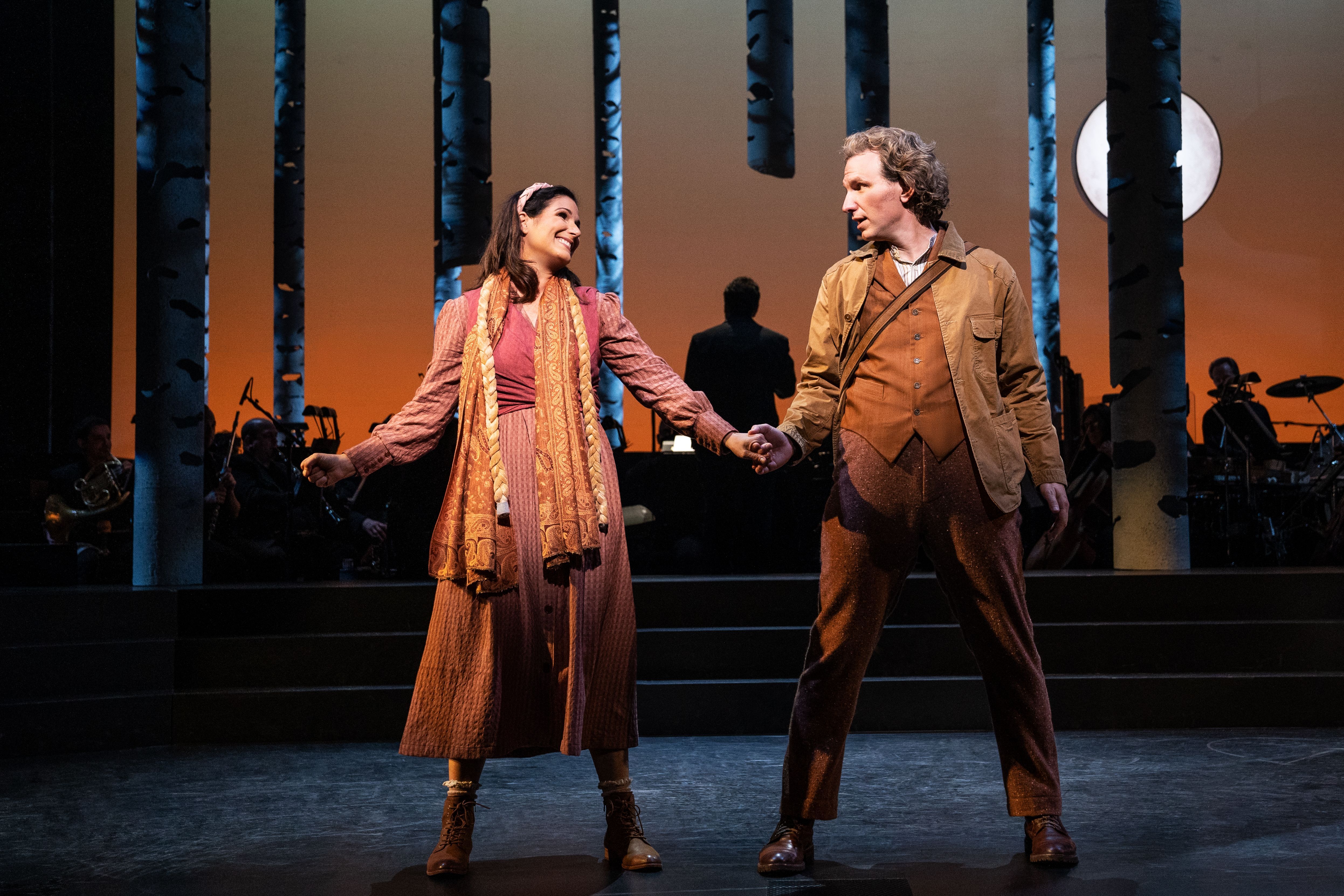 (Photo: Stephanie J. Block as "The Baker's Wife" and Sebastian Arcelus as "The Baker" in Stephen Sondheim and James Lapine's musical "INTO THE WOODS" playing at the Emerson Colonial Theatre through April 2, 2023. Photo Credit: Matthew Murphy and Evan Zimmerman for MurphyMade)
Creel serves as a catalyst for much of the humor presented in this interpretation of "INTO THE WOODS."
He not only serves as a foil for many, the Prince also serves as a walking, talking punchline, simply by his presence. It is a brilliant performance.
The above is an example of the all-encompassing approach taken with this "INTO THE WOODS" production - separating it from anything that has come before.
In theatre, there is something called a "brush-up" or "pick-up" rehearsal.
This tends to take place in the middle of the week, between multiple weekends of performances.
Usually, it is performed sans costumes, lighting, sound, and is mainly performed just by the actors in an effort to help recall lines, blocking, choreography and musical numbers.
Actors are always encouraged, if not ordered, to perform these rehearsals "absolutely straight" so as to not waste anybody else's valuable time.
Not surprisingly, these rehearsals have a tendency to be performed "absolutely crooked."
Actors have been known, on occasion, to play the material for laughs, to take certain liberties with the dialogue, to say or do things they have always wanted to but could not under constraint of the material.
These rehearsals, while justly scorned by some, sometimes offer a "release" for these performers and can, occasionally, bring some uproarious results.
With this interpretation of "INTO THE WOODS" there is almost that same prevailing uproarious "vibe" dominating the approach.
The laughs come every few beats which replaces the normally dark underscoring which can come with other stagings of the show.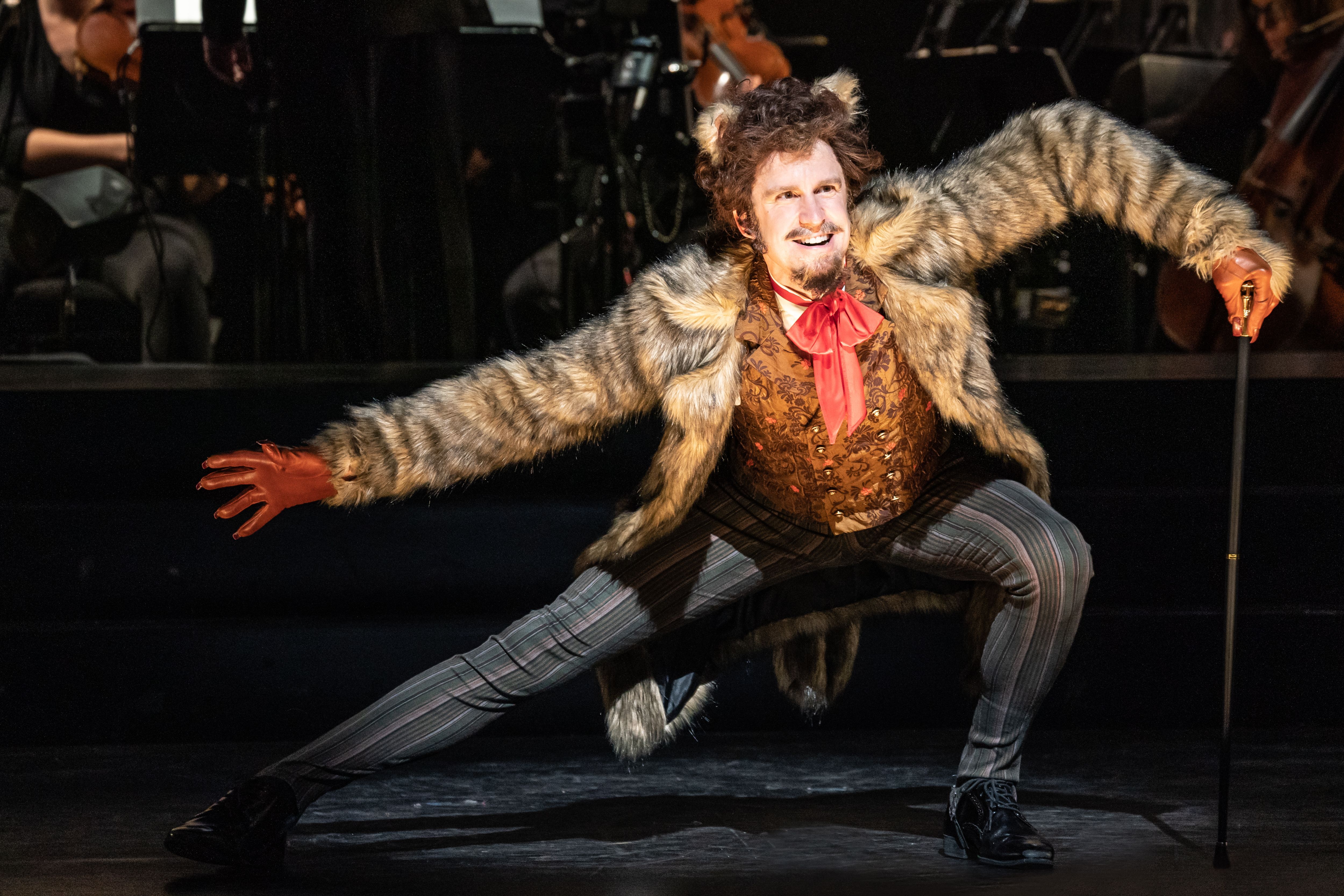 (Photo: Gavin Creel in Stephen Sondheim and James Lapine's musical "INTO THE WOODS" playing at the Emerson Colonial Theatre through April 2, 2023. Photo Credit: Matthew Murphy and Evan Zimmerman for MurphyMade)
The orchestra is on stage. The sets are reduced to a mere few "trees" instead of an elaborate, suffocating forest (not that this should be confused as being a "minimalist" staging - the set design is both innovative and gorgeous).
The majority of performances appear more "concert style" than staged - but it is absolutely staged and ingeniously so.
In concurrence with Sondheim's lyrics, the plot written by James Lapine (based on various Grimm's fairy tales) is intricate with many plotlines played in parallel at first then intersecting in one spot.
So many plots unfold that, just as you think the musical is coming to a close with a happy ending, it doesn't, then it looks like it might, then it doesn't, then it happens again.
Rinse and repeat as needed.
For many, though, this is not a failing of the piece but, rather, its genius.
If Lapine and Sondheim had ended the story mere moments before the conclusion of the first act, many would be happy (ever after).
As it happens, (spoiler alert) the beginning of the second act virtually eviscerates everything that has happened thus far in the story.
The second act is where a majority of the more "hard-core Sondheim fans" actually find the most joy in "INTO THE WOODS" - as it deals with the very subjective concept of "happily ever after" and completely dismantles it, moment by musical moment.
Those fans would argue that is the very intent of the piece - and they would be absolutely correct.
As all the fabled stories converge and intertwine, as all the sub-plots become entangled (much like Rapunzel's hair), the characters seek their fairy tale endings...but at what cost?
Yes - What happens after "Happily Ever After?"
"INTO THE WOODS" continues at the Emerson Colonial Theatre until April 2nd and absolutely should not be missed.
Approximately 2 hours, 45 minutes with one intermission.
Kevin T. Baldwin is a member of the American Theatre Critics Association (ATCA)
@MetrmagReviews
@Theatre_Critics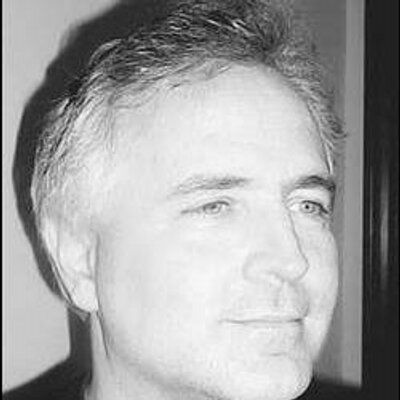 ABOUT THE SHOW
The hugely acclaimed and much beloved Broadway production of Stephen Sondheim and James Lapine's Tony Award®-winning triumph, "INTO THE WOODS," will play a series of exclusive engagements across the U.S. in 2023, including one week in Boston.
"INTO THE WOODS," which became the first Broadway hit of the 2022/2023 season after its sold-out run at New York City Center Encores!, is directed by Lear deBessonet, with music supervision by Rob Berman and choreographed by Lorin Latarro.
This production is dedicated to the memory of Stephen Sondheim.
The company will also include – direct from Broadway – Cole Thompson as Jack, Katy Geraghty as Little Red Ridinghood, David Patrick Kelly as The Narrator, Nancy Opel as Cinderella's Stepmother, Aymee Garcia as Jack's Mother, Ta'Nika Gibson as Lucinda, Brooke Ishibashi as Florinda, Kennedy Kanagawa as Milky White, Jim Stanek as the Steward, and Alysia Velez as Rapunzel.
"INTO THE WOODS" first premiered on Broadway in 1987, winning three Tony Awards including Best Score and Best Book.
It has since been produced throughout the world and was adapted into a major motion picture in 2014. Following a sold-out New York City Center Encores! run in May 2022, the production transferred to Broadway as a limited engagement beginning July 2022, marking its first time on Broadway in 20 years.
Following tremendous critical acclaim and audience demand, it was extended twice and will conclude its Broadway run on January 8, 2023.

ABOUT THE EMERSON COLONIAL THEATRE
In its storied history, The Emerson Colonial Theatre has debuted such seminal Broadway shows as Anything Goes , Porgy and Bess , Oklahoma! , Born Yesterday , Follies , A Little Night Music , Grand Hotel , and La Cage aux Folles, among others. Reviving a great theatrical tradition, Boston's newly restored Emerson Colonial Theatre officially re-opened its doors in July 2018 with the pre-Broadway World Premiere of Moulin Rouge! The Musical . Emerson Colonial Theatre, which opened in 1900 with a production of Ben-Hur, is the oldest continuously operated theater in Boston; as well as being amongst the most magnificent, having retained most of its original period details. A theatre for the community, Emerson Colonial Theatre will once again contribute to the rich cultural landscape of Boston, with a new and varied program of Broadway shows, live music, comedy and events.
Emerson Colonial Theatre
106 Boylston Street
Boston, MA 02116