(Cover Photo: Vincent Pellegrino and Megan Paluzzi in a scene from "INTO THE BREECHES!" from Studio Theatre Worcester in Worcester, MA. now playing through December 18, 2022. Photo Credit Amy Mae Photography)

By Kevin T. Baldwin
METRMAG Reviewer
# 774-242-6724

"In peace there's nothing so becomes a man as modest stillness and humility: But when the blast of war blows in our ears, then imitate the action of the tiger "
- William Shakespeare

Studio Theatre Worcester
Presents
"INTO THE BREECHES!"
The men may be off at war...but the show must go on!
Written by George Brant
Directed by John Wayland Somers
Cast Includes: Jessica Rogers, Christina Pierro-Biggins, Jim Douglas, Patricia "Sirena" Esper, Vincent Pellegrino, June Dever, Megan Paluzzi, Julianne McGourty.
Additional Creative Team Includes: Co-Producer - Kim Dexter; Co-Producer - Rob Klimeczko; Assistant Director - Katie Moran; Tech Director/Designer - David Plante; Costume Designer - Doreen Croteau; Marketing/Social Media - Kim Bourassa; Dramaturg - Lydia Cochran; Assistant Dramaturg - Aya Khoury;ASM/Production Assistant - Jodi Schoolcraft.
Cole Porter Black Box Theatre, Worcester Academy Performance Center, 14 Marion Avenue, Worcester, MA. 01604
Performances:
December 9, 2022 through December 18, 2022
(Contact Box Office for Exact Dates and Times)
Studio Theatre Worcester presents award-winning playwright George Brant's "INTO THE BREECHES!"
For tickets and more information visit: www.studiotheatreworcester.org
"INTO THE BREECHES!" is presented by arrangement with Concord Theatricals on behalf of Samuel French, Inc. www.concordtheatricals.com
Studio Theatre Worcester returns with its latest comedy, "INTO THE BREECHES!" presented at the Worcester Academy Performance Center through December 18th.
In the show, we are thrown back to a very different city of Worcester, Massachusetts. It is 1942 and it is wartime.
Men served on the warfront. Women served at home.
By today's standard, the social mores of "INTO THE BREECHES!" will obviously appear quite antiquated to witness but need to be viewed through a more accepting, or at least less judgmental, lens.
Men have shipped out to fight in the second World War. Among the soldiers is the husband of Maggie Dalton (Jessica Rogers) who is wife to the long-time director of the Oberon Play House.
While the theatre is closed, there is a ghost light - ever present, always shining a light, waiting until all the men have returned home so theatre can resume.
Nope. Not on Maggie's watch.
In her husband's absence, and in the absence of almost all males in the area, Maggie is determined...nay, persistent...in not allowing theatre to lapse into an extended hibernation (Apparently, if we do, the enemy will, I guess, have won).
At least, the above is the premise we are supposed to buy into in George Brant's two-act comedy, which is given a fine Studio Theatre Worcester treatment with a capable cast and under the steady hand of director John Wayland Somers.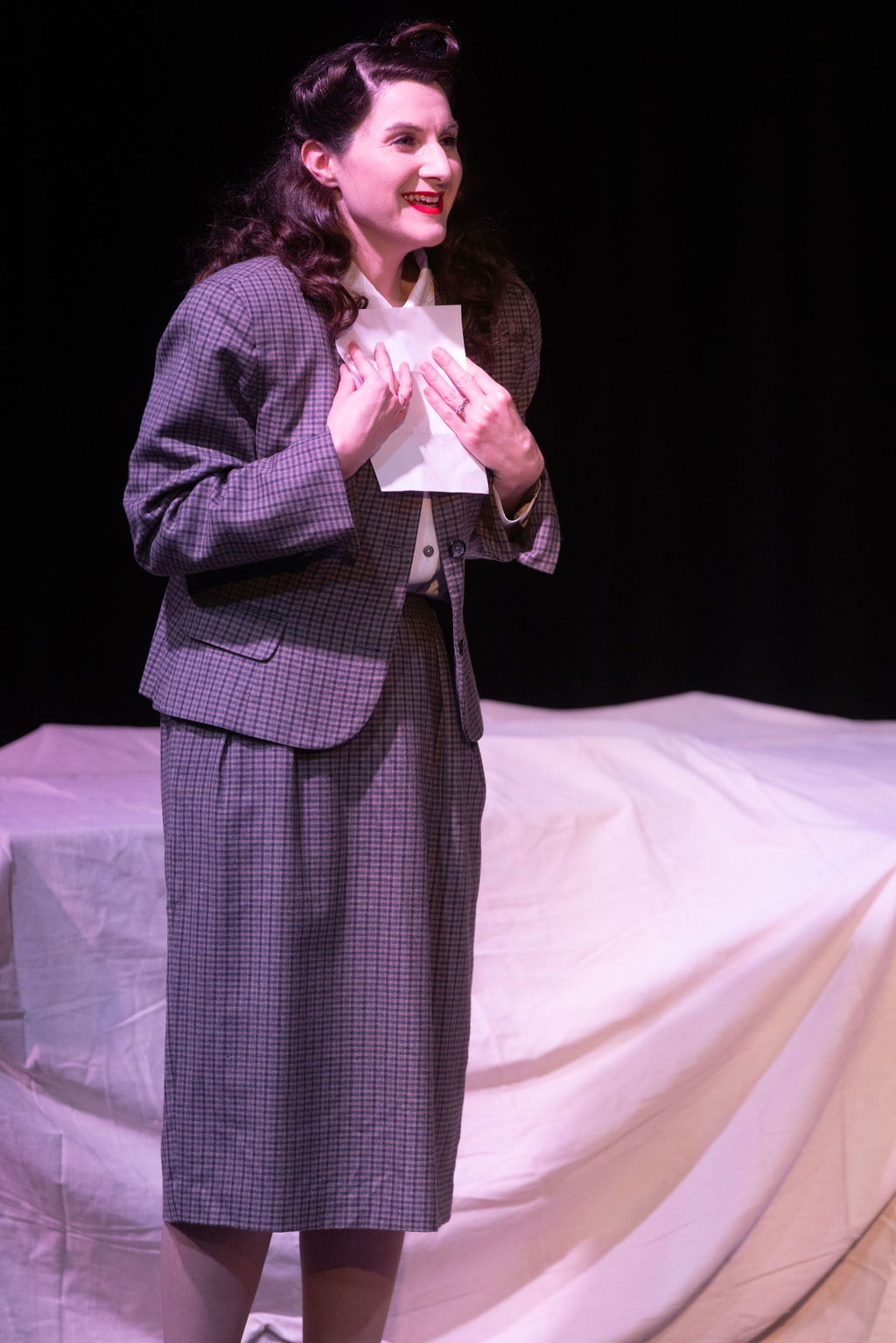 (Photo: Jessica Rogers as 'Maggie' in a scene from "INTO THE BREECHES!" from Studio Theatre Worcester in Worcester, MA. now playing through December 18, 2022. Photo Credit Amy Mae Photography)
Maggie commits herself to producing an all-female four-hour adaptation of Shakespeare's "Henry IV" and "Henry V."
She knows that, in order to pull off this Herculean effort, it will require her recruiting the Oberon's most infamous diva, Celeste Fielding (Christina Pierro-Biggins).
She accomplishes this by (reluctantly) making Celeste a "co-partner" in the staging.
This may sound like a shrewd move but it serves as more of a method to madness as the play evolves.
Maggie convinces the theatre's board president, Ellsworth Snow (Jim Douglas) to let she show proceed but, only after Maggie first convinces his untalented wife, Winifred (Patricia Esper), that she "MUST" be in the show, as well.
Once Winifred is on board, Ellsworth has little choice but to back Maggie's proposed show.
There are a number of witty, comedic exchanges between Douglas and Rogers who both give engaging performances.
Esper's Winifred, either as written or as executed, begins as a cross between "Betty Boop" and Mary Tyler Moore's 'Georgette" (the latter being made famous by late character actress Georgia Engel).
Later, by the second act, though, Winifred makes a remarkable acting transformation as she finds her talent, adapting quite well to portraying her male character.
Once getting the "all clear" sounded by Snow, Maggie takes charge, holding auditions to cast the many, many roles required before the massive staging can commence.
Aiding Maggie in this engagement are her loyal stage manager Stuart (Vincent Pellegrino), a closeted homosexual, and costumer Ida Green (June Dever), an African American.
Both Pellegrino and Dever give more subdued yet effective performances as two of the only people truly backing Maggie's rebellious effort unconditionally…at first.
While serving well the needs of the production itself, in this particular era, neither Stuart nor Ida would be allowed to actually act in the show. Another depressing foxhole of cultural standards from a pitiable bygone era.
Maggie holds out all day for one, huge burst of auditioners but, ultimately, only gets two women who arrive at the auditions.
The first is young, fun, flighty and flirty June (Megan Paluzzi) a bundle of unrestrained enthusiasm.
June is followed by the slightly older, more reserved, self-conscious, self-doubting Grace (Julianne McGourty).
Like Maggie, both women have men serving in the military. Grace is also mother to a young child.
Neither woman has theatrical experience nor any substantive training. Paluzzi is adorably funny as the quirky, ditzy "ingenue" June, but her character never really evolves much from beginning to end.
Conversely, McGourty, as Grace, has been provided more layers to delve into from Brants' script, and her character goes through probably the biggest transformation from beginning to end.
Together in Maggie's "foxhole," alliances form rather quickly as the ensemble learns to rely on one another since they cannot rely on anyone else.
There is no one at this time who is rooting for an "all-female four-hour" anything let alone an all-female four-hour Shakespearean "Henriad."
So, NO women, NO homosexuals and NO African Americans allowed on stage?
Again, NOT if Maggie can help it.
Thus, it is this challenge...it is this conflict that soon becomes a crusade and takes everyone "INTO THE BREECHES!"
As they trudge on through rehearsals, Maggie tries to teach but is constantly roadblocked by Celeste, who offers up insane ideas on how the untrained, inexperienced actresses should play the mostly male characters in the "Henriad."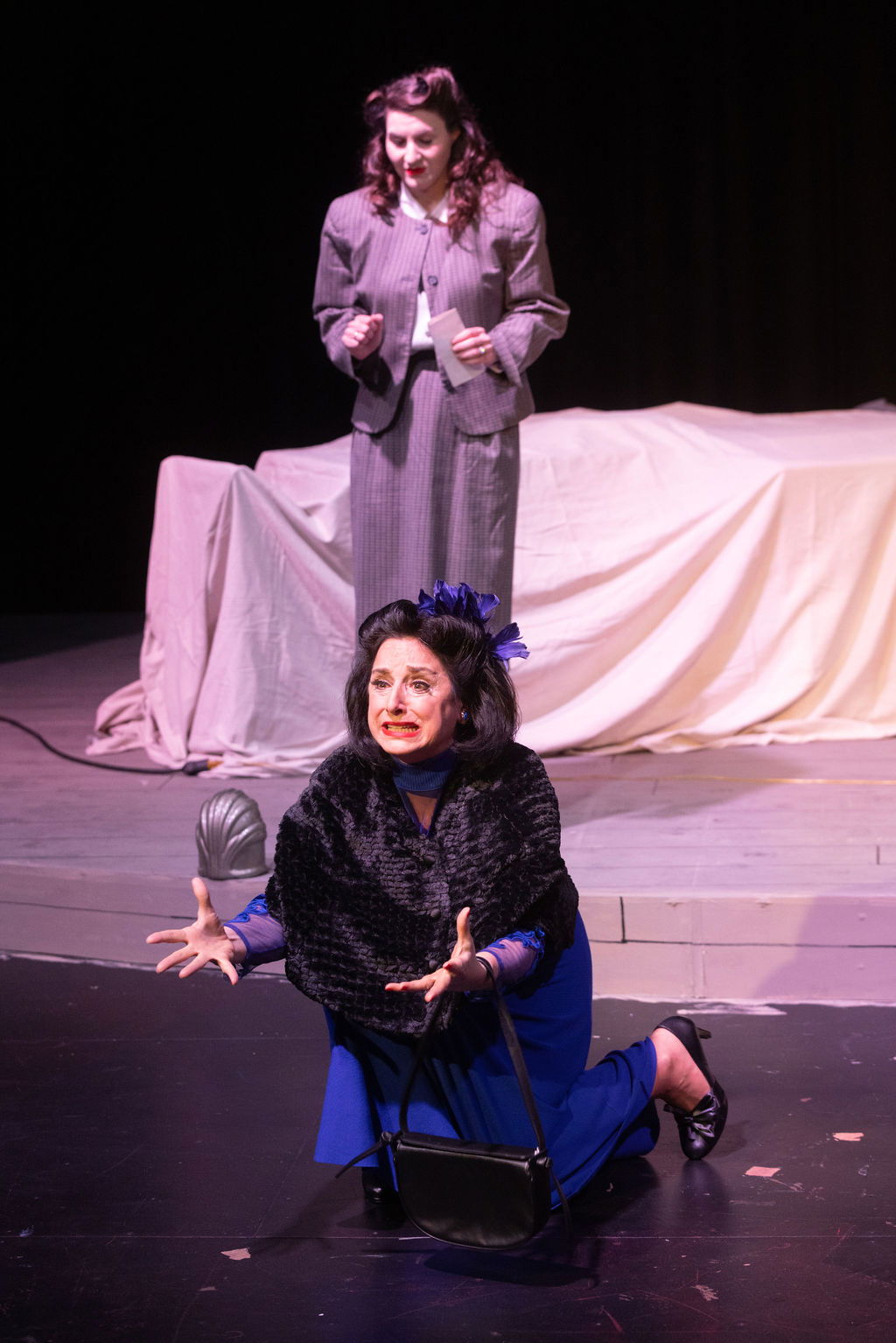 (Photo: Jessica Rogers and Christina Pierro-Biggins in a scene from "INTO THE BREECHES!" from Studio Theatre Worcester in Worcester, MA. now playing through December 18, 2022. Photo Credit Amy Mae Photography)
From the outset, the play meanders at times with the characters coming across as one-dimensional, almost appearing as caricatures rather than fully thought-out characters.
By the second act, though, this changes greatly as they evolve more into fully formed individuals. We start to care about and begin to cheer these people on from the sidelines as they get closer to show time.
Whatever Brant's original intent, the play is quite predictable and feels like we have seen the story before.
While it does highlight some of the period's abhorrent social inequalities well, it could have delved further into some of the backstories of the supporting characters.
It almost feels that, with numerous unresolved plotlines by the show's conclusion, a third act might have well served Brant to help explore more aspects and seamlessly settle all relative missing components to these backstories.
That said, the material still works. It just leaves the cast with more work to do in bringing as much as they can to add to the depth and layers of their characters - which they still manage to do effectively.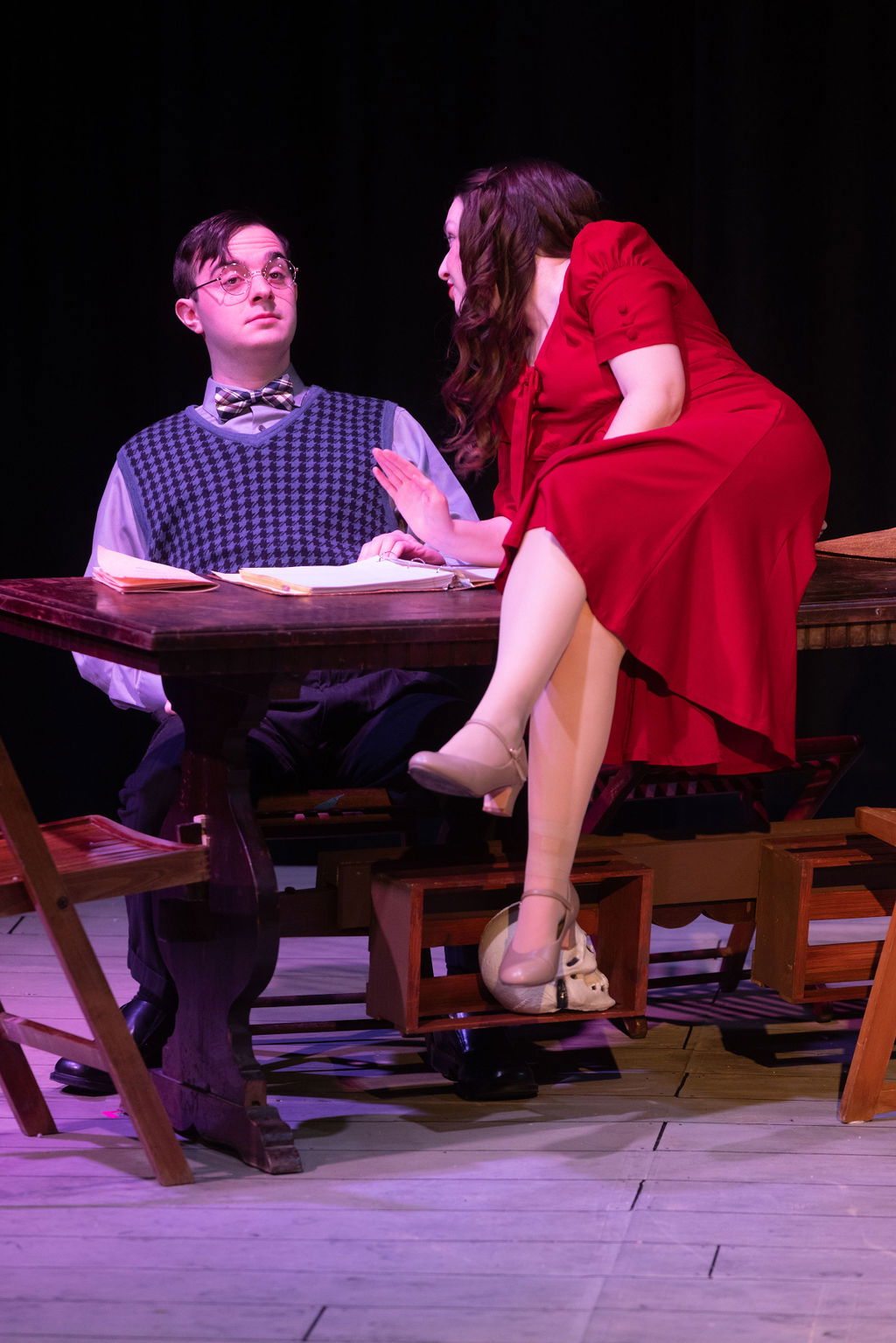 (Photo: Vincent Pellegrino and Megan Paluzzi in a scene from "INTO THE BREECHES!" from Studio Theatre Worcester in Worcester, MA. now playing through December 18, 2022. Photo Credit Amy Mae Photography)
The Worcester Academy Performance Center space being used by Studio Theatre Worcester for this production suits the play perfectly in its black box theatre setting.
The set design is kept minimal with a simple raised platform and very few set pieces involved, which serves the production well. Above, the use of various memorabilia, ephemera and World War II related paraphernalia is used to establish the time and location in which the show is set.
There were some minor sound issues with the raised platform in that some of actresses in heels or character shoes would result in loud noises while walking along the platform at times. Could be the microphones just required a minor adjustment.
The women's hair design by Jeanne Reilley and period costumes by Doreen Croteau aides in keeping the play rooted in its era quite nicely.
Especially in the second act, there are some wonderfully poignant monologues and excerpts written by the Bard which almost make the staged play seem like it would have been more effective as a screenplay with some camera close-ups.
Even within the production's finely executed isolated lighting, such monologues aren't usually quite as effective on the stage.
However, when the actresses utilize these moments and excepts to highlight their own current circumstances, that is when the production and Brant's script truly rises to the occasion.
Overall, the cast of "INTO THE BREECHES!" works well as we witness the ragtag ensemble hold their ground, soldier forth and push forward.
As they begin to bond, these people emerge as a stronger ensemble relying on the strength they have from one another, the faith they have in Maggie and the truth they find in themselves.
"INTO THE BREECHES!" continues through December 18th and is a pleasant distraction for any theatregoer seeking humorous theatrical alternatives to the standard holiday fare.
Approximately two hours with one intermission.
Kevin T. Baldwin is a member of the American Theatre Critics Association (ATCA)
@MetrmagReviews
@Theatre_Critics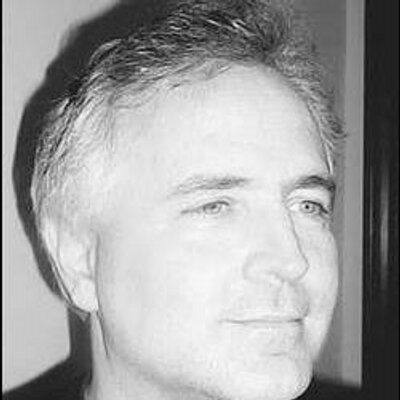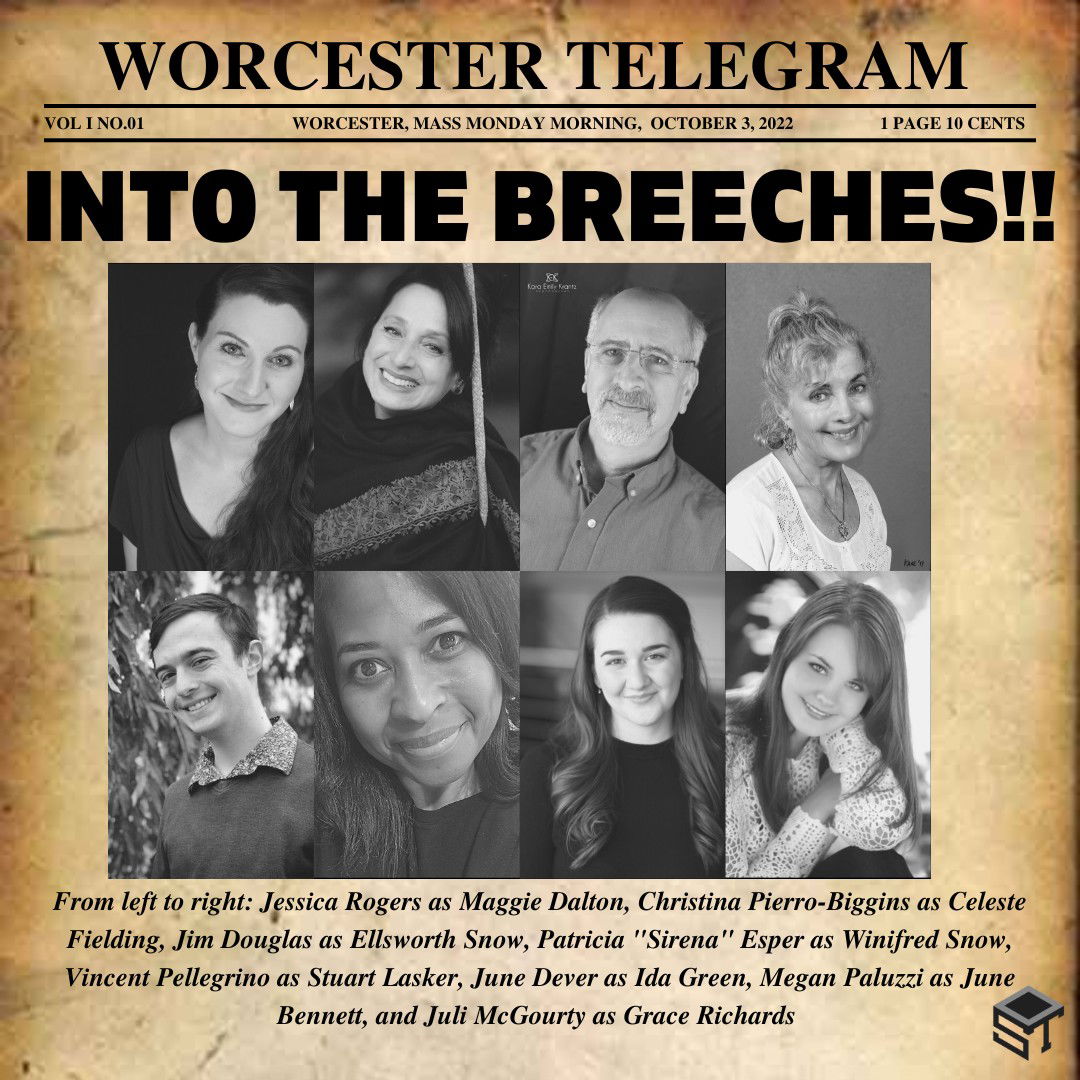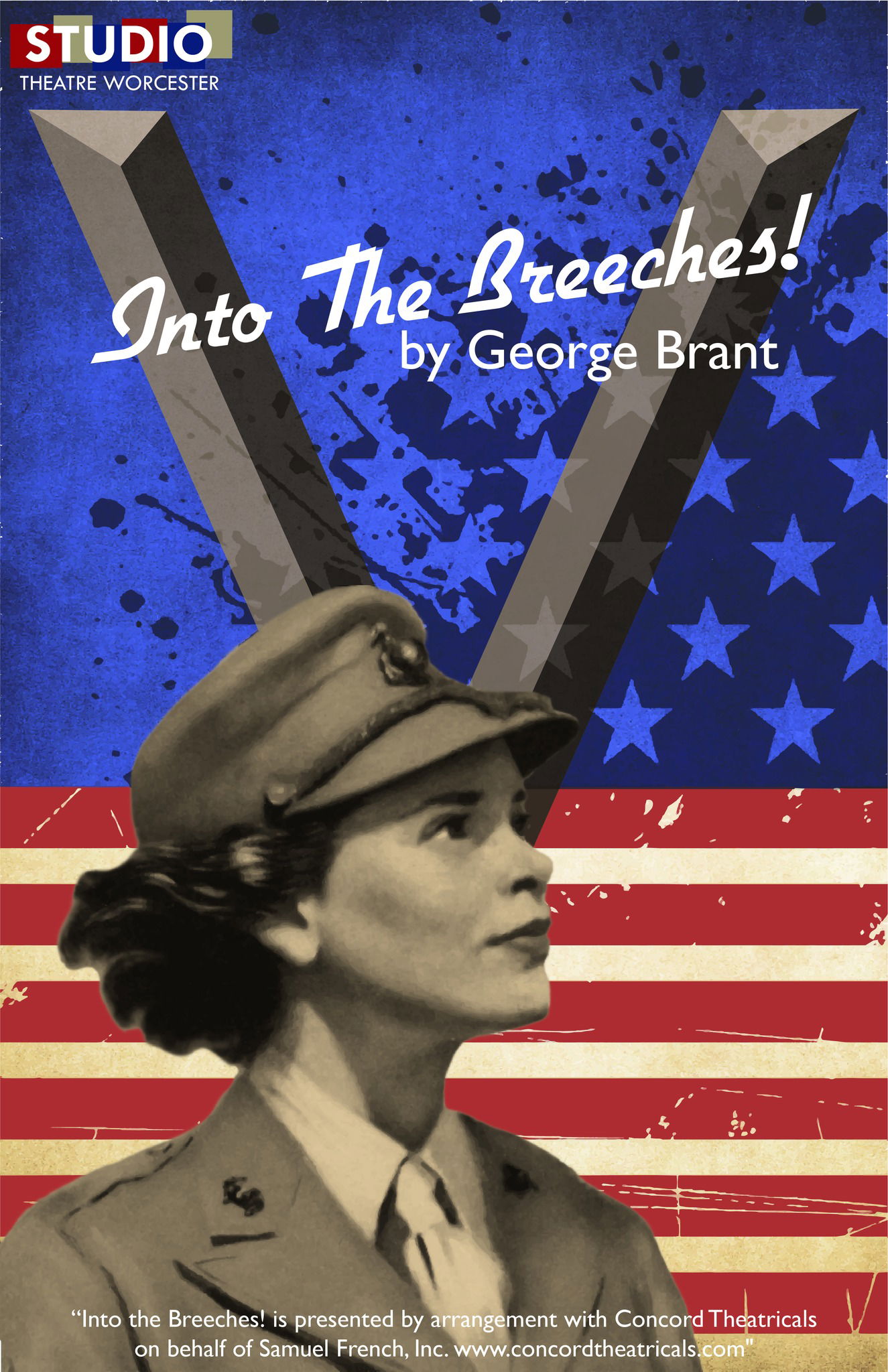 ABOUT THE SHOW
"INTO THE BREECHES!" by George Brant is a laugh-out-loud love letter to theatre and to all those who love it
Oberon Play House's director and leading men are off at war with the Axis.
Determined to press on, the director's wife sets out to produce an all-female version of Shakespeare's Henriad, assembling an increasingly unexpected team united in desire, if not actual theatre experience.

ABOUT STUDIO THEATRE WORCESTER
MISSION
Studio Theatre Worcester is committed to a differentiated, professional theatre experience that reflects the diversity and vibrancy of Worcester communities. Our high quality, theatrical productions and education programs inspire and challenge our audiences while providing compensated opportunities for artists.
VISION
Studio Theatre Worcester will be the professional theatre of choice for artists, designers, educators, and theatre goers in Central Massachusetts.
VALUES:
Produce QUALITY productions that elicit VISCERAL experiences for our patrons. Foster INCLUSIVITY, DIVERSITY, and EQUITY throughout all areas of our organization. Encourage continued learning by providing EDUCATION opportunities. Promote and invest in the use of LOCAL talent. Invest in INNOVATION to keep the costs of our productions and classes affordable. Develop a strong bond with the COMMUNITY. Identify and DISMANTLE SYSTEMS that inhibit access to theatre. Build SUSTAINABLE VALUE through fiscal responsibility.