(Cover Photo: The CAST of "INDECENT" by Paula Vogel presented by the Concord Players in Concord, MA. through February 25, 2023. Photo credit: Chris Pollari)



By Kevin T. Baldwin
METRMAG Reviewer
# 774-242-6724

"How do we as artists question our sins in front of a greater audience? How do we as Jews show ourselves as flawed and complex human beings?"

The Concord Players
Presents Paula Vogel's
"INDECENT"
Written by Paula Vogel
Directed by Shira Helena Gitlin
Cast Includes: Kate Beattie - Vera and others; Michael Jay - Avram and others; Dan Kelly – Lemml; Jon Linden - Mendel and others; Aiden O'Neal - Chana and others; Judi Olson - Halina and others; John Small - Otto and others; Alison Butts - Ensemble, u/s Chana, u/s Halina; Joel Hersh - Ensemble, u/s Otto, u/s Mendel; Wendy Linden - Ensemble, u/s Vera; Siri Smedvig - Musician – Violin; Mike Jacobs - Musician – Clarinet; Erica Risti - Musician – Accordion
Additional Creative Team:
Assistant Director - Hannah Levinson; Producer - Jay Newlon; Song Coach - Susan Minor; Stage Manager - John Murtagh; Assistant Stage Manager - Deborah McBride; Set Design/Dressing, Chief Builder - Allen Bantly; Props - Anne Bantly; Costume Design - Hannah Clifford; Costume Assistant - Shahn Knights; Hair Design - Jack Wickwire; Light Design - Rick Shamel; Sound Design - Tom Powers; Publicity - Andrea Roessler.
Performances:
February 10, 2023 through February 25, 2023
(Contact Box Office for Exact Times)
Tickets:
---
Concord Players presents the formidable play "INDECENT" and the brilliantly complex production is extremely well executed.
Written by Pulitzer Prize-winning playwright Paula Vogel, "INDECENT" explores multiple themes such as anti-Semitism, homophobia, early Jewish immigration, censorship and more.
The Concord production, under the detail-driven direction of Shira Helena Gitlin, is a technically intricate piece - requiring the precise use of monitors on either side of the stage.
These monitors serve to "guide" the audience through the five decade history involved and also when the dialogue used on stage vacillates between Yiddish and English (and other languages).
In 2016, "INDECENT" had an Off-Broadway run which was followed, in 2017, by a Broadway run resulting in three Tony Award nominations (and a win for "Best Direction of a Play" for Rebecca Taichman and "Lighting Design in a Play" for Christopher Akerlind).
The play recounts the controversy surrounding the play "God of Vengeance" written by Sholem Asch (played in the Concord production by Michael Jay), produced on Broadway in 1923.
The Asch play contained a subplot about a Jewish brothel owner whose daughter falls in love with a woman.
This element - admonished at initial readings as "garbage" - proved both innovative and inspired.
This helped to make the play a hit with European audiences with Asch, the producer and cast hailed for their bold, daring work of art.
Conversely, this same element prompted a public outrage with the far more reserved 1923 American audiences and, as such, the producer and cast were arrested and convicted on the grounds of "obscenity" or "indecency."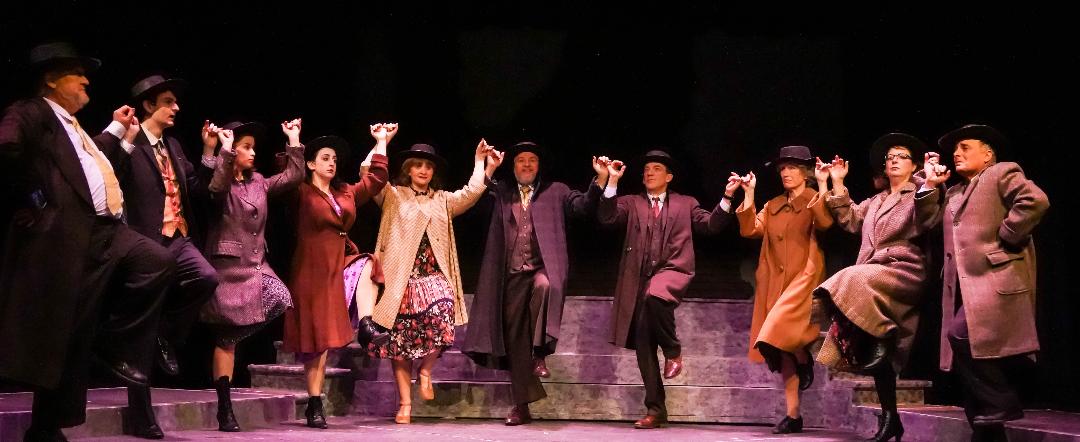 (Photo: The CAST of "INDECENT" by Paula Vogel presented by the Concord Players in Concord, MA. through February 25, 2023. Photo credit Chris Pollari)
All members of the talented Concord Players ensemble aptly portray multiple roles with the exception of Lemml (Dan Kelly) who serves as the evening's "host."
Lemml starts out as an enthusiastic first time reader of Asch's play but soon becomes a life long friend and supporter of Asch and, especially, of the play.
'INDECENT" is not a musical but does contain musical elements that drives portions of the story.
The score and original music by Lisa Gutkin and Aaron Halva alternates from spirited and lively to haunting or maudlin but at all times serves the piece well.
Musicians Siri Smedvig on Violin, Mike Jacobs on Clarinet and Erica Risti on Accordion all perform the required pieces flawlessly.
Songs sung by members of the cast are also astutely performed and the vocals blended nicely.
However, as used, the vocal performances do not come across as an intended "highlight" moment but moreso a way just to transition - to get from "Point A" to "Point B" within the storyline.
As originally conceived and directed by Rebecca Taichman, the Concord staging contains some fine choreographed moments by director Gitlin with Assistant Director Hannah Levinson.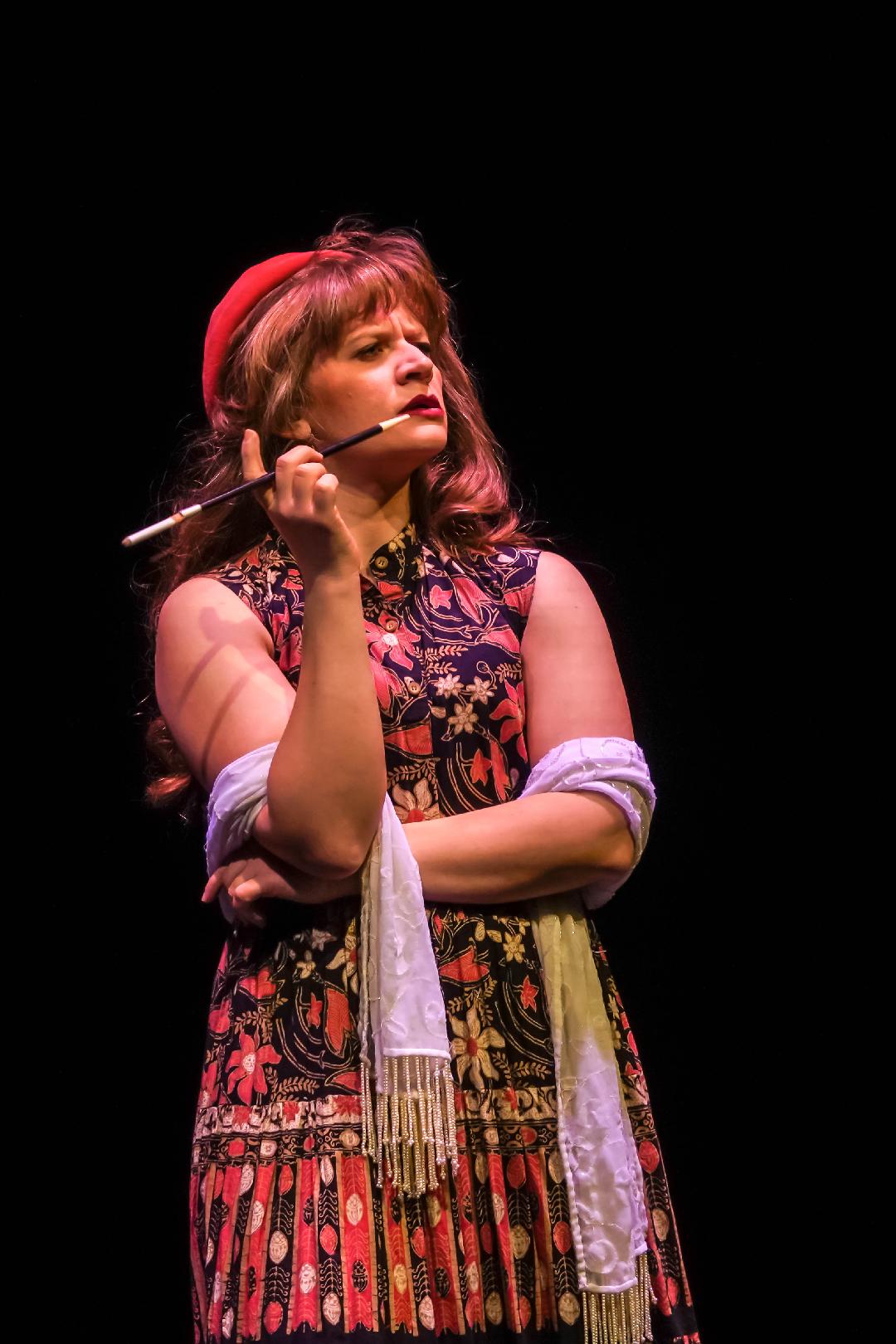 (Photo: Judi Olson in a scene from Paula Vogel's "INDECENT" presented by the Concord Players in Concord, MA. through February 25, 2023. Photo credit Chris Pollari)
The one-act play is not going to appeal to everyone, especially at one hour 45 minutes with no intermission.
It is an extremely layered and complex piece and the manic use of multiple characters is quite dizzying at times.
Yet, Lemml explains from the outset (as the cast "arises out of the ashes" to perform before us) exactly how the play will unfold.
So, none of what follows should be all that surprising, but the sheer volume of character changes can be challenging.
For those that can stick with it, the play is an absolutely brilliant window into a world that proves compelling with many "cancel culture" elements still relevant today.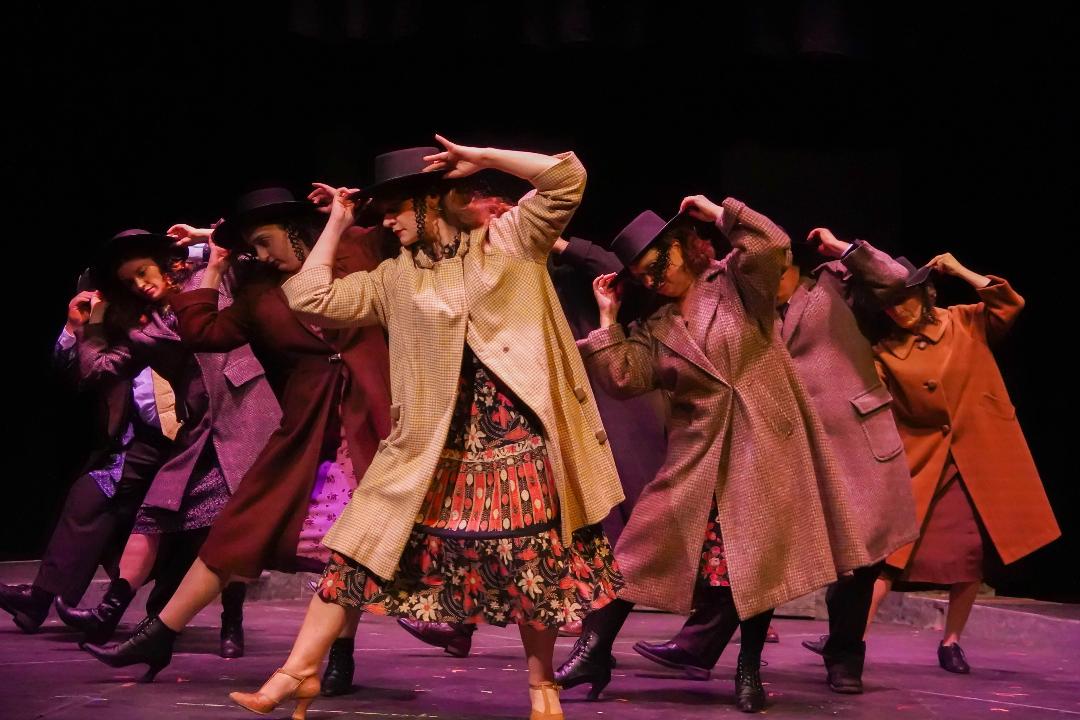 (Photo: The CAST of "INDECENT" by Paula Vogel presented by the Concord Players in Concord, MA. through February 25, 2023. Photo credit Chris Pollari)
In addition to the aforementioned themes, there is also a large part of the story that exposes various hypocrisies - those that wish to support the work by Asch yet acquiesce to the multitude of "cancel cultures" of the period.
Mostly scrutinized is the element of the lesbian kiss (re-enacted by stalwart actresses Aiden O'Neal and Judi Olson who also appear in multiple roles), which may seem a little overly used in this staging.
However, the re-occurring scene from "God of Vengeance" is never used without purpose and should have many overwhelmed by the love, the heartfelt emotion and sheer level of compassion on display by the end of the play.
Thanks to the creative team involved, the rendering by (and dependable camaraderie of) the Concord Players ensemble, Vogel's "INDECENT" continues to be presented as an intriguing drama and a dynamic show.
"INDECENT" continues now through February 25th in Concord.
Approximately one hour, 45 minutes with no intermission.
Kevin T. Baldwin is a member of the American Theatre Critics Association (ATCA)
@MetrmagReviews
@Theatre_Critics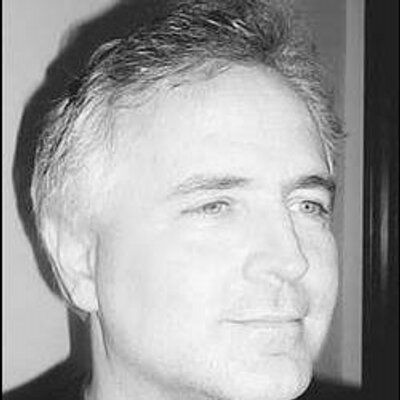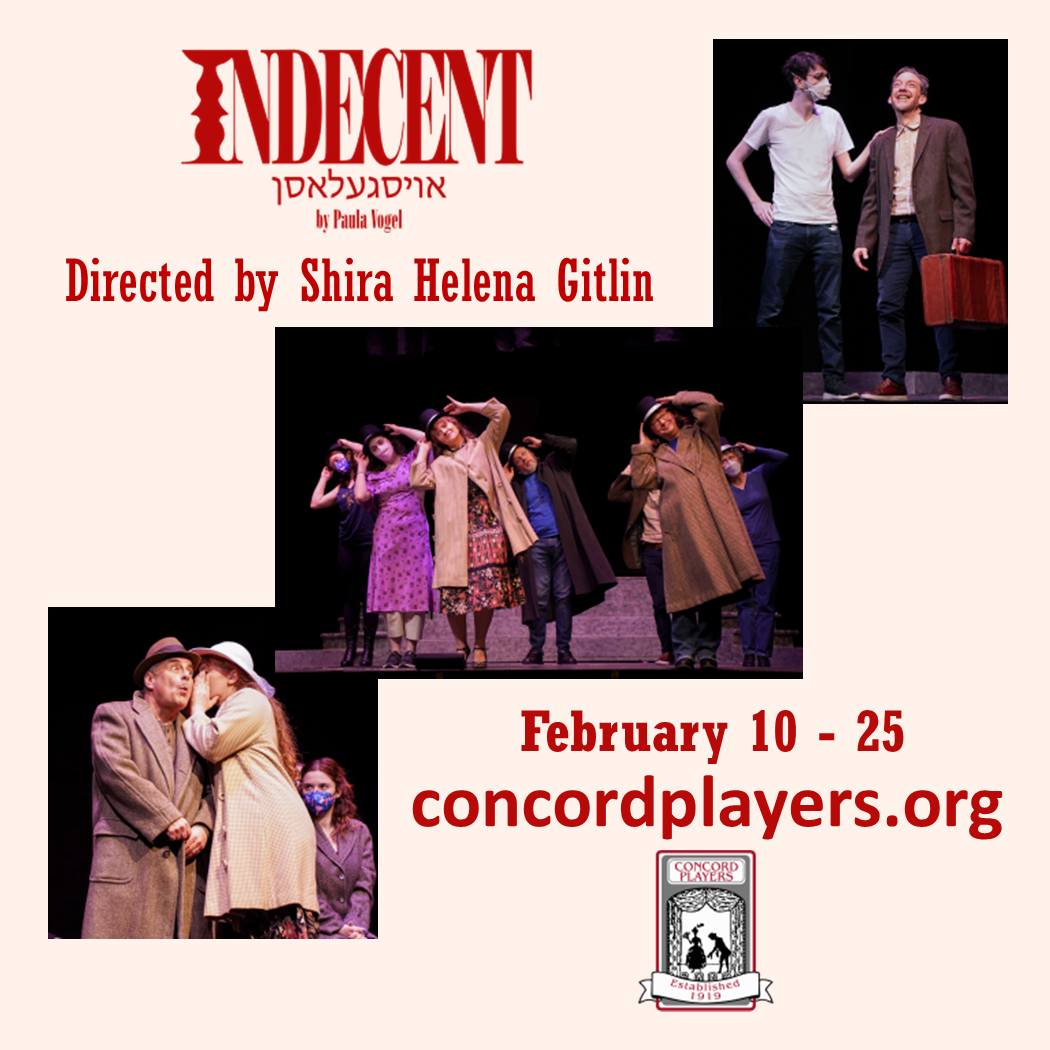 ABOUT THE SHOW
Inspired by the true events surrounding the 1923 Broadway debut of Sholem Asch's "God of Vengeance" — a play seen by some as a seminal work of Jewish culture, and by others as an act of traitorous libel.
"INDECENT" charts the history of an incendiary drama and the path of the artists who risked their careers and lives to perform it..
COVID-19 PROTOCOLS
For details and exceptions, view our full COVID-19 policy statement here.
Questions? Email covid-policy@concordplayers.org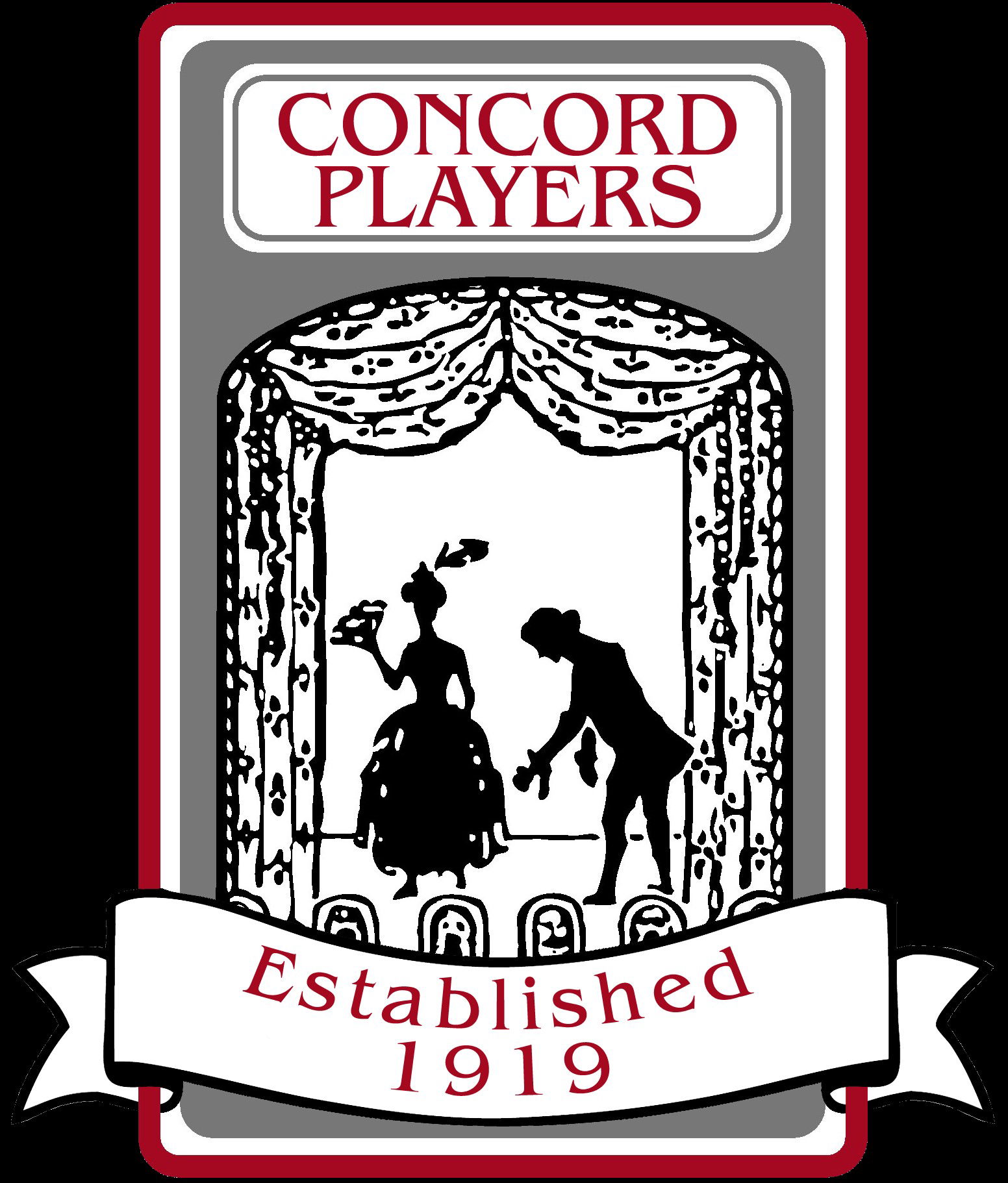 ABOUT THE CONCORD PLAYERS
The Players are proud of their continuous record of presenting quality theatre to the citizens of Concord and the surrounding communities. Three major productions are mounted each season. In addition, one-acts, such as the annual entry into the Eastern Mass Assn of Community Theatres (EMACT) Spring Festival, are frequently presented. Workshops in acting, directing, and technical theatre are also offered to the membership.
MISSION STATEMENT
The purpose of our organization is to produce and perform quality theatre for the citizens of Concord and the surrounding communities. We encourage the participation of people with an interest in technical theatre, as well as in performing.
The Concord Players
51 Walden St
Concord, MA 01742
978 369-2990
tickets@concordplayers.org