(Cover Photo: Jennifer Rohn as "Li'l Bit" and Dennis Trainor, Jr. as "Uncle Peck" in a scene from "HOW I LEARNED TO DRIVE" presented by Actor's Shakespeare Project in Boston, MA. now playing through November 26, 2023. Photo Credit Nile Scott Studios)


By Kevin T. Baldwin
METRMAG Reviewer
# 774-242-6724

"I lock the doors. And turn the key. Then I adjust the most important control on the dashboard. The radio."
- ("Li'l Bit") / Paula Vogel

Presents Paula Vogel's
Written by Paula Vogel
Directed by Elaine Vaan Hogue
Cast Includes: Amy Griffin – Male Greek Chorus; Sarah Newhouse – Female Greek Chorus; Jennifer Rohn – Li'l Bit; Dennis Trainor, Jr. – Uncle Peck; Tommy Vines – Teenage Greek Chorus
Additional Creative Team:
Stage Manager - Adele Nadine Traub*; Assistant Stage Manager - Lisette Van Den Boogaard; Props Design - Saskia Martínez; Sound Design - Mackenzie Adamick; Intimacy Director - Olivia Dumaine; Lighting Design - Marcella Barbeau**; Costume Design - Marissa Wolf; Scenic Design - Baron E. Pugh**; Dramaturg - Edward Sturm; Wardrobe Assistant - Antigone Brandel-Iuliano; Stage Manager Sub (11/11-12) - Thomas M. Kauffman*
* Member of Actors' Equity Association, the Union of Professional Actors and Stage Managers in the United States
** Represented by United Scenic Artists, Local USA 829 of the IATSE
Performances:
November 3, 2023 through November 26, 2023
(Contact Box Office for Exact Times)
Roberts Studio Theater, Calderwood / BCA, 527 Tremont Street, Boston MA 02116
Tickets for all performances are $59.50, with an allotment of $20 tickets released for the week's performances on the Monday of that week, subject to availability.
Student tickets are $25, available for any patron ages 25 and under.
Memberships are available starting at $210. For more information, visit www.ActorsShakespeareProject.org
Tickets:
Phone # 617-241-2200
COVID-19 PROTOCOLS
Please consult directly with venue for latest COVID-19 and any other health and safety protocols.
Actors' Shakespeare Project (ASP) presents the compelling drama "HOW I LEARNED TO DRIVE" - a play on a difficult subject and one which may prove triggering for some.
In "HOW I LEARNED TO DRIVE" a woman, known by her family as Li'l Bit (Jennifer Rohn) recalls being sexually and emotionally victimized by her Uncle Peck (Dennis Trainor, Jr.) over a number of years.
Rohn is remarkable - completely in tune with the character of Li'l Bit who, in both the retrospective and introspective moments of the play, seems either unaware of the extent of her toxic environment or is blocking it out for unclear reasons.
The story, written by Paula Vogel, unfolds in non-linear fashion, moving forward and backward in time but, no matter where we are in Li'l Bit's story of abuse, every scene comes with an uncomfortable, if not terrifying, revelation, driving us toward a cataclysmic conclusion.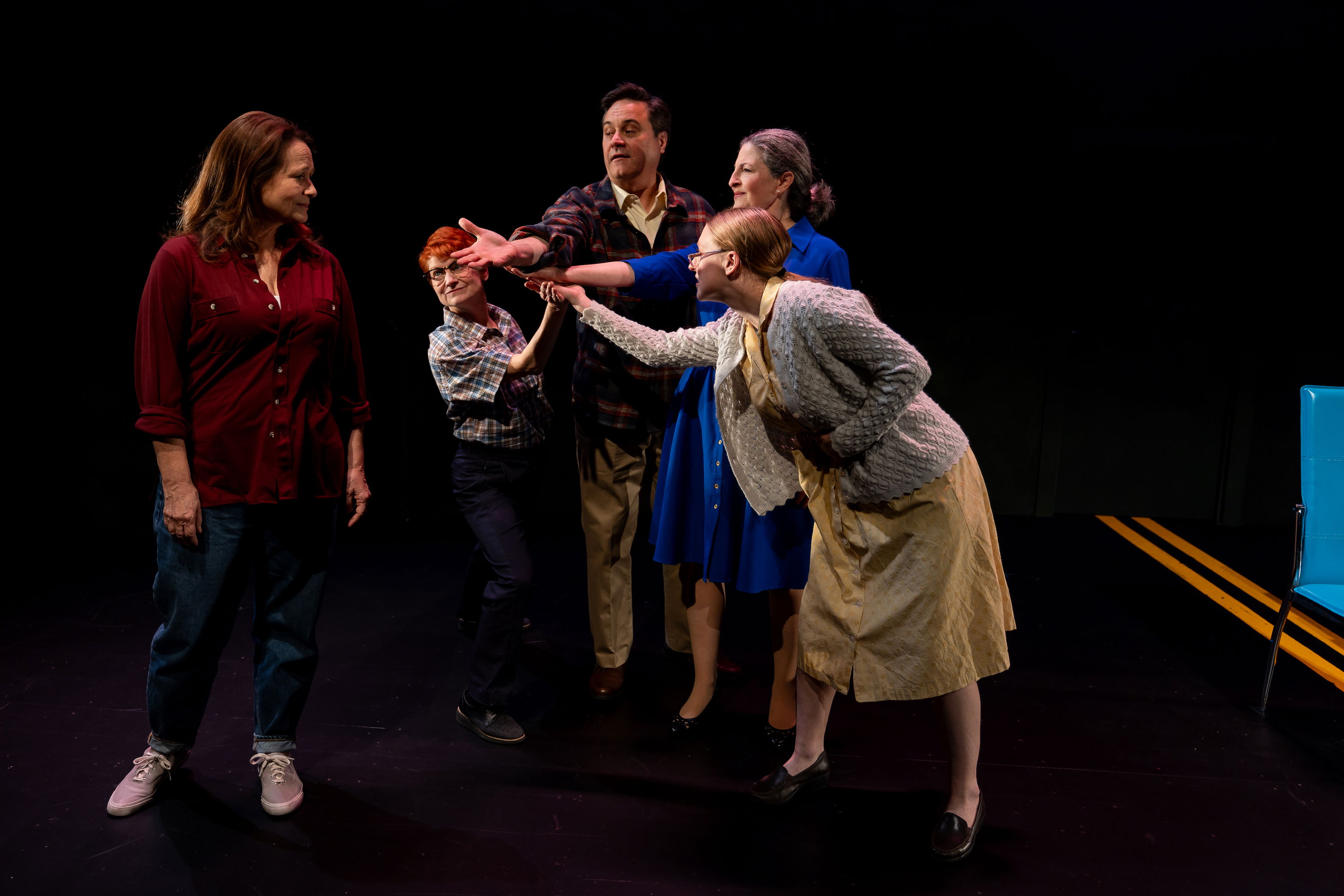 (Photo: The CAST of "HOW I LEARNED TO DRIVE" presented by Actor's Shakespeare Project in Boston, MA. now playing through November 26, 2023. Photo Credit Nile Scott Studios)
At several points in the story, Uncle Peck recalls to Li'l Bit how he "held her in the palm of his hand" when she was born.
Yet, at some other very twisted point, that same palm went to places on Li'l Bit it should never have gone.
Yet, the "very married" Uncle Peck cunningly uses his charm and "caring nature" as a way to manipulate Li'l Bit.
In a marvelously understated performance by Trainor, the predatory Uncle Peck retains a closeness to his intended victim, luring Li'l Bit, assuring her, becoming her confidant, making himself the only person Li'l Bit feels she can turn to - he is, in effect, "grooming" her.
Part of his method of enforcing a kind of control on his prey is by teaching Li'l Bit to drive, which is also how the Vogel story metaphorically unfolds, using a kind of "driving instructor manual" with the cast announcing various "rules of the road" to help set up each scene.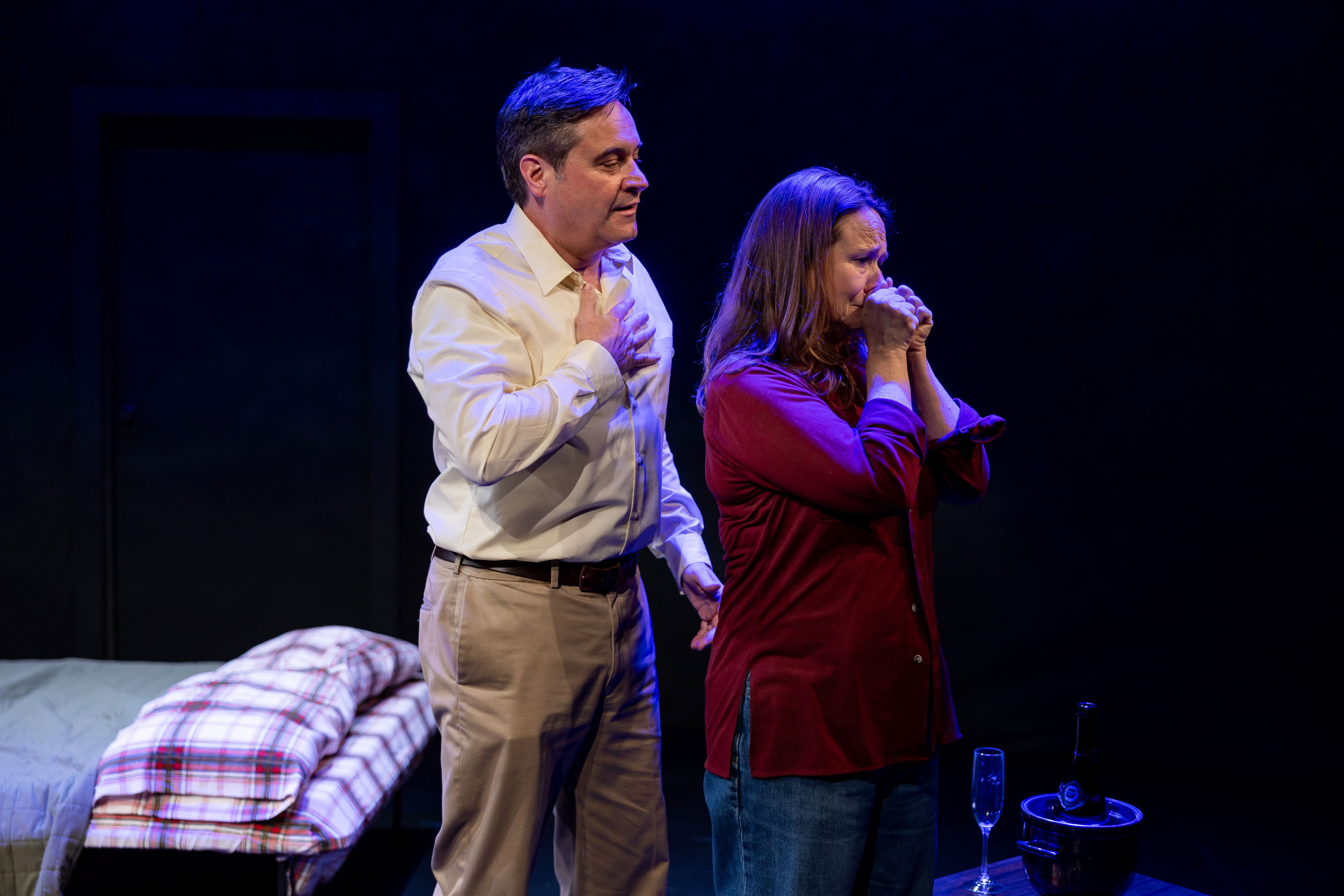 (Photo: Dennis Trainor, Jr. as "Uncle Peck" and Jennifer Rohn as "Li'l Bit" in a scene from "HOW I LEARNED TO DRIVE" presented by Actor's Shakespeare Project in Boston, MA. now playing through November 26, 2023. Photo Credit Nile Scott Studios)
"HOW I LEARNED TO DRIVE" debuted Off-Broadway in 1997 and garnered acclaim, ultimately receiving the 1998 Pulitzer Prize for Drama. It's revival in 2022 earned a nomination for a Tony Award.
As expertly staged at ASP by director, Elaine Vaan Hogue, Li'l Bit's family (as portrayed by a "Greek Chorus" consisting of actors Amy Griffin, Sarah Newhouse and Tommy Vines appearing in multiple roles throughout the show) is oblivious to Uncle Peck's "obsession" with the child.
Mainly this is because they are a pretty self-absorbed bunch with their own set of "issues."
Mother (adeptly embodied by Newhouse) is a drunk single parent and Grandma (as uproariously played by Vines) is as old-fashioned as they come, UNLESS she is talking about having sex with her husband, the verbose, misogynistic Grandpa (portrayed equally uproarious by Griffin).
Her Aunt (also played by Newhouse) seems not to be emotionally available to her husband, Uncle Peck, even though she praises for how "good" he is with children.
Instead of rear-view mirrors this family comes equipped with blinders attached for accessories.
Leaving the manipulative Uncle Peck the only consistent (male) parental figure Li'l Bit feels she can turn to, and she wants HIM to know she is emotionally available to him, as well - which is exactly what the scheming Uncle Peck is counting on.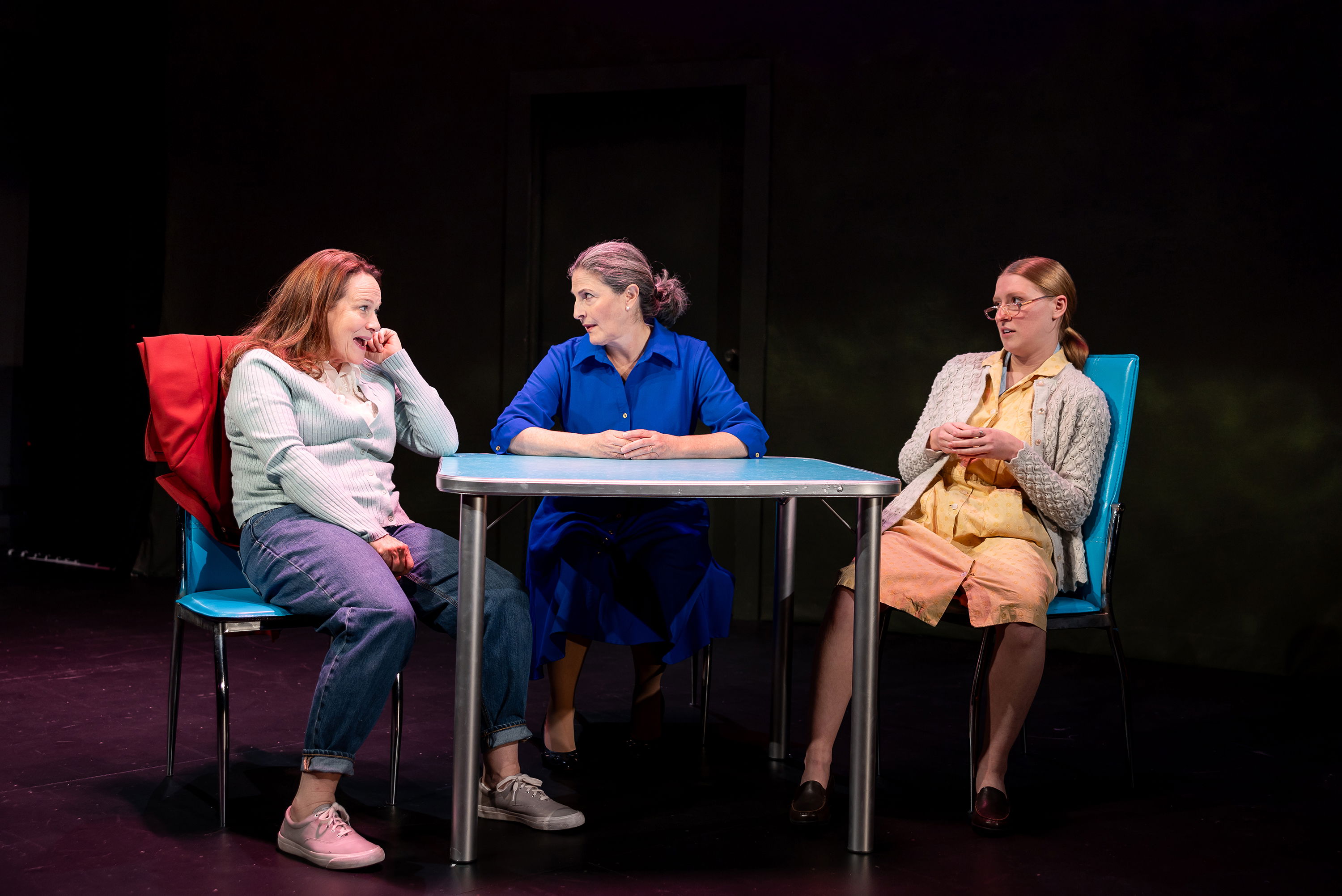 (Photo: Jennifer Rohn as "Li'l Bit," Sarah Newhouse as her "Greek Chorus: Mother" and Tommy Vines as her "Greek Chorus: Grandma" having a heart-to-heart discussion on sex in a scene from "HOW I LEARNED TO DRIVE" presented by Actor's Shakespeare Project in Boston, MA. now playing through November 26, 2023. Photo Credit Nile Scott Studios)
Trainor's portrayal is not done as overtly sinister. Uncle Peck is playing some kind of bizarre "long game" with his niece.
His manipulation is done clandestine, methodical, and in the guise of having the best of intentions for this young girl.
To listen to Uncle Peck speak is to see him as someone who is compassionate; someone who completely cares for Li'l Bit - NOT someone who would have such disgusting, diabolical designs.
This is also does not appear to be Uncle Peck's "first rodeo" at such manipulation, as witnessed in an unsettling monologue by Trainor in a flashback scene involving Uncle Peck alone on a fishing trip with Li'l Bit's cousin "Bobby."
The versatility displayed by Vogel's Greek Chorus members is consummately constructed and executed by the performers who occasionally have to move through scene transitions at a breakneck pace, never faltering.
Certain revelations made by other female family members make it clear that, at least in the area where Li'l Bit grew up, it was not all that uncommon a practice to see the grooming of young girls to make themselves emotionally and physically available to older men...in some cases, much older men.
But...as emotionally conveyed by Rohn, Li'l Bit knows something is definitely wrong with this unusual "relationship" she shares with Uncle Peck.
However, she feels (or, in fact, is MADE to "feel") that he is the only person who really "sees" her, who "gets" her - and that proves to be a huge component in his overwhelming hold over her.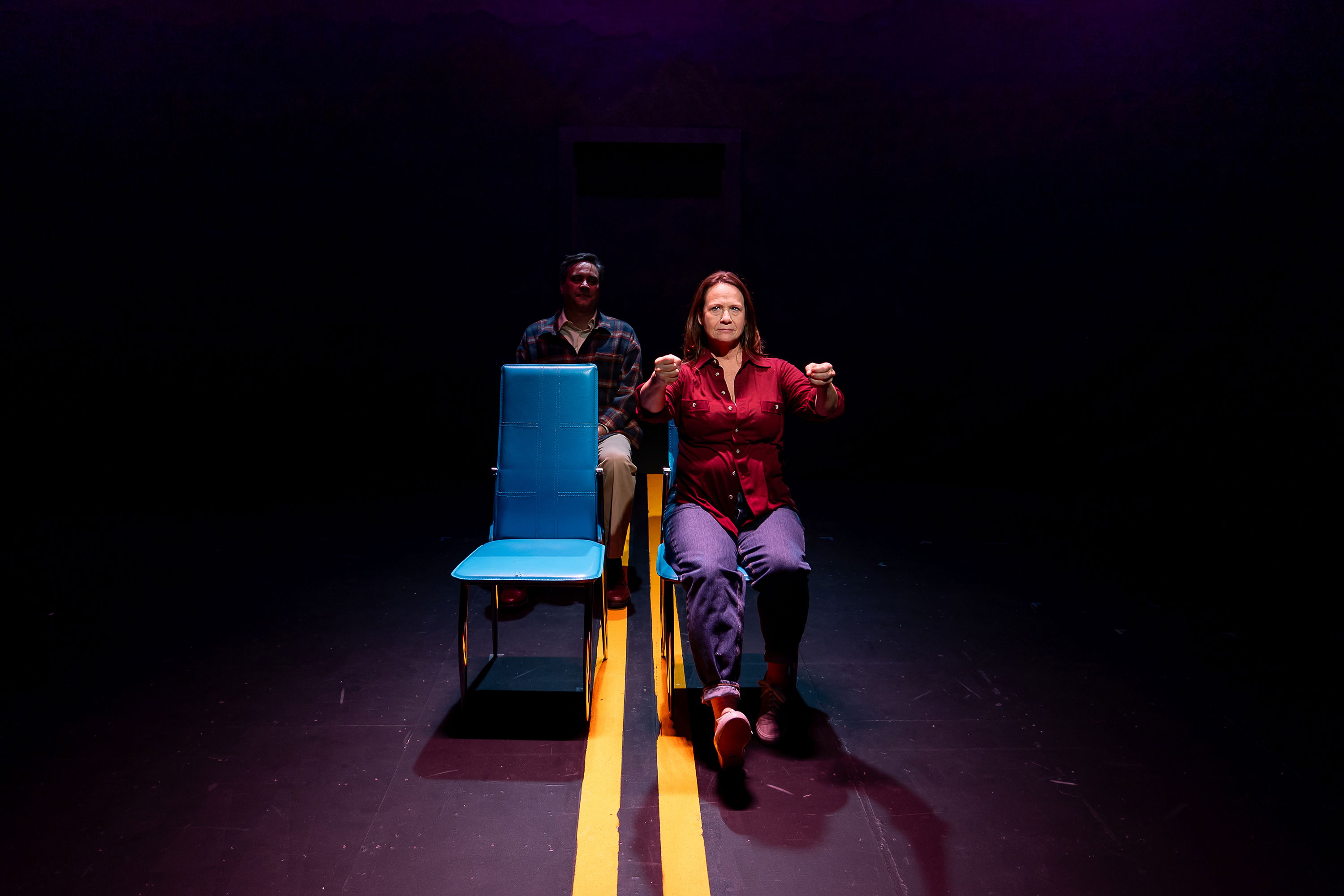 (Photo: Dennis Trainor, Jr. as "Uncle Peck" and Jennifer Rohn as "Li'l Bit" in a scene from "HOW I LEARNED TO DRIVE" presented by Actor's Shakespeare Project in Boston, MA. now playing through November 26, 2023. Photo Credit Nile Scott Studios)
Again, "HOW I LEARNED TO DRIVE" is a complex story and one that is going to be difficult for some to sit through.
That said, as staged by Vaan Hogue's concise direction, it is Rohn's fabulous performance, supported by an incredibly cohesive ensemble, that makes Vogel's plot move both creatively and fluidly for all one hour and 40 minutes.
ASP noted in the program that there was an unplanned set change and that the pictured scenic construction seen in the supplied photos "does not reflect the original designs by Baron E. Pugh**."
However, the minimalist set design ultimately utilized was sufficient enough to depict the intended story which was accomplished well, driven primarily on the strength of the above collective performances.
In the ASP program is a directory of available resources for anyone who might find the subject matter triggering, including a listing for the Rape, Abuse, and Incest National Network (RAINN) www.rainn.org 24/7 Hotline: 1-800-656-4673.
METRMag applauds the consideration by ASP to post all these resources in their program and prays no one will actually have the need to avail themselves of them. (Thankfully they ARE there, though, if required)
Actor's Shakespeare Project's "HOW I LEARNED TO DRIVE" continues at the BCA in Boston until November 26th.
Coming up next at ASP will be August Wilson's "KING HEDLEY II" in March, 2024 in partnership with Hibernian Hall. For more information, visit www.ActorsShakespeareProject.org.
Approximately one hour, 40 minutes with no intermission
Kevin T. Baldwin is a member of the American Theatre Critics Association (ATCA)
@MetrmagReviews
@Theatre_Critics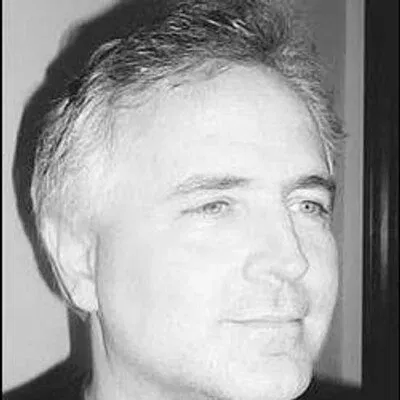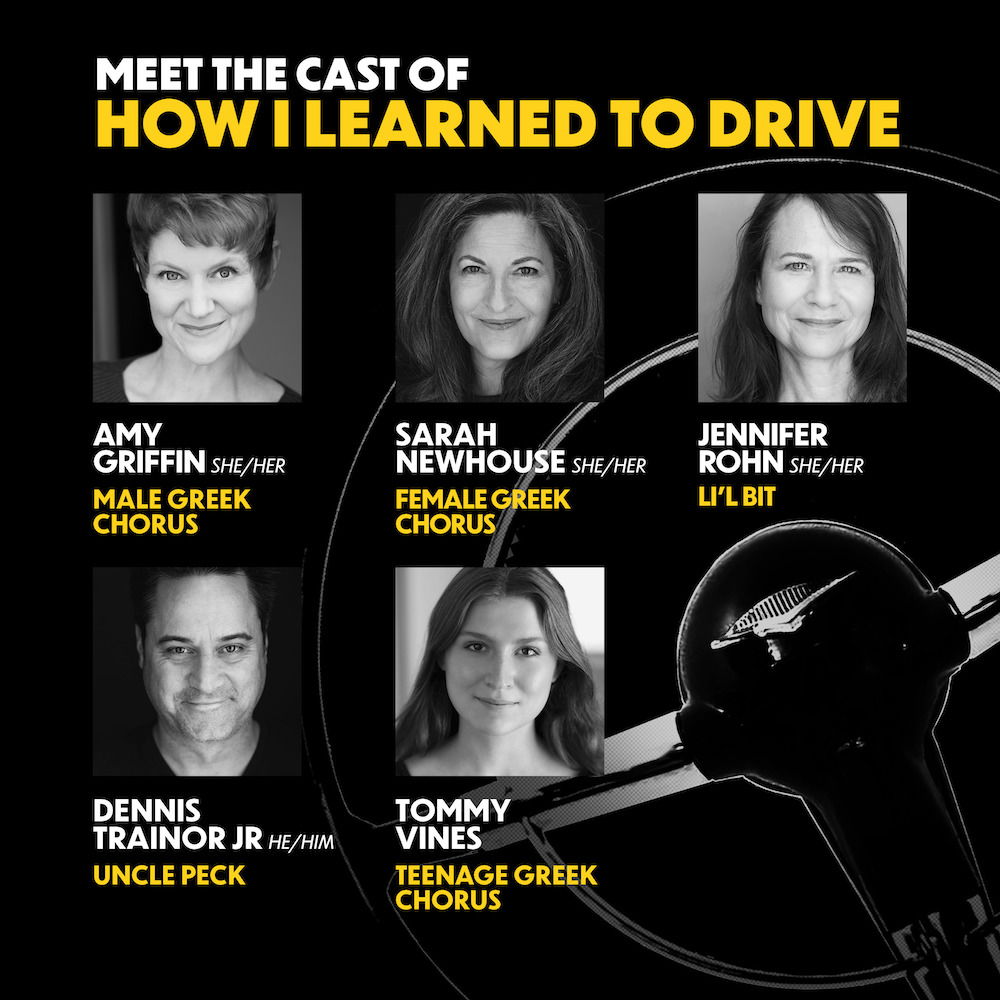 ABOUT THE SHOW
Actors' Shakespeare Project continues its American Bards series with a stirring revival of the 1998 Pulitzer Prize Winner for Drama "HOW I LEARNED TO DRIVE."
Directed by Elaine Vaan Hogue, this dramatic masterpiece from legendary playwright Paula Vogel will be performed in the Roberts Studio Theater at the Calderwood Pavilion.
Check your mirrors, place your hands at ten-and-two, and experience one of the greatest American plays ever written.
Nominated for the 2022 Tony Award for Best Revival, "HOW I LEARNED TO DRIVE" puts us behind the wheel of a '56 Chevy with our protagonist, Li'l Bit, as she looks back on her rocky journey from adolescence to adulthood.
Fasten your seatbelts as she navigates dark family secrets, teenage growing pains, and her turbulent relationship with her Uncle Peck.
Named "One of the Top 25 American Plays Since Angels in America" by The New York Times, "HOW I LEARNED TO DRIVE" traverses the full range of human emotions - from hilarity to heartbreak.
Vogel's examination of the highway towards womanhood has only taken on more urgency and meaning since it was first first staged.
Approximately One hour, 40 minutes with no intermission.

ABOUT THE ACTORS' SHAKESPEARE PROJECT
ACTORS' SHAKESPEARE PROJECT (ASP), founded in 2004, is an award­-winning professional theater company with a Resident Acting Company and extensive education, youth, and community programs. ASP performs and works in found spaces, schools, theaters and neighborhoods to present and explore the robust language, resonant stories, and deeply human characters in Shakespeare's plays and in works by other great playwrights. Work is ensemble-­based and focused on intimacy, storytelling, language, relationships, voice, risk and artistry within and throughout the Boston area.
MISSON
ACTORS' SHAKESPEARE PROJECT believes Shakespeare's words are urgently relevant to our times. Working as an ensemble of resident company members, ASP brings these words into the voices, bodies, and imaginations of actors, audiences, and neighborhoods. ASP does this through creative projects, including intimate productions and outreach programs that are informed by the spaces in which they happen. These projects inspire civic dialogue, build relationships between people, strengthen communities, and reveal something about what it means to be human here and now.
442 Bunker Hill Street
Charlestown, MA 02129
Phone # 617-241-2200