(Cover Photo: The CAST of the Michael Stewart/Jerry Herman musical "HELLO DOLLY" now playing at Theatre at the Mount in Gardner, MA. through August 20, 2023. Photo Credit Paige Fowler)


By Kevin T. Baldwin
METRMAG Reviewer
# 774-242-6724

"Money, pardon the expression, is like manure. It's not worth a thing unless it's spread around, encouraging young things to grow."
- ("Dolly Levi") Michael Stewart / Jerry Herman

Theatre at the Mount
Presents
"HELLO, DOLLY!"
Book by Michael Stewart
Music and Lyrics by Jerry Herman
Based on Thornton Wilder's 1938 farce The Merchant of Yonkers, which Wilder revised and retitled The Matchmaker in 1955
Directed by Joel D. Seger
Music Direction by John Leslie
Choreography by Alison Hall
Cast Includes: Julie Bouchard as "Mrs. Dolly Gallagher Levi"; Mark Peterson as "Horace Vandergelder"; Timmy Chase as "Cornelius Hackel"; Andrea Moore as "Irene Molloy"; Molly Moffat as "Minnie Fay"; Samuel Burak as "Barnaby Tucker"; John McAuliffe as "Ambrose Kemper"; Abigail Harris as "Ermengarde"; Terrie Hyde as "Ernestina"; Rick Woods as "Rudy"; Heather Crabbe as "Mrs. Rose"; Anthony Marcus Kirouac as "Stanley"; Jeremiah Jordan as 'Judge"
Ensemble: Michael Audet, Amanda Lawton, Callia Arum, Kristen Licht, Vivian Beauvais, Victoria Rich, Arianna Bonito, Gabrielle Clark, Dawn Ross, Xavier Cormier, Peter Russo, Isabel Coviello, Kimberly Soel, Libbey Stearns, Lynn Dumais, Kylan Tremblay, Eric Dwinnells, Rachel Twiss, Alex Gardner, Brenna Washburn, Heidi White, Jillian Whitney.
Additional Creative Team:
Producing Director - Gail Steele; Technical Director/Set Designer - Jeff Boisseau; Lighting Designer - Sam Gagnon; Sound Engineer - Sean Kyle; Stage Manager - Mike Ross; Costumers - Doreen Croteau, Meredith Heimo, Ryan Maloney; Costume Assistant - Myndy Ellwood; Spotlight Operators - Aeon Smith, Phoenix Ringquist; Props - Debra Huard; Wig Consultant - Jeanne Reiley; Construction Crew - Aloura Smith, Matthew Nachtrieb, Sam Gagnon; Box Office Manager - Paul Caouette; Graphic Designer - Haley Caisse; Lobby Posters - Lori Adams; Running Crew - Sara Fisher, Tim Fisher, Nyk Fisher, Blake Ross, Ashley LaBarre, Jovan Tremblay, Abby Brogan.
Mount Wachusett Community College, 44 Green Street, Room 182, Gardner, MA.
Performances:
August 11, 12, 18 & 19, 2023 at 7:30pm
August 20, 2023 at 2:00pm
Tickets are available online at mwcc.universitytickets.com or by phone at 978-630-9388.
For additional information contact Professor Gail Steele at 978 630-9162 or g_steele@mwcc.mass.edu
COVID 19 PROTOCOLS
Contact Venue for Most Updated COVID-19 Safety Protocols and Information.
Theatre at the Mount strikes pure musical gold in their latest production of the Broadway classic, "HELLO DOLLY."
It is always nice - and rarer than one might think - to see a show that succeeds on every single production level - this is one of those shows.
When discussing an iconic musical such as "HELLO DOLLY," it must be noted that it is set in 1898 and depicts cultural mores that no longer exist...and which may never have truly existed in the first place.
And yet, for a couple of hours, the Mount's world of "DOLLY" still presents a world pleasant enough to visit, even if you may never want to live there.
The show, which won 10 Tony Awards including Best Musical, held a record for most Tony wins which stood for 37 years until broken by Mel Brook's "The Producers" musical in 2001.
Based on Thornton Wilder's 1938 farce "The Merchant of Yonkers," Wilder later re-wrote the rather far-fetched play as "The Matchmaker" in 1955.
Later, it would be adapted into the stage musical which has ultimately been performed every year in some part of the world since it premiered in 1964.
Set against a backdrop befitting a Norman Rockwell "Saturday Evening Post" cover, this charming and beloved musical features lyrics and music by Jerry Herman with the book written by Michael Stewart.
The musical begins with an impeccably approached "Overture" under the direction of Music Director and Conductor John Leslie who also plays piano with an eight-member orchestra, establishing the lighthearted tone for the story's first act.
Later, they would accomplish the same for the show's second act with a vibrant "Entr'Acte."
As the rudimentary plot unfolds, the human interactions are almost as cartoon-ish and representational as many a Rockwell image.
The story revolves around middle-aged widow Dolly Levi (Julie Bouchard), a vexatious, smooth-talking entrepreneur and matchmaking savant, who is contracted to find the elder wealthy businessman widower Horace Vandergelder (Mark Peterson) a new wife.
By the way, please start keeping track because, decades after the Civil War and about a decade and a half before the first 20th Century influenza pandemic, there sure are a lot of dead people associated with the characters of "HELLO DOLLY."
Bouchard is an absolute knock-out as "Dolly" and Peterson works extremely well opposite her as the curmudgeonly Vandergelder. The two have fabulous chemistry on stage.
Bouchard's rendition of the musical's first act empowerment finale, "Before the Parade Passes By" is an inspired approach to the standard. Her other standout numbers include "I Put My hand In" featuring some dazzling ensemble choreography and the second act's "So Long, Dearie."
The cantankerous Vandergelder is proprietor of his own highly successful hay and feed store but little suspects Dolly's true intentions as she meddles and schemes her way into becoming the "next Mrs. Vandergelder."
Peterson ably sings with his employees during a delightfully rousing (albeit equally hilariously inappropriate) number, "It Takes a Woman."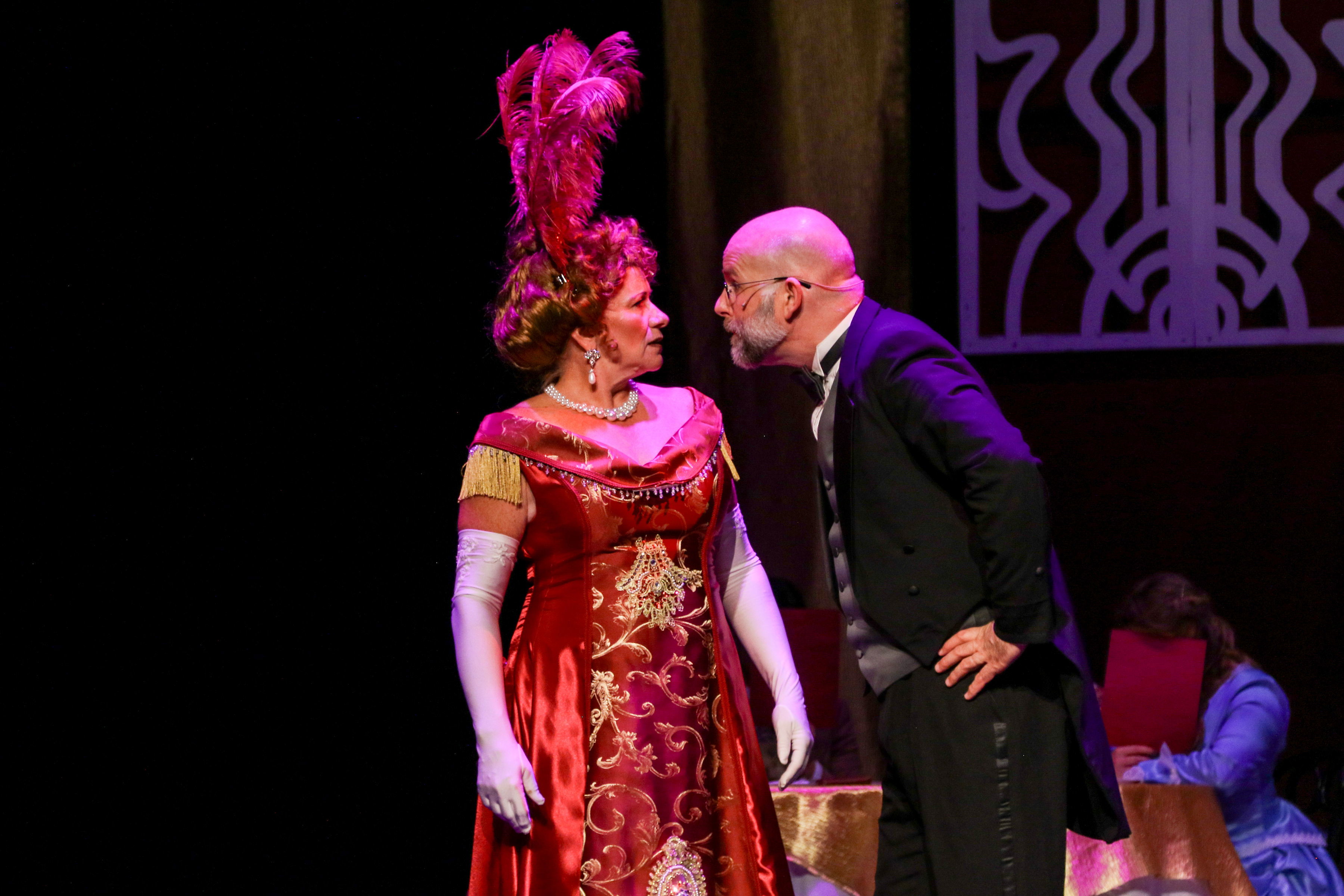 (Photo: Julie Bouchard as "Dolly Levi" and Mark Peterson as "Horace Vandergelder" in the musical "HELLO DOLLY" now playing at Theatre at the Mount in Gardner, MA. through August 20, 2023. Photo Credit Paige Fowler)
Adding to Vandergelder's frustrations, exacerbated by Dolly's shenanigans, is Vandergelder's young niece, Ermengarde (Abigail Harris), who lives with Horace.
Although not mentioned, it might be presumed that Ermengarde's parents must have also died during the aforementioned pandemic. This might explain her penchant for crying - literally in almost every single moment her character appears on stage.
Ermengarde seeks to marry struggling artist, Ambrose (John McAuliffe). One has to wonder, though, given the massive limitations of the "Ermengarde" character, what in God's name Ambrose would see in her.
Thankfully, the fine actors portraying the couple, Harris and McAuliffe, are given some fun "counter-balancing" moments. Just one example of many clever choices made by Director Joel D. Seger and Choreographer Alison Hall.
Then we meet the idealistic 33-year old Cornelius Hackl (Timmy Chase), who is Vandergelder's chief clerk who yearns for one exciting day in NYC with his friend and co-worker, Barnaby (Samuel Burak).
The lad's have a very simple goal: to each meet and kiss a girl. Today, that "goal" might be considered a bit predatorial.
Collectively, the actors and ensemble do successfully provide an enjoyable evening of fun and song.
Under the capable guidance of Music Director John Leslie, the entire cast provides stirring choruses for "Put On Your Sunday Clothes," "When the Parade Passes By" and, of course, the show's title number that leaves all other musical's title numbers wanting, "HELLO DOLLY."
Burak is an impressive singer but, as scripted, "Barnaby" doesn't give the actor a lot to do with his character. Yet, even with the scripted limitations, Burak does manage to stand out in just about every scene in which he appears.
Chase, on the other hand, is very funny from the outset, given a far more "layered" character to play in "Cornelius," one that achieves a little more growth throughout the story, especially by the time we get to the technically difficult ballad, "It Only Takes a Moment."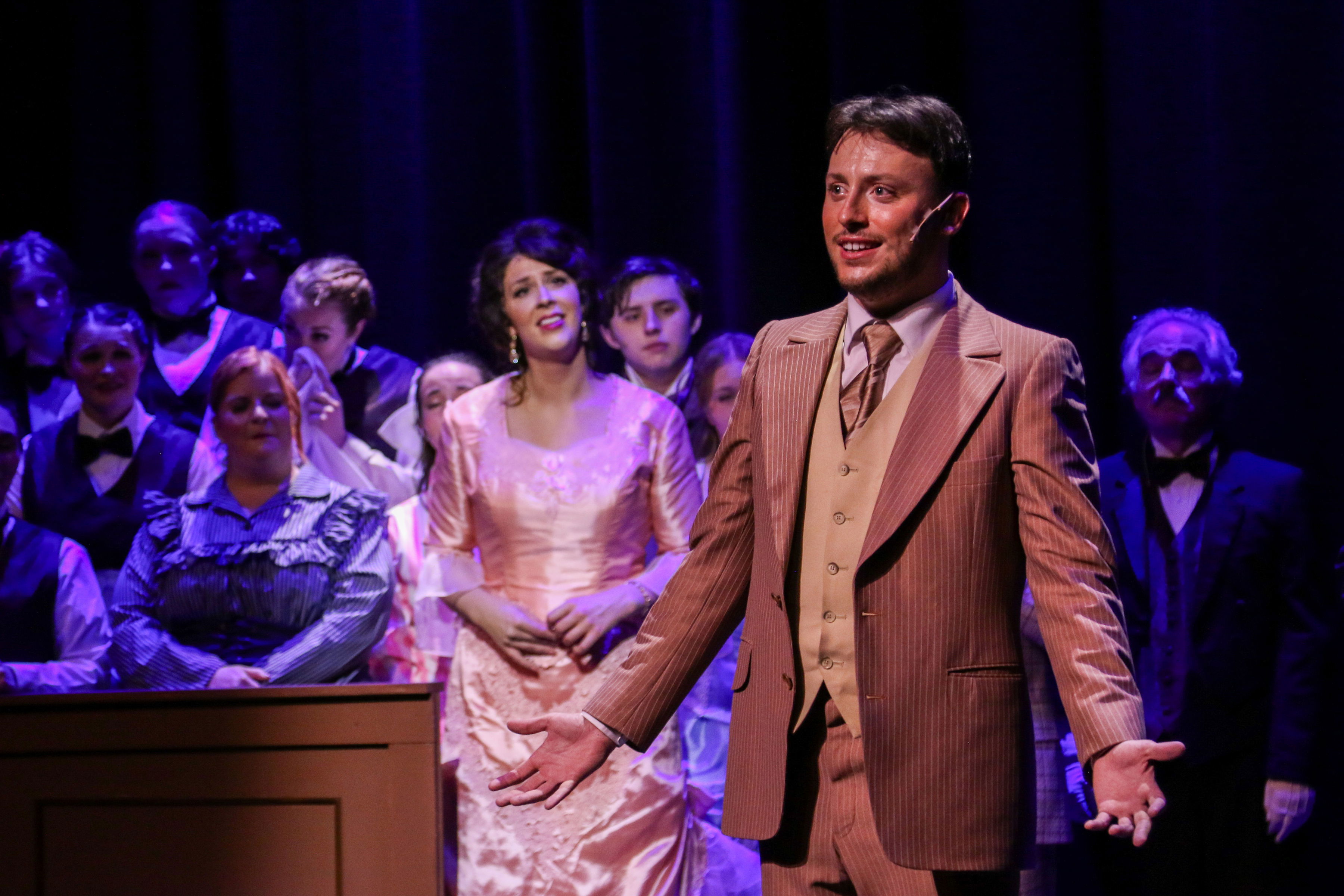 (Photo: Timmy Chase as "Cornelius Hackel" and Andrea Moore as "Irene Molloy" in the musical "HELLO DOLLY" now playing at Theatre at the Mount in Gardner, MA. through August 20, 2023. Photo Credit Paige Fowler)
When the boys play hooky from work to seek adventure and love in New York, Cornelius meets Irene Molloy (Andrea Moore) a beautiful widow (That's right. ANOTHER widow. You know what? Let's just assume smallpox, at this point).
Andrea Moore as "Irene" gives a fine performance and has a magnificent voice, evident from her character's biggest solo, "Ribbons Down My Back."
Irene runs her own milliner and hat shop. However, Cornelius doesn't realize that Dolly has already planned to introduce Irene to Vandergelder as a prospective "bride" (while secretly gambling things do not quite work out for either).
Irene has a young, attractive assistant Minnie Fay (Molly Moffat) who is a perfect companion for the more naïve and inexperienced Barnaby.
Moffat is the big surprise of the show as she absolutely beams in the part of "Minnie Fay" beginning with her impressive comedic timing in one of the most hysterical entrances of the night.
While the original Broadway show was directed and choreographed by Gower Champion, the Theatre at the Mount choreography by Alison Hall is also quite inventive and well executed by the ensemble.
Every single group number comes with an infectious element of wit.
Another nice aspect of the show and its choreography:
Some groups might choose, perhaps out of necessity, to omit the "reprise music" altogether or just use that music for scene transitions.
Instead, here, in this "DOLLY," the combined directors chose wisely not to leave anything out of the score.
The brief reprise of each musical number is retained and, in almost every single case, also contains some equally inventive moves.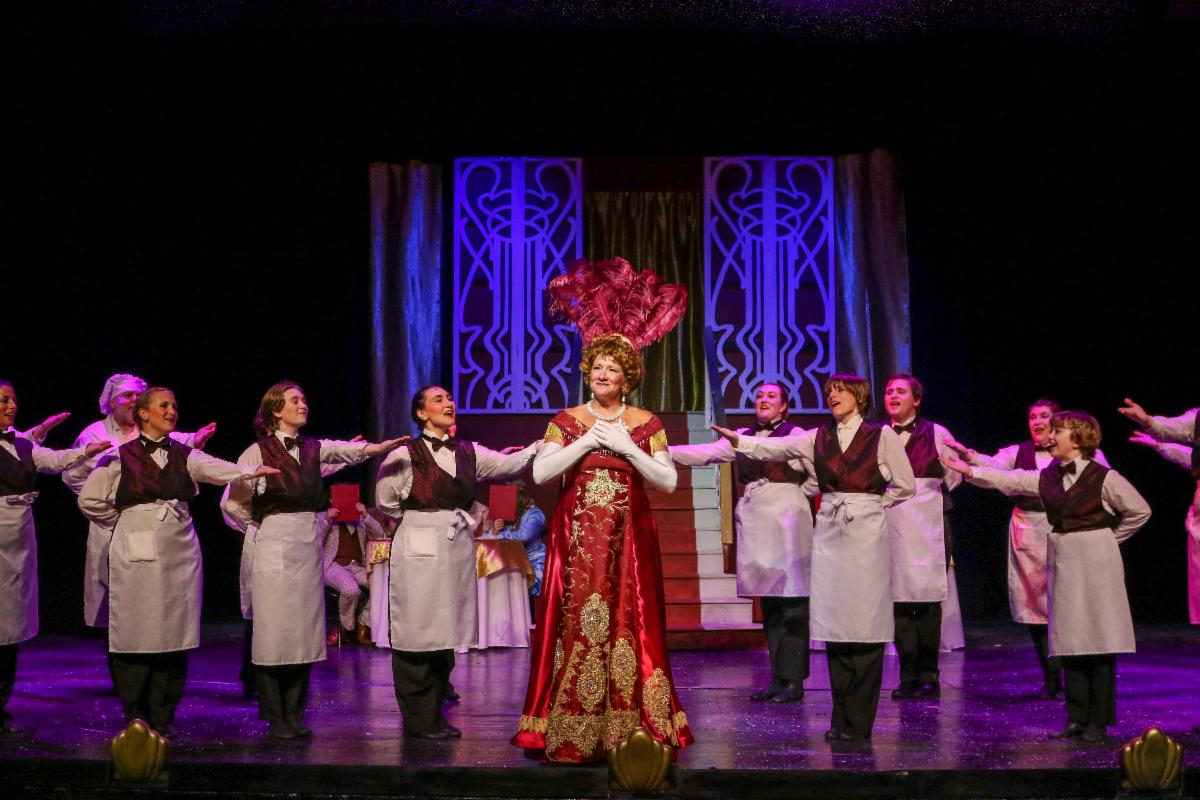 (Photo: Julie Bouchard as "Dolly Levi" and the CAST of the Michael Stewart/Jerry Herman musical "HELLO DOLLY" now playing at Theatre at the Mount in Gardner, MA. through August 20, 2023. Photo Credit Paige Fowler)
Sets and drops provide stunning backdrops to the show and the flow of all scene changes is seamless.
It might be observed that the one exception for the above is the aesthetically appealing set for Irene's hat store, which is comprised of a set of panels "dropped in" - one with a door attached - a door that never gets used.
It could be assumed that, if the door had been used, it might have been left ajar just enough that when the set gets raised, the door might open. So, if this was the reasoning, it was absolutely a good call. Once in place, it is an efficiently designed and beautiful set.
There are many costumes used for the show and all prove simply luscious to the eye.
The entire costuming team have outdone themselves. Yes, it might seem strange for some of the principal characters to undergo multiple costume changes for a story that, for the most part, takes place in a single day...but, you know what? Who cares? They still all look fabulous.
There were some microphone pops heard during the first act at the August 12th performance. However, these were quickly resolved and "Only Took a Moment" away from an otherwise superb show.
Yes, the material seems dated, presenting an unlikely world, and an even more unlikely New York City.
Yet, for two-and-a-half hours, it is so very nice, on occasion, to be able to sit back and enjoy the full on 'escapism' that a musical like "HELLO DOLLY" provides and believe, however briefly, that they do.
As Dolly Levi herself proclaims:
"I can hold my head up high, For I've got a goal again...I've got a drive again...I wanna feel my heart coming alive again...Before the parade passes by."

"HELLO DOLLY" continues at Theatre at the Mount in Gardner through August 20th and is definitely a joyous time you'll want to experience before THIS parade passes by.
Approximately two hours, 30 minutes with one intermission.
Kevin T. Baldwin is a member of the American Theatre Critics Association (ATCA)
@MetrmagReviews
@Theatre_Critics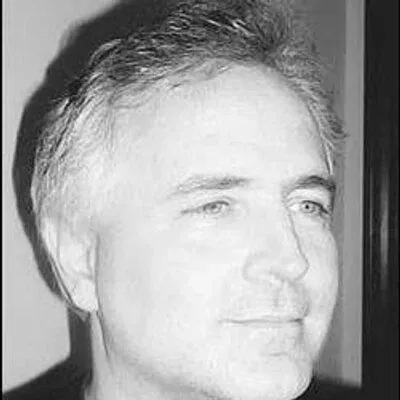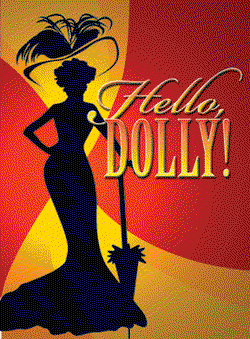 ABOUT THE SHOW
Jerry Herman's energetic "HELLO, DOLLY!" is a musical filled with charisma and with heart.
Matchmaker Dolly Levi is a widow, a matchmaker, and also a professional meddler --but everything changes when she decides that the next match she needs to make is to find someone for herself.
Set in New York City at the turn of the century, "HELLO, DOLLY!" is boisterous and charming from start to finish.
"HELLO, DOLLY!" features such memorable songs as "Before the Parade Passes By," "It Only Takes a Moment," "Put on Your Sunday Clothes," and - of course - the title number, "Hello, Dolly!"

Mount Wachusett Community College
444 Green Street
Gardner, MA 01440