(Cover Photo Credit: Andrew Brilliant/Brilliant Pictures)
"Hair" is truly a 'gas, gas, gas' at New Rep
By Kevin T. Baldwin
METRMag Reviewer
Contact: 774-242-6724

WATERTOWN: "Hair: The American Tribal Love-Rock Musical" by Gerome Ragni, James Rado and Galt MacDermot. Presented by New Repertory Theatre, at the MainStage Theater at the Mosesian Center for the Arts, 321 Arsenal Street, Watertown, MA. Performances: Jan. 28 through Feb. 23.. Tickets $22-$72 and may be purchased by calling the New Rep Box Office at 617-923-8487 or visiting newrep.org. Student, senior, and group discounts are available, as well as free tickets for WIC/EBT cardholders.
Written by Gerome Ragni & James Rado. Music by Galt MacDermot. Directed and Choreographed by Rachel Bertone. Assistant Director/Choreographer Kasia Gneiser. Music Director Dan Rodriguez. Assistant Music Director Kathleen Castellanos. Artistic Director Michael J. Bobbitt.
Cast Includes: Marge Dunn, Kris Ivy Hayes, Lovely Hoffman, Zoe Maloney, Peter Mill, Yewande Odetoyinbo, Aaron Patterson, Katrina Pavao, Bryan-Barry Pereira, Anthony Pires, Jr., Eddie Shields, Eddie Simon.
Can it truly be "easy to be hard" for haters of the musical "Hair" to criticize the show as dated as they believe it to be?
True, like its successor, "RENT", "Hair" (full title "Hair: The American Tribal Love-Rock Musical") has not weathered the last 50+ years well.
Premiering in 1967, much of the original content does seem dated by 2020 standards. The second act tends to wander aimlessly for 20 minutes lingering in a preposterous 'mind trip' and the "LBJ," "pot" and other references are just cringe-worthy embarrassment now.
However, what saves the show's latest resurrection by the New Repertory Theatre is the contemporary vision by its director, Rachel Bertone, and the impeccable ensemble selected to perform together.
The show, which won a 2009 Tony Award and Drama Desk Award for Best Revival of a Musical, was written by Gerome Ragni and James Rado and features a score by Galt MacDermot.
In this latest electric (blues) adaptation, every performer in this production is well cast and the staging was in your face, full on and without restraint.
The second act does tend to drift from what much of the first act establishes, but by half way through it recovers spectacularly with an ending still as poignant today as it was 53 years ago at the height of the Vietnam War.
The imagery is only representational but fully reminiscent of that era. We are in a New York City park – gated off with a single park bench on stage. Everywhere else you look there are indications of "Flower Power" (although it looks more like an elaborately decorated large dorm room of a "Grateful Dead" fan).
Everything takes place within the confines of this gated "community" thoroughly draped in assorted tie dye linens and paisley prints and multiple protest signs.
Interestingly enough, replace some words and those signs are seen even today: "The whole world is watching," "Law plus Order equals Racism," "Peace in (fill in the blank)," "Resist Tyranny," 'Keep off (the) Grass," "(Fill in the blank) is guilty of war crimes," and more.
The plot revolves around the "Tribe", a group of bohemian, long-haired hippie anarchists trying to survive during the "Age of Aquarius" and the time when Rolling Stones couldn't get any satisfaction, couldn't get what they wanted and were more concerned about a Jumpin' Jack Flash.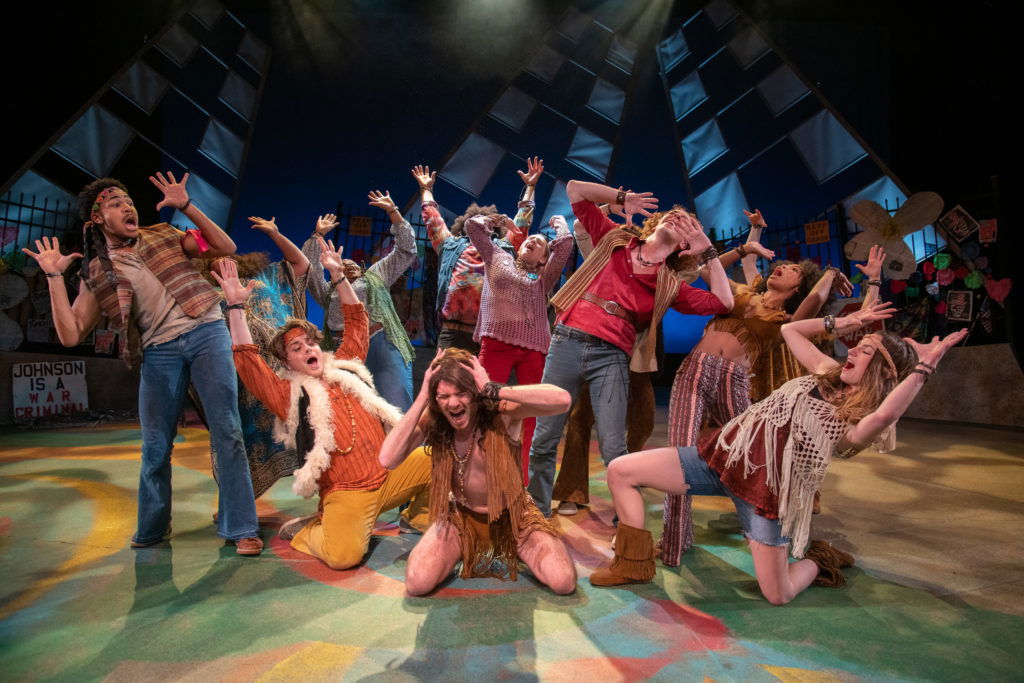 The cast of "Hair" at the New Repertory Theatre.
Photo Credit: Andrew Brilliant/Brilliant Pictures.

But THIS show? This show is truly a 'gas, gas, gas' and should not be missed.
As part of their protest of American involvement in the Vietnam War, Claude (Eddie Simon), his best friend Berger (Eddie Shields), who is occasionally manic, their "roommate" and mutual girlfriend Sheila (Marge Dunn) have gathered to perform a ceremony.
In ritualized fashion, the boys, all those of age for the Selective Service, choose to burn their draft cards. The only one still on the fence about it is Claude.
There is brief full nudity at the end of Act One and foul language throughout the show. By today's standards it is mild and does not really advance the plot. The nudity was there in 1967 strictly for shock value which no longer shocks nor is considered "over the top."
What does tend to go slightly over the top are the emphasized homosexual overtones. In 1967, these were less "in your face" and merely alluded to.
But, with each generation of revised staging, companies seem to want to push it further front and center of every production (similarly this also a shared trait with the musical "Cabaret"). Does it make the show better? Depends on the perspective of the individual.
Regardless of the perceived openness of homosexuality that this musical reflects, which is wonderful, the actuality is that, during the sixties, it was not as "open" as portrayed here.
But, then again, the parents of this latest cast might not have even born in the sixties, either. So, as further revivals occur, it could be that historical perspective may never equal historical accuracy.
All of the "Hair" favorites are here including the title song, well performed by Claude, Berger and the "Tribe."
Pinnacle songs included "Good Morning Starshine," "Aquarius," "I Got Life" and "Manchester England" which featured precision perfect character blocking and choreography.
In addition to Simon, Shields and Dunn, standout vocal performances included the dynamic Kris Ivy Haynes and Aaron Patterson.
One questionable moment was when Sheila sings "Easy to be Hard" just after she gets struck by Berger in a moment of rage. After singing the song, she immediately forgives Berger and goes back to the man by whom she was struck.
Later, however, in a clever bit of staging in Act Two, while portraying two different characters (as part of Claude's drug-induced hallucination), she strikes him back.
Through the myriad of vignettes, songs and routines, the cast relates how their culture embraces life, love, and the sexual revolution. They also 'counter' this with rebellion against the Vietnam 'Conflict' and convey the conflict each one has with their respective conservative parents and others of the adult establishment.
The show runs approximately two hours 20 minutes with intermission.
For tickets contact the box office: http://www.newrep.org/box-office/
Kevin T. Baldwin is a member of the American Theatre Critics Association (ATCA)