(Cover Photo: Thomas Piccin as "Alan" and Maggie McCally as "Annette" in a scene from Yasmina Reza's "GOD OF CARNAGE" the inaugural production by Easthampton Theater Company in Easthampton, MA. until May 14, 2023. Photo credit Michael O. Budnick)




By Kevin T. Baldwin
METRMAG Reviewer
# 774-242-6724

"Children consume and fracture our lives. Children drag us towards disaster, it's unavoidable."
- Yasmina Reza

Easthampton Theater Company
Presents Yasmina Reza's
"GOD OF CARNAGE"
A comedy of manners (without the manners)
Written by Yasmina Reza
Translated by Christopher Hampton
Directed by Michael O. Budnick
Assistant Director - Eva Husson-Stockhamer
Cast Includes: Gilana Chelimsky, Matt O'Reilly, Maggie McCally, Thomas Piccin
Additional Creative Team:
Stage Manager & Sound Design - Manny Morales; Sound/Light Operation - Jason Rose-Langston; Props and Front of House - Deborah Jacobson; Frank Croke - Lighting Design; Poster Design - Michael O. Budnick; Costumer - Theresa Allie; Special Effects - Francisco Aguas; Program Design - Thomas Piccin; Stagehand - Amelia Wintheiser; Set Design - Jason Rose-Langston, Eva Husson-Stockhamer, Michael O. Budnick.
Performances:
May 11, 2023 through May 14, 2023
(Contact Box Office for Exact Times)
Performances to be held in the Blue Room, Old Town Hall, First Floor, 43 Main Street, Easthampton.
TICKETS:
Tickets are available now and can be purchased online at easthamptontheater.com or at the door.
This program is supported in part by a grant from the Easthampton Cultural Council, a local agency which is supported by the Mass Cultural Council, a state agency.
COVID 19 PROTOCOLS
Contact Venue for Most Updated COVID-19 Safety Protocols and Information.
For their inaugural production, Easthampton Theater Company gets off to a great start with a smart, captivating staging of the ruthless satire, "GOD OF CARNAGE," now playing to nearly sold out performances through May 14th.
Without revealing too much of the story, there is a lot to admire here and it is safe to say French playwright Yasmina Reza's "GOD OF CARNAGE" begins as a long, lit fuse which ultimately leads to an explosive situation by the end.
To those who have seen Edward Albee's "Who's Afraid of Virginia Woolf," Reza's "GOD OF CARNAGE" might seem very much like "Virginia Woolf 'Light'" and they wouldn't be too far off.
However, there is a lot more to admire about Reza's story and the play itself has earned much acclaim over the years.
Published in 2008, the satire's original French title is "Le Dieu du Carnage." The play was transcribed into English by translator Christopher Hampton. In 2011, the story was adapted for a Roman Polanski film, simply entitled "Carnage."
The play was originally produced on Broadway by Robert Fox, David Pugh and Dafydd Rogers, Stuart Thompson, Scott Rudin, Jon B. Platt, the Weinstein Company and the Shubert Organization.
The four-actor "GOD OF CARNAGE" was nominated in 2009 for multiple Tony Awards nabbing the top honor of "Best Play."
All four original Broadway cast performers (Marcia Gay Harden, Hope Davis, Jeff Daniels and James Gandolfini) shared nominations in their respective acting categories (Harden winning for "Best Actress"). Matthew Warchus won for "Best Director" of a play.
For "GOD OF CARNAGE" Reza also won a Laurence Olivier Award for "Best Comedy."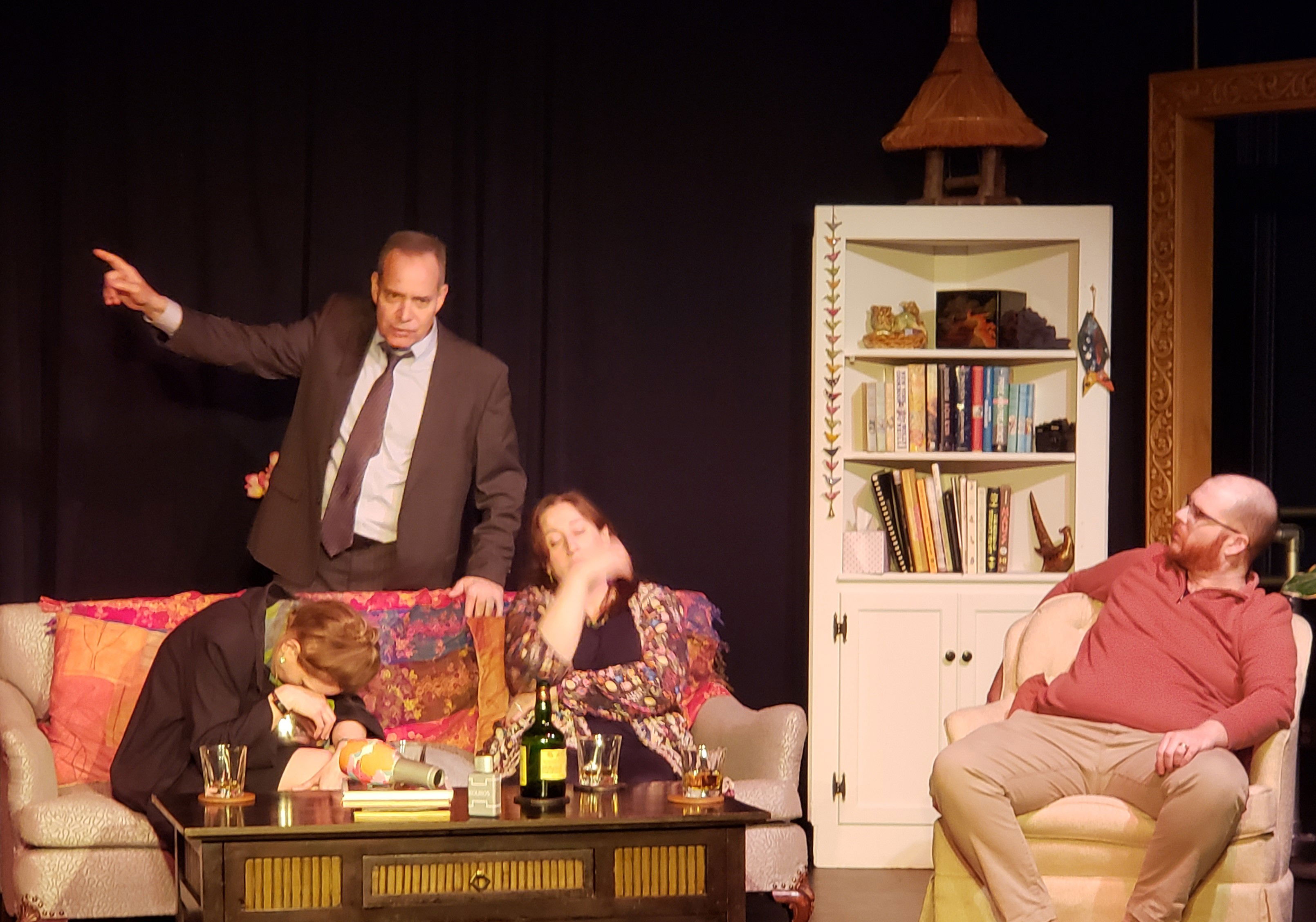 (Photo: The CAST of Yasmina Reza's "GOD OF CARNAGE" the inaugural production by Easthampton Theater Company in Easthampton, MA. until May 14, 2023. Photo credit Michael O. Budnick)
As the play begins, the evening for an unusual gathering begins innocuous enough:
Two couples, the "Raleighs" and the "Novaks," meet at the Novak's Cobble Hill Park home to discuss an incident in which their respective sons, Benjamin Raleigh and Henry Novak (never seen but often discussed) engaged in a playground fight with one son winding up needing medical attention.
Veronica (Gilana Chelimsky) is a writer who's latest book focuses on turmoil in Darfur, located in western Sudan.
Veronica's husband, Michael (Matt O'Reilly) is in sales; Annette (Maggie McCally) is in wealth management while her husband, Alan (Thomas Piccin) is a very busy corporate lawyer...VERY busy. Constantly busy. He is...busy.
As the evening progresses, each of the characters reveals a little more than any of the others want to know.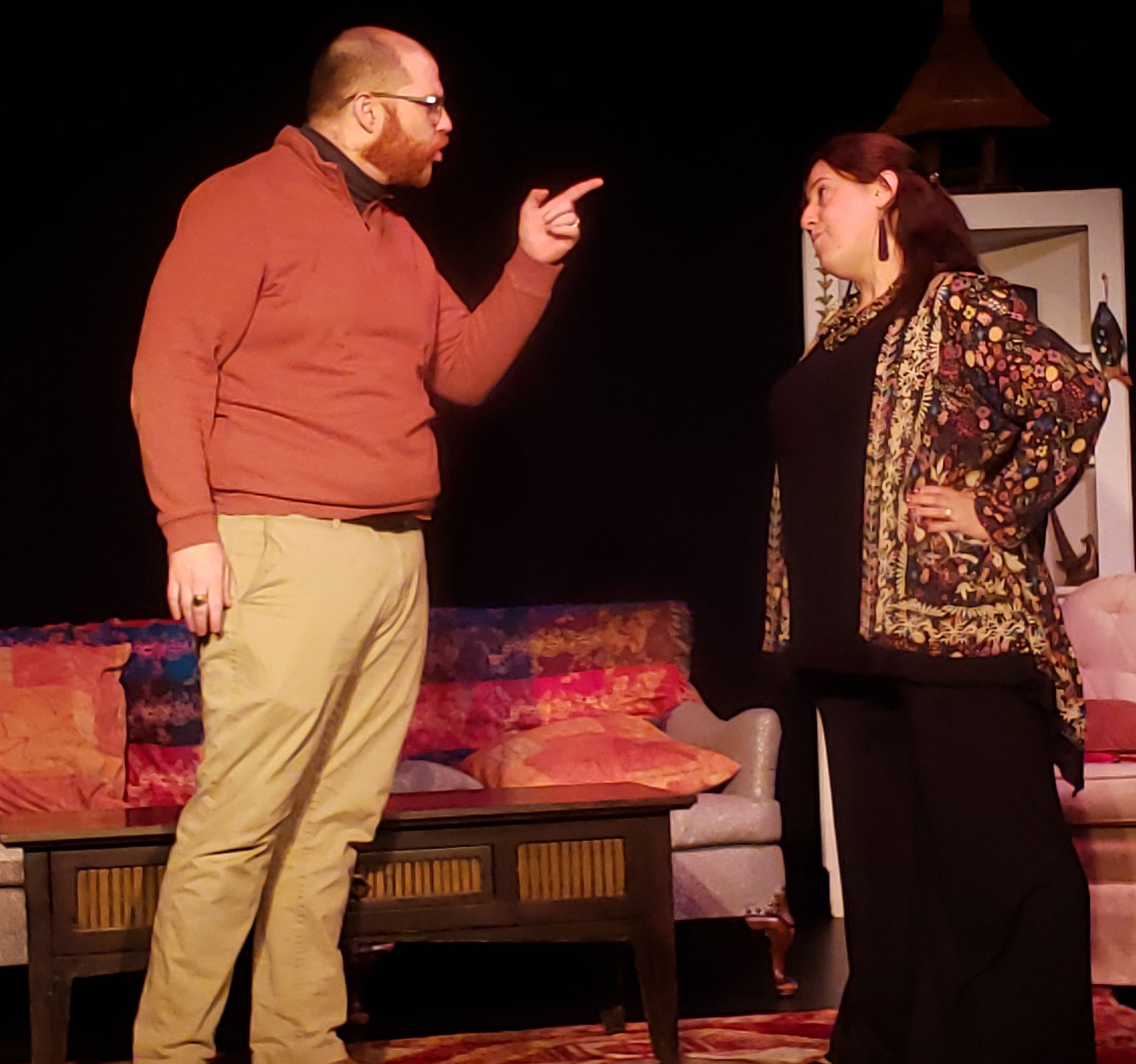 (Photo: Matt O'Reilly as "Michael" and Gilana Chelimsky as "Veronica" in a scene from Yasmina Reza's "GOD OF CARNAGE" the inaugural production by Easthampton Theater Company in Easthampton, MA. until May 14, 2023. Photo credit Michael O. Budnick)
The performances are solid and the relationships between the two married couples convincing. Piccin, especially, has a wonderful grasp of Reza's material, with his character acting as a "catalyst" for many of the events, actions and reactions that occur throughout the play.
There are obvious tensions not only between the opposing couples but between themselves which only get heightened for every contentious minute that passes.
While this might seem to make for an evening of unbridled unpleasantness, "CARNAGE" - unlike the aforementioned "Woolf" - balances the intensity with lighter moments of humor - and the laughs are fairly consistent throughout.
For one character, there is a pivotal moment during the first half of the 90 minute show which cannot be revealed. However, the character engages in a subsequent "activity" during the second half which stretches all credulity given what transpired in the first half.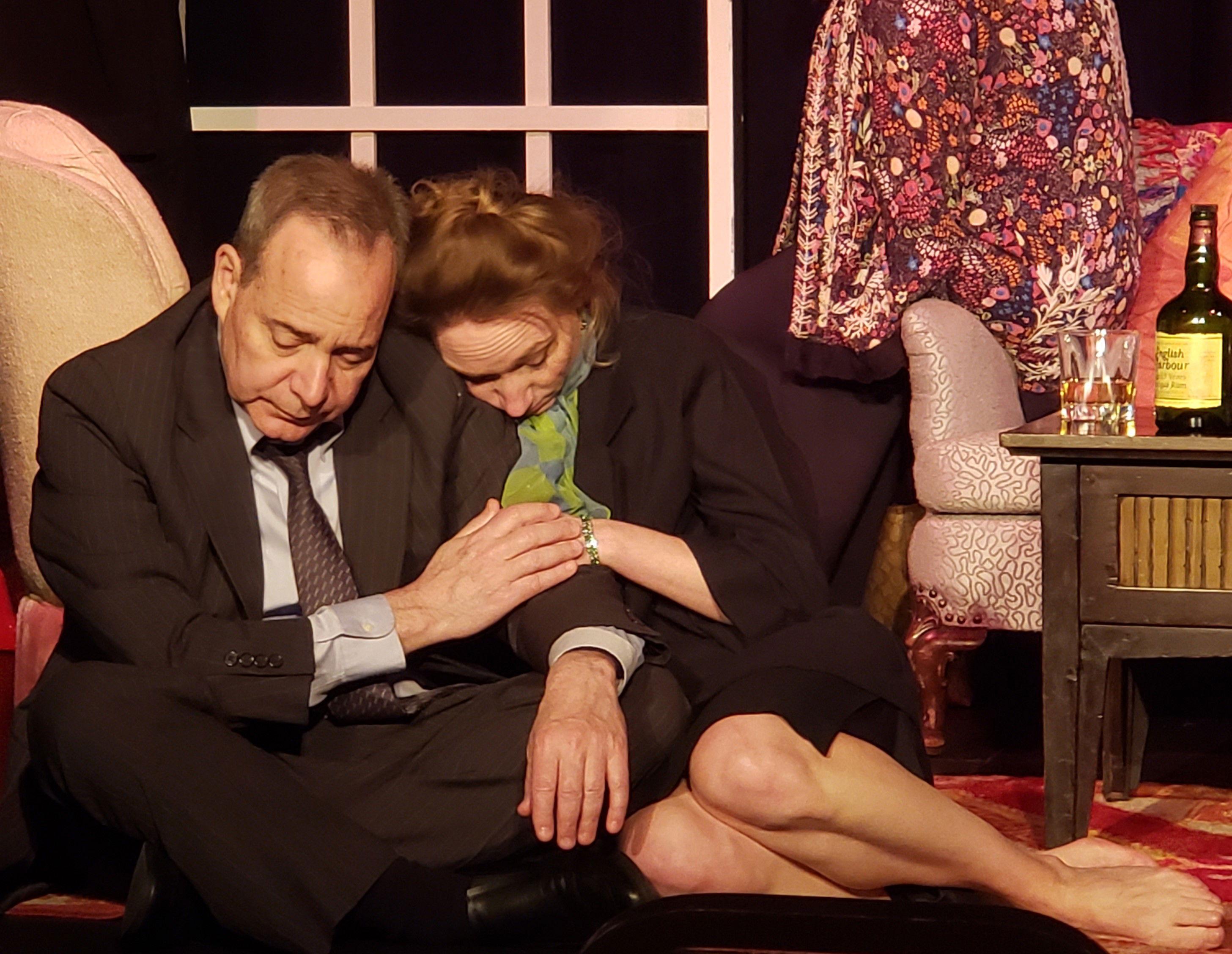 (Photo: Thomas Piccin as "Alan" and Maggie McCally as "Annette" in a scene from Yasmina Reza's "GOD OF CARNAGE" the inaugural production by Easthampton Theater Company in Easthampton, MA. until May 14, 2023. Photo credit Michael O. Budnick)
The single set design presents a basic living room scene:
There is a coatrack and a bar located stage right; a couch is set center stage with a nice coffee table in front; two nice chairs on opposite sides of the couch; a door frame positioned stage left with a bookshelf next to it along the back wall adorned with some books and assorted bric-a-brac.
The overall spacing appears slightly "confining" but it is assumed this is done in order to get everything lit properly. The set is still quite functional for the show. Lighting and sound cues are appropriate timed and increase the dramatic tension at times.
What we walk away with after witnessing the unpleasant behavior from all four characters in "GOD OF CARNAGE" is a wonder how the children of these four miscreants have made it as far as they have without wanting a "child services" intervention and, perhaps, a blood transfusion.
"GOD OF CARNAGE" is a smart, funny show and a wonderful way for new theatre company Easthampton Theater Company to kick things off. May they enjoy much continued success.
Approximately 90 minutes with no intermission.
Kevin T. Baldwin is a member of the American Theatre Critics Association (ATCA)
@MetrmagReviews
@Theatre_Critics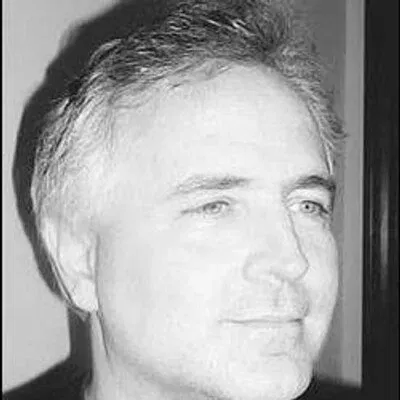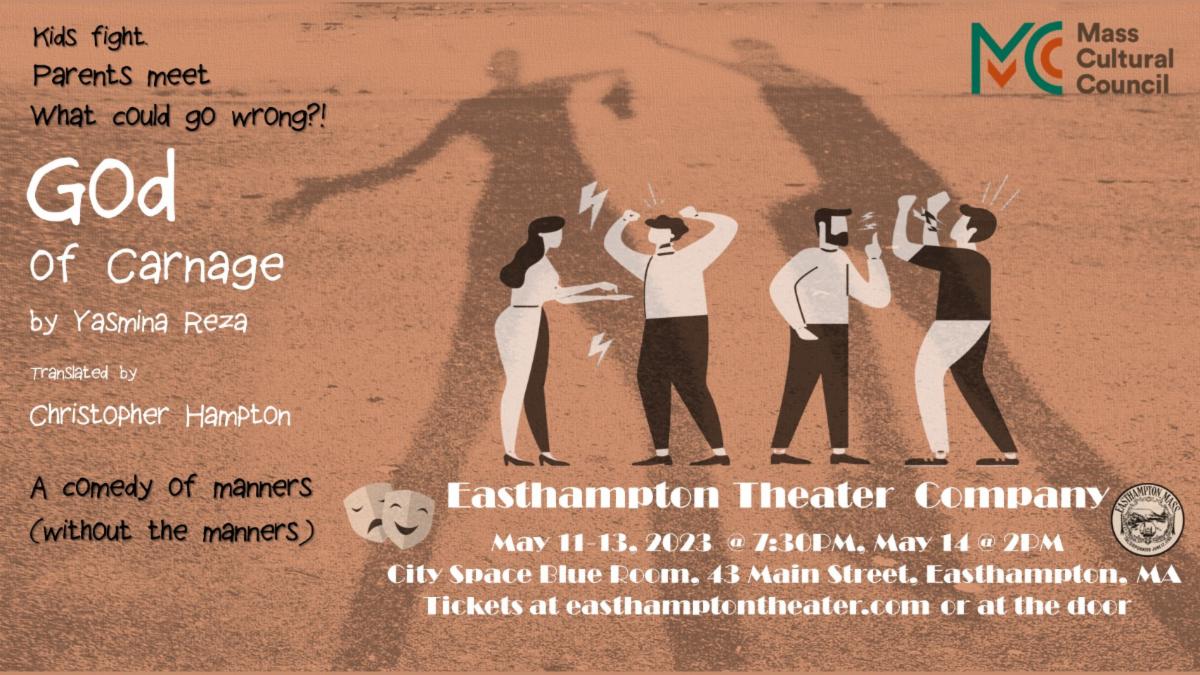 ABOUT THE SHOW
The Easthampton Theater Company is excited to announce its debut production of the remarkable Tony and Olivier award-winning play "GOD OF CARNAGE" by Yasmina Reza.
When two boys get into a playground fight, their parents sit down to talk it out and try to resolve matters like civilized adults.
What could possibly go wrong? Well, everything!
"GOD OF CARNAGE" is a both tense and hilarious comedic drama that explores the pitfalls of modern parents as they try - and fail - to bridge their differences.
While confronting one another, they devolve through the course of the show to their most basic, and profoundly flawed, instincts.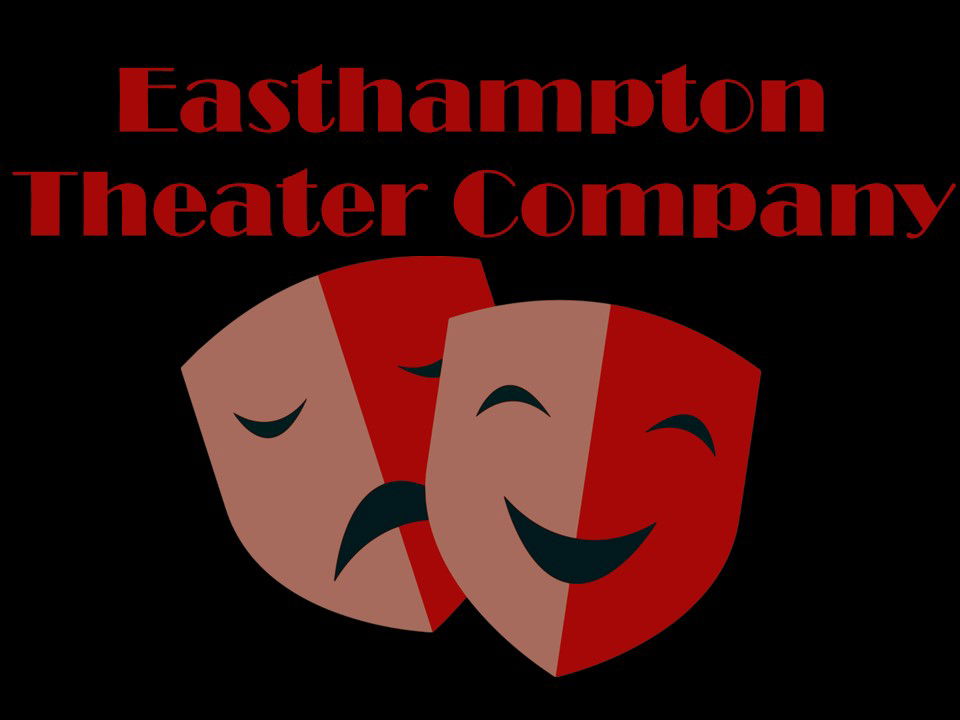 ABOUT THE EASTHAMPTON THEATER COMPANY
Easthampton Theater Company (ETC) is a new production group created by Easthampton and nearby residents to bring quality community theater productions to the City. With the support of local businesses, patrons and theater aficionados, ETC strives to become the premiere theatrical venue for locally produced theater within the burgeoning arts scene based in Easthampton.
Easthampton Theater Company
PO Box 885
Easthampton, MA. 01027
info@easthamptontheater.com